Japan boasts a growing range of unique accommodations.
Small capsules in sprawling metropolises like Tokyo and Osaka accommodate business travelers, sightseers, and locals who missed their last train home.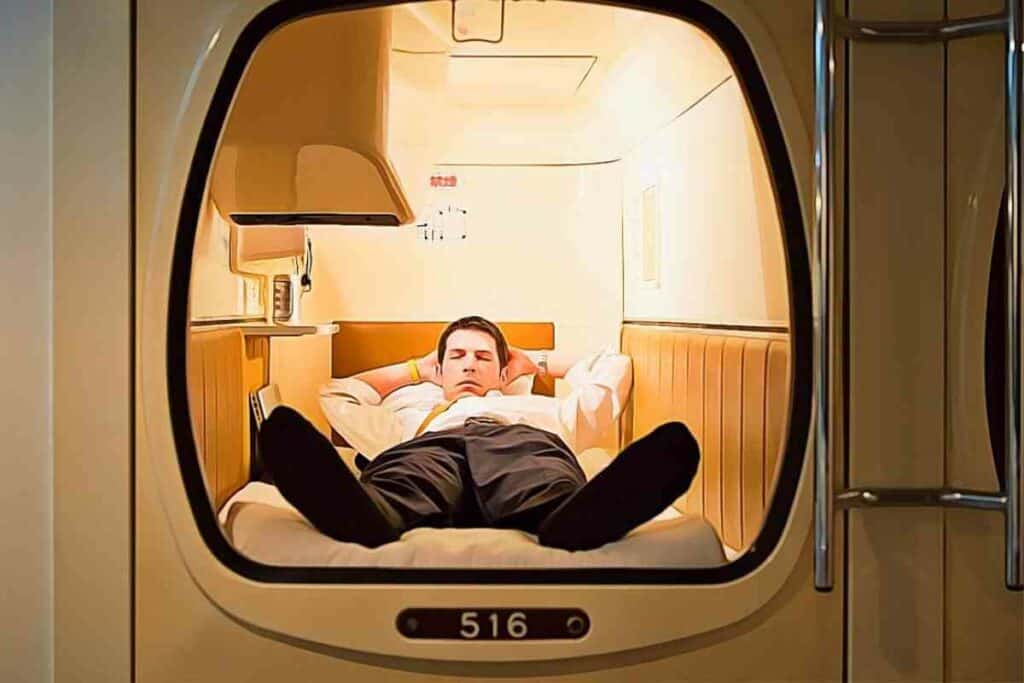 Below is everything you need to know before staying in a Japanese capsule hotel. 
Japanese Capsule Hotels at a Glance
Japan is the only nation in the world where cutting-edge technology sits alongside ancient gods and traditional customs.
And when it comes to accommodation, Japan's lodging options are as unique as the country itself. 
Capsule hotels are one of the most popular accommodation options in Japan.
What Is a Capsule Hotel?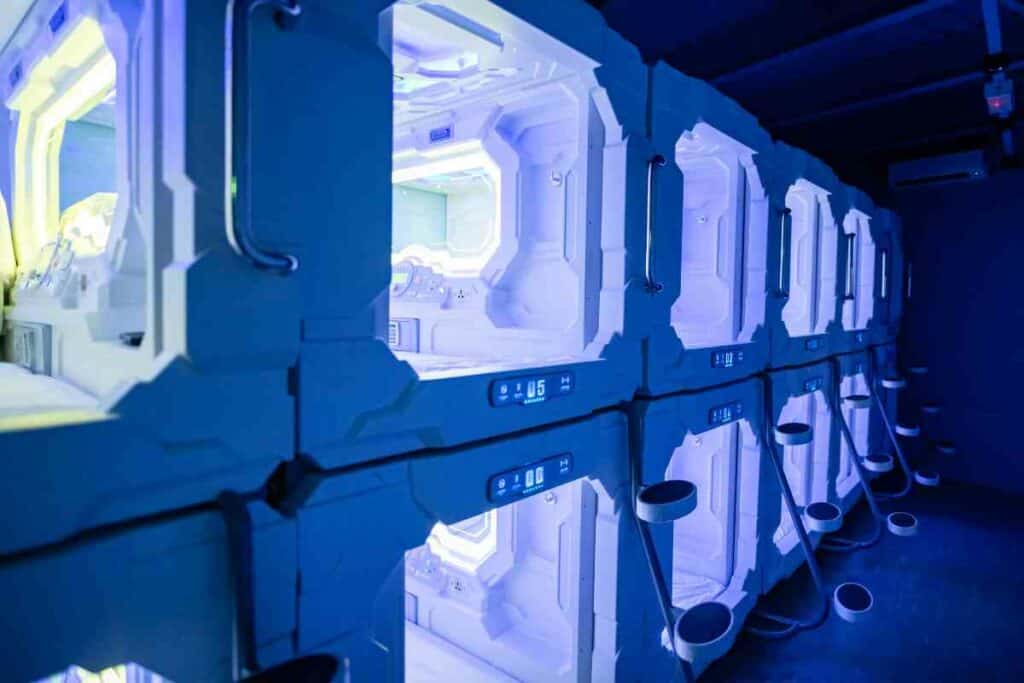 A capsule hotel, also referred to as a pod hotel, is a hotel with many tiny bedrooms called capsules.
Typically, the futuristic-looking pods are located next to each other in rows, reminiscent of spaceships in science fiction. 
A standard capsule only has room for the bed and not much else, measuring two meters long and just over a meter wide.
The capsules are about a meter in height, meaning standing inside is impossible.
Along with the bed, every capsule is equipped with the following:
Beddings (sheets, pillows, blankets, etc.)
Curtain or small tent for privacy from guests in the opposite capsule
A small TV and a pair of headsets
Wi-Fi 
Dimmable lights
Power plugs
Digital alarm clock
AC controls 
Everything outside the capsule is shared.
This includes:
Toilets
Showers
The lounge
Capsule hotels typically don't have kitchens. All capsule hotels have vending machines for snacks and a few essential items. 
The History Of Japanese Capsule Hotels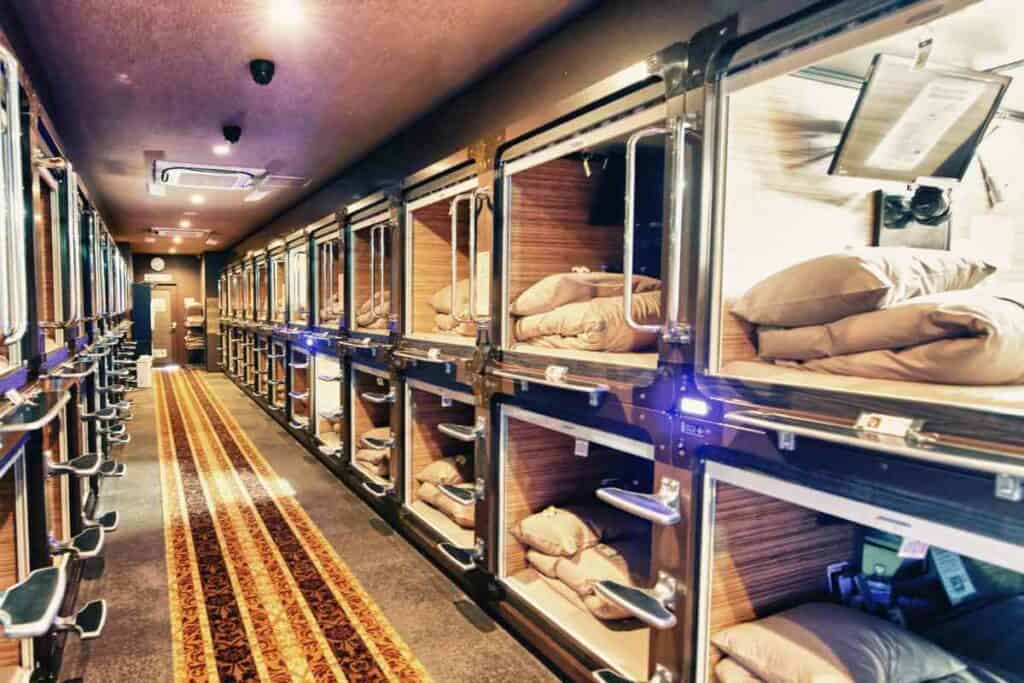 The first capsule hotel appeared in the Japanese city of Osaka in 1979. It was designed by renowned Japanese architect Kisho Kurokawa.
At the time, these pod-like accommodations were seen as the pinnacle of Japanese practicality and efficiency. 
The goal was to provide affordable, basic overnight accommodation for many business people who spent hours commuting to sleep.
Today, capsule hotels can be found in all the major cities in Japan and other parts of Asia. 
The Pros And Cons Of Japanese Capsule Hotels
Japanese capsule hotels are a popular accommodation option for locals and tourists alike.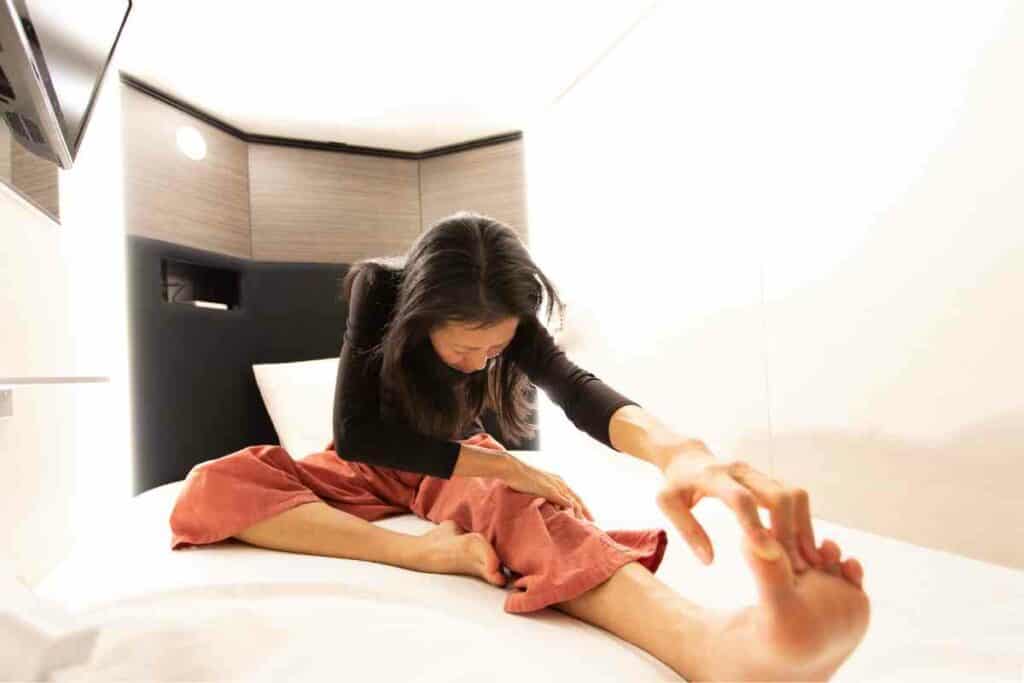 But are Japanese capsule hotels worth all the hype?
Here are the pros and cons of Japanese capsule hotels. 
Pros
Affordable. Capsule hotels' most significant selling point is the price tag, which tends to be significantly lower than conventional hotels. 
24/7 check-in. The vast majority of capsule hotels offer 24-hour check-in. As a visitor, you don't need to worry about odd landing times if you plan to stay in a capsule hotel. 
Cozy. Despite their claustrophobic appearance, the tiny compartments that comprise Japanese capsule hotels are incredibly relaxing. Typically, the pods come with air conditioning and other comfort features. 
Clean and well-maintained facilities. Capsule hotel staff clean and sanitize each pod daily to keep everything fresh for the guests. Shared bathrooms, toilets, and shower items are also washed regularly. 
Convenient location. Capsule hotels are usually situated within large cities and near major transit hubs. Their convenient location means you don't have to worry about getting from point A to point B during your visit. 
Wi-Fi. All capsule hotels in Japan feature lounge spaces with Wi-Fi. Many have Wi-Fi within the pods. If you like to bring work home, Wi-Fi access means you don't miss a beat as long as you have a laptop. 
Cons
Insufficient space. Compared to conventional accommodation options, the so-called capsules are tiny. There's not enough space for all your luggage. 
Hard to relax. If you are a light sleeper, you'll have difficulty getting a goodnight's sleep in a Japanese capsule hotel. There are always people coming in at odd hours. 
No privacy. Pods usually don't have proper doors; if there's one, it doesn't lock. That's why this type of accommodation is not appropriate for couples. 
Dos and Don'ts of Staying in a Japanese Capsule Hotel
In Japan, some things are done differently from other countries.
As such, foreign guests are often unaware of specific rules and regulations that can affect their stay in a Japanese capsule hotel.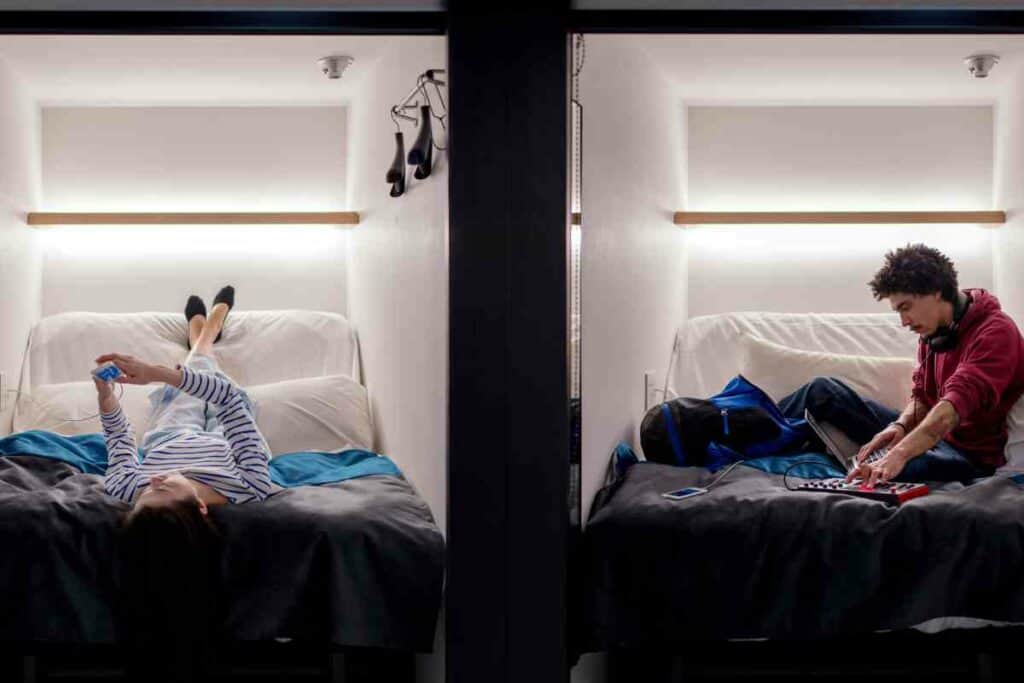 This section focuses on the dos and don'ts of staying in a Japanese capsule hotel. Let's dive right in. 
Here are the things you should DO when staying in a Japanese capsule hotel.
Take Off Your Shoes
Like Japanese homes, the first rule to remember when staying in a Japanese capsule hotel is to take off your shoes.
Guests are not allowed to have shoes on past the front desk. You'll notice a shoe locker and a pile of slippers when you enter a capsule hotel. 
Please remove your shoes, put them in your designated locker, and slide into a pair of slippers. The lockers are secure, so you don't have to worry about losing your shoes. 
Change your clothes
You'll also have to change your clothes. At check-in, you will be provided with pajama-like sweats or a robe.
Change into that when you check into your capsule to get comfortable. 
Keep quiet
Guests in a Japanese capsule hotel are encouraged to always maintain silence on the hotel floor.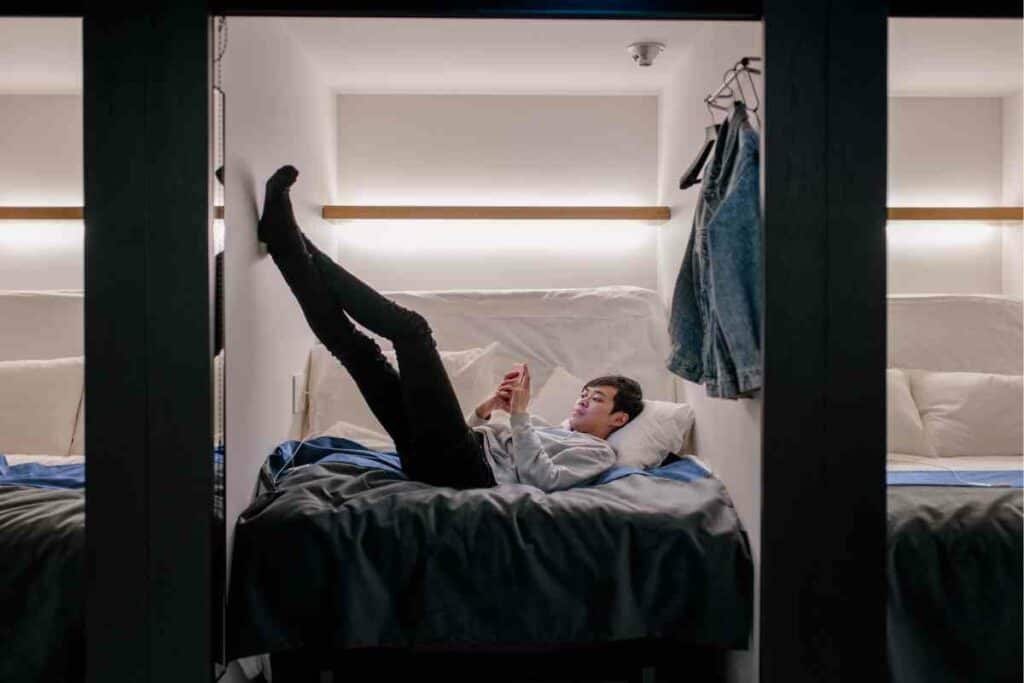 That's because pods are usually stacked side by side, and the walls are thin, so hearing your neighbors is possible. 
Additionally, pods usually don't have proper doors.
For that reason, even the TV in the capsule comes with a pair of headphones to keep noise minimal.
Wash up before getting in the tub
The facilities outside your capsule are shared with other guests.
Most capsule hotels in Japan have shower stalls and a public bath on the side. If you want to soak in the tub, you must shower first. 
Jumping into the bath without showering is generally frowned upon in Japan.
Also, if you have tattoos or piercings, you may have to cover them to be allowed into the public bath. 
Mind your luggage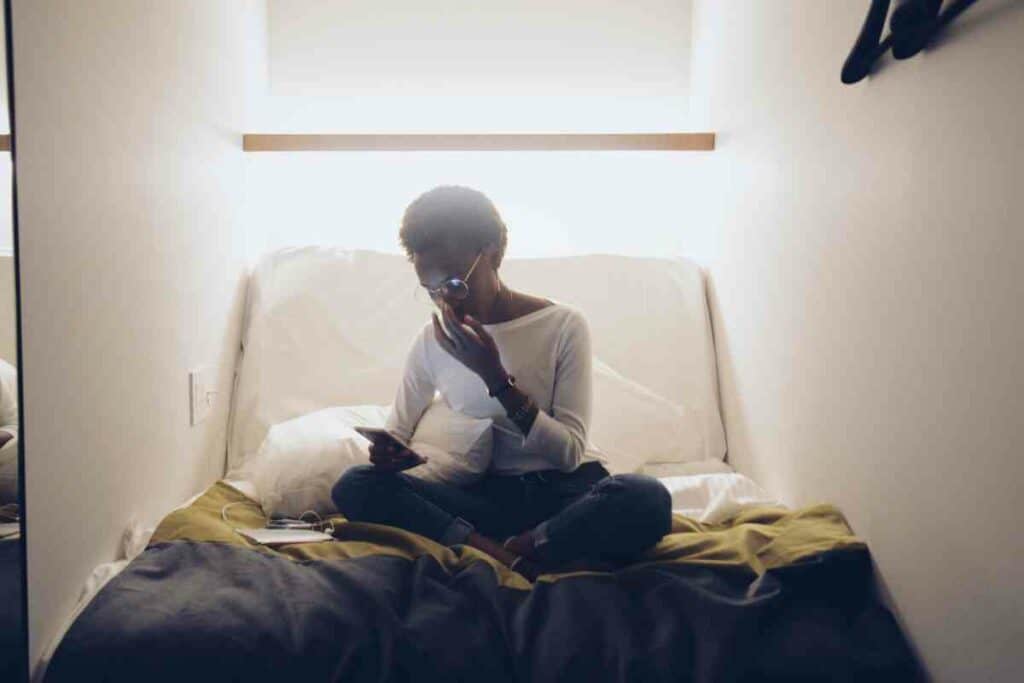 Capsules don't have much space, so storage is a problem. Ask the hotel staff where you can store your luggage.
Most capsule hotels in Japan have a locked storage room behind the concierge desk where you can leave your bags. 
Here are things you SHOULDN'T DO when staying in a Japanese capsule hotel.
Don't eat or drink inside the capsule
Guests in a Japanese capsule hotel cannot eat or drink in their pods.
Instead, bring your food and drinks to the lounge or other common areas.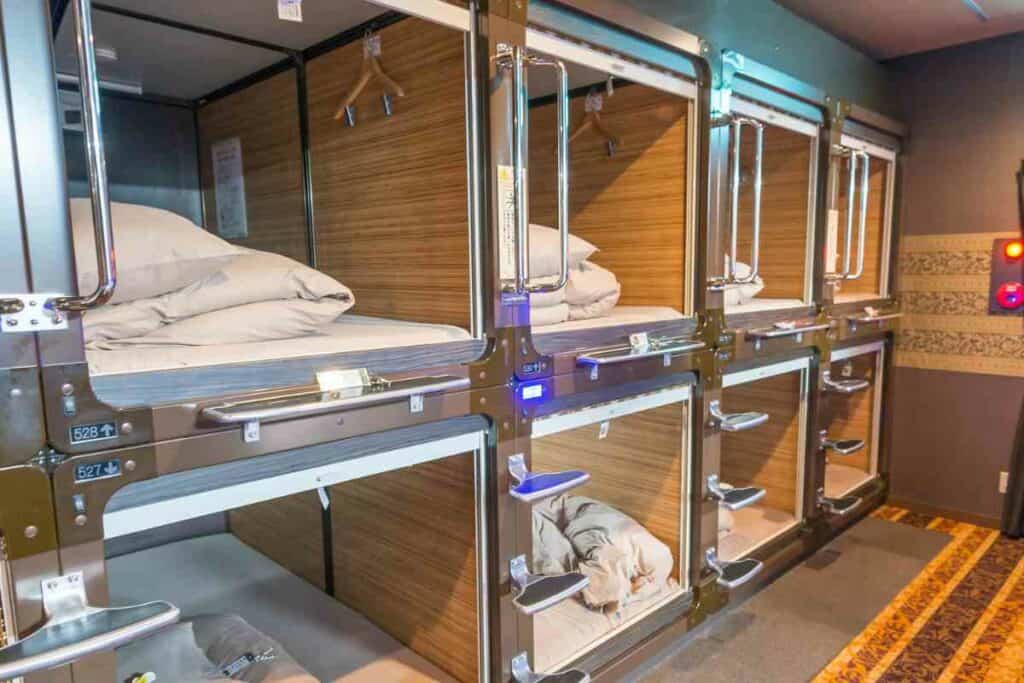 Don't smoke inside the capsule
Smoking inside the pod is a no-go in all Japanese capsule hotels. There are designated smoking areas within the hotel. 
Research and follow all the rules before entering one of these accommodation facilities.
Breaking any of the regulations in a Japanese capsule hotel may end your stay abruptly. 
Conclusion
If you are traveling on a budget, staying in a Japanese capsule hotel is a great option. They are affordable, cozy, and convenient.
To make your stay more enjoyable, please follow the above dos and don'ts of staying in a Japanese capsule hotel.