Ōsaka is the name of not only the second largest metropolis in Japan, but it is also the name of the entire prefecture on which the city is situated.
Once serving as the imperial capital, this magnificent concrete jungle was a central hub of industry by the early 20th century and is now the 10th largest urban area on the planet.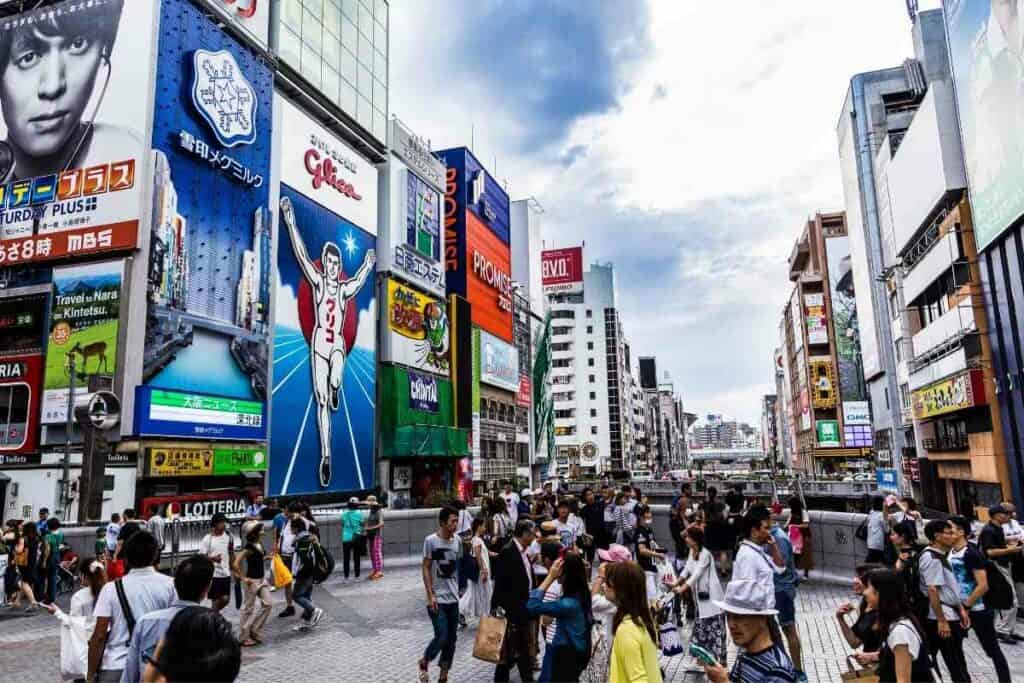 Today – With a population of over 19 million, this city in the Japanese region of Kansai is one of the busiest places in the modern world. Although there are many extravagantly expensive and arguably exciting things to do, across this prefecture, there are also a vast many more that you can take part in completely free of charge.
Strap on your walking shoes and take a stroll with us through Japan.
Here, we will highlight what the best are, of the free, and even the lower than budget activities that are available in Ōsaka.
From open hiking trails, with stunning shrines, temples and astonishing architecture, to playing at the Pokemon Center, there is a free something for people of all ages.
The Official Pokemon Center
Referred to as, wait for it, the "mecca" for Pokemon fans, the Official Pokemon Center is a superstore packed with merchandise, like:
fashion
games
cuddly toys
action figures
costumes
and a vast amount more Pokemon-related-wares
High up on the ninth floor of the Diamaru Shinsaibashi building, this marvel of a place even has a Pokemon Café Ōsaka attached to it.
But it isn't the only one, there are many across Japan and it is totally free to have a wander around.
---
Worth the Effort: Particularly if your children are Pikachu fans and you need to distract them for a little while. If they are, though, you will be needing your wallet after all!
---
The Panasonic Center
Something for the adults?
Although you need funds in order to buy the tech, even a visit to this multistorey virtual trip into the future can be a great deal of fun for everyone.
Explore each floor and try out a vast multitude of newly released technologies, before they hit the western markets.
Watch the very creation of future gadgets, yet to be released, and visit the 2nd floor exhibition which is made specifically to show you ways in which to improve your everyday life and reduce the stresses.   
Shopping in Dotonbori
Built along a canal, Dotonbori is amazing at night but just as vibrant throughout the day.
A great place to, stroll, shop, grab an authentic Japanese meal or even take in the views from Dotonbori Bridge.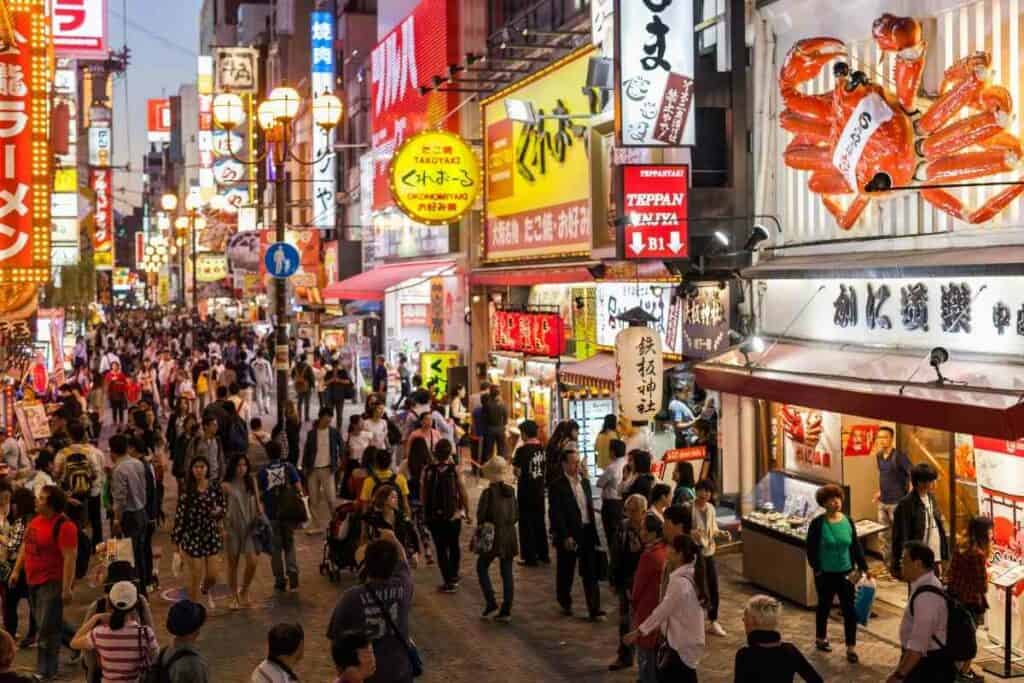 View the bright billboards and colourful signs as you traverse the banks of the canal.
A feast for the eyes, this area is bustling with avaricious feet and an array of shops, restaurants, bars, and cafés to enjoy and immerse yourself in local culture.
Shinsekai
A stone's throw from Dotonbori, is Shinsekai: a similar place, bright with colourful shopfronts and which feels like you are walking through a live anime film set.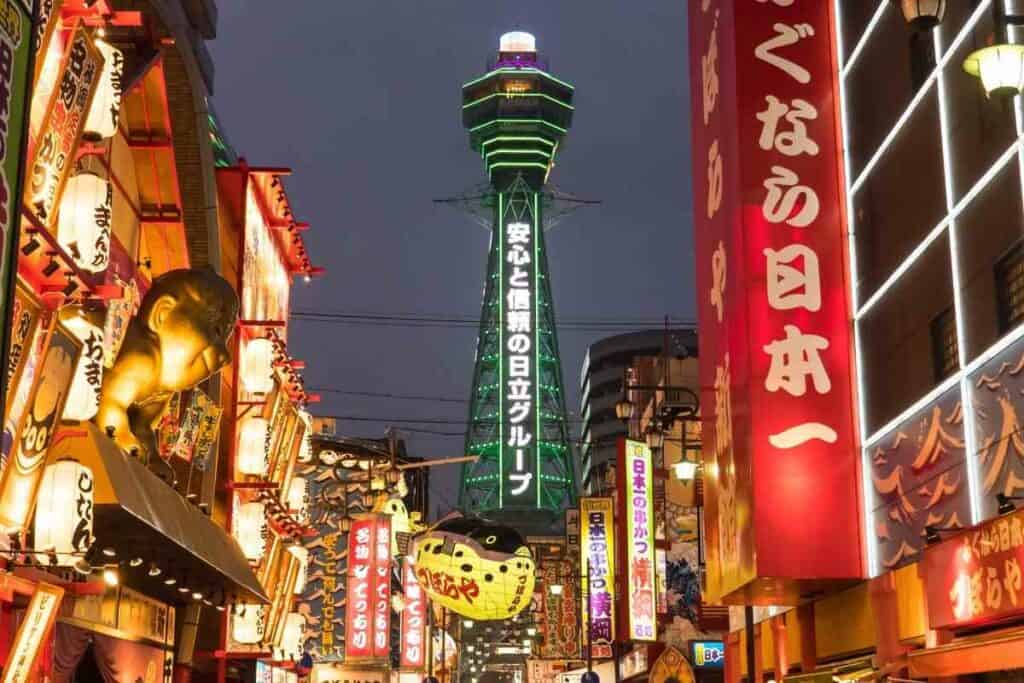 Dazzlingly pervaded with massive, three-dimensional marketing models, flashing neon lights, busy bars, and stunning restaurants, this is another site for the itinerary that you do not want to miss.
Mino Park
Within walking distance of central Ōsaka, this – one of the area's oldest parks – boasts hiking trails, vast wildlife, a waterfall (the park's star attraction), scenic woodlands, temples, and even refreshment stalls along the path.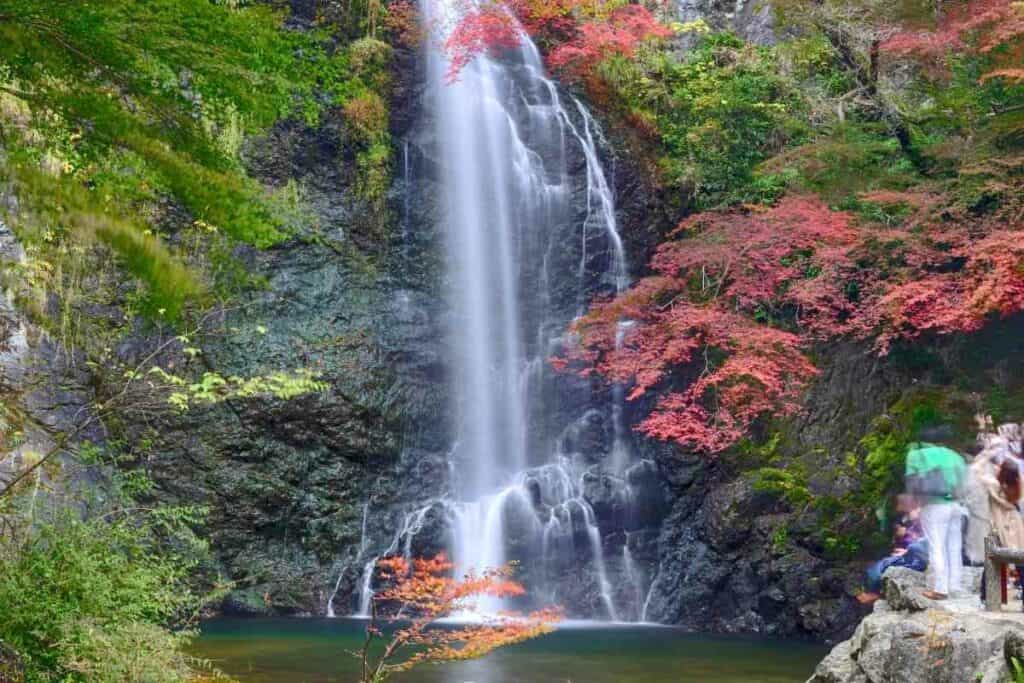 A hiking hub, the smaller trails lead to much more challenging treks for the more experiences hikers and there are some delectable views to be seen.
Be sure to stop at the impressive Ryuanji Temple: home to one of Japan's most infamous rock gardens, along the way.            
Ōsaka Castle
Erected in 1583, this historic building is one of the country's most well-known and visited places.
Built to play a role in Japan's unification, which turned out to a huge role indeed, this is more like a fortress, surrounded by defensive moats and rock fortifications to keep out a powerful enemy.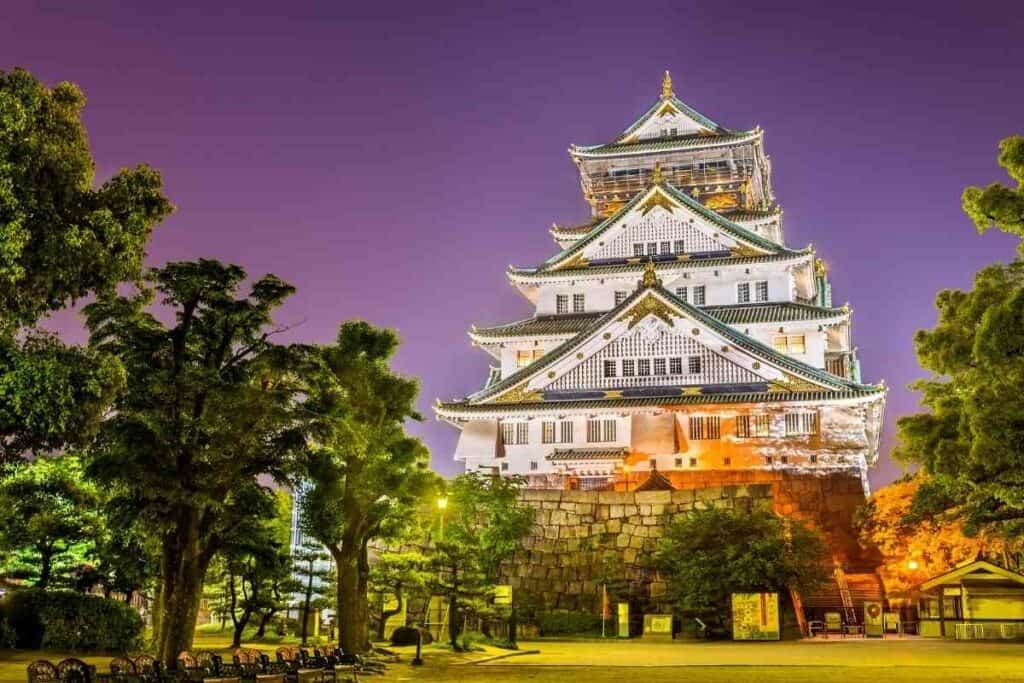 Admission does cost up to 600 yen (just a few dollars), but a free photograph tour of the outside is definitely worth the time.
If you decide to save your dollars for another day, spend some time taking in the surrounding park area. Enveloped in cherry, plum and peach blossoms, it truly is a sight for sore eyes.
Namba Yasaka Shrine
This one-of-a-kind place of worship is a tranquillity amongst the tumultuousness of contemporary life.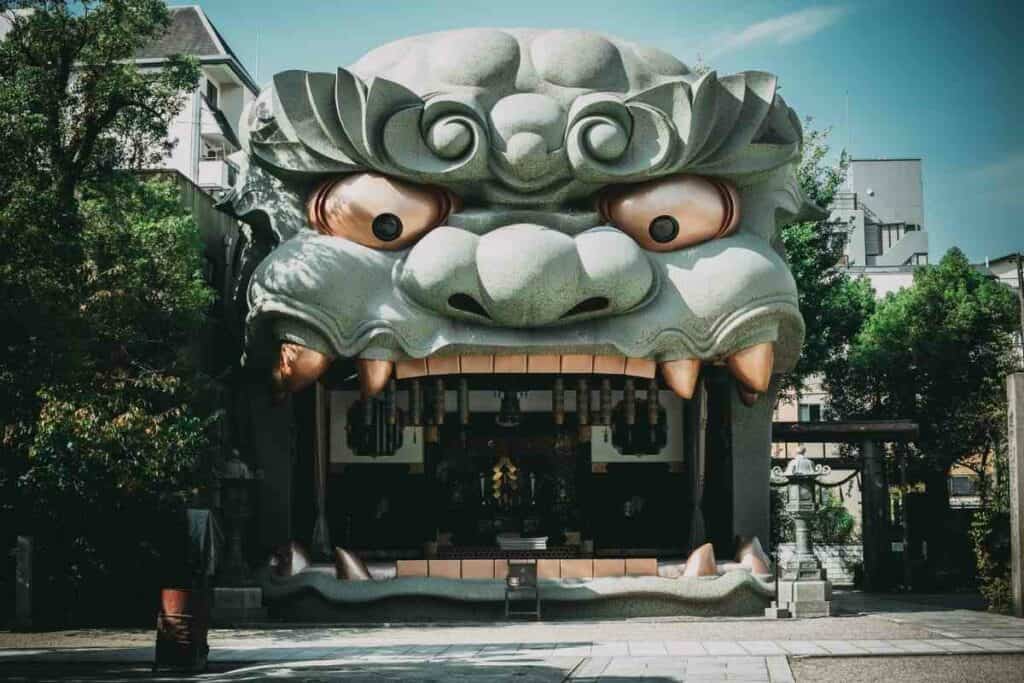 Its intriguing feline design is truly mystifying, and its grounds are littered with blossom trees, making it quite popular in Spring when they are all in full bloom.
The main feature is a 12 by 11-meter lion-head shrine, with its huge jaws wide open and ready to consume any demons you may carry with you.
Even if you are not superstitious, this enchanting place is more than worth a visit just to see this amazing architecture.
Hozenji Temple
Down on luck, lately?
Splash some water on Buddha and get some in this slice of Japanese history, covertly placed between Dotonbori and Namba station.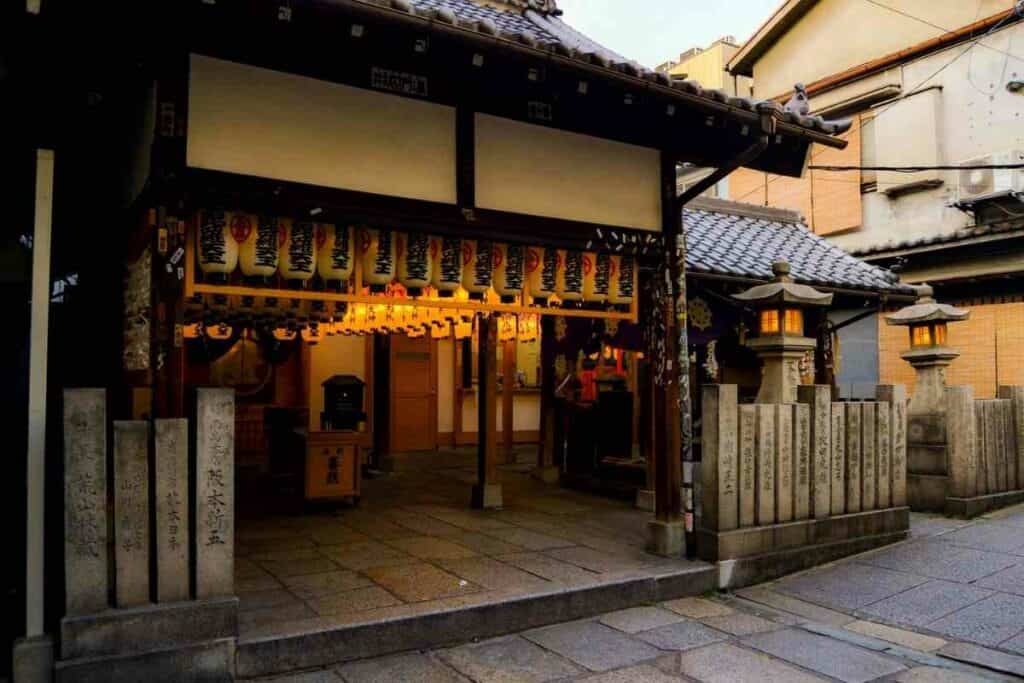 Some would even go as far as to say that it is like going back in time; in this 17th century construction, the history is engrained within the structure itself.
Visit early in the morning or in the earlier hours of the evening, and you will be sure to witness some of the endearing and spiritual events which take place.
The Tomb of Emperor Nintoku
The central tomb within a conglomeration of 48 others, Daisen Kofun (as it is otherwise known) is one of the most intriguing burial sites in the world and part of Mozu Kofun Tombs.
A megalithic mausoleum, this ancient keyhole-shaped grave is somewhat of a mystery – not unlike the existence of the emperor himself which is still a controversial topic to this day.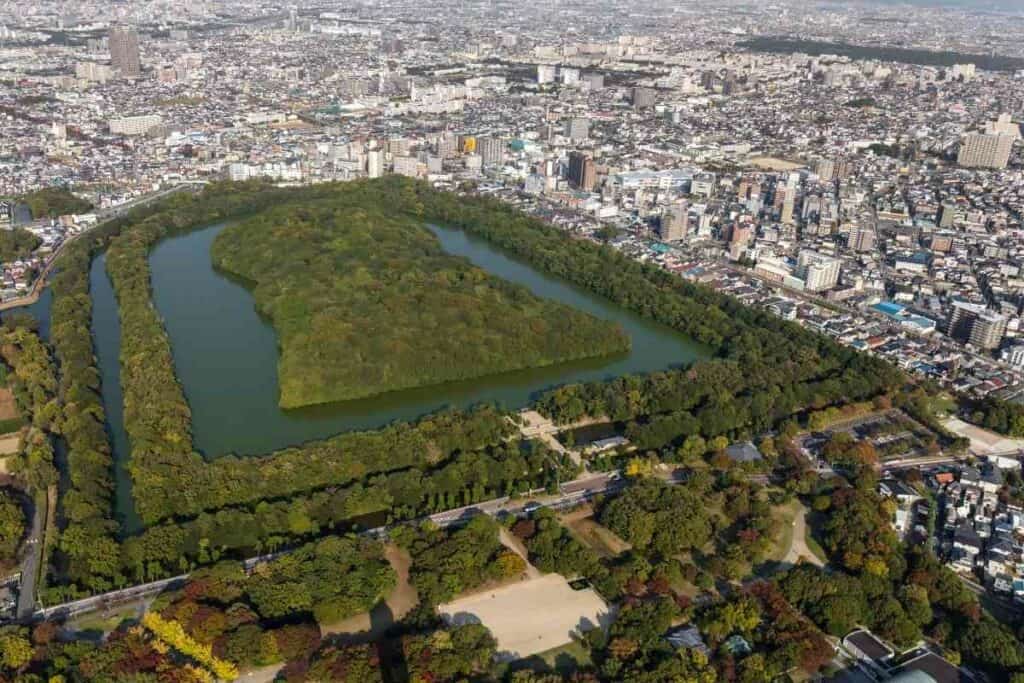 Regardless of that fact, it is a magnificent free place to visit, constructed on an area larger than that of the Great Pyramid of Giza, and an ancient spectacle to see up close.
Visitors are, however, prohibited to enter the grounds of the tomb. For a decent view of the keyhole, pay a visit to Sakai City Hall complex.
There you will find an observatory for just that purpose, that is also free to explore, where you will witness superb panoramic views.
Shitenno-Ji Temple
Another place free to visit (unless you want to view the interior garden), is Shitenno-Ji.
Its spectacular architecture is interesting to see all on its own but the magnificent detail in the design makes it an incredible place to visit.
One of the most dated in Japan, this temple is modest but has extensive grounds and is lovely place to take a stroll and view the scenery.   
Kuromon Market
As with any market, you may need money to make purchases but to visit this 170-year-old pocket of Japanese culture is completely free.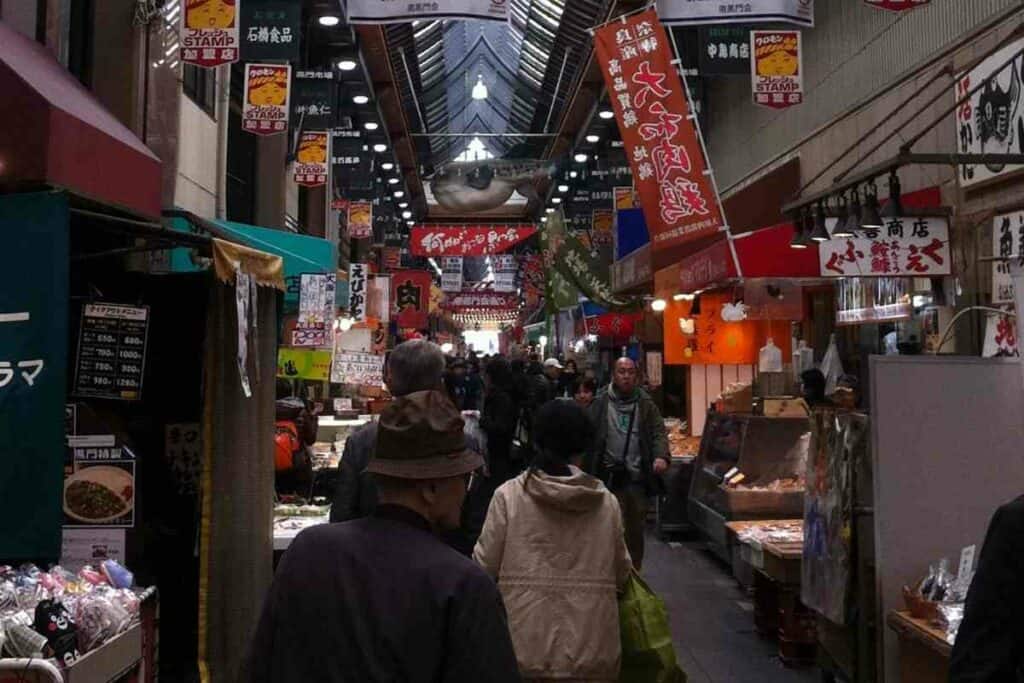 Stretching some 5-600 meters, this hooded market sells a vast array of fresh seafoods, vegetables, sweets, and even western cakes, should you be feeling nostalgic on your travels.
Try some authentic Japanese cuisine from street vendors and haggle a price or two in the bustling streets, as you brush shoulders with local, professional chefs frequenting the market for their ingredients.
Instant Ramen Museum
Should be willing to squeeze the purse and part with a few dollars, why not pay a visit to the Momofuku Ando Instant Ramen Museum?
Along with a number of other fun places for foodies – here, you can learn some Ramen history, experience live exhibits and end your low-budget tour with the authentic experience of creating your very own cup of instant ramen to take away with you and enjoy.   
What Else Is There?
Penultimately, with so much to mention, it feels necessary to squeeze in a few more things before we go.
A home from home, Amerikan Mura (American Village) takes its title from the predominantly United States-imported goods and has a great collection of second-hand establishments for some budget shopping.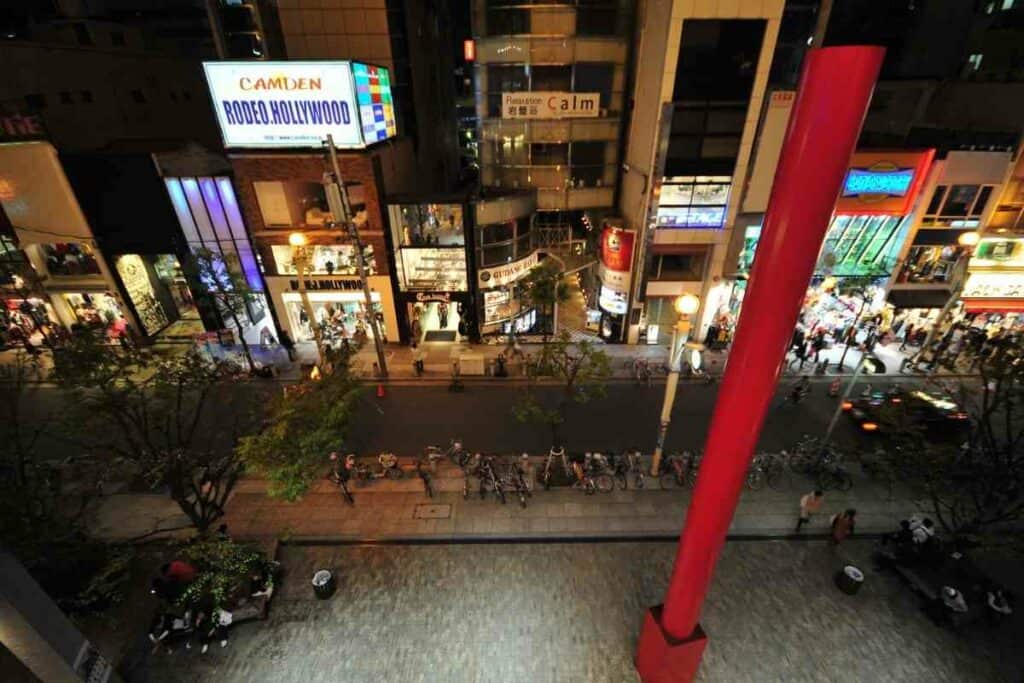 Street artists also frequent the streets of Amemura (abbreviated), providing free performances. Visiting Japan in the Summer months, timing it right means that you may get to see some of the most spectacular firework displays which have been a tradition across Japan for centuries.
Firework festivals include both Naiwa Yodogawa and Tenjin Matsuri festivals – two among many which take place throughout the summertime.     
Final Thoughts
Japan can be an immensely expensive place to visit.
Dependent on the types of things you would like to do, potential costs can rise exponentially when planning a trip with excursions and day trip adventures.
If, on the other hand, you find yourself traveling to Japan on a budget, rest assured that you can have just as much of an adventure with or without a deep purse.
Take a hike in some of the most beautiful landscapes on Earth. Visit shops and restaurants unique to the eastern world.
Go see Pikachu; walk in parks; climb mountains and soak up the culture of one of the most enchanting places you will be ever likely to visit in your lifetime.
In Case You Missed It