Takashi Murakami is undoubtedly Japan's richest artist, with distinctive artworks that grab the attention and challenge norms.
It is now routine for his art to sell for millions of dollars, making him an artist with wealth that is comparable to Damien Hirst, Jeff Koons, and Anish Kapoor.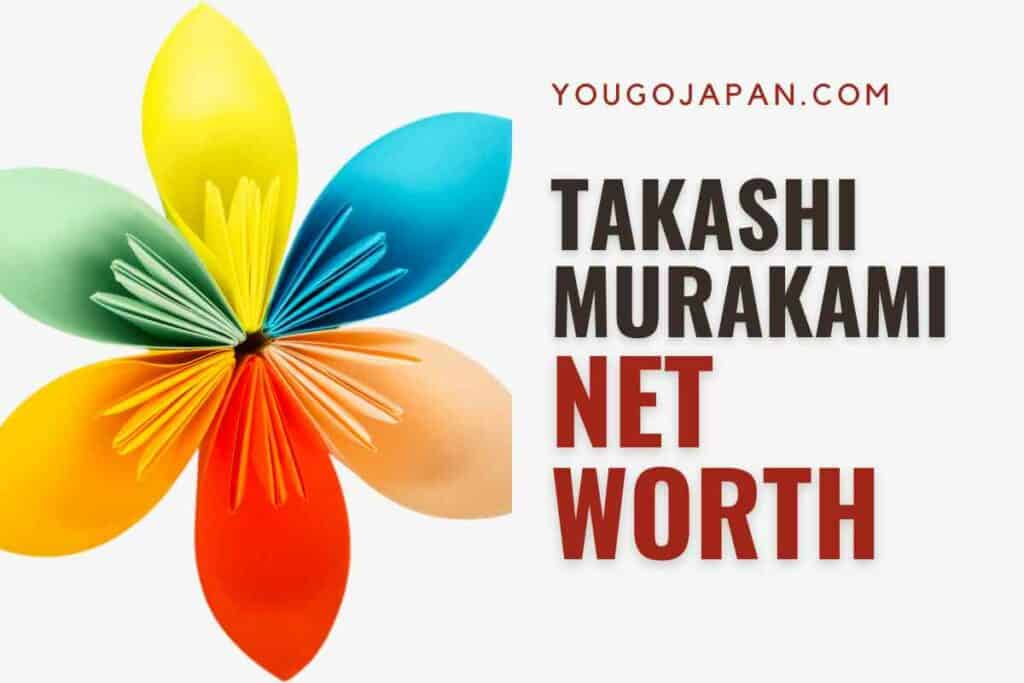 In this article, we take a deep dive into the net worth of Takashi Murakami and explore the artistic expressions that have made him incredibly rich!
The net worth of Takashi Murakami 村上 隆
Takashi Murakami is one of the world's richest artists and certainly the richest artist in Japan.
This contemporary artist is famous for not only working with fine arts media, but also global commercial sectors that span film, fashion, and music. His hi-low style of art and manga motifs are now instantly recognizable around the world.
This Japanese creative created some of the world's most expensive artworks, selling for tens of millions of dollars at auction.
This means that 61-year-old Takashi Murakami has amassed a net worth of over $100 million, and is climbing in 2023.
A breakdown of Takashi Murakami's net worth
Takashi Murakami has wowed the world with his distinctive blend of pop culture and traditional Japanese craftsmanship. He is primarily earning from his artworks which routinely sell for millions at auction. In 2022, his revenue was estimated at $12 million. 
Murakami is a prolific artist producing massive amounts each year. Between 2000 and 2020 he sold over 5,500 pieces of art at leading auction houses including Sotheby's.
Money is also rolling in from his 13-year collaboration with Louis Vuitton, and various projects with celebrities and commissions from music artists and the wider media. 
Murakami is also the founder and President of the privately held company Kaikai Kiki Co., which manages his massive art portfolio and the work of a new generation of Japanese contemporary artists. His NFT collection is currently worth over $9.5 million.
Takashi Murakami 村上 隆 biography 
Murakami was born in Tokyo in February 1962. He grew up a die-hard anime and manga fan, with the aspiration of working in comic books and animations.
His brother also became an artist. His ambition led him to study at the Tokyo University of the Arts. He initially intended to learn animation drafting skills but instead majored in the more traditional Nihonga style of painting. 
Through his study of Nihonga Murakami developed an understanding of the traditional Japanese aesthetic which has partly influenced his work.
After undergraduate studies, Murakami went on to complete a master's and even a Ph.D. in Nihonga (1993). However, the constraints of academic life led him to explore contemporary art in the mid-1990s. 
Contemporary art breakthrough
Murakami felt that Japanese contemporary art in the 1990s was at best appropriating Western trends.
His first piece of art satirized Japanese modern art and was extremely provocative to the more restrained Japanese establishment.
One of his most expensive pieces, with a value of over 15 million was from this early period. Other parody pieces followed including Dobozite Dobozite Oshamanbe and the emergence of his 'avatar', the ever-menacing Mr. DOB.
Understandably Takashi's art was initially met with a very frosty reception in Japan and considered utterly profane in many quarters. However, overseas interest was piqued, providing opportunities for Murakami to exhibit his work overseas.
New York, New York
In 1994, the Asian Cultural Council funded Takashi Murakami as a fellow in the PS1 International Studio Program in New York City. During this one-year fellowship, Murakami gained exposure to some of the world's leading Western contemporary artists including Jeff Koons. 
On returning to Japan, Takashi Murakami was inspired to establish a small studio and collaborated with the Hiropon factory which eventually gave rise to his famous Kaikai Kiki company and brand.
In this environment, he was able to develop and scale the artistic practices that have become characteristic of his art. He also looked west, with frequent exhibitions of his art across Europe and overseas. 
The 'Superflat' concept
Takashi Murakami is famous for his 'Superflat' theory, first published in the year 2000. Takashi suggested that anime and manga have influenced a legacy in Japanese art of flat, 2D imagery.
Takashi explored his proposition further with commentary on the superficial distinctions in social class seen in post-Imperial Japanese society. 
The Superflat concept has influenced many of Murakami's artworks including pieces where he has created 'low' or 'cheap' Japanese cultural motifs presented in a high art format and taken some of his high-art and repackaged them as low-end, cheap items like plush toys and T-shirts.
The Hiropon Factory
In 1996, Takashi Murakami created the Hiropon Factory. It has developed along the lines of traditional Japanese ateliers that craftsmen have used for centuries.
This production workshop enabled Murakami to realize his larger and more diverse art production. The Hiropon Factory eventually became Kaikai Kiki Co.
Celebrity collabs
In the 2000s Takashi Murakami embarked on collaborations that made him extremely famous worldwide.
He was invited by Marc Jacobs to design a famous line of Louis Vuitton handbags. These bags were an international and commercial hit and made Murakami a celebrity himself. A subsequent fashion project with the late Virgil Abloh was similarly acclaimed.
Another champion of Murakami was Kanye West who collaborated with Murakami on album artwork and even created a music video. This opened new doors for Murakami's art with music artist collabs that include Drake, Billie Eilish, Pharell Williams, and Kid Cudi.
His Instagram account is a who's who of the celebrity world: 
What is Takashi Murakami doing now?
More recent projects from Takashi Murakami include:
A 2011 Google Doodle called the First Day of Summer.
A 2012 exhibition in Doha, Qatar featuring old and new artwork.
A 100-foot-long painting about the  Fukushima nuclear disaster.
A 2013 live-action/CGI feature film called Me me me no kurage.
A 2019 album of original folk songs.
A series of Non-fungible tokens (NFT) called 'Murakami.Flowers'.
A 2021 collaboration with Nike subsidiary RTFKT Studios on a series of avatars.
Takashi Murakami has founded a biannual international art fair called Geisai.
Takashi Murakami 村上 隆 personal life
Takashi Murakami is married with a wife, son, and daughter.
The details of his marriage are not fully known but Murakami has indicated that he is enjoying family life after a long period as a bachelor. After the Fukushima disaster, Murakami moved his family away from Tokyo to a private estate near Kyoto. 
Facts about Takashi Murakami 
Kaikai Kiki, the name of Murakami's studio means 'brave, strong, and sensitive, the words of a 17th-century art critic
Murakami is known to sleep in a cardboard box in his studio if he is late or needs a rest. 
He is known for his love of streetwear, including T-shirts, baggy pants, and sneakers.
Takashi does not believe that Japanese people like his work. In a 2019 in-depth interview with the Sydney Morning Herald, he reported that his art is considered 'erotic'. 
Takashi Murakami quote
"I stopped worrying about competition in contemporary art."
Rounding up
Takashi Murakami is one of Japan's wealthiest artists. Despite the profanity of many of his artworks, which are often too much for Japanese sensibilities, Murakami has managed to gain an international following that has seen his contemporary art go mainstream.
His love of popular culture means that there are likely to be many more record-breaking Murakami artworks soon.