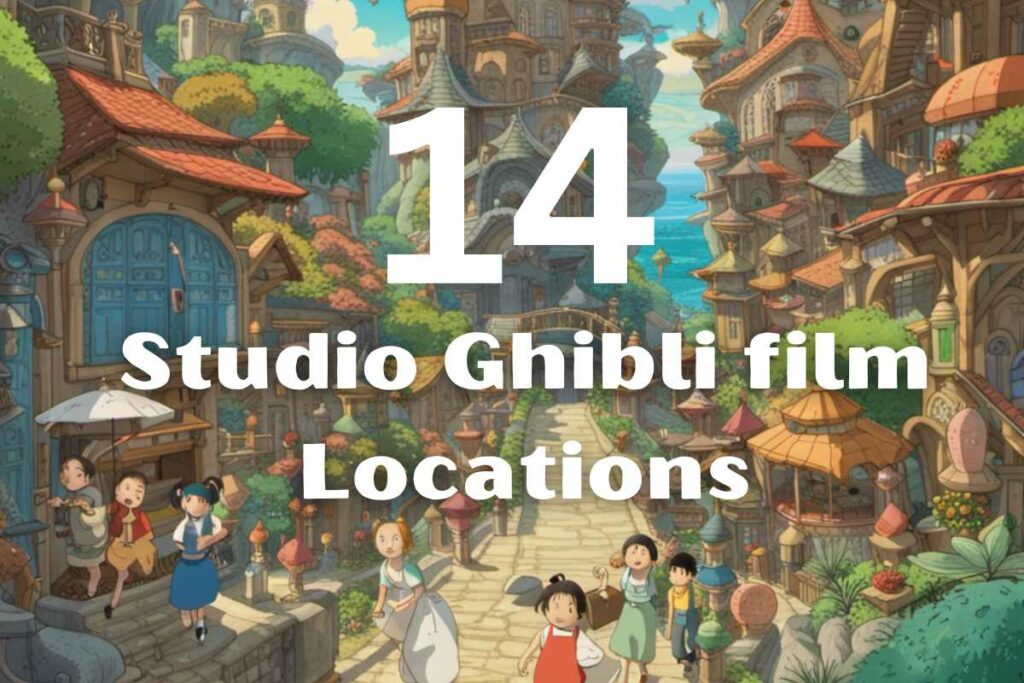 It is hard to quantify the cultural impact that Studio Ghibli has had on Japan and the wider world. From Heidi to Arrietty and all the strange characters in between, the creative powerhouse of Studio Ghibli has used Japan as its ultimate muse.
Skip Ghibli Park in Aichi and the Ghibli Museum in Mitaka, Tokyo, and explore real-world Studio Ghibli locations that are every bit as vivid as the imagination of Hayao Miyazaki!
Immerse yourself in the world of Studio Ghibli at these 14 real-life locations 
These 14 locations in Japan provided the inspiration for many of Studio Ghibli's most famous films. I am still amazed that you can visit locations that are so other-worldly, vivid, and exciting. So start your Studio Ghibli adventure with these iconic sights:
1. The Ghibli Clock in Shiodome, Tokyo
The official name of this clock is the Ni-Tele Really Big Clock. It is named after the Nittele Tower in Tokyo, home to Nippon Television,  where it is located.
This fully-functional steampunk-style clock is a massive sculpture that contains over 20 tons of copper and extends across three stories of the tower.
It comes to life around five times per day with a Howl's Moving Castle-like animated display.
Address: 1-6-1 Higashi-Shimbashi. Minato-ku 
---
2. Kitazawa Flotation Plant on Sado Island
This now-disused flotation plant for the extraction of gold and silver from the Sado gold mine was the first of its kind in the world.
This National Historical Site is also the inspiration for the moss-covered buildings in Castle in the Sky and we loved roaming the dramatically illuminated ruins in the evening hours.
Address: 3-2 Aikawakitazawa-machi, Sado City, Niigata
---
3. The Totoro Forest in Saitama
This storybook forest in the Saitama hills is the de facto Totoro forest from the classic Studio Ghibli film. You'll find My Neighbor Totoro-themed walking trails and a Totoro statue you can take pictures with. 
Address: 〒359-1153 Saitama, Tokorozawa, Kamiyamaguchi, 雑魚入351
---
4. Kiki's bakery, Yufuin Floral Village
This cute bakery is a recreation of the famous Kiki's Delivery Service bakery and serves fresh bread and pastries!
You can learn more about the Ghibli tribute village Yufuin Floral Village in my article Discover Yufuin Floral Village: The REAL Ghibli Village.
Address: 1503-3 Yufuincho Kawakami, Yufu, Oita 879-5102, Japan
---
5. The Yamate Area in Yokohama
You'll immediately recognize this upmarket Yokohama neighborhood from the Studio Ghibli film From Up On Poppy Hill.
The European-style building even includes the flower shop from the movie! 
---
6. Shirohige's Cream Puff Factory in Shimokitazawa, Tokyo
These Totoro-shaped cream puffs have Studio Ghibli's blessing as the owner is the sister-in-law of Hayao Miyazaki himself!
It is in the nice Tokyo neighborhood of Setagaya/Shimo-Kitazawa and offers dine-in and takeaway options over two floors. This is a great stop before or after a trip to the Ghibli Museum.
Address: 5 Chome-3-1 Daita, Setagaya City, Tokyo 155-0033, Japan 
---
7. Yakushima Island in Kagoshima  
This mysterious forest would not be top of my list of destinations, but it is unmistakably the creepy forest that is featured in Princess Mononoke.
Yakushima Island is straight out of the Studio Ghibli epic, with strange, warped moss-covered trees. My advice: take a selfie and get out of there quickly!
Address: Yakushima Island, Kagoshima
---
8. The Moss Village in Ishikawa 
This is another destination for fans of Princess Mononoke and appears to be straight out of the classic animation.
The Japanese moss-covered buildings and cedars in Koke no Sato, a hidden village in Komatsu, Ishikawa Prefecture create a beautiful, peaceful scene.
Be super quiet when you go so you don't disturb the residents.
Address: Tora-71番地付近 Hiyōmachi, Komatsu, Ishikawa 923-0324, Japan
---
9. Tomogashima Island in Wakayama 
Anyone who roams these redbrick buildings and fortifications of this now uninhabited island will immediately recognize them from the floating island of Laputa, in the Studio Ghibli film Castle in the Sky.
Address: Tomogashima, Kada, Wakayama City, Japan
---
10. Tokorozawa Aviation Museum in Saitama 
Aviation is a big thing in Studio Ghibli films. At this fascinating aviation museum, you'll see aircraft designed by Jiro Horikoshi who was the protagonist of Hayao Miyazaki's film, The Wind Rises.
Address: 1 Chome-13 Namiki, Tokorozawa, Saitama 359-0042, Japan
---
11. Hirakawa in Aomori
Hirakawa in Aomori is home to the famous Seibi-en (盛美園) Japanese landscaped garden and Western-style villa that was the setting of the Studio Ghibli film The Secret World of Arrietty.
These outstanding gardens have existed since the Meiji era and are a  nationally designated Place of Scenic Beauty.
Address: Ishibayashi-1 Saruka, Hirakawa, Aomori 036-0242, Japan
---
12. Tomonoura in Fukuyama City, Hiroshima
Ponyo fans must visit the charming harbor town of Tomonoura which inspired the beautiful setting of the film.
Studio Ghibli fanatics will be able to find so many locations that feature in the film and, of course, there is ponyo-related street art all over the town.
The town is part of Setonaikai National Park, Japan's biggest national park that stretches along the coastline of the Seto Inland Sea.
Address: Setonaikai National Park,Tomonoura Cove
---
13. Yokohama Motomachi Shopping Street
Do you want to see where Haru met Muta in The Cat Returns?
This quaint Yokohama shopping street serves as the location brought to life in the film and is not far from Yamate (see above). So if you go to Yokohama, you can visit two places for the price of one!
---
14. Yoo-Hoo! SWING, Hakuba, Japan
This is my all-time favorite Hayao Miyazaki, because it is from Heidi, Girl of the Alps, a cartoon I loved to watch growing up!
This giant swing is soooo much fun, however, you cannot jump from the swing onto a cloud as Heidi did!
Yoo-Hoo! SWING is open all year round at the mountainous  Iwatake Resort, and offers outstanding Alpine views. It costs 500 yen per ride.
---
Conclusion and final thoughts 💭
There are so many real-world locations to delight Studio Ghibli anime fans, that you'll realize that Miyazaki and his team may be Japan's greatest unofficial ambassadors.
Plan your Japan trip with these Studio Ghibli destinations in mind as you'll find that they are everywhere.
For me, seeing the real locations is much better than the museum or the theme park, as you'll feel like you are actually in a Studio Ghibli film!