Exploding with culture, history, and spirituality, Japan is dotted with thousands of both Shinto and Buddhist shrines and temples.
Some dating back thousands of years, these ancient and contemporary sites are awe-inspiring wonders to behold.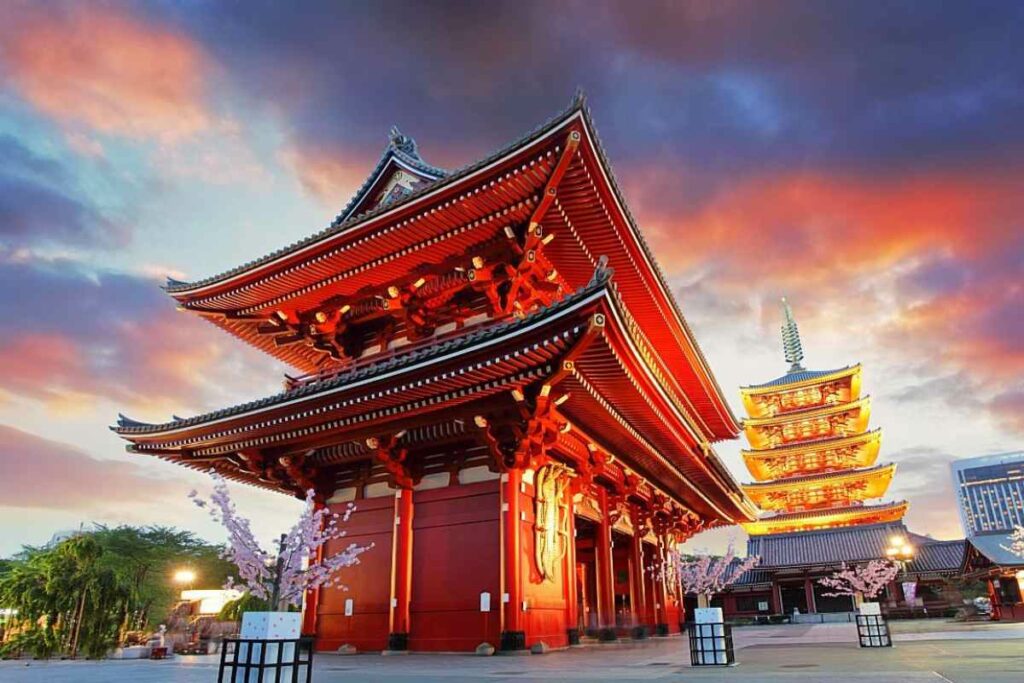 When visiting The Land of the Rising Sun, standing on the grounds of some of these places should undoubtedly be part of your plans.
Let's take a look at 20 must see Japanese shrines and temples…
#20 Byodoin Temple
One of the more iconic and stunning temples in all of Japan, Byodoin in Uji City is featured on the reverse of a ten-yen coin and has been dated to as early as 1053.
Byodoin Temple is a 10-12 minute walk from JR Uji Station or Keihan Uji Station.
#19 Todai-ji Temple
Todai-ji in Nara houses the biggest and most famous statue of Buddha in the world. Parts of the building date back to eighth century.
This significant landmark is just a 30 minute walk from Kintetsu Nara Station.
#18 Itsukushima Shrine
Stood, elegantly, in the water: Itsukushima Shrine in Miyajima, Hiroshima is a unique must see if you're visiting the area.
This one takes some effort to get to. Accessible by both train and ferry from the city of Hiroshima, take the train from Hiroshima Station to Miyajimaguchi. From there, it's a ten minute ferry ride.
#17 Toyokawa Inari Temple
Both elaborate and colossal, Inari Temple in Toyokawa, Aichi brings good fortune and is visited often by business owners.
This site is a brisk 3-minute walk from Toyokawa-inari Station.
#16 Hiyoshi Shrine
Guarded by monkeys, Hiyoshi Shrine in Kiyosu City, Aichi is an unusual shrine which is shared by Buddhists.
Taking a bus from JR Ogaki Station to Ida, the shrine is a 5-minute walk from there.
#15 Namba Yasaka
Namba Yasaka in Naniwa-ku, Osaka is incredibly popular young shrine thanks to its main feature being the titanic head of a lion and build in the late 20th century.
This famous site is located less than 10-minutes' walk from Daikokucho Station and also from Nankai Namba Station as well.
#14 Hozen-ji Shrine
Hozen-ji – on the smaller side, this Osakan shrine features a mystifying statue shrouded in moss which draws crowds of people and is a must see if you find yourself in Dotonbori.
Situated just a few minutes' stroll from Dotonbori Bridge.
#13 Tsuyunoten Shrine
Shakespeare fans will like this one! Another relatively small shrine, Tsuyunoten in Kita-ku, Osaka is built around very real love story similar to that of Romeo and Juliet.
Head southeast from Osaka Station, on foot, and it should take around 10 minutes.
#12 Kinkakuji Temple
Kinkakuji in Kyoto is one of the most sublime views that you will ever lay your eyes upon. Partly veneered in gold leaf, the reflections of this Zen temple on the water, alone, are worth seeing.
Find this on a short bus journey from Kyoto Station.
#11 Heisenji Hakusan Shrine
Heisenji Hakusan Shrine has been designated a National Heritage site. It is considered one of the most beautiful in all Japan and its location makes it understandable.
From Katsuyama Station, it would be a journey by bus or taxi taking around fifteen minutes.
#10 Tsubosaka-dera Temple
Tsubosaka-dera Temple, Takatori. A must see for many reasons, this temple lies in the grounds of castle ruins and is surrounded by impeccable scenery and hiking trails.
Bus services are lacking in the area. It is recommended to walk from Tsubosaka-yama and head for Takatori Castle.
#09 Kōtoku-in Temple
Kōtoku-in is another famous Buddhist temple with an amazingly monumental bronze statue standing over forty feet high. Located in Kamakura City, Kanagawa.
This is just a few hundred meters from Hase Station.
#08 Sensō-ji Temple
Sensō-ji, also referred to as Asakusa Kannon in Tokyo, features a five-storey pagoda and receives a whopping thirty million visitors on average each year.
A short distance from Asakusa Station.
#07 Ryōan-ji Temple
In northwest Kyoto, Lies the Temple of the Dragon at Peace: Ryōan-ji. A UNESCO world heritage site, it has some of the most stunning Zen gardens with unusual rock formations.
The temple lies within a 10-minute walk from Ryōan-ji Station.
#06 Yakushi-ji Temple
Yakushi-ji, an ancient imperial temple, is one of the most famous in Japan as the HQ for a specific school of Buddhism. Another UNESCO site, it is considered a historic monument of Nara. 
Walking from Nara Park, head south for around five minutes.
#05 Kiyomizu-dera Temple
Kiyomizu-dera is yet another UNESCO site and dates back to the Heian period (794-1185). It is a prestigious complex located in eastern Kyoto.
Located at the end of an uphill, ten-minute walk from Kiyomizu-michi bus stop, or Gojo-zaka.
#04 Ninna-ji Temple
Ninna-ji, also in the UNESCO list, was established in the 9th century and is situated in western Kyoto. Its famous Golden Hall is a feat of architecture and a national treasure.
Ninna-ji is a few meters from Omuro Minnaji Station.
#03 Saihō-ji Temple
Saihō-ji Temple, also known as Koke-dera, is late 20th century build in Matsuo, Kyoto. Referred to as The Moss Temple, there are over one hundred and twenty variations of moss found in the area.
Walk for roughly 20 minutes from Matsuo Taisha Station.
#02 Engaku-ji Temple
Engaku-ji is considered to be one the most important of all Buddhist temples in Japan. Founded in Kamakura, Kanagawa which is located south of the capital city of Tokyo, this temple was established in 1282 when the Mongols invaded Japan.
Less than 2-minutes walk from JR Kita Kamakura Station.
#01 Daitoku-ji Temple
Daitoku-ji Temple or the Temple of Great Virtue in on land spanning 23 acres and is made up of a number of different buildings.
The temple is situated within fifteen-minutes' walking distance from Kitaoji Station.
Things to do and don't do when visiting Temples and Shrines
Do bow respectfully when entering and leaving the shrine or temple grounds.
Do follow any specific instructions or signs regarding photography and the use of flash.
Do remove your hat and sunglasses before entering the main hall or inner sanctum.
Do participate in traditional customs, such as washing hands and mouth at the purification fountain.
Do explore the beautiful gardens and grounds surrounding the shrines and temples.
Do learn a few basic Japanese phrases, as it shows respect to the local culture and may come in handy during your visit.
Do observe and follow the behavior of locals when engaging in prayers or making offerings.
Do take off your shoes when entering certain areas, such as temple halls and prayer rooms.
Do purchase an omamori (amulet) for good luck or protection if you wish to take home a souvenir from the shrine or temple.
Do be mindful of your noise level and avoid disturbing others who may be praying or meditating.
Don't touch or disturb any religious artifacts or sacred objects inside the shrine or temple.
Don't take photos in areas where photography is prohibited, such as certain halls or prayer spaces.
Don't speak loudly or create unnecessary noise, as shrines and temples are places of tranquility and contemplation.
Don't bring food or drinks into the main hall or inner sanctum.
Don't smoke inside the shrine or temple grounds, as it is considered disrespectful.
Don't walk in the center of the path leading to the main hall; instead, use the sides of the path.
Don't wear revealing or inappropriate clothing when visiting religious sites.
Don't climb on statues or structures within the shrine or temple area.
Don't skip the purification ritual before entering the main hall, if there is one.
Don't point directly at religious objects or people with your index finger, as it is considered impolite in Japanese culture.
What you need to know when visiting Japanese Shrines and Temples
Are there any specific rules or customs I should follow when visiting a shrine or temple in Japan?
Yes, there are several customs to observe. Bow respectfully when entering and leaving the shrine or temple.
Be mindful of noise levels, and avoid touching or disturbing any religious artifacts or sacred objects. Additionally, some areas may require you to take off your shoes, and photography may be restricted in certain locations.
Can I take photos inside the shrines and temples?
Photography is generally allowed in the outdoor areas of shrines and temples. However, it's important to check for signs or ask permission before taking photos inside the main halls or prayer rooms. Also, avoid using flash, as it may be considered disrespectful.
What should I wear when visiting a shrine or temple?
Dress modestly and respectfully. Avoid revealing clothing, and remember to remove your hat and sunglasses when entering the main hall or inner sanctum. Comfortable shoes are recommended, as you may need to walk on gravel paths or traditional tatami mat floors.
Are there any entrance fees to visit shrines and temples?
Most shrines and temples do not have entrance fees for basic visits to the grounds. However, some specific areas or attractions within larger temple complexes might require a fee.
Can I participate in religious rituals or ceremonies as a non-Japanese visitor?
Yes, you are welcome to observe and participate in some of the rituals, such as washing hands and mouth at the purification fountain, and offering prayers and donations. Respect the customs and follow the lead of the locals.
Are English guides or explanations available at shrines and temples?
Some popular shrines and temples catering to tourists may have signs or brochures in English. However, it's a good idea to do some research beforehand or hire a local guide to gain a deeper understanding of the site's history and significance.
How do I properly cleanse myself before entering a shrine or temple?
At the purification fountain near the entrance, take the ladle with your right hand and scoop water. Rinse your left hand, then switch the ladle to your left hand and rinse your right hand. Finally, hold the ladle upright to let the remaining water cleanse the handle.
Are there certain days or times when it's best to visit shrines and temples?
Shrines and temples are generally open year-round, but some may have specific days or periods of special significance. New Year's Day is a popular time for temple visits in Japan.
Can I purchase souvenirs or amulets at shrines and temples?
Yes, many shrines and temples offer souvenirs, charms, and omamori (amulets) for sale. These items are believed to bring good luck or protection.
Can I take a Stroller inside a Japanese temple?
In most cases, you can take prams (strollers) into Japanese temples. However, it's essential to be mindful of the specific temple's rules and guidelines regarding stroller access. While many temples are accommodating to visitors with young children, some may have certain areas or buildings where strollers are not allowed to maintain the sanctity of the space or for safety reasons.
Final Thoughts
It is no easy task to summarise the "must-see" Japanese shrines and temples. There are so many wonderful sights to see that even the 20 must-see Japanese Shrines and Temples are but a small selection of those which exist. Follow a list if you must, but feel free to explore this amazing archipelago and you will be sure to find some truly breath-taking places.