Why is Okinawa always a good idea? Okinawa is the largest island of the Okinawan islands.
Located around a 3-hour flight from Tokyo, it is a top destination for both Japanese tourists and international travelers.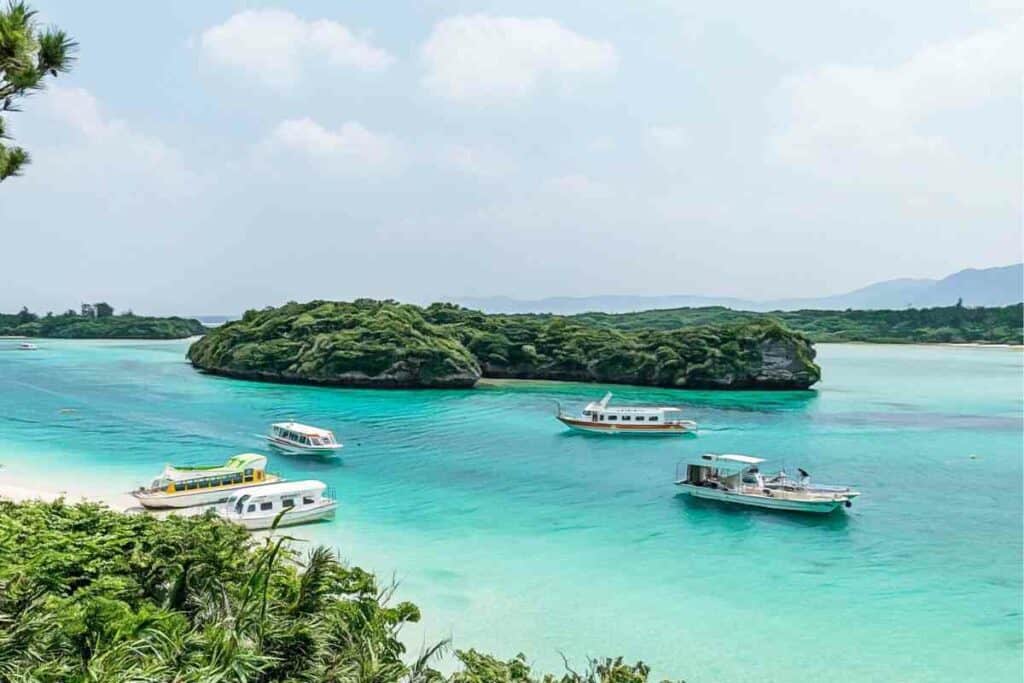 Here we take a look at the most amazing things to do in Okinawa, Japan, and 5 most useful tips you need to hear before you go there.
1- Dip yourself in the aquamarine coral waters and explore the mangrove
The Okinawan tropical sea is the main attraction for most Japanese domestic tourists.
Warm beautiful clear waters, water sports, and barrier reef activities await the visitors in Okinawa.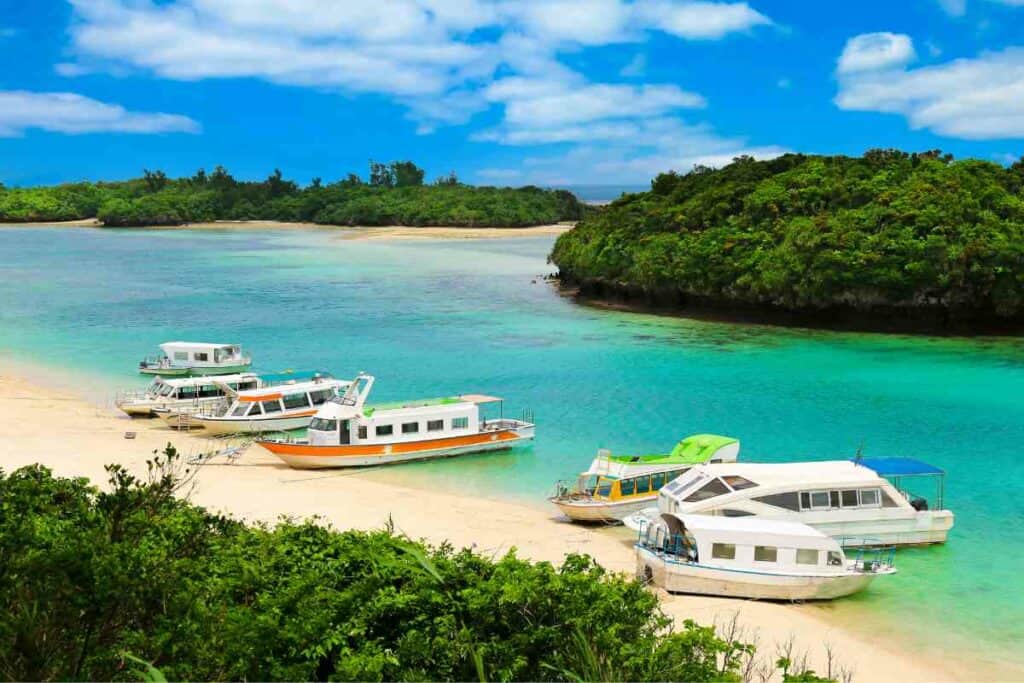 Besides the picture-perfect sandy beaches one can find in Okinawa, there are also many activities to discover even more of Okinawan secrets.
You can find exceptional sandy beaches all around the island, with the swimming season usually stretching from April to October, while a few are open all year round.
Large hotels also easily connect to sandy beaches and offer water sports, such as scuba diving or banana boats.
Keep in mind the jellyfish season which may prevent you from swimming for a few weeks.
More than 400 coral species live on the Okinawan reef, including:
sea turtles
tropical fishes
and anemones
Okinawa's local aquarium, Churaumi, is now re-opened for business, revealing the island's sea mysteries.
Its activities include the sea of tropical fish, the dynamic world of migratory fish, and the sea tank observatory.
See, touch, and experience marine life around the corals in the "Inoh" replica. "Inoh" is the Okinawan word describing shallow waters around the coral reef, with creatures such as sea cucumber and starfish.
There is also an extensive mangrove, located in the northern part of Okinawa's main island.
Its unique flora and fauna, including migratory birds, can be seen on a kayak expedition, for example.
Some typical kayak tours last around 2 hours, and you can learn about the ecosystem with a local guide for around $60 per person.
2 – Enjoy the Great Tug-of-War festival in Naha, Okinawa
This is one of the many summer festivals held on Okinawa Island.
Located in Naha, not far from Okinawa's airport, it is easy to be part of the festivities if you happen to be there in summer.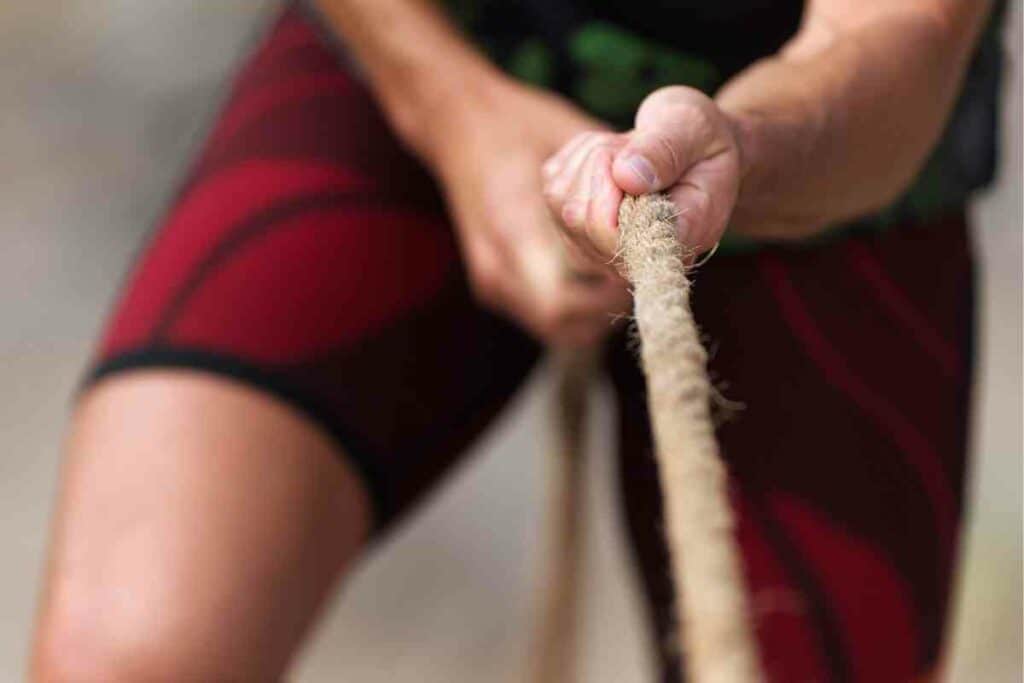 While its origins can be traced back to 1450, it was mostly re-introduced in modern times in 1971. The rope is 200 meters long and one of the world's heaviest at 43 tons.
Originally a local farming harvest event, to pray for rain and rice cultivation, it became a large-scale tug-of-war game. It also includes a female tug-of-war contest!
There are many other similar tug-of-war festivals all around Okinawa, but this is the largest and most famous one.
3 – Music, Taiko and Eisa Dance
Okinawan music is now well-known all over Japan, thanks to various artists. It is always great fun to listen to them or attend a concert in Okinawa.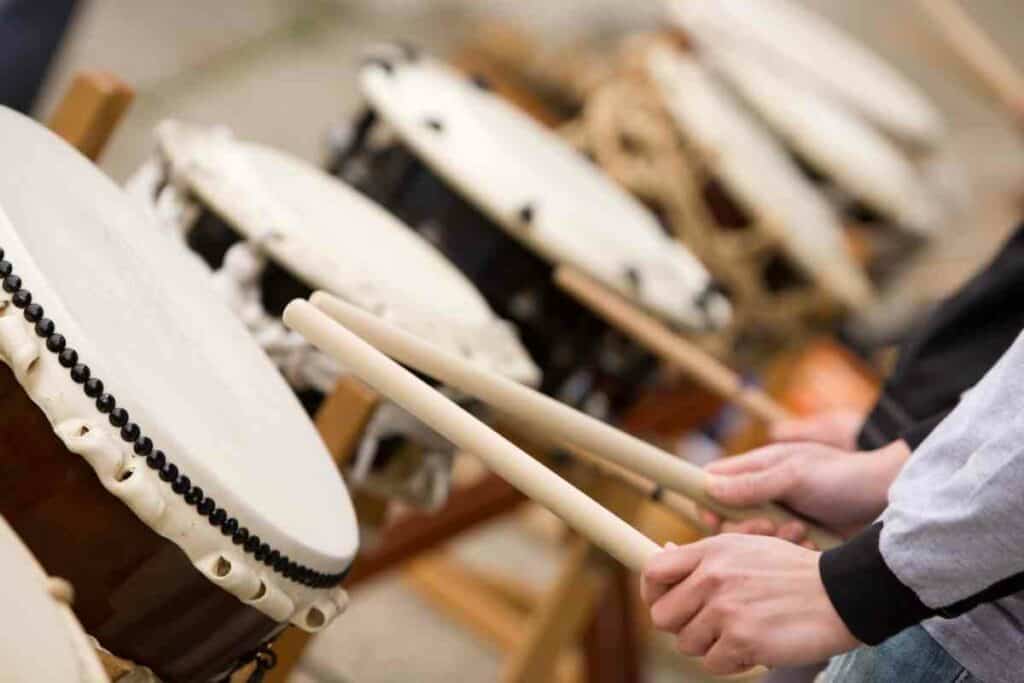 Several groups such as the Rinken Band ( りんけんバンド), helped popularize Okinawan music in the 1980s.
Some artists use the Okinawan guitar: the Sanshin.
Okinawa's atmosphere also made such an impression on musicians that groups like The Boom wrote a big hit in 1992 with "Uta No Shima" (the island's song), with definite components of local instruments, and tells of Japanese female nurses during WWII.
Until Recently – Visitors could enjoy live music in Naha, with Okinawan singer Mrs Misako Oshiro, aged 83. She still performed at Shima Umui Bar every night, with her sanshin until 2021, when she passed away.
Another essential form of Okinawan music is the Taiko, which goes along with the traditional Okinawan dance Eisa.
Taiko has existed in Japanese society for over 2000 years. In modern times, Taiko became extremely popular again after the Tokyo Olympics in 1964.
In Okinawa, there is a popular Taiko group RyukyuKoko characterized by its unique choreography incorporating elements of karate and dynamic drumstick movements.
They have more than 2500 members, and 43 branches outside of Okinawa, but also overseas.
In Okinawa, you can see them perform in different festivals, in particular at the summer Obon festival, in August.
The Okinawa Zento Eisa festival offers visitors a chance to see more than 10,000 Eisa dancers in the parade, together with Taiko musicians and Sanshin players.
The local dances and music have a real energy, and you can enjoy them even without understanding a word of Japanese.
4 – Okinawa Foods: the Secret to Longevity
Okinawan specialties are famous all around Japan but also around the world because of their longevity secrets.
Mostly based on pork and local fruits, these dishes may be an acquired taste, but are worth trying.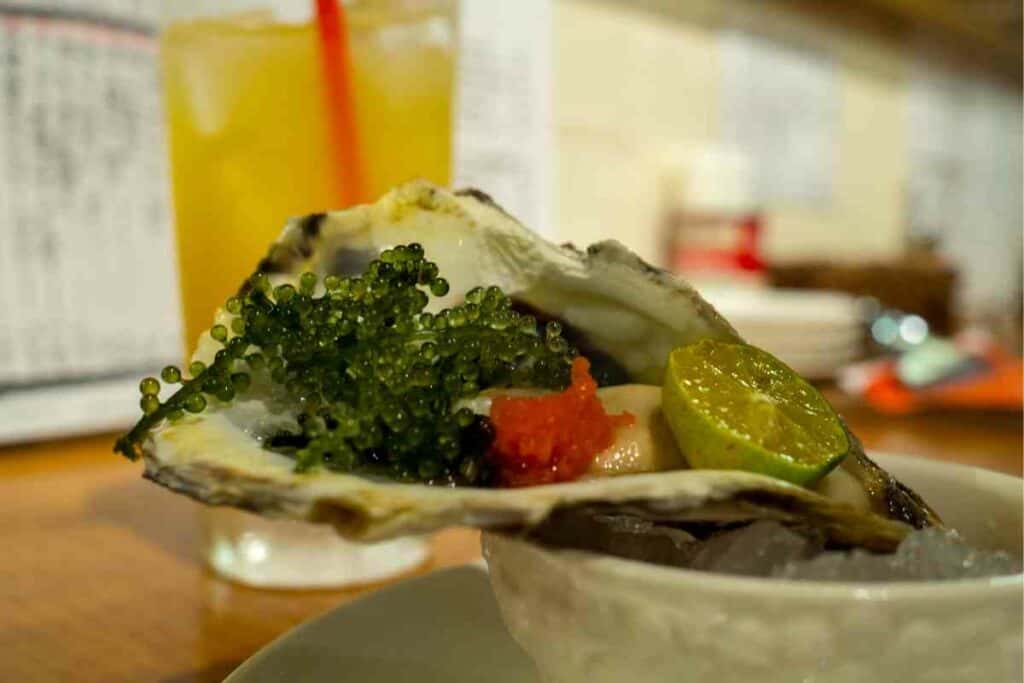 Many scientists pointed out their fabulous food recipes and ingredients as an explanation for Okinawan locals' longevity.
Some local restaurants serve "slow food", made of locally grown organic ingredients.
Okinawan food is famous for its fruit, Goya, used in many local dishes.
It resembles a bitter melon and can be cooked stir-fried (Goya Champuru).
It is a bowl of several ingredients, including:
Goya
tofu
soya sauce
pork
and eggs
Champuru is also a typical Okinawan word, which means "mixing everything".
You can order Tofu Champuru, quite similar to Goya Champuru, but with tofu as the main ingredient.
Sea Grapes (Umi-Budo) are also unique to Okinawan seas. They are also known as "Green caviar" due to their appearance. They pair well with rice or sashimi.
Umi-Budo dish is served with:
rice
raw sea urchin
salmon roe
and soya sauce
The "green caviar" has a salty sea fresh taste and a crunchy texture.
Okinawa produces the majority of umi-budo consumed all around Japan, and nowadays harvested from local sea grape farms.
You can try it in local Okinawan restaurants but also buy packs at local supermarkets, or even in Tokyo, for around $7 per pack.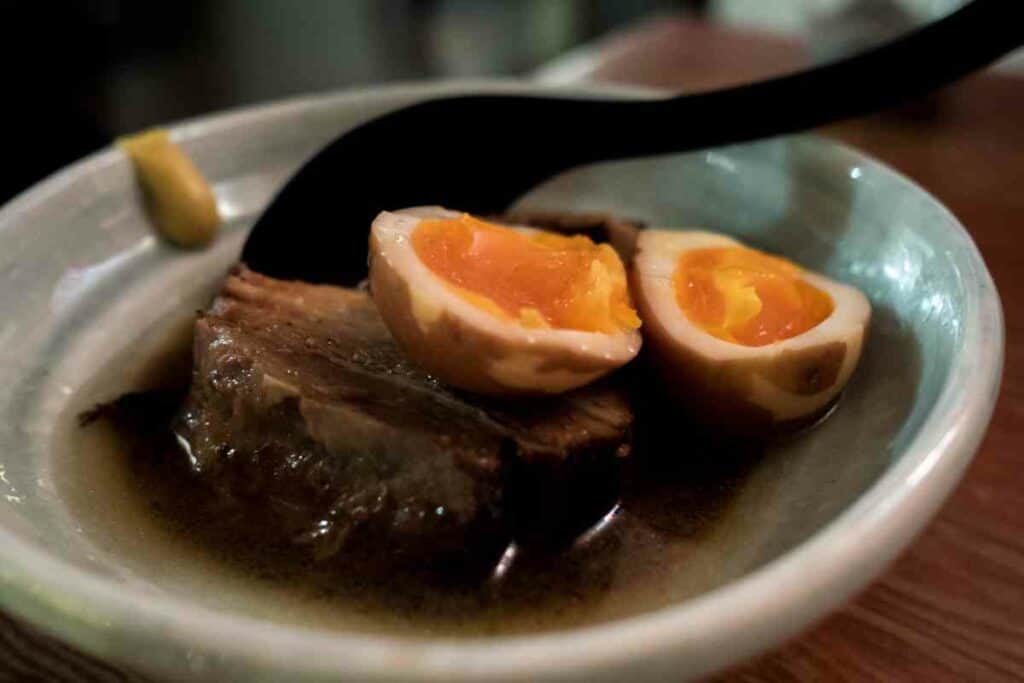 Other local dishes worth trying are Inamuruchi and Rafute:
Inamuruchi is a traditional festive dish, referring to wild boar. It is an imitation of a wild boar dish, using pork as its main ingredient, together with shiitake mushrooms and steamed fish paste. All ingredients are cooked in a sweet white miso soup.
Rafute refers to a traditional dish where chopped pork belly is slowly simmered with soya sauce, awamori, and brown sugar. Miso can sometimes replace soya sauce.
If you are not a pork eater, you can also try the fabulous, shredded carrot stir-fried with tuna, or "Ninjin Shiri-Shiri".
This is a dish high in fiber, potassium, minerals, vitamins, and calcium. Definitely one of Okinawans' longevity secrets!
While you are in Okinawa, you could do a special cooking class, with a local chef, to learn all Okinawan cooking.
There are plenty available in English, or in Japanese.
5 – Learn Some Okinawa Ben!
As in Kansai, there is a specific dialect in Okinawa.
In the Meiji period, the government attempted to enforce one standard language all over the country.
While standard Japanese is the one taught in Japanese schools and used in day-to-day business activities, there are still many dialects spoken around Japan.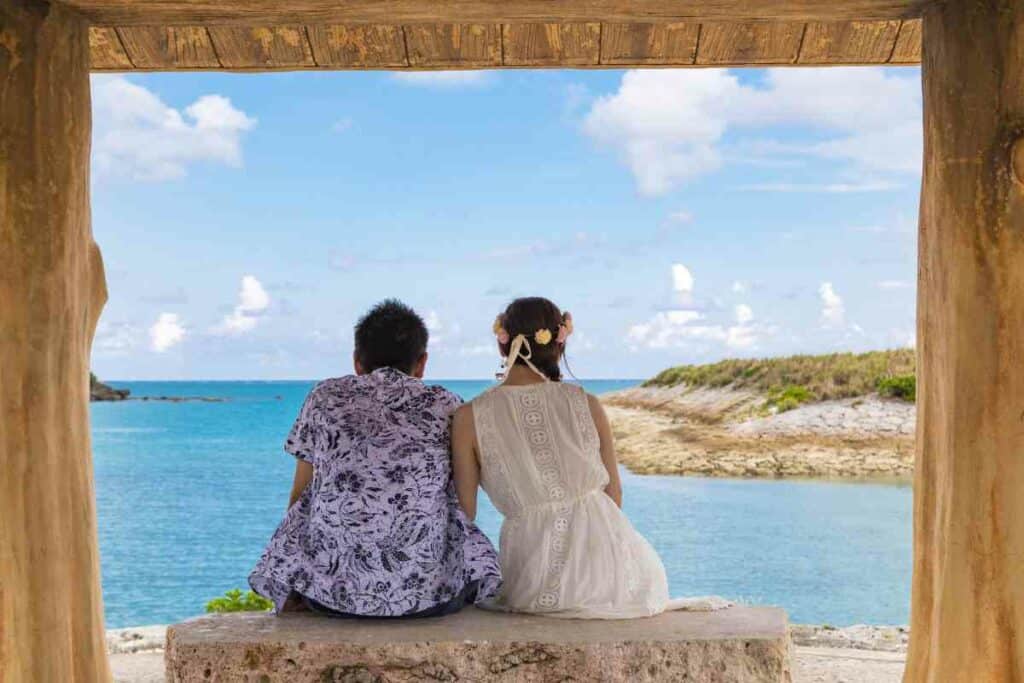 Okinawa Ben is one of them. The original Okinawan language dating back to the 17th Century, is close to extinction.
Nowadays, the young generations of Okinawans speak Okinawan Japanese, also referred to as the Okinawa dialect.
It is a mix of Japanese and Okinawan words.
Let's look at some of them:
Hello = Konnichiwa (in Japanese) = "haisai" or "haitai" (in Okinawan dialect)
Are you well? = Genki = Ganjyuu (in Okinawan dialect)
Thank you = Arigatou = Ni fue de biru (in Okinawan dialect)
Family = Kazoku = Ya-ninjya (in Okinawan dialect)
As you can see, the words are totally different in Okinawan Japanese.
Also, some words that are the same actually have different meanings than standard Japanese.
There are some books available online to study and learn Okinawa Japanese.
Conclusion
Okinawa is not always on international visitors' list to visit, perhaps because of the American base's presence. It is still an active debate in Japan, and you will see the bases as you land and cross Okinawa main island.
However, it is worth adding it to your next trip, for its music, dance, and joyful cuisine will add to your knowledge of Japanese culture. Not to mention learning about the Japanese dialects…