Even if you aren't a gastronome, your visit to Tokyo will be incomplete without a visit to the famous and historic fish markets that dot the city.
The Japanese are exceptional lovers of seafood with marine cuisine intertwined with the nation's culture and economy.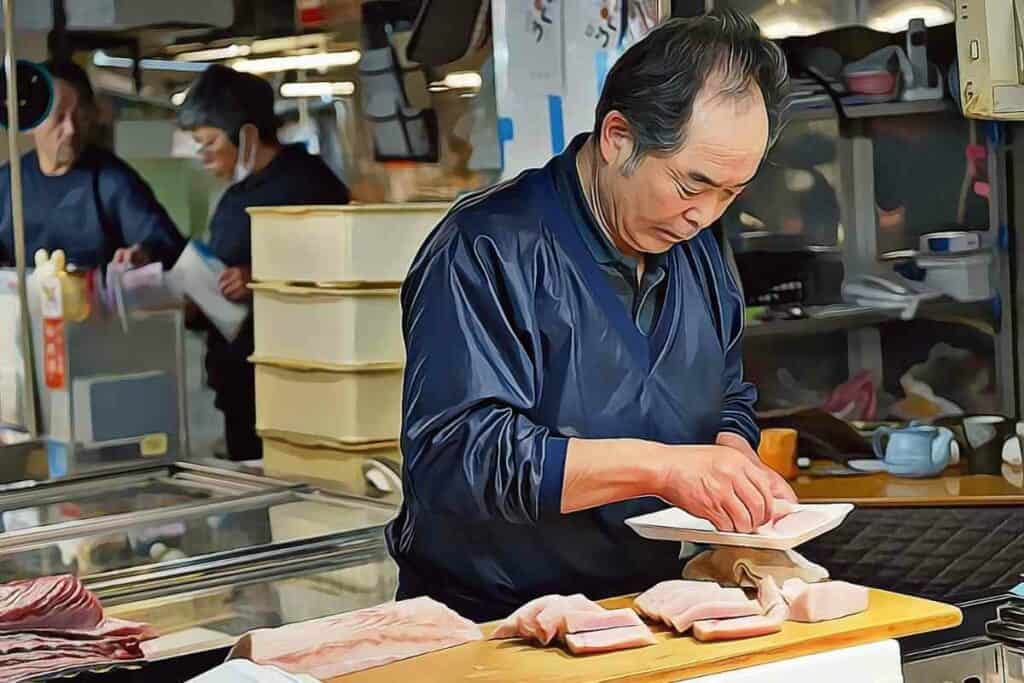 In this article, we share famous fish markets in Tokyo which showcase the very best of Japanese seafood. 
Visiting a famous fish market in Tokyo
A visit to the amazing fish markets of Tokyo will not only include sights, sounds, and smells but taste also.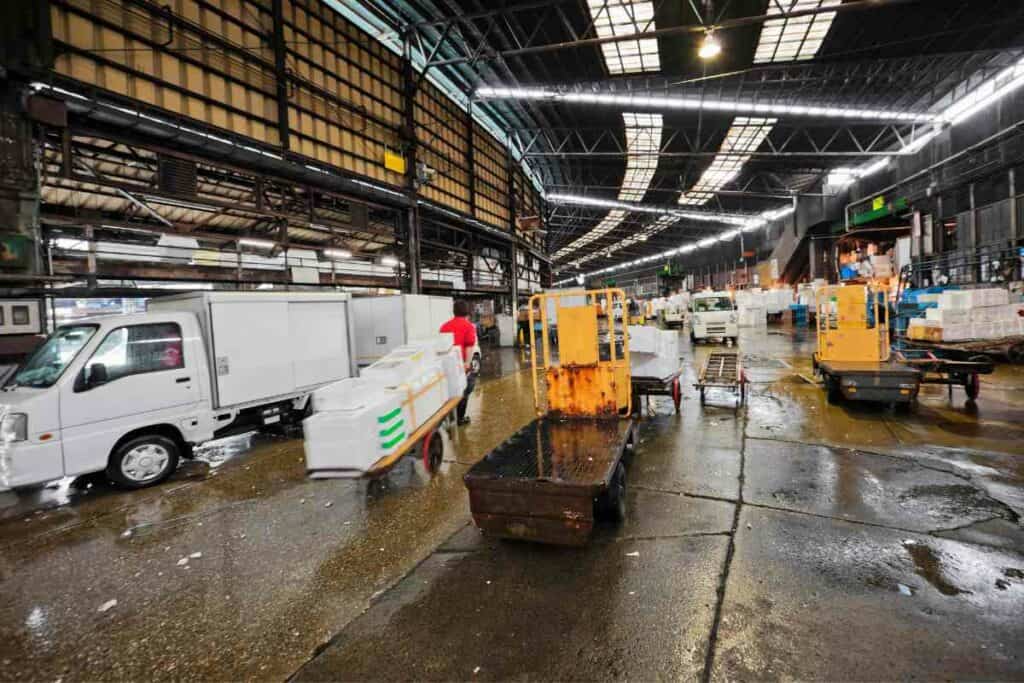 The fish markets of Tokyo are renowned for the quality and freshness of the food served in a variety of restaurants and eateries. 
A fish market is a perfect place to immerse yourself in Japanese culture. As an island nation, seafood is at the heart of the culture and cuisine.
Japan is unrivaled in its knowledge of fish processing, preservation, and preparation which has been passed down through generations and is now beautifully displayed in the city's fish markets.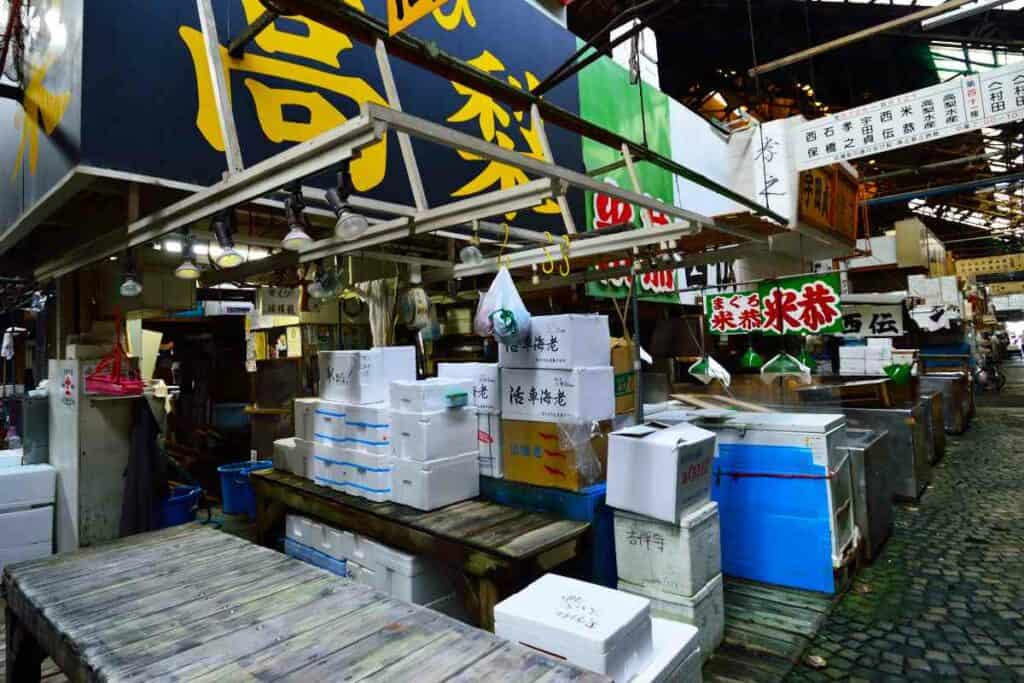 Japanese fish markets are also traditionally where the community met and since antiquity also served as a forum for people to gather to discuss politics and current events. 
The areas around the fish markets attracted other retailers and thriving neighborhoods that are well worth exploring.
The coastal location of Tokyo made it easy to quickly transfer fish from the harbors to the market, preserving freshness.
Tokyo fish markets
Fish markets in Tokyo are a type of wet market where fresh fish and fish products are sold.
Some of the markets profiled are wholesale markets where Japan's leading fishermen and merchants trade the nation's catch, while others are retail markets where you buy and even eat fresh fish on the premises.
The markets vary in size and prominence, with the landmark Tsukiji fish market, a massive complex that easily turns over more than 660,000 tonnes annually.
Toyosu Market, the successor to the famous Tsukiji market is the world's largest fish market, with advanced infrastructure and facilities for moving large quantities of fish. 
Fish is at the heart of the Japanese economy
This country is serious about its fish.
Japan is extremely protective of its fisheries and marine environment to ensure that a stable supply of fish to the country is preserved.
The fishing industry is a massive contributor to the Japanese economy, with over 700 billion Japanese yen added to the GDP in 2020.
Japan is one of the best places in the world to taste fresh fish
Japan's unique Pacific location at the meeting of warm and cold ocean currents creates a habitat for some of the world's richest marine biodiversity.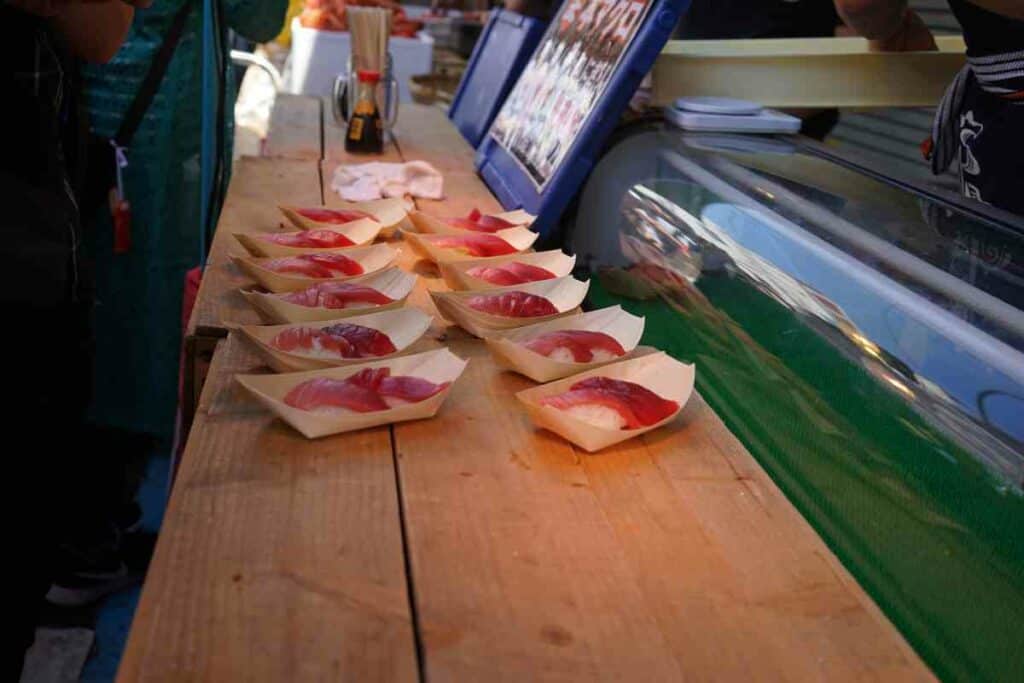 These fishing grounds are teaming with fine fish that is caught and brought into the markets of Tokyo within hours of being caught to preserve its perfect condition. 
The Japanese also use advanced aquaculture technologies including artificial insemination and the running of hatcheries to keep their fishing sustainable.
Fish farms produce high-quality salmon and shellfish, taking pressure off wild species, so you can eat with confidence.
Famous fish markets in Tokyo to visit
Here are some of the leading fish markets in the Japanese capital.
Visit these intriguing fish markets to see some of the amazing fish species of Japan and try some of the world's freshest seafood.
1. Tsukiji Market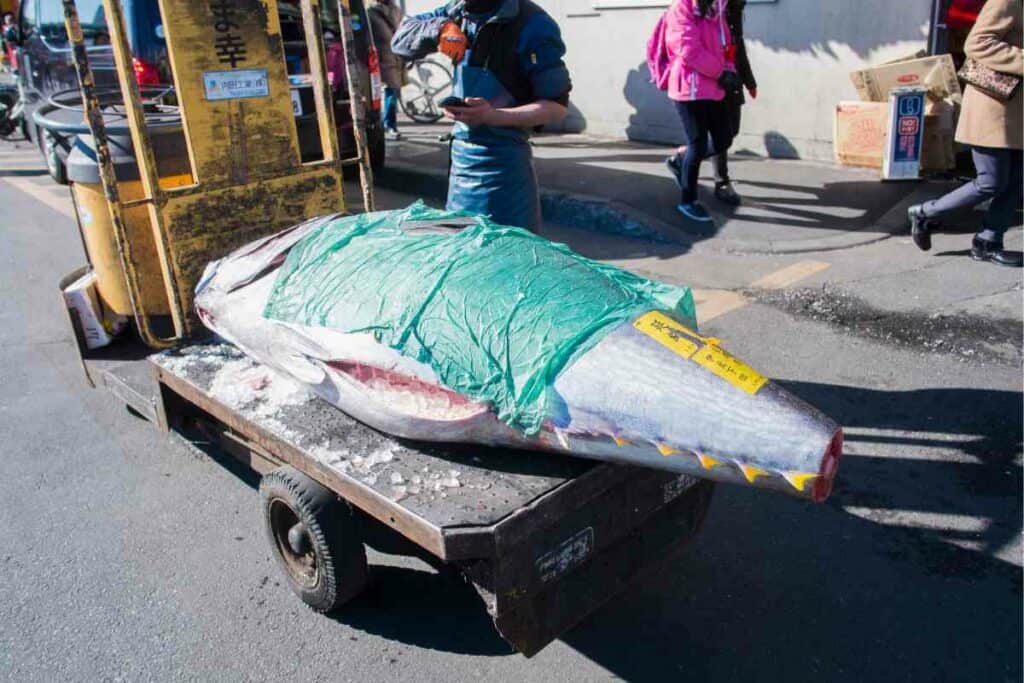 Until 2018, Tsukiji Market (築地市場) was the largest wholesale fish market on the planet.
It had operated since 1935 under the supervision of the Tokyo Metropolitan Central Wholesale Market (東京都中央卸売市場). 
Though Tsukiji has been replaced by the Toyosu market, it still remains the epicenter of seafood culture with a high density of retail markets and restaurants in the area.
The Tsukiji district is located between the Sumida River and Ginza shopping district making it easy to access.
The fish market was made up of an inner wholesale market which was not publicly accessible, and the outer (Shogai) retail market which continues as a major tourist attraction.
| | |
| --- | --- |
| Location | 4 Chome-13 Tsukiji, Chuo City, Tokyo 104-0045, Japan |
| Telephone | N/A |
| Opening Hours | 5 am to 3 pm |
| Price | 💲💲 |
| Wholesale/Retail | Outer market: retail |
| Dining | Yes |
| Online order | No |
| Delivery | No |
| Website | https://www.tsukiji.or.jp/ |
You can browse and feast on Japanese street foot at the numerous stalls, carts, and grills of the outer market from dawn till dusk.
Tsukijishogai has an amazing vibe and can get packed, but it's worth visiting because the food prices are really affordable.
Fresh fish is never far away and you're likely to see species that you have never seen before complete with fragrant aromas!
2. Toyosu Fish Market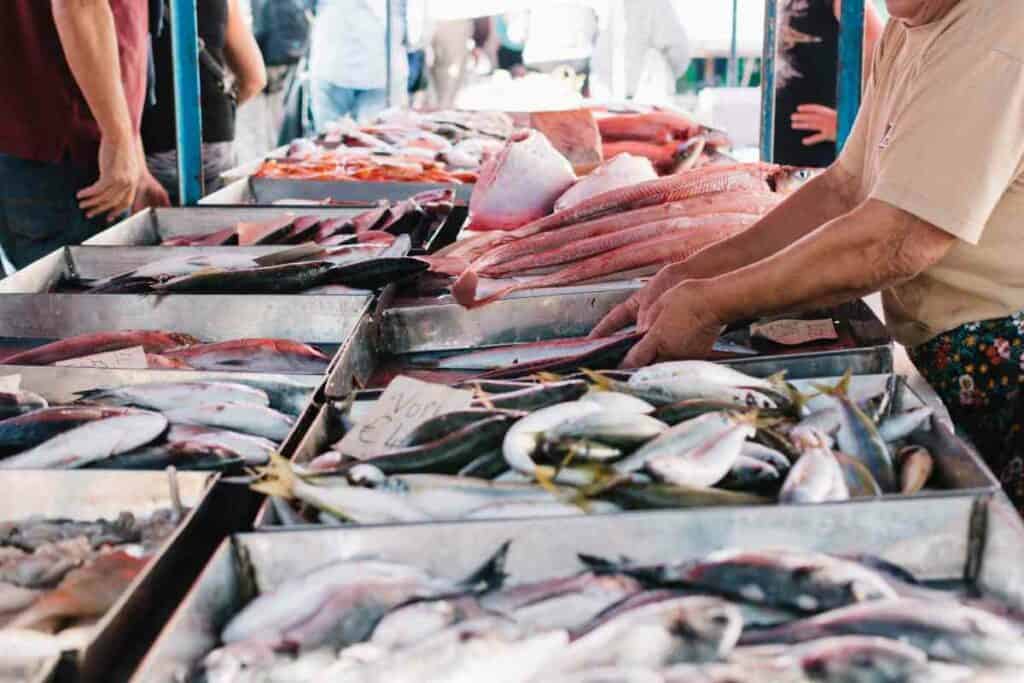 Toyosu Market (豊洲市場) in Kōtō ward, has received the baton from the retired Tsukiji Market and is now Japan's leading wholesale fish market and the largest in the world.
Within the massive complex, there are several wholesale seafood and fruit and vegetable markets.
Including auctions for all sorts of fish including a legendary tuna auction complete with a lifesize model of the largest bluefin tuna ever sold at the original Tsukiji auction.
This Tokyo fish market is certainly worth a day trip, and as the market is over 40.7 hectares in size, be sure to wear your walking shoes!
You can sit in on all the action in the fish auctions, take a tour of the market, and enjoy the outstanding views across Tokyo Bay from the beautiful roof terrace.
Many parts of the market are restricted to tourists, but Toyosu does provide pre-booked access to interesting market activities. 
| | |
| --- | --- |
| Location | 6 Chome-3 Toyosu, Kōtō ward, Tokyo 135-0061 |
| Telephone | +81 3-3520-8205 |
| Opening Hours | 5 am to 3 pm |
| Price | 💲💲💲 |
| Wholesale/Retail | Wholesale |
| Dining | Yes |
| Online order | Yes |
| Delivery | Yes |
| Website | https://www.toyosu-market.or.jp/ |
Enjoy tasty fresh fish delicacies at one of the 40 food stalls in the market.
Food is prepared and served fresh on a first-come, first-served basis, so you need to get to the market early – there are no late lunches here as everything is closed down by around 2 pm.
You can also order delicious fresh sushi-grade fish to your door anywhere in Tokyo using the Toyosu Express service.
3. Adachi Fish Market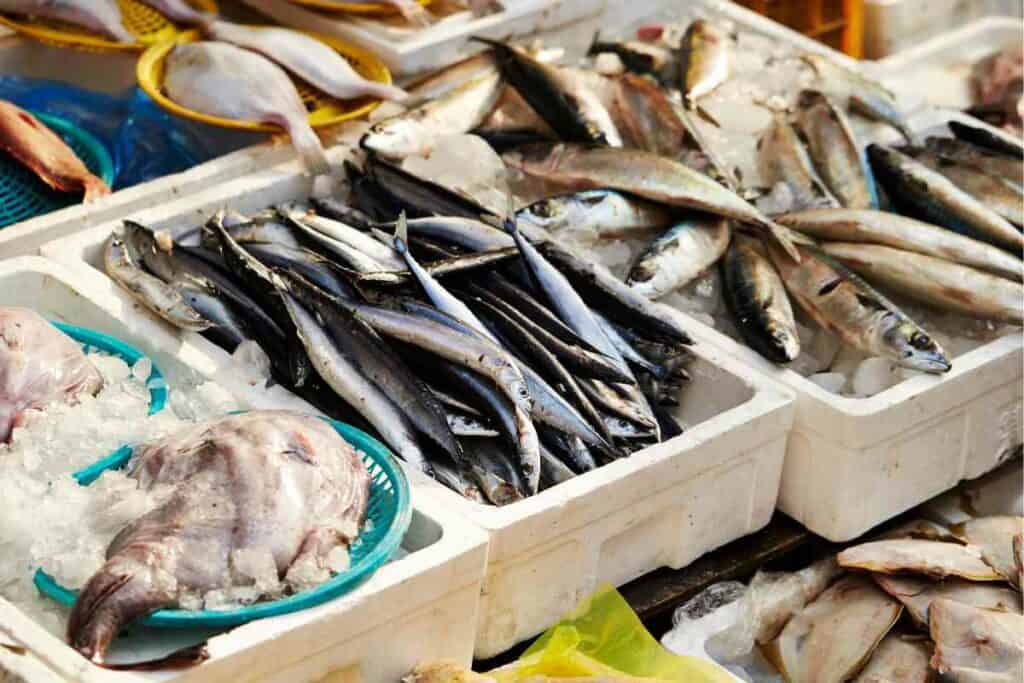 Adachi Fish Market is the third largest fish market in Tokyo and is a great alternative to visiting the tourist magnets of Toyosu and Tsukiji markets.
If a 5 am start for Toyosu is a bit too much for you, you'll appreciate rocking up to Adachi's retail market at 8 am for a delicious seafood breakfast. 
This is very much a working fish market with a cool down-to-earth atmosphere.
You'll rub shoulders with fishermen, stall owners, and merchants going about their daily commerce. There is also expert tuna cutting which you can watch.
Adachi market is more retail-focused.
It is about an eighth of the size of Toyosu and spread across three areas which include:
a seafood market
a fruit and vegetable market
and a retail butchery
Locals love to shop at Adachi, so you can get a taste of daily life in Tokyo.
| | |
| --- | --- |
| Location | 50 Senjuhashidochō, Adachi City, Tokyo 120-0038, Japan |
| Telephone | +81 3-3879-2750 |
| Opening Hours | 8 am to 10:30 am |
| Price | 💲💲 |
| Wholesale/Retail | Wholesale and retail |
| Dining | Yes |
| Online order | No |
| Delivery | No |
| Website | https://www.adachi-shijyo.or.jp/ |
In an area called Uogashi Shokudo, you can visit one of the market's restaurants serving fresh fish in a variety of traditional dishes. 
Adachi Market Days are special days at the market when the public can buy fish during wholesale fish auctions.
Even with these popular days, Adachi has less footfall, especially from tourists, so staff and shoppers will be pleased to see you and answer your questions.
4. Ota Market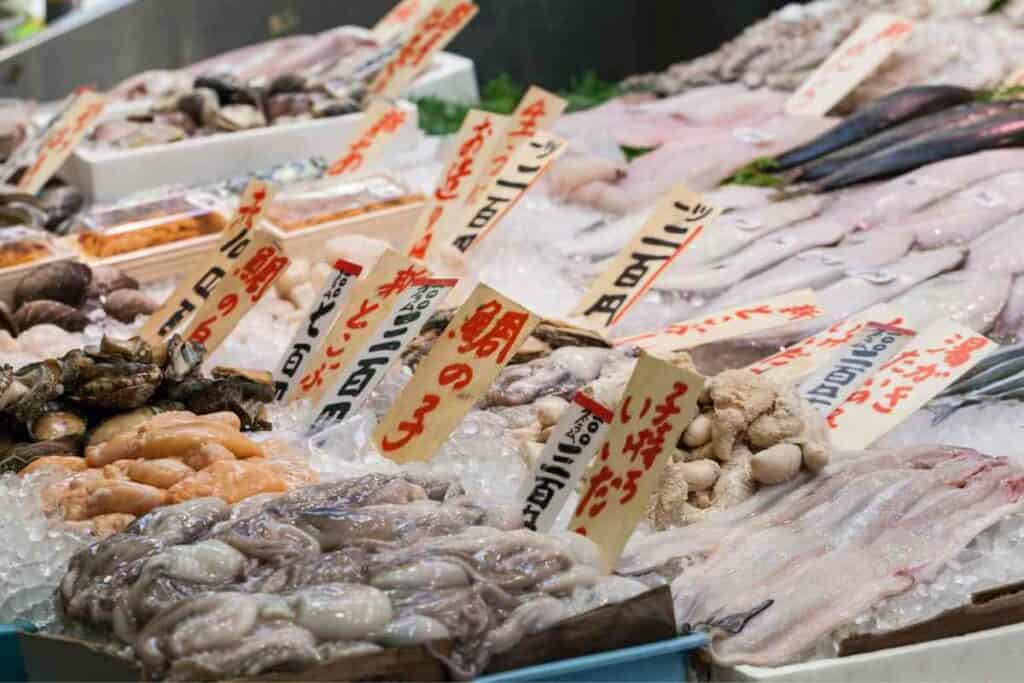 Ota Market is a Tokyo Metropolitan Central Wholesale Market, which is a space in Ota City that holds a variety of markets, including:
fresh fish
fruit and vegetables
and flowers
It is open 24 hours a day, so you'll enjoy the bustling nighttime atmosphere with turret trucks darting here and there. 
| | |
| --- | --- |
| Location | 3 Chome-2-1 Tokai, Ota City, Tokyo 143-0001, Japan |
| Telephone | +81 3-3790-8301 |
| Opening Hours | 24 hours per day |
| Price | 💲💲 |
| Wholesale/Retail | Wholesale |
| Dining | Yes |
| Online order | No |
| Delivery | No |
| Website | https://www.shijou.metro.tokyo.lg.jp/info/03/ |
Visitors to Ota market can take a look at the fisheries building, which sells almost every type of fish, along with retail stands and eateries that serve a variety of hot dishes.
When you visit, identify yourself to the security staff so they can provide you with a map of the market hall.
5. Sakana Bacca 
Sakana Bacca is one of Tokyo's most upmarket fishmongers and the capital's best destination for retail fish.
The fishmongers get amazing oysters and fresh fish directly from fishermen based in  Musashi-Koyama and Nakameguro. 
You can buy fish, along with a range of unique spices and condiments.
| | |
| --- | --- |
| Location | 2-21-4 Kamimeguro, Meguro-ku, TokyoTokyo |
| Telephone | 03 6712 2120 |
| Opening Hours | 10 am to 7 pm |
| Price | 💲💲💲💲 |
| Wholesale/Retail | Retail |
| Dining | Yes |
| Online order | Yes |
| Delivery | Yes |
| Website | https://sakanabacca.jp/ |
They also serve a variety of dishes, including sushi, and an extensive menu of hot specials that they can deliver using Uber Eats or demae-can.com. 
Rounding Up
These amazing fish markets show that Tokyo is the world's best destination for fresh fish and seafood. The city's fish markets make a great visit and will give you great insight into the maritime culture and cuisine of Japan.
But remember, don't forget your appetite!