As the CEO of SoftBank, Masayoshi Son has the Japanese economy in his hands.
When SoftBank sneezes, Japan, and often the wider world, can catch a cold.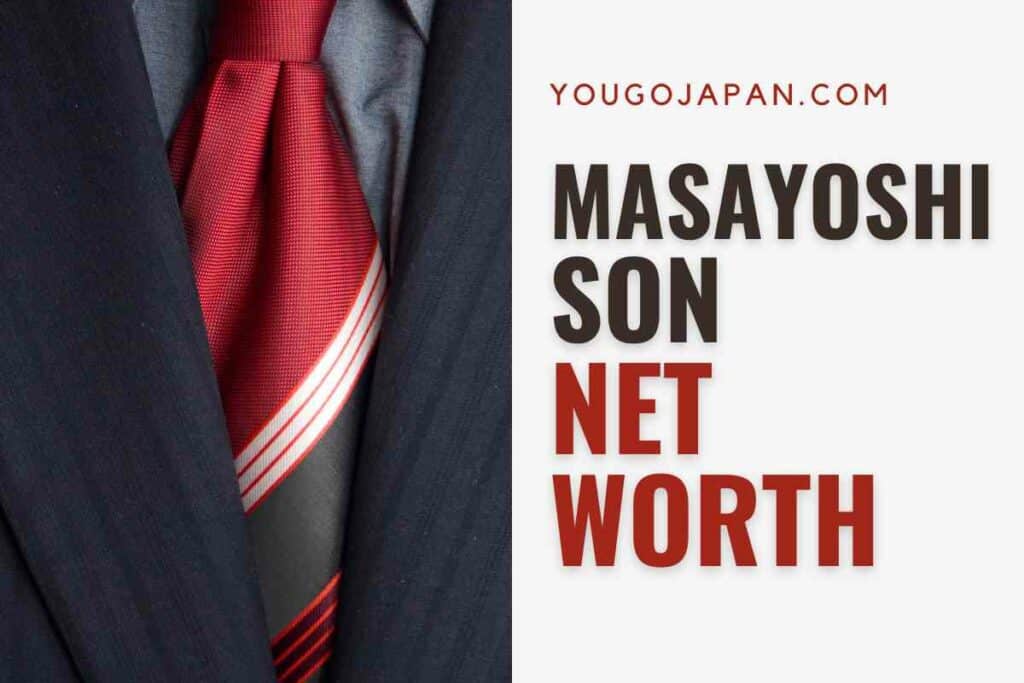 This Zainichi Korean and Japanese citizen is Japan's second richest man with his hands on the fortunes of the world's super-rich.
In this article, we take a closer look at the net worth of Masayoshi Son, where his billions come from, and how he became so rich!
The net worth of Masayoshi Son 孫 正義 (손정의)
Masayoshi Son is the founder, CEO, and majority shareholder of the Japanese telecommunications and investment company Softbank.
According to Forbes, he has a personal fortune of over $22.2 billion, which has risen by more than $204M in the last 12 months.
He is Japan's second richest person, following Tadashi Yanai, and is the 73rd richest person in the world. His wealth is equivalent to 0.15% of the US economy!
A breakdown of Masayoshi Son's net worth
Masayoshi Son's phenomenal wealth consists of cash, private and public assets, and some noteworthy liabilities.
Here is a summary of where Masayoshi Son's wealth comes from.
SoftBank Group
As the largest shareholder of SoftBank, with a 35% clear stake.
Son's spiraling wealth is drawn from its massive stakes in some of the world's biggest industrial and technology companies including Alibaba, Uber, and Yahoo Japan.
The revenue of Softbank competes with the revenue of a small country with more than $55.4 billion in revenue in 2022 alone.
In 2021, the company recorded a net profit of $45.88 billion, the largest-ever annual profit recorded by a Japanese company.
SoftBank Vision Funds
SoftBank has a massive venture capital fund that invests in some of the world's biggest and emerging technology and engineering companies.
Its $100 billion capital makes it the largest investment fund of its kind.
Many of the world's richest people and companies are investors in this fund including: 
Qualcomm
Saudi Arabia's sovereign fund
Apple
Foxconn
Larry Ellison 
SoftBank Vision funds have invested in hundreds of companies including emerging Asian e-commerce and e-payments companies Coupang and Paytm.
The SoftBank Vision Funds have had significant market problems with sustained year-on-year losses of as much as $27 billion in 2022.
ARM Holdings 
Through SoftBank, Masayoshi Son owns the British semiconductor company ARM Holdings.
This was a controversial acquisition in the UK, as the Cambridge-based tech company owns many other companies and is the UK's only semiconductor company and competitor with Intel and IBM.
The company was acquired for $32 billion and is currently worth more than $40 billion. 
Property portfolio
With prime residential properties in Tokyo and across Japan, Son's property portfolio is worth hundreds of millions of dollars. 
In 2012, Son purchased a Silicon Valley property worth over $117.5 million.
The SoftBank Hawks
Son purchased the Japanese baseball team the Fukuoka Daiei Hawks in 2005, renaming it to become The Fukuoka SoftBank Hawks 福岡ソフトバンクホークス.
The team's home stadium is the Fukuoka PayPay Dome, where they play in the Pacific League of the Nippon Professional Baseball (NPB) league. 
Masayoshi Son 孫 正義 biography
Masayoshi Son was born in 1967 and is currently 65 years old.
He is a 3rd generation Zainichi Korean, denoting Koreans who have lived in Japan for several generations and are Japanese citizens.
His grandfather emigrated to Japan and worked as a miner during the colonial period. Son was raised with his three brothers in the city of Tosu, Saga Prefecture, Japan.
Son's upbringing was typical of many Korean immigrant families, using an adopted Japanese surname.
Their property was constructed illegally on land owned by Japan National Railways and his father made money by selling sake illegally.
However, education was a priority and Son showed promise in business by pursuing studies in English and computer science. 
Having seen an article on microchips in a magazine, Son became sure that computing would be a major commercial revolution and decided to invest his efforts in this area.
As a 16-year-old, Masayoshi Son moved from Japan to California, staying with friends and family while completing his high school studies. He later graduated with a B.A. in Economics from Berkley (University of California) in 1980. 
Masayoshi Son's first business
In the late 1970s, while a student at Berkeley, Son developed an electronic translator that was sold to Sharp Corporation for almost $2 million.
Further profits were made by importing used video game machines from Japan, with the company sold for $2 million. 
Return to Japan
Son ditched the adopted Japanese surname of his family when he returned to Japan, dusting off the Korean surname, Son.
He founded SoftBank in 1981 to distribute software and publish magazines on computing.
By the late 1980s, SoftBank had diversified into telecommunications offering landline phone contracts deals.
The company grew large enough to challenge Nippon Telegraph and Telephone (NTT), Japan's main telephone company.
From there the company made several notable acquisitions and investments that grew its wealth rapidly. 
Investments and M&A of SoftBank
Here are some of the key acquisitions and investments of SoftBank over the years:
1995: major stake in Yahoo Japan
1998: controlling stake in E*Trade Group, an online broker
2006: acquisition of Vodafone Japan 
2011: launch of SoftBank broadband Internet 
2012: acquisition of Sprint Nextel 
Masayoshi Son 孫 正義 personal life
Masayoshi Son is married to Masami Ohno, who is the daughter of a prominent Japanese doctor.
They met while studying at Berkeley. They live in Tokyo in a $50 million mansion. Masayoshi Son and Masami Ohno have two daughters.
Masayoshi's youngest brother Taizo is also extremely wealthy. He is the founder of the online entertainment company GungHo, and Mistletoe, a venture capital firm.
Facts about Masayoshi Son
Masayoshi Son is the largest investor in the Indian hospitality company OYO.
In 2012, Son leveraged his friendship with Steve Jobs, to make SoftBank the exclusive supplier of iPhones to Japan.
Masayoshi Son donated the remainder of his lifetime salary as CEO of Softbank to help the survivors of the 2011 Fukushima Earthquake.
Son and Tadashi Yanai, the richest man in Japan, are very good friends. 
Masayoshi Son quote
"If I had stayed all the time in Japan, I probably would have become much more conservative, just as other Japanese."
Rounding up
As a self-made billionaire, Masayoshi Son has had an interesting life story and business.
Despite the well-known market challenges of SoftBank, it is continuing as one of the world's biggest companies.
It will be interesting to see what the next chapter of Masayoshi Son's life brings!