Beatboxer Hikaru Kaihatsu 開發光, more commonly known as Hikakin is a Japanese YouTube pioneer who has amassed over 11 million followers and billions of views.
He has become a  vlogging phenomenon whose influence reaches almost all areas of Japanese popular culture.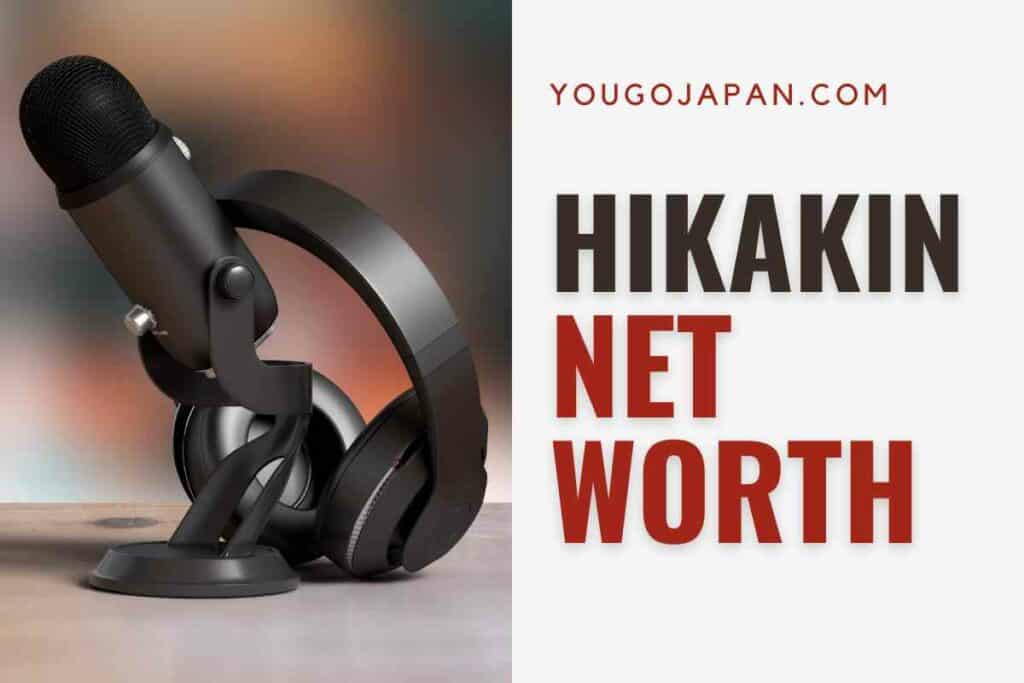 Along with being one of YouTube's highest-paid stars, Hikakin has also proved himself a formidable businessman who has amassed a staggering amount of wealth by the age of 33.
In this article, we look at the net worth of Hikakin and follow his rise to fame and wealth. 
The net worth of Hikakin ヒカキン
Multiple sources suggest that Hikakin has a net worth of at least $40 million, though the exact sum of his wealth is not in the public domain.
With earnings of at least $6.9 million per year, Hikakin is certainly in control of formidable wealth.
The number of subscribers to his HikakinTV YouTube channel is still climbing with Hikakin raking in over $400,000 every month from this venture alone!
A breakdown of Hikakin's net worth
Hikakin's substantial net worth comes from his YouTube channels, YouTube management company, and a variety of brand sponsorships and international collaborations and appearances.
The Hikakin YouTube empire
Hikakin built his massive net worth by leveraging a multi-million-subscriber YouTube channel with multi-billions of views.
His HikakinTV channel started in 2011 is the workhorse that built his fame.
Alongside this main channel, he also is pulling in views via a further four other channels:
HikakinGames with 5.76 million subscribers and 6.3 billion views 
HIKAKIN with 2.45 million subscribers and 500 million views
HikakinBlog with 616 thousand subscribers and almost 38 million views
HikaruKaihatsu with 26.2 thousand subscribers and over 900 thousand views
To give you an idea of just how much Hikakin is making, YouTube experts Insider Marketing Hub report that YouTubers currently earn an average of 18 cents per view.
It's easy to see how 400,000 would be a very conservative estimate of his monthly YouTube earnings. 
UUUM YouTube networking and communications company 
In 2013, Hikakin and fellow Japanese YouTuber Kamada co-founded UUUM, which has become Japan's biggest management company for YouTubers.
This was a shrewd move that was based on the recognition that many YouTubers need assistance in negotiating appearances, brand partnerships, and handling day-to-day business. 
As YouTube has emerged as an industry in Japan UUUM has positioned itself to work with some of the country's biggest brands, to develop synchronized content campaigns delivered by its roster of mega YouTubers. 
Over the last decade, UMM has grown into a formidable company, going from 40 influencers to well over 2500 with 476 employees. In 2018, the net income of UUUM was ¥406,271,000 ($3,074,200).
Endorsements and sponsorships 
Hikakin is extremely well known for his beatboxing collabs, in particular, working with the American singers, Aerosmith, Ariana Grande, and Ne-Yo.
Via the UUUM network, Hikakin charges the top rates for exclusive endorsements and sponsorships from international companies that want to take advantage of his beatboxing appeal.
Hikakin's style has a lot of crossover appeal leading to many ads and cameos in Western films, TV, and online content that has piqued overseas interest in Japan's youth culture.
Big business partnerships secured by UUUM include:
Yahoo! JAPAN
Digital Hollywood Co., Ltd
Gadget News
LINE Corporation
Hikakin ヒカキン biography
33-year-old Hikakin was born and raised in Myōkō, Niigata Prefecture in Japan.
Since his early years, he has been interested in beatboxing and perfected his art to become extremely talented.
Beatboxing, with performances, collaborations, and live performances formed the basis of his YouTube channel which was started in 2011. By 2012, after a massive audience response, Hikakin became a full-time YouTuber and recording artist. 
At the end of 2012, Hikakin released his debut album, produced by the gaming music composer Hideki Sakamoto, in collaboration with PlayStation.
Early the following year he performed in award ceremonies and concerts including a memorable performance of "Walk This Way" with Aerosmith.
Further music industry collaborations followed most notably, beatboxing with Ariana Grande on her song "Baby I". He later traveled to NYC to collaborate with Ariana Grande.
Hikakin grew to become one of YouTube's hardest-working creators, on and off the channel. He performed in an official YouTube FanFest in Tokyo alongside the popular Japanese breakbeat music group Hifana.
Since 2013 Hikakin has also been growing his YouTube management business venture UUUM alongside Kazuki Kamada who is the CEO. By 2017, the company had floated on the Tokyo Stock Exchange. 
Hikakin ヒカキン personal life
Little is known about Hikakin's personal life 
The YouTuber Seikin is Hikakin's older brother. He is 35 years old and signed to the UUUM network. He is the eldest son of the family and dropped out of college to become a YouTuber.
In 2012, Seikin created SeikinTV which has amassed more than 4.44 million subscribers. Seikin often collaborates with his younger brother Hikakin on funny videos. 
Most popular Hikakin ヒカキン videos 
This is the original Super Mario beatboxing video that made Hikaki famous.
So far it has amassed 54 million views:
Other popular videos by Hikakin include:
Facts about Hikakin
Since 2015, Hikakin has released 4 singles. All of them have been collaborations with his younger brother Seikin.
Hikakin is the Supreme Advisor of UUUM. 
In 2022, at the All-star Daiundoukai @ Yoyogi National Gymnasium, a stranger walked on stage and grabbed the mic from Hikakin, saying "Nice to meet you all. I'm going to become the coolest man in the world.". The intruder was later arrested.
Hikakin is often described as the 'big brother' of YouTube.
Hikakin has one of the world's most retweeted tweets with 1.8 million retweets.
Round up
Hikakin is a prolific content producer that has really shaped the Japanese YouTube scene.
This in turn has massively impacted Japanese youth culture. As the co-founder of UUUM, Hikakin has realized that he has a stake in a valuable market and is seeking to cash in in style.