If you've ever stepped out to the 7-Eleven late at night to buy diapers or other essentials, you have Masatoshi Ito to thank.
The famous Japanese convenience store magnate died recently (March 2023) at the grand old age of 98, but lived an interesting life and built up a multi-billion dollar fortune through a retail business model that transformed the way we shop.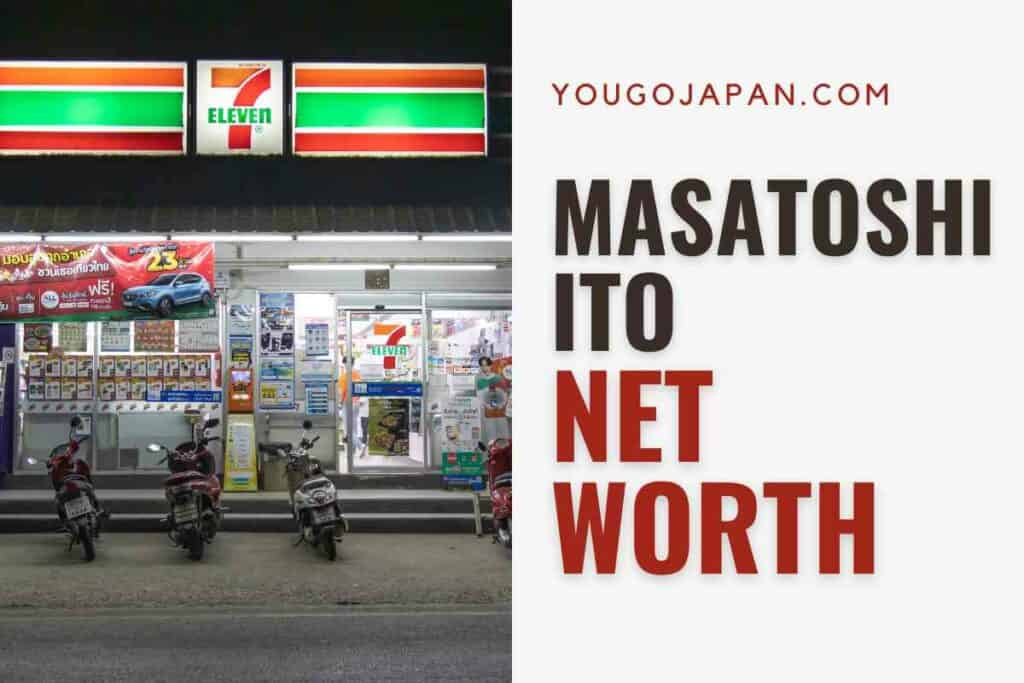 In this article, we'll look back over the life and net worth of Masatoshi Ito.
The net worth of Masatoshi Itō 伊藤 雅俊
Retailer Masatoshi Itō was one of Japan's richest men with a staggering net worth of more than $4.35 billion.
As the honorary chairman of the holding company he founded, Seven & I Holdings, he presided over a multinational conglomerate with more than 80,000 stores across 19 countries turning over $80 billion in revenue.
A breakdown of Masatoshi Ito's net worth
Masatoshi Itō's astonishing self-made wealth came from being the founder, owner, and chairman of Ito-Yokado, owner of 7-Eleven, and other retail outlets across the globe.
Ito-Yokado is the world's second-largest retail company with profits of almost $400 million each year! 
Ito-Yokado has:
Over 10,000 Japanese 7-Elevens
Almost 6,000 7-Elevens in the US
At least 1,000 assorted supermarkets, superstores, restaurants, and specialty stores
The Japanese franchise for Oshman's Sporting Goods stores
The Japanese franchise for Robinson department stores
The Denny's restaurant franchise in Japan
Masatoshi Itō 伊藤 雅俊 biography
Masatoshi Itō was born in 1924 in Tokyo to Senzo and Yuki Itō.
Together, his parents ran a small store called Yokado which primarily sold dry goods. Ito grew up at the shop alongside his older half-brother Yuzuru from his mother's first marriage. 
Following high school, Ito entered the Japanese military and subsequently worked for the company that became Mitsubishi Materials.
After this relatively brief period of employment, he decided to return to the family business which had diversified to selling clothing and was primarily run by his uncle and brother.
Running the family stores
In 1956, Ito's brother Yuzuru died and Masatoshi inherited the family stores, renaming them Ito-Yokado. This company grew in the holding company and retail empire of Masatoshi Itō. 
The spark that caused the accelerated growth of Ito-Yokado came from a trip Masatoshi Itō took to America in 1961. He marveled at the wealth that he saw openly displayed and noted the size of America's consumer society and buying power. 
Ito was also careful to investigate the procurement, supply, and distribution infrastructure that made expansive consumer choice possible, believing that such a consumer culture could be successfully replicated in Japan. 
Expanding the Ito-Yokado retail chain
On his return to Japan, Masatoshi Itō began to build his retail empire. He first started a supermarket chain that continues today in Japan as Ito-Yokado.
Ito followed the American model closely, making frequent visits to the US with his executives to gain ideas to innovate his business. By the 1970s, Ito-Yokado was a leading Japanese retailer and publicly traded. 
7-Eleven: the game-changer
The business decision that determined Masatoshi Itō's rise to unimaginable wealth came in 1973 when young executive Toshifumi Suzuki approached the boss with the idea of bringing the Dallas-based 7-Eleven franchise to Japan. For his business smarts, Masatoshi Ito rewarded Suzuki with the position of Chairman, with himself an honorary chairman. 
Rather than becoming an exclusive franchise, Masatoshi Itō played hardball and eventually wound up owning the entire international franchise.
Ito-Yokado opened the first 24-hour 7-Eleven in Tokyo. The convenience store business model was new to Japan and quickly became popular, leading to the expansion of the new chain across the capital and the rest of the country. 
The 7-Eleven business model transformed the way the Japanese would shop and eat. The stores earned a great reputation for providing diverse products and services.
7-Eleven is now so integral to Japanese society that the government designated the stores a part of Japan's national infrastructure.
From Ito-Yokado to Seven & I Holdings
The next big change for Masatoshi Ito's company came in the 1990s when the opportunity arose for Ito-Yokado to buy out the parent company of 7-Eleven, Southland Corporation.
Ito's company managed to buy the entire 7-Eleven brand and franchises for $400 million. At this point, Ito changed his holding company name to Seven & I Holdings reflecting the importance of the 7-Eleven brand. 
Other Masatoshi Itō business acquisitions
Masatoshi Itō's company Seven & I Holdings has made several substantial acquisitions that contributed to the accelerated growth of the company.
These included:
The 2005 buyout of Millennium Retailing holding company, owner, and operator of the Sogo and Seibu Department Store. This purchase made Ito's Seven & I Holdings Japan's largest retail business.
The 2006 acquisition of the White Hen Pantry chain of convenience stores. The brand was wound up and the stores were switched over to 7-Eleven.
The purchase of 23 US convenience stores from Strasburger Enterprises, Inc. in 2012.
The 2013 acquisition of a 44.99% stake in retailer Barneys Japan Co.
The purchase of over 50% of the Japanese mail order and financial services company Nissen Holdings in 2014.
Seven & I's acquisition of more than 1100 Sunoco convenience stores in the US for $3.3 billion. As part of the deal, Sunoco provided Seven & I with 2.2 billion gallons of fuel each year for 15 years.
The purchase of Marathon Petroleum's Speedway LLC for more than $21 billion, with the acquisition of its convenience stores. 
Masatoshi Itō 伊藤 雅俊 personal life
According to Forbes magazine, Masatoshi Itō was married to Nobuko with 3 children:
Junro Itō serves on the board of Seven & I Holdings as a managing executive officer and potential heir. 
Yasuhisa Itō 
Hisako Itō 
Facts about Masatoshi Itō
In the early 1990s, Ito-Yokado was hit by a scandal involving alleged payment by company staff to the yakuza (Japanese mafia). In response, Masatoshi Ito stepped down as president of his company. 
98% of all 7-Eleven stores are franchises. 
7-Eleven in Japan is credited with the introduction of the ever-popular Onigiri as a mass-produced snack in 1978. It is now considered a staple convenience store food. 
During 2019, 7-Eleven relaxed its strict 24/7/365 opening hours due to labor shortages. The company is now testing a change in opening hours to 7 am to 11 pm to see if franchisees are benefited and find it easier to staff stores. 
In 2019, 7-Eleven launched an ill-fated mobile payments app. However the service was hacked, leading to its complete cancellation. 
Masatoshi Itō quote
"Business only exists when you have customers."
Rounding up
Masatoshi Itō was one of the 20th century's most successful businesspeople, so it is fitting that he lived to be almost 100 years old.
The convenience store revolution he started in Japan transformed the country's spending habits and contributed massively to the growth of Japan's economy.