At 47 Susumu Fujita is one of the younger generation of Japan's billionaires.
Over two decades, the startup he founded in his early 20s has gone from strength to strength transforming from a nimble online advertising agency, to an international media company.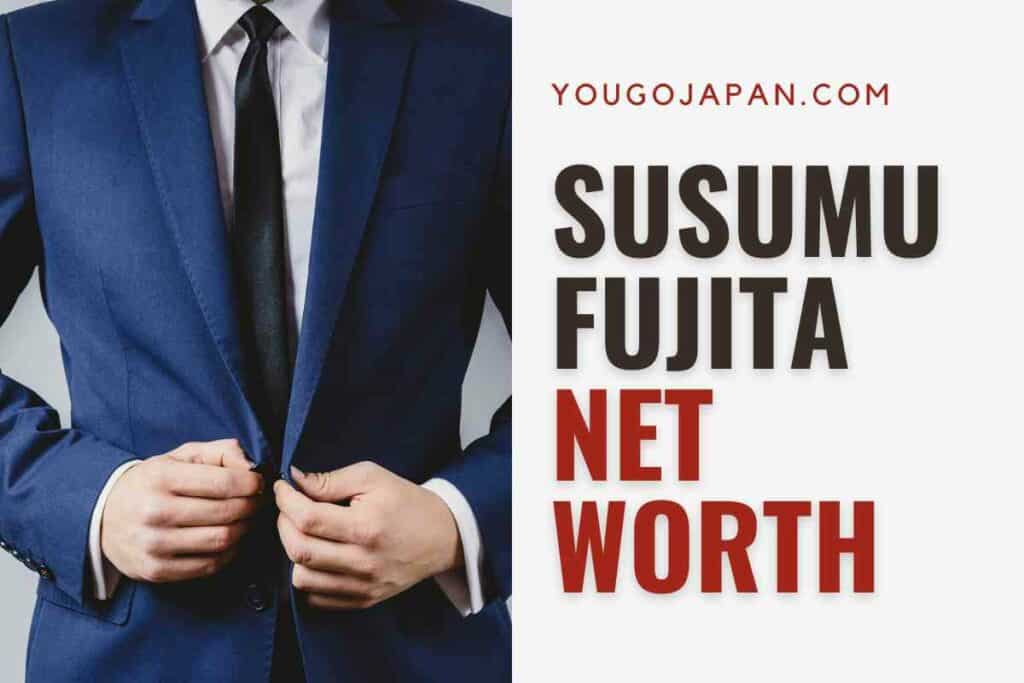 In this article, we look at the net worth of Susumu Fukita and the shrewd business moves that made him a young billionaire.
The net worth of Susumu Fujita 藤田 進
Susumu Fujita has a 2023 net worth of over $1.3 billion. This is down from a 2021 peak of $1.6 billion.
Fujita is currently the 40th richest person in Japan and the 2190th richest person on the planet at 47 years of age. 
A breakdown of Susumu Fujita's net worth
Susumu Fujita's impressive wealth comes from the internet and advertising company he founded in 1988 called CyberAgent.
CyberAgent currently has a market capitalization of over $4.5 billion and almost 6,000 employees. Fujita is CyberAgent's Representative Director, Chief Executive Officer, and President. His 20.50% minority stake in this public firm has been enough to make him a billionaire.
CyberAgent also owns the following companies, with Fujita holding positions on the board.
He is president of the media companies AbemaTV, Inc. and AbemaNews, Inc. Abema is an extremely successful free ad-supported streaming television network (FAST) that provides Japanese audiences with leading television shows, sports, and news.
The company also produces its own exclusive programming, funded by advertisers. CyberAgent has a 55% controlling stake in AbemaTV. 
Since October 2018, Fujita has also been a director of the Japanese football club Zelvia.
Susumu Fujita 藤田 進 biography
Susumu Fujita was born on the 16th of May 1973 in the Japanese city of Sabae, Fukui Prefecture.
His father was a salaryman (white-collar worker) living a stable way of life that Fujita wanted to avoid, preferring instead to become an entrepreneur from a young age.
During his teenage years, Susumu was a vocalist in a rock band but left that dream when it became apparent he was not going to make a success of being a professional musician. 
University life
In 1997 he graduated from Aoyama Gakuin University School of Business despite recalling his persistence in skipping classes during the three years in which he was enrolled.
While a student Fujita only paid attention to the classes he was doing that related to his various side hustles including daily work for a PR company. Academic life further consolidated his desire to start his own company. 
After college, Susumu Fujita joined a headhunting company called Intelligence (now part of Yoshiko Shinohara's company PERSOL), working on the firm's online recruiting campaigns. In his role producing the recruiting company's web pitches, Fujita noticed that though technically advanced, Japanese internet users lacked marketing know-how.
He seized this apparent business opportunity by creating his own Net ad business that could leverage the growing dominance of the Internet in commercial life. 
Starting CyberAgent
Within a year Susumu Fujita had founded CyberAgent, Inc. and became its president.
The company was incorporated in March 1998 and included his employer Intelligence as a major backer. Subsequent investors in Fujita's venture included Masayoshi Son's Softbank, Hitachi, and, interQ. 
Fujita devised a unique business model that was unique to Japan. CyberAgent's "click guarantee" model guarantees advertisers a certain click-through rate for their advertising fees.
In addition, CyberAgent utilized other technologies that maximized the effectiveness of a customer's ads, encouraging companies to buy. 
Going public
Because CyberAgent started in the late 1990's its growth has been phenomenal. Within 1 year, CyberAgent was taking on Japan's leading Net advertising companies  CCI  and DAC with sales that exceeded $4.15 million and profits of more than $300,000.
By 2000, Fujita was ready to take CyberAgent public with a $74 million IPO on the Tokyo Stock Exchange's Mother's venture capital market. After successfully floating the company, Fujita invested in a massive expansion in operations with a range of M&A projects and investments in startups that could broaden the company's expertise. 
CyberAgent took advantage of the expansion of internet business in Japan, which was slightly behind the West due to a gap in the rates of net use between Japan and the US. Fujita described the phenomenon of 'gaiatsu' or foreign pressure in getting the Japanese to increase their internet usage.
Companies like NTT and Softbank were key investors and partners in growing the company because they were responsible for getting more Japanese people online with low-cost internet access. 
Susumu Fujita 藤田 進 personal life
Susumu Fujita was married to the Japanese actress and J-Pop singer Megumi Okina. The marriage was his first and her second.
It is believed that they married in 2004, but sadly divorced after less than a year. Okina wrote about the marriage in her autobiography. Susumu Fujita has one child. 
Facts about Susumu Fujita
CyberAgent went public on the Tokyo Stock Exchange when Susumu Fujita was just 26 years old. 
Megumi Okina's autobiography, Rouge Aculeus shocked Japanese society by lifting the lid on her marriage to Susumu Fujita. In the book, she suggests that Fukita did not want her to continue working as an actress. 
CyberAgent's TV company Abema has entered a strategic partnership with Netflix to produce new shows for the streaming platform. 
Abeme received an award from the Prime Minister of Japan for streaming the entire FIFA World Cup Qatar 2022.
CyberAgent has had to fight off allegations of undercover marketing, and stealing of content made by a former employee in 2015.
Susumu Fujita quote
"The top players in the Internet business here are just imitating what the Americans are doing. Currently, people think it's safer to just introduce what the Americans are doing. Soon they'll realize that's a ridiculous idea."
Rounding up
Susumu Fujita has built up a multi-billion dollar business that he has run for over 26 years.
This charismatic entrepreneur spotted an opportunity and used his business smarts to scale it quickly and effectively for a massive increase in net worth.