33-year-old Marina Takewaki is a Japanese YouTuber and fitness video creator with more than 3 million subscribers to her channel.
This former office worker transformed herself into a self-made exercise expert that has inspired millions of Japanese women to get active.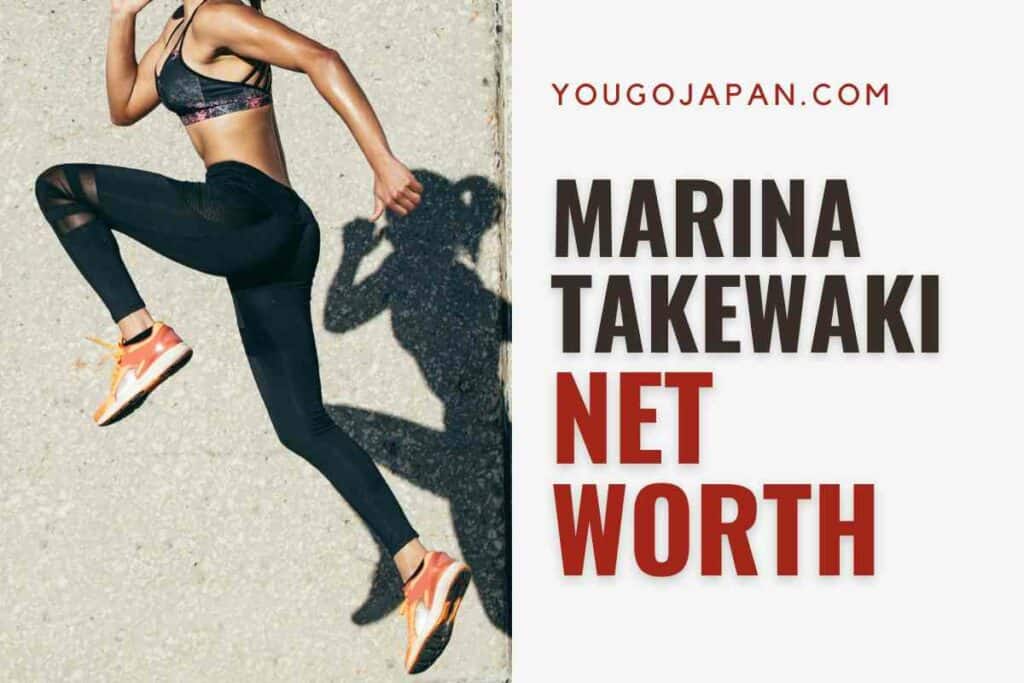 In this article, we'll take a look at the net worth of Marina Takewaki and her journey to financial independence. 
The net worth of Marina Takewaki 竹脇 まりな
Marina Takewaki is an extremely successful YouTuber. Her fitness and lifestyle brand connects with Japanese women and her video content is always fun.
Five years and over 3 million subscribers later, Mrs. Takewaki is cashing in. The 2023 net worth of Marina Takwaki is currently $3 million.
A breakdown of the net worth of Marina Takewaki
As a full-time YouTuber, Marina Takewaki earns handsomely from views and engagement with her video content. YouTube marketing experts YouTuber.me estimate that Marina is earning at least $23,000 per month, from her online content. 
In addition to her YouTube revenue, Marina Takewaki may also earn through sponsorships and appearances as she is a member of the prestigious Japanese YouTuber UUUM management company, run by fellow YouTuber, Hikakin.
She can also up her monthly revenues with targeted affiliate marketing arrangements and product placement. 
Marina Takewaki 竹脇 まりな biography
Marina Takewaki is from Akita prefecture and was born in 1989.
She grew up in an extremely active household because her mother is a fitness instructor. Takewaki was inspired by her mother's energy, choreography, and exercise routines and wanted to do a job that would enable her to be physically active. 
After high school, Marina Takewaki went to university, graduated, and became an employee of 
Nippon Life Insurance Co. Takewaki has said that she chose the job because it offered stability and decent working conditions for women. However, she found corporate life uninspiring and questioned if she had made the right career choice. 
The catalyst for change was her Japanese American husband Darwin who she married after five years with the company.
Darwin had worked with international financial institutions and had been fired during the 2008 recession. The experience of losing his job motivated him to consider if he could work for himself at some point. 
In 2017 Takewaki left her corporate job. She then spent a period traveling in America. Later she spent time in India to learn yoga, hoping to become a yoga instructor upon her return to Japan. However, her lack of experience made it difficult for her to find work.
However, reflecting on the work of her mother who had been a fitness instructor in Akita for over 30 years, kept her motivated with building a new career in wellness.
She eventually found work with an exercise studio but work was sporadic and she could not support herself. 
Marina Takewaki then switched to running her own classes, partnering with restaurants so that participants could have refreshments after class. This new way of working was going well until the pandemic hit Japan. 
Launching the Marina Takewaki YouTube channel
In 2018, Marina's husband moved to NYC.
As the couple relocated she started to create a vlog about her life in the US. Among her videos, she includes a small selection of home workouts that she had devised.
These received positive feedback and soon she began to specialize in creating simple, accessible home workouts that could be done by Japanese housewives. 
Her husband Darwin also participated, helping her with video production and promotion of her content.
Marina and Darwin soon realized that there are millions of people in Japan who need some motivation to exercise. They identified that many people cannot go to the gym because of work or childcare, and value 'home training' that can be completed indoors.
In 2020 Marina Takewaki and Darwin moved back to Japan, settling in Kochi Prefecture. During the 2020 pandemic, people were told to stay home in Japan, leading to a massive surge in searches for online workouts. The Marina Takewaki YouTube channel benefitted massively with an exponential rise in subscribers from 570,000 to over 1 million by May 20202. 
The husband and wife team continued with their content, leading to the subscriber numbers climbing to more than 3 million by March 2022. Marina Takewaki currently has 3.59 million subscribers on her YouTube channel. 
Marina Takewaki 竹脇 まりな personal life
Marina Takewaki is married to Darwin Takewaki.
They work together on her fitness routines, YouTube channel, and business interests. Japanese fans love their great chemistry and the fact that each spouse looks out for the other's needs. Marina is treated as an equal which is also a positive message to Japanese society.
Darwin is also a fitness fan and has in-depth knowledge of the home exercise market to help Marina produce videos that will give her subscribers the maximum benefit. In 2023, Marina and Darwin welcome a daughter, who will likely be just as active as her parents!
Facts about Marina Takewaki
Marina Takewaki is also known as Mariko Takewaki.
Darwin and Marina have created a branded exercise system called the MARINESS program.
Marina Takewaki currently has more than 700,000 followers on Instagram:
Marina Takewaki quote
"What I keep in mind when making videos is that even people who have no exercise experience can enjoy them. I want to be a friend who can share a good time with viewers."
"When I was in my twenties, both physically and mentally, it was the exercise that pushed me up. I would like to tell more people about mental and physical health."
Rounding up
Marina Takewaki has made millions from getting people off the couch and working out in homes across Japan. Her subscribers love her engaged and inclusive approach that motivates them to be the best they can be. MARINESS has the potential to go global, and Marina Takewaki's net worth set to trend upwards!