If you're a fan of golf, golfing pro Hideki Matsuyama will be instantly recognizable as one of the best in the game.
This prodigious player shocked the world by playing his first PGA Masters at just 19 years old, then winning it a decade later.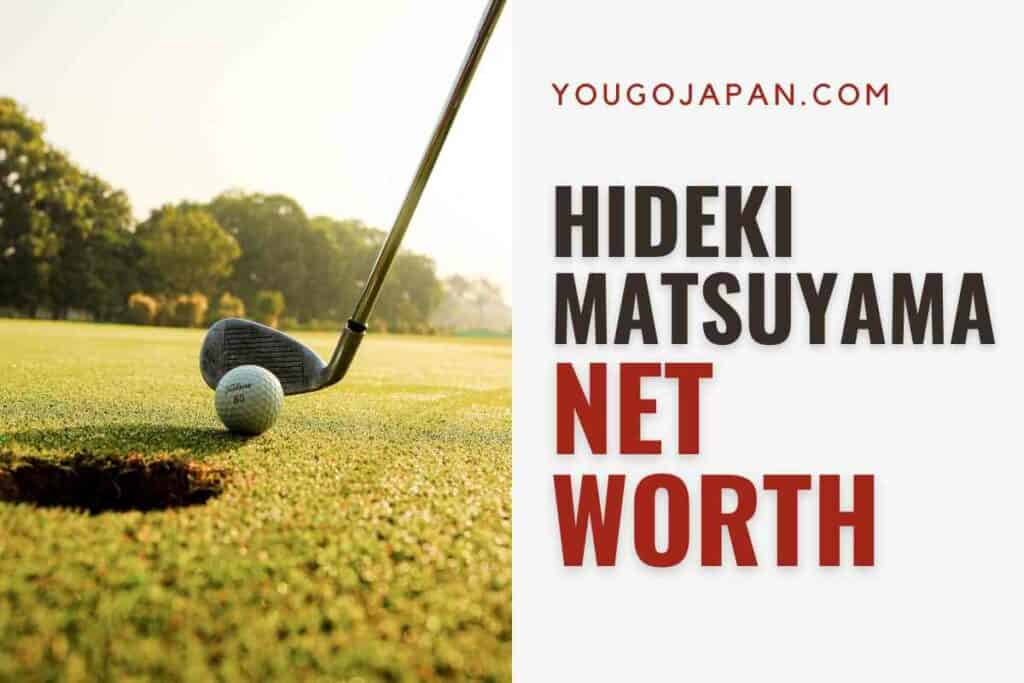 Matsuyama is now international golfing royalty, with a bank balance to match.
In this article, we'll take a look at the net worth of Hideki Matsuyama.
The net worth of Hideki Matsuyama 松山 英樹
Hideki Matsuyama is not only Japan's best golfer, he is also one of the world's best.
With more than 12 Master's appearances, and 2021 Masters win, Matsuyama's rise to prominence has transformed the sport and given Japan, a nation of golfers, the hero they desired. 
So it's no surprise that Hideki Matsuyama is well on his way to becoming one of golf's richest players.
The 2023 net worth of Hideki Matsuyama currently stands at more than $35 million and is well on his way to making hundreds of millions of dollars as his career shows no signs of slowing down. 
A breakdown of Hideki Matsuyama's net worth
Hideki Matsuyama's phenomenal earnings come from his amazing golfing skills. As an elite sportsman, he is racking up millions in prize money through participating in the world's most exclusive golf tours. 
According to CBS, at the time of writing Hideki Matsuyama has an official golf world ranking of #21. His earnings from playing golf in the last 12 months stand at $2,308,225. And with championship winnings from 17 professional tournaments, Hideki is likely to have earned more than $12 million in prize winnings alone.
But the real money is being earned through Hideki's eye watering roster of sponsorships and endorsements, which could see him chart a course to become a top earner like billionaire Tiger Woods.
Hideki Matsuyama has at least $20 million in sponsorships due to the fanatical demand of the Japanese market for this golfing legend.
According to Forbes, his endorsements include:
Oakley
Lexus
RTX
Nomura Financial
Hideki Matsuyama 松山 英樹 biography 
31-year-old Hideki Matsuyama was born in 1992 in the city of the same name in Ehime prefecture. His father was a golf fanatic, introducing young Matsuyama to the sport at the tender age of four.
To the delight of his parents, Matsuyama took to the sport and showed exceptional talent from a young age. To help him develop as a golfer his parents enrolled him at a specialist school for gold, the Meitoku Gijuku Junior & Senior High School in Kochi.
In 2010, while a student at Tohoku Fukushi University in Sendai Matsuyama entered the Asian Amateur Championship. He impressed the crowd and scouts with an impressive score of  68-69-65-67=269, winning the tournament and becoming eligible for the Masters. 
Hideki Matsuyama entered the 2011 Masters Tournament as Japan's first-ever amateur player. Despite being an underdog, he shocked the world by taking the Silver Cup as the amateur with the lowest score.
Not satisfied with such a remarkable win, Matsuyama finished joint third at the Japan Open Golf Championship and won the World University Games in the same year. 
By 2012, Matsuyama had risen to become the World #1 in amateur golf rankings and was ready to go pro!
Matsuyama professional debut
In April 2013, 21-year-old Hideki went pro, winning the Tsuruya Open, part of the Japan Golf Tour.
Within five weeks he had also won the Diamond Cup Golf tournament. Later that year in the U.S. Open, Matsuyama finished in the top 10, immediately becoming one of the top 50 professional gold players in the world!
By 2014 Matsuyama had achieved six top-25 finishes in only seven PGA Tour events. He went on to win the PGA Tour with a memorable playoff against  Kevin Na. By this time, Matsuyama had an Official World Golf Ranking of 13.
In 2015, Matsuyama played in the Masters Tournament and finished fifth. He also placed 16th in the FedEx Cup standings and was part of the Presidents Cup International team.
A year later he took home the cup at the Waste Management Phoenix Open in a playoff against Rickie Fowler. That win gave Matsuyama an Official World Golf Ranking of 12, the highest of his career at that point. 
Hideki Matsuyama won the Japan Open for the first time in October 2016. He beat rivals Lee Kyoung-hoon and Yuta Ikeda by just three strokes.
Within the same month, he also won the WGC-HSBC Champions and became #6 in the OWGR. Sadly, the Zika virus outbreak caused Matsuyama to bow out of the 2016 Rio Olympics.
Further pro golfing career highlights 
2017 win at the Waste Management Phoenix Open
2017 finished second U.S. Open, leading to a #2 Official World Golf Ranking. This is the highest-ever ranking achieved by a male Japanese professional golfer.
2017 win at WGC-Bridgestone Invitational
A spot on the International team at the 2019 Presidents Cup in Melbourne, Australia. 
A 2021 Masters win 2021 win of the ZOZO Championship, sponsored by Yusaku Maezawa's ZOZO fashion store. 
Tied for third place at the Tokyo Olympics in 2021
A 2022 win at the Sony Open, held in Hawaii
Hideki Matsuyama 松山 英樹 personal life
Hideki Matsuyama is a married man and it appears that married life is treating him well!
He got married in 2017, a year that was packed with golf tournaments. He and his wife welcomed a daughter called Kanna later that year. 
The news of his marriage came as a surprise, but Matsuyama was keen to keep his private life out of the spotlight.
Mei has caddied for him but it was not apparent that she was his girlfriend or wife. Hideki never disclosed that he was married simply because no one ever asked him!
Facts about Hideki Matsuyama
Hideki Matsuyama was disqualified from the 2022 Memorial Tournament in Dublin, Ohio, for the presence of a white substance on his 3-wood. 
Matsuyama has recently been linked to LIV Golf but released a statement saying that he remains fully committed to the PGA Tour.
In recognition of his international achievements, Hideki Matsuyama was honored with the Prime Minister's Award from Yoshihide Suga in 2021.
Hideki Matsuyama has opted to skip the 2023 Wells Fargo Championship, citing neck pain. 
At the 2023 WGC-Match Play event in Texas, Matsuyama baffled spectators with a weird putting drill that involved balancing a quarter on his putter:
Hideki Matsuyama quote
 "Golf is golf," he said. "Once we get on the golf course, that's what I'm thinking about."
Rounding up 
Hideki Matsuyama has become one of the world's best professional golfers at an extremely young age. This is great for the game because fans hopefully have many more years of watching him play. 
As a clean-cut family guy, who has put Japanese golf on Hideki Matsuyama is likely to grow his earnings even more with sponsorships and endorsements.