Powerboat racing is not the first thing that springs to mind when you think of Japanese sports.
But Kyotei (競艇), which literally means 'boat racing', is actually one of Japan's biggest (legit) gambling activities, with 24 water-filled stadiums dotted around the country, mainly in central and western Japan.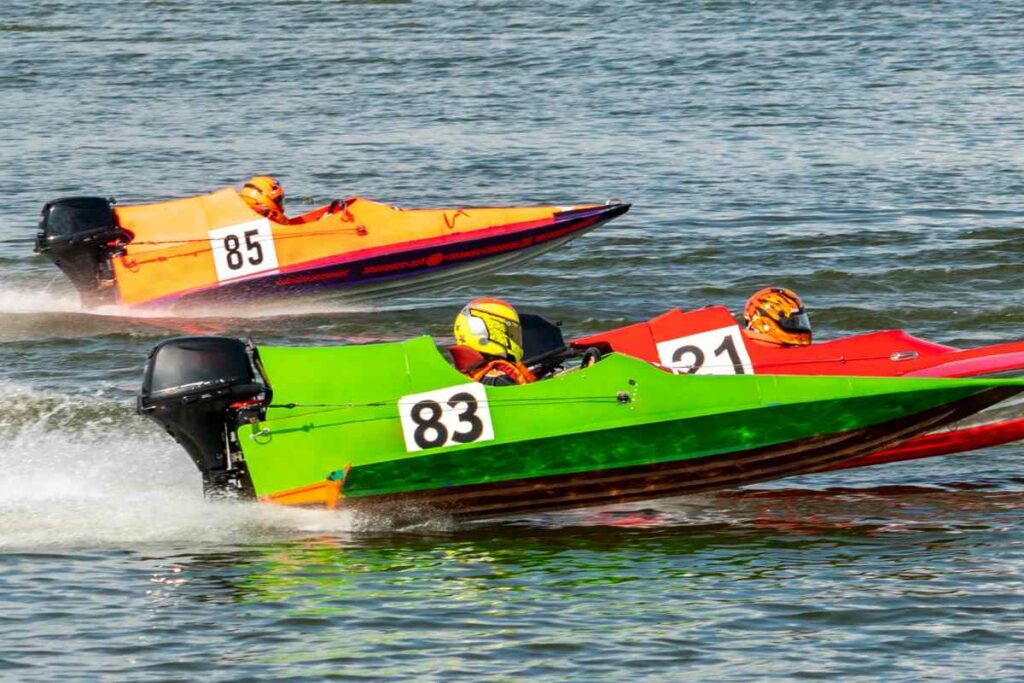 If you're as intrigued as I am, read on for the essentials on Kyotei and where you can watch speed boats race live!
What is kyotei (競艇)?
Boat Race or Kyotei is a Japanese sport that involves racing powerboats or hydroplanes on man-made ponds, lakes, and the sea.
It has only existed since the 1950s but has grown in popularity to become one of only four public sports (where gambling is permitted), in Japan. 
What does a kyotei race involve? 
All kyotei races are sanctioned and regulated by a national organization to ensure that boat races take place under strict conditions.
The race takes place on a natural or artificial body of water 400m by 150m and marked out with buoys that are 300m apart.
Each race has six participants who race their boats around the buoys at least three times in the fastest time to become the winner.
The whole thing takes less than a minute. Kyotei is fast-paced, dramatic, and addictive, with race after race watched from the grandstand.
Because of the gambling and to keep crowds packed, entry to the grandstand is as cheap as 100 yen for a day's viewing. 
The daring kyotei drivers
Kyotei racing drivers can be men or women who compete equally in the races.
Women represent over 10% of the pool of 1500 professional racers who are trained in the Boat Racer Training School, known as Yamato Kyōtei School, in Yanagawa City, Fukuoka Prefecture.
Their lower weight may give them a competitive advantage, as a weight under 60 kg is helpful for speed and performance.
Competition for entry to the Yamato Boat Race Academy is fierce as the most successful drivers earn hundreds of millions of yen. The academy uses a rigorous entrance exam used to identify suitable candidates. 
Professional racers tour the various stadiums and are assigned to the boats they will race by the kyotei stadium.
Drivers are allowed to fit the boat with their own spark plug or propeller and tune their engine, to optimize performance for a race win.
The boat engine specs are identical for all kyotei boats, despite the efforts of punters to identify specific boats that have a track record of winning races. The drivers wear a brightly colored jacket, matching a flag on the watercraft. 
All drivers are given a practice race and timed runs so that spectators can watch and assess performance before placing their bets. After this, the race can begin with time countdowns and drivers jostling for pole position.
The driver huddles in the boat for the acceleration down the straight and slows and stands for the corners.
Despite the risks involved, collisions are rare, but with speeds of up to 80 kilometers per hour, when they do happen to racing or training drivers they are often fatal. 
A typical day at the kyotei races
Kyotei stadiums open at 10 am and run up to 12 races throughout the day. Some evening races may also be run, but kyotei racing is mainly a daytime activity.
Punters can place bets at the stadium or official places where they can place a bet and watch the race on TV.
The official Japanese boat race website provides information on venues and the schedule of upcoming races. The race days and timings vary between stadiums, but during peak times like holidays, races will be on almost everywhere!
If you want to watch the latest races you can also do this on the official YouTube channel for the sport which includes interviews with popular drivers:
Who watches kyotei races in Japan?
Kyotei racing is considered a bit of a vice in mainstream Japanese society.
Despite its popularity, it is considered seedy and not an activity for respectable people to partake in.
However, the number of people going to kyotei stadiums indicates that not just criminals enjoy a bet on the boats.
The vast majority of punters are men of working or older age.
Many Japanese consider the people who watch kyotei to be social misfits, or involved in organized crime. So it is not a topic of conversation entered into willingly. 
Gambling, the heart of kyotei
Kyotei stadiums are geared toward continual gambling, the main reason for the kyotei races.
When you enter a kyotei stadium, you cannot escape the continual prompts to throw a few yen on a race at one of the many Tokyojo windows lined up in the stadium foyer.
Bets are unlimited with a 100 yen fee and a minimum spend of 500 yen for placing each one. Punters can bet on the winner, the first three race finishers, or a wide range of custom bets.
The atmosphere is decidedly relaxed and friendly with punters, congratulating each other for wins and consoling one another if they lose. 
Kyotei corruption
Like any sport, kyotei is vulnerable to race fixing and other forms of corruption.
As a regulated sport, authorities are quick to investigate and come down harshly on individuals that participate in scams using the Motor Boat Racing Act for enforcement.
For example, race-drivers may be bribed or pressured to lose races, as in the case of Masaki Nishikawa a driver who was paid 3 million yen to lose several races.
There have also been instances of small bookmaking operations, involving izakaya owners, business people, kyotei drivers, and the Yamaguchi-gumi.
Gambling can also become addictive leading regular Japanese families to become embroiled in shaming debt and having to become Jouhatsu.
Where can I watch Kyotei races?
Here is an official list of every sanctioned kyotei stadium in Japan:
| Stadium | Address  |
| --- | --- |
| Kiryu Stadium | 379-2311 2887 Azami Kasakake-cho, Midori City Gunma Prefecture |
| Toda Boat Race | 〒335-0024 8-22 Toda-koen, Toda City Saitama Prefecture |
| Edogawa Boat Race  | 〒132-0033 3-1-1 Higashikomatsugawa, Edogawa-ku Tokyo Metropolis |
| Heiwajima Boat Race | 〒143-00061-1-1 Heiwajima, Ota-ku Tokyo Metropolis |
| Tamagawa Boat Race | 〒183-0014 4-11 Koremasa, Fuchu City Tokyo Metropolis |
| Hamanako Boat Race | 431-0398 3727-7 Nakanogo, Arai-cho, Kosai City Shizuoka Prefecture |
| Gamagori Boat Race | 443-8503 1-1 Otashinden, Takenoya-cho, Gamagori City Aichi Prefecture |
| Tokoname Boat Race | 〒479-8501 4-111 Shinkai-cho, Tokoname City Aichi Prefecture |
| Tsu Boat Race | 〒514-0815 637 Fujikata, Tsu City Mie Prefecture |
| Mikuni Boat Race | 〒913-0001 80-1 Ikegami, Mikuni-cho, Sakai City Fukui Prefecture |
| Biwako Boat Race | 〒520-0023 1-1 Chagasaki, Otsu City Shiga Prefecture |
| Suminoe Boat Race | 559-0023 1-1-71 Izumi, Suminoe-ku, Osaka City Osaka Prefecture |
| Amagasaki Boat Race | 〒660-0082 199-1 Suimei-cho, Amagasaki City Hyogo Prefecture |
| Naruto Boat Race | 〒772-8510 48 Suberi Iwahama, Okuwajima, Muya-cho, Naruto City Tokushima Prefecture |
| Marugame Boat Race | 〒763-0011 4-1-1 Fujimi-cho, Marugame City Kagawa Prefecture |
| Kojima Boat Race | 〒711-8567 6-3 Kojimamotohama-cho, Kurashiki City Okayama Prefecture |
| Miyajima Boat Race | 〒739-0411 1-15-60 Miyajimaguchi, Hatsukaichi City Hiroshima Prefecture |
| Tokuyama Boat Race | 〒745-0802 1033 Kuriya, Shunan City Yamaguchi Prefecture |
| Shimonoseki Boat Race | 〒752-8511 1-1 Chofumatsuoda Higashimachi, Shimonoseki City Yamaguchi Prefecture |
| Wakamatsu Boat Race | 〒808-0075 13-1 Akaiwamachi, Wakamatsu-ku, Kitakyushu City Fukuoka Prefecture |
| Ashiya Boat Race | 807-0133 3540 Ashiya, Ashiya-machi, Onga District Fukuoka Prefecture |
| Fukuoka Boat Race | 810-0071 1-7-5 Nanotsu, Chuo-ku, Fukuoka City Fukuoka Prefecture |
| Karatsu Boat Race | 847-0031 1116 Haru, Karatsu City Saga Prefecture |
| Omura Boat Race | 〒856-0834 1-15-1 Kushima, Omura City Nagasaki Prefecture |
Rounding Up
Given that the Japanese aren't big on recreational boating, these thrilling races show another side to the culture of Japan.
If you get a chance to head to the races, enjoy the atmosphere, but don't fritter away your yen on bets.