Himawari (ひまわり) or the Sunflower, is common across the globe.
Tall-stalked, yellow-faced flowers that sync their movements with the Sun, these beautiful plants exist in variation in Japan and carry significant symbolic meaning.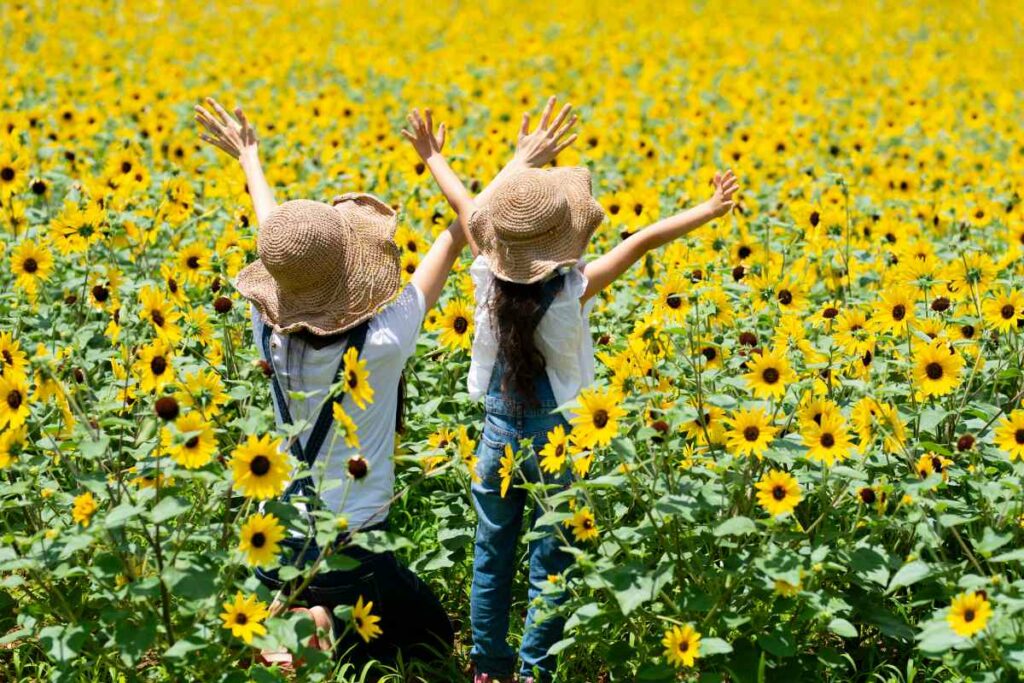 Here, we will outline the four main types of Sunflowers in Japanese culture, highlighting the significance, detailing their collective meaning, and explaining the differences among them.
How Varied are Sunflowers in Japan?
Not only will you find the common Sunflower in Japan, but you will also see a few different variations.
From sunflowers with darker shades of colour to shorter-stalked miniature ones that are much daintier, this plant exists in a number of forms.
#1 The Common Sunflower
Arriving on Japanese shores in the Edo period (1603-1868), the Sunflower was initially met with distain and rejection.
Japanese culture is pervaded with daintiness and even philosophical approaches to life itself, including both the ideas of moderation and simplicity. Being so big and bright, the Sunflower was seen as extravagant and overwhelming.
Although these flowers were received without much enthusiasm, at first, they are now massively popular in Japan.
Blooming in the Summer months, there are even huge fields of them across Japan, that a considered to be a good day trip.
#2 The Japanese Sunflower
Also known as a Shrub Sunflower, the Japanese Sunflower (Tithonia Diversifolia), is another tall plant with a bright yellow flower that varies from the Common Sunflower in the shape of its petals and the pistil is smaller.
Being a shrub, it is a very bushy growth in comparison to others and is considered a hardy plant with some resilience.
Flowers form in clusters and on stalks up to thirty centimetres in length. It can grow up to three meters in height and is listed as an environmental weed in a number of countries, blooming year-round.  
#3 The Dwarf Sunflower
This variant differs from the Common Sunflower only in its size. Common in Japanese gardens, it looks every bit like a sunflower but grows to just three feet or less, and its flower is significantly smaller.
As a result, it is easier to place within a bouquet and is favoured by many for this reason.
Some Japanese give this flower like a westerner gives a red rose, but their meaning can differ based on location and apparently the number of stems (meanings that we shall come to shortly).
#4 The Red Sunflower
Helianthus Annus (Red Sun), is a deep red variant of the Common Sunflower which can also be found in The Land of the Rising Sun, albeit more of a rarity.
Although the national flower is the Cherry Blossom (Sakura), any Sunflower variant is symbolic of the Sun, and therefore significant in Japanese culture.
You may not come across vast fields like you would with the first three, but it does remind you of the setting Sun.
What's the Significance of the Sunflower in Japan?
Significance is high considering there are 3 listed national Japanese plants and this isn't one of them.
However, flowers in general carry great significance in Japanese culture.
They even have what they call their 'Language of Flowers': Hanakotoba (花言葉), which details each flower's specific meaning or meanings.
Within this language, the yellow of the Sunflower express the very best of wishes or are given for good luck and prosperity.
The colour can even emblematise the end of the summer season, but also:
Adoration
Loyalty
Longevity
Prosperity
Admiration
Respect
Hope
Recovery
Is the Sunflower Linked to Romance in Japanese Culture?
It most certainly is. This is based upon the number of stems that you gift to someone or the colour and size.
For example, a White Sunflower can symbolise a more gentile form of emotion.
Purple will signify both Sorrow and Grief, whilst a dwarf one will symbolise Nobility and Romantic Love.
Even a larger "giant" sunflower carries the meaning of false emotions, wealth, and lust.
There is also significance in the number of flowers here:
1 – Love at First Sight
3 – A Declaration of Love
7 – Hidden Love
11 – Pure and True Love
108 – A Proposal of Marriage
Where and When Can You See the Sunflower in Japan?
You will see some variants of this plant all year round, but the vast fields of them in a number of spots around the country will bloom across July and August.
There are a number of places to visit but by far the most impressive are those in Hyogo and Osaka. Hyogo is even host to Sunflower festivals and events.
Visit Akashi Kaikyo National Park in Hyogo, as well as Nanko Sports Park, Sunflower Hill and Awaji Farm.
In Osaka, Sakai Green Museum on Harvest Hill is a great place to visit, as well as Zama Sunflower Fields in Kanagawa; Hokuryu Sunflower Fields in Hokkaido, and Akeno Sunflower Fields in Yamanashi.
Some fields are so vast that they are blanketed with over half a million flowers!
Is There a Sunflower Festival?
There are in fact many throughout August and in a few different places. Kiyose Sunflower Festival takes place in Tokyo from August 12th to the 19th.
Akeno Sunflower Festival in Yananashi begins on July 22nd and ends August 20th. There are also events in Hiroshima, Hokkaido, and Niigata.
Fields can feature giant and mesmerising patterns, and some will even be lit up with artificial lighting into the evening hours.
Final Thoughts
Carrying a wealth of significance in Japanese culture, the Sunflower (in all its varied forms) symbolises the warmth and life-giving abilities of the shining Sun.
Like most flowers in Japanese culture, it conveys multiple meanings and carries different ones depending on where you are in Japan.
You may even visit Japan just to see the Cherry Blossoms in bloom, but you would be missing out if you didn't at least see one of Japan's famous fields blanketed in the sunshine of sunflowers.
With so many places to see them, its likely you won't be far from a field if you visit Japan in the Summer.