E-commerce tycoon, art collector, and budding astronaut Yusaku Maezawa is one of the most famous Japanese people in the world.
The music and media-savvy 47-year-old is known internationally for his love of fashion, music, and popular culture.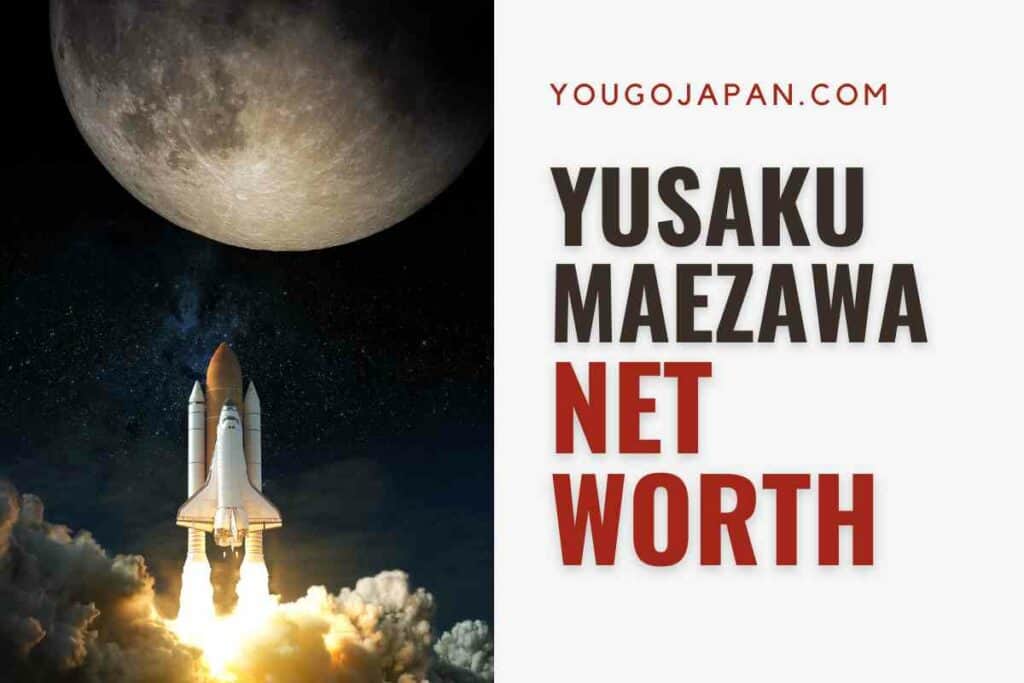 So how much is the founder of ZOZO, one of Japan's biggest online stores, really worth?
In this article, we share everything you need to know about the net worth of Yusaku Maezawa.
Yusaku Maezawa 前澤 友作 net worth
ZOZO founder Yuzakuu Maezawa is Japan's 14th richest person. In 2023, Forbes listed his real-time net worth at over $1.7 billion.
This phenomenal sum makes him the 1800th richest person on earth. His net worth has been far higher in the past, peaking in 2017 at 3.1 billion when he was actively at the helm of his ZOZO e-commerce store.
Since selling a massive stake and leaving the leadership of ZOZO, his wealth has declined. 
A breakdown of Yusaku Maezawa's net worth
Yusaku Maezawa's sky-high net worth is primarily derived from Zozotown the Japanese online fashion store he founded in 2004.
Zozotown quickly rose to become the largest fashion retailer in Japan with a market capitalization of more than $7.16 billion. 
The company made a $20 million loss back in 2018 when Maezawa tried and failed to launch an at-home measurement system called Zozosuit, which was unable to recoup its distribution costs. Zozotown has always had strong domestic performance but has closed its U.S. and European operations.
Maezawa shocked the world in 2019 by selling off 50% of Zozotown to SoftBank for $3.7 billion cash! He also sold Yahoo Japan 30% of his remaining 36% stake in the company and stepped down from the board. Kotaro Sawada replaced him as CEO. 
Yusaku Maezawa 前澤 友作 biography
The 47-year-old was born in 1975 in Kamagaya, Chiba Prefecture Japan. While attending Waseda Jitsugyo High School in the 90s Maezawa started a punk band called Switch Style with his classmates.
On the success of this band, Maezawa opted out of attending college and headed to the States. While in America he built up an expansive collection of CDs and records which he sold in Japan, starting a mail-order music-importing business. 
E-commerce Whizz
His band signed a record contract with BMG Japan, but Yusaku Maezawa continued to run his mail-order company which he named Start Today.
By 2000 Start Today was an e-commerce business selling music and clothing. A subsidiary clothing site called Zozotown (later ZOZO) was set up in 2004.
Yusaku Maezawa then paused his music career and concentrated on taking the company public. It floated on the Tokyo Stock Exchange and was in the First Section of the TSE by 2012. 
Maezawa is also noted for his invention of an at-home measuring system called the ZOZO SUIT. This was introduced for 72 countries in 2018. In 2019 Maezawa sold a 50% stake in ZOZO to Softbank for $3.7 billion. He sold a further 30% of his stake in the business and resigned from the company.
Championing contemporary art
Maezawa has plowed funds into the Tokyo-based Contemporary Art Foundation that he founded in 2012. His goal is to support the next generation of young artists.
His art collection is known for its record purchases that frequently exceed $100 million.
In 2016, he spent $98 million on:
Bruce Nauman's Eat War (1986)
Alexander Calder's Sumac 17 (1955)
and Jeff Koons's Lobster (2007)
Yusaku Maezawa has pledged to exhibit his art collection publicly and intends to open a custom-built art museum in his hometown of Chiba.
Adventures in outer space
Yusaku Maezawa is good friends with Elon Musk, with whom he has a shared love of space travel.
He is signed up with Musk's SpaceX space tourism company for the first Starship flight past the moon. The six-day trip was slated for 2023, but it is unclear exactly it will take place. 
Maezawa has set up a project called #dearMoon, assembling a team of artists and creatives to travel with him as the first SpaceX passengers. They include musicians, actors, and digital artists who will create a multimedia art project related to the circumlunar flight. 
In 2021 Maeszawa spent 12 days on the International Space Station with his assistant, Yozo Hirano. While in space he completed 100 tasks suggested by the public.
Yusaku Maezawa's personal life
Yusaku Maezawa is divorced with three children who live in Chiba Japan. Details of his first marriage are scant despite his huge media profile.
He has been reportedly involved with the Japanese model and actress Ayame Goriki.
Facts about Yusaku Maezawa 
Yusaku Maezawa is the most retweeted individual on Twitter. He first achieved this feat in 2019 by offering $9300 to 100 randomly selected followers who retweeted his message. More than four million people responded. Later in 2019, he repeated the offer and achieved three million retweets.
Maezawa has reportedly paid Elon Musk $80 million to voyage into space on his Starship. Musk has publicly admitted that the journey will be dangerous. 
Maezawa received submissions from more than 1 million artists to be part of his #dearMoon crew.
Yusaku Mawzawa is reportedly keen to adventure to the deepest part of the ocean, the Mariana Trench.
Yusaka Mazawa brought a painting called L'Atelier du peintre by Ida Yukimasa, which he displayed at the International Space Station on his trip there in 2021.
Yusaku Maezawa quote
"There's nothing wrong with using the money that you earn to be daring and buy art that you love or that you think is beautiful. Art makes people smile, brings people together."
Yusaku Maezawa interview
In this video, Yusaku Maezawa talks about the team he has assembled to head to the moon in 2023:
Rounding Up
Eccentric businessman Yusaku Maezawa has used his wealth to have a lot of adventures. It's clear he intends to live life to the full.
His biggest challenge will not be building a business, but surviving the perilous maiden flight of Elon Musk's Starship if it launches later this year.