Nitori is one of Japan's largest home furniture stores and has expanded overseas as the Aki-Home brand.
The company's founder and president, Akio Nitori, has become one of Japan's richest men.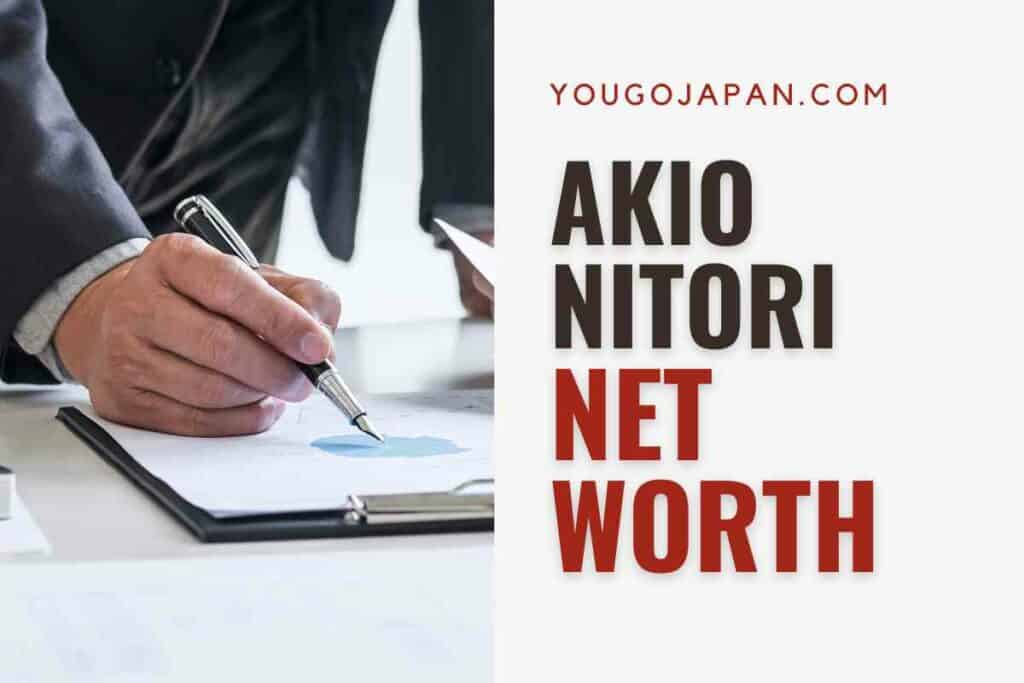 But how much is Mr. Nitori worth, and how did he achieve his great wealth?
Find out in this concise guide to the net worth of Akio Nitori.
The net worth of Akio Nitori
Akio Nitori is one of Japan's leading businessmen, heading no less than eight different companies during his lifetime.
He is currently the Chairman & Chief Executive Officer of Nitori Holdings Co., the holding company that he founded that controls the Nitori furnishing company and its international subsidiaries. 
Through his business interest, 79-year-old Akio Nito has accrued a 2023 net worth of over $3.6 billion, with annual earnings of at least $35 million per year.
This makes the Hokkaido, Japan resident the 14th richest person in Japan, and the 819th wealthiest person in the world in 2023. 
A breakdown of Akio Nitori's net worth
The majority of Akio Nitori's wealth comes from his 21% equity stake in the holding company Nitori Holdings. Nitori Holdings is currently traded on the Tokyo Stock Exchange.
Nitori Holdings Co Ltd is currently worth over $14 billion and has a share price of 16,845 JPY ($125) which has been climbing since a dip in 2022.
Nitori Co., Ltd
Akio's home furnishings store Nitori is one of the biggest assets of Nitori's holding company.
He opened his first store in 1967, and the chain has grown to over 800 stores. In fact, Nitori is considered the store that furnishes the houses of Japan. 
Nitori is headquartered in Sapporo, Japan where the company was founded. In addition, the company has expanded to the United States, Taiwan, and China.
In 2022, Nitori reported revenues of over $6 billion. Demand for Nitori products is strongest in urban areas like Tokyo. 
In April 2023, the US subsidiary, Aki Home, closed down.
Other companies 
Nitori Holdings also has had some notable acquisitions and interests in other companies related to its sector.
These include: 
A $2 billion takeover bid of the Japanese home improvement retail chain Shimachu Co Ltd in 2020.
Purchase of a 9.99% stake in EDION Corporation, a manufacturer of electronic home appliances. 
Akio Nitori biography
Akio Nitori was born in 1944 on the Russian island of Sakhalin. At age three his family was repatriated to Sapporo on the island of Hokkaido.
Back in Japan, his childhood was impoverished. He grew up in a tenement building for repatriates and faced heavy domestic work to help his family. 
Nitori says that he struggled with his studies at school through to university. However, he managed to graduate from Hokkaido Shoshi Gakuen High School in 1962 and later graduated in Economics from Hokkai-Gakuen University in 1966.
To get through college, Akio Nitori hustled pools and collected unpaid bar tabs.
Following university, Nitori found a job with an advertising company but found himself unemployed within six months. It was then he decided to go into business for himself. His first business was the furniture store which gave rise to the Nitori business empire.
He started the business with just $8000 that he had borrowed from family and friends. Atio Nitori says that he chose to retail furniture because there was no competition in that particular area of Sapporo. 
The transformation of Nitori's lone furniture store into a multi-billion dollar company was catalyzed by a business trip that Nitori took to the US in 1972. At the time I was 27 years old and running two stores. 
While in America he observed chain stores, which were not a big thing in Japan at the time. He was also exposed to home living and furnishings in the US which differed from the more spartan product choices back home. Nitori was inspired to recreate the chain store system in Japan, believing it would be a great improvement in the quality of life for the Japanese.
To learn more about chain stores, Nitori joined a Japanese business study group called the Pegasus Club in 1978. Shunichi Atsumi, its president, mentored Akio Nitori and helped him to develop management policies for his stores. 
Nitori stores and their great value product offerings are inspired by what Akio Nitori observed in America:
He continues to visit the US with his team and observe homewares and home furnishing trends that he brings back to Japan.
He calls America his 'teacher' and aims to give Japanese consumers the quality and variety that American customers enjoy. 
Nitori has proven to be resilient in the harsh economic climate of the 2020s. This is because of the discount retailing model that Akio Nitori has held firm to.
Akio Nitori personal life
Akio Nitori is married, but little is known about his family and relationships. He has said that his wife tells him "I do what others won't do, but can't do the things people ordinarily can."
He has children but he does not want hereditary succession for Nitori Holdings. Instead, when he stepped down as President in 2016, his VP Toshiyuki Shirai became President. 
Nitori's hobbies are karaoke and golf.
Facts about Akio Nitori
In 2005, Akio Nitori was awarded the Blue Ribbon Medal
In 2015, Nitori was further honored with France's Chevalier de l'Ordre National de la Légion d'Honneur
Akio invests in his staff and is known to invest in talent acquisition. Nitori Holdings spends up to five times more than other listed Japanese companies on staff development.
Akio Nitori quote
"You live young as long as you keep going on the offensive. You grow old fast once you become defensive."
Rounding up 
Akio Nitori has a fascinating rags-to-riches story that continues to inspire to the present day.
Even though he is 79 years old, Nitori remains active in business and remains motivated to see Nitori Holdings grow further.
This personable and open business magnate emphasizes the importance of taking risks, building the best team for the job and never becoming complacent.