Hiroyuki Sanada is the Japanese actor and film star who made it so big in acting and films in the west that he is even an honorary Member of the British Empire (MBE) from the UK!
And he's not just an amazing actor, he's also an outstanding martial artist.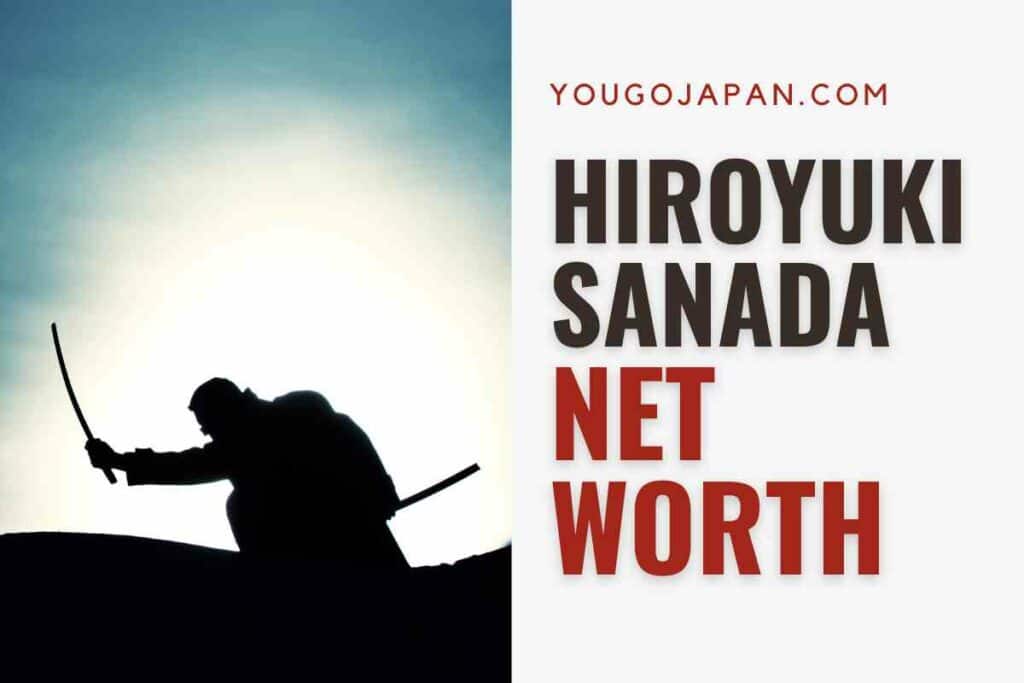 In this article, we'll tell you everything you need to know about the net worth of Hiroyuki Sanada and how he has made his Hollywood millions. 
The net worth of Hiroyuki Sanada 真田 広之
Hiroyuki Sanada has had a stellar career portraying a whole host of characters in over 50 Japanese and American films.
In Japan Hiroyuki Sanada is called 'engi-ha', meaning he is an actor who really can act and he is currently in his fifth decade of acting. 
Hiroyuki Sanada has a net worth of between $10 million and $12 million. His wealth has been accumulated through the numerous acting fees that he has earned in Japan and the U.S. with royalties providing a generous income.
His performance in the upcoming John Wick 4 is certain to boost his income. 
He has been an outstanding character actor but without many lead roles, his income only climbed by $1 million per year. He also has a substantial portfolio, with houses in Tokyo, Kyoto, and California. 
Hiroyuki Sanada 真田 広之 biography
Hiroyuki Sanada was born in 1960 in Tokyo.
He was scouted during his childhood to become a child actor and model at age five, with his first film role in the yakuza film Game of Chance at age 6. 
At an early age, Hiroyuki Sanada set his sights on becoming an action movie hero.
To prepare for these types of roles he took up Shorinji Kempo, a kung-fu-related martial art, and Kyokushin kaikan karate.
At age 11, Sanada came to the attention of Chiba's Japan Action Club where he was mentored by the martial artist and developed all-around martial arts abilities.
After finishing high school he revisited performing arts and landed a role in the 1978 film Shogun's Samurai.
For this role, Sanada changed his surname from Shimozawa to Sanada which he has kept ever since. 
Hiroyuki Sanada's Japanese film career
Sanada established himself as an actor with numerous roles in Hong Kong action cinema.
Well-known early films from Sanade included Ninja in the Dragon's Den (1982) and Royal Warriors (1986).
He also developed as a Japanese film character actor in films like the Makoto Wada film Mahjong Hourouki.
Alongside acting Hiroyuki Sanada was able to earn a bachelor's degree from Nihon University.
Sanada the Shakespearean actor
Sanada has the unusual honor of an honorary MBE from the UK. This was awarded for his performances in a production of King Lear with the Royal Shakespeare Company between 1999 and 2000.
Though not the first Japanese actor to work with the RSC, Sanada was honored for spreading awareness of British arts and culture in Japan.
It's well worth a watch for his mastery of English and insightful interpretation: 
International breakthrough with The Last Samurai 
Hiroyuki Sanada went global with his most famous role as the master Samurai swordsman Ujio in The Last Samurai (2003).
This stellar role alongside Tom Cruise was popular around the world and brought him more offers of western and international film roles.
You'll remember Sanada in films like Rush Hour 3 with Jackie Chan and Chris Tucker and the Sci-Film Sunshine.
Recent roles
Here are some of Hiroyuki Sanada's most recent roles:
Playing Akihiko in Avengers: Endgame (2019)
Playing The Elder in Bullet Train (2022)
Hawkeye, a Disney+ Marvel Universe miniseries (2021)
An upcoming American mini-series called Shōgun (2022)
Playing the role of Shimazu Koji in John Wick 4 (2023)
Hiroyuki Sanada 真田 広之 personal life 
Hiroyuki Sanada was married to the well-known Japanese actress Satomi Tezuka who is known for Japanese films that include Revolver (1988), and Trick (2000).
They married in 1990 and divorced in 1997. Sanada and Tezuka share two sons who were primarily brought up by their mother. They are now pursuing acting careers.
Hiroyuki Sanada 真田 広之 facts 
Hiroyuki Sanada often chose to be credited as Duke Sanada, Harry Sanada, or Henry Sanada in his early films.
Sanada has a close friendship with the Chinese actor Jackie Chan who he worked with on Rush Hour 3. 
Hiroyuki Sanada is also an accomplished singer. He released a series of singles and albums in the 1980s that were part of movie soundtracks for films he was in.
The surname Sanada is derived from the Sanada clan (真田氏), a dynastic Japanese clan who were powerful in Nagano Prefecture during the Sengoku and Edo periods.
Hiroyuki Sanada is well known for playing Dr. Hiroshi Hatake in the science fiction series Helix.
Hiroyuki Sanada quote
'Sometimes I'm doing a big movie, or sometimes I'm doing a TV show, but as an actor, it's almost the same thing for me. If I'm doing action, or comedy, or something more heartfelt, it's a different approach, but it's all acting for me.'
In conclusion
Hiroyuki Sanada is a successful Japanese actor who is continuing to thrill audiences after 50 years in the game.
With the release of John Wick 4, we're sure that this versatile actor will continue to keep working and earning in the years to come.