If you're in Japan during Fall, a riot of color awaits you! The lush foliage of Japan transforms into vivid shades of red, orange, and golden yellow, creating a breathtaking natural scenery that has to be appreciated.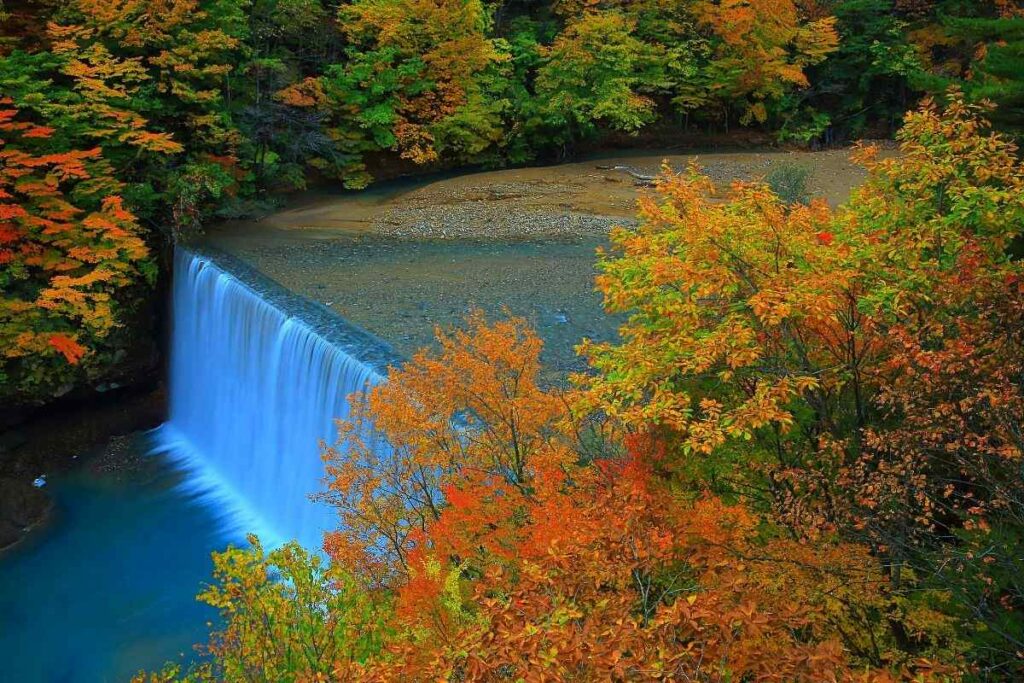 This season of kōyō, known as colorful leaves, is just as popular as Hanami or the Wisteria festivals that take place earlier in the year.
Take a look – 10 Best Hanami Destinations In Japan
Here are 12 of the best destinations for Kōyō, with outstanding images of Fall in Japan. 
12 Best Destinations for Kōyō (Colorful Leaves)
1. Daisetsuzan National Park
The northern island of Hokkaidō is one of the best destinations for enjoying the rich colors of fall foliage. 
Daisetsuzan National Park, Japan's largest, is the perfect setting for seeing the fiery fall colors set against the smoking slopes of the Asahidake volcano.
Late September to mid-October is the best time to see the fall leaves that form bands of red and orange set against the slopes. 
Address: Sounkyo, Kamikawa, Kamikawa District, Hokkaido 078-1701, Japan
---
2. Kurobe Gorge, Toyama
The Kurobe Gorge (黒部峡谷) is a spectacular ravine in the Northern Japanese Alps, with dense foliage that becomes a palette for beautiful colors in the fall.
Hike trails on the mountainside or take the famed Kurobe Gorge Railway between Unazuki and Keyakidaira Stations, crossing the iconic red Shin Yamabiko Bridge.
Don't forget your camera and watch out for the snow monkeys!
Take a quick look – 6 best snow monkey destinations in Japan
---
3. Rikugien Garden, Tokyo
This elegant Tokyo greenspace which literally means 'six poems garden' is one of the most celebrated locations for the appreciation of kōyō in Tokyo.
The park is illuminated in the evening, to enhance the beautiful fall leaves and weeping cherry trees. 
Address: 6 Chome-16-3 Honkomagome, Bunkyo City, Tokyo 113-0021, Japan
---
4. Jozankei, Sapporo
Jozankei Onsen, is a hot spring resort on Hokkaidō that is easily accessed from central Sapporo.
The foliage that covers the town's valleys takes on a beautiful red and amber tint in the fall months, which peaks in mid-October.
If you're ready to book a great Sapporo city break, you can find my recommendations for a great stay in my article, '5 Best Hotels In Sapporo'
---
5. Eikando Temple, Kyoto
Travelers to Kyoto in the fall can visit the Eikando Temple, just north of Nanzenji, to observe the beautiful kōyō.
Locals and visitors flock to see the burnished leaves and pleasing proportion of these beautifully landscaped gardens.
Admission to the temple grounds during fall is 1000 yen during the day and 600 yen in the evening.
Address: 48 Eikandocho, Sakyo Ward, Kyoto, 606-8445, Japan
---
6. Yubara Onsen, Okayama
This is another hot spring resort that comes alive, with beautiful kōyō during the fall months.
If you're in Western Japan, be sure to catch the fall foliage in its fullest colors while immersing yourself in one of the rotenburo (outdoor hot spring baths) of the region.
The fall leaves beautifully frame many of Yubara's historic buildings. A photographer's dream!
---
7. Oirase Gorge & Lake Towada, Aomori
I am a real Aomori fan. This agricultural powerhouse, known for its delicious apples, becomes absolutely gorgeous during the fall.
The Oirase Gorge and Lake Towada are two spots that you must visit during the kōyō months, particularly in late October.
You can hike beautiful trails along the Oirase Gorge, or paddle Lake Towada, to enjoy the best views.
Check out some great Aomori hotels in my article '5 Best Hotels In Aomori'.
---
8. Nara Park, Nara
Nara with its inquisitive sacred deer is a wonderful fall destination.
The 1,240-acre Nara Park has lots of scenic spots for viewing fall foliage at its best.
Enjoy the warming reds, oranges, and yellows of the fall leaves while sharing loving-kindness by feeding the deer.
Don't make your visit to Nara a day trip, check out my recommendations of amazing places to stay in Nara!
Address: 469 Zoshicho, Nara 630-8211, Nara Prefecture
---
9. Jingu Gaien Ginkgo Avenue, Tokyo
Icho Namiki Avenue, also known as Jingu Gaien Ginkgo Avenue is an avenue of stunning ginkgo trees that put on an amazing fall display!
The towering Ginkgo trees are like glamping golden torches during the autumn months, peaking during November and December.
If you love Gingko trees, check out the article '9 Places to See Ginkgo Trees'.
Address: 2 Chome-付近 Kita-Aoyama, Minato City, Tokyo 107-0061, Japan
---
10. Lake Chuzen-ji, Nikkō
Lake Chūzenji, also known as the Sea of Happiness (中禅寺湖), is one of Japan's best destinations for kōyō.
This beautiful lake at the center of Nikkō National Park in Nikkō, Tochigi Prefecture, is surrounded by impressive fall leaves that look amazing against the slopes of Mount Nantai.
The lake has an interesting history as it was formed by the eruption of Mount Nantai blocking the Kinugawa River, more than 20,000 years ago.
---
11. Arashiyama, Kyoto
This small town that's just outside Kyoto gets massive visitor numbers because of its amazing kōyō!
Fall is one of the best times to head here as it has great fall attractions like rides on a Yakata-bune, the Iwatayama Monkey Park, Tenryuji Temple, and Togetsukyo Bridge.
This destination is especially good for Red Maple leaves. 
---
12. Lake Kawaguchiko, Yamanashi
Lake Kawaguchiko in Yamanashi prefecture is known across Japan for being a wonderful fall leaves destination.
It has some amazing views of Mount Fuji, which looks splendid when bathed in red fall foliage.
There are many fall day trips and tours of the Lake Kawaguchiko resort region which offers activities that include fishing, hiking, and boating.
You can learn more about this famous Fuji-Five Lake in my article 'Complete Kawaguchiko Hiking Guide'
---
Rounding Up
The impressive fall Kōyō is a great reason to get out and about in Japan, whether for a day trip or an extended stay.
Appreciating Kōyō is one of the cheapest activities you can do, and the photographs of the auburn, amber, and ruby leaves make a priceless souvenir.