Ayumi Hamasaki is Japan's most successful female singer.
This legendary J-pop artist has been the making of her record label with sales that accounted for more than 40% of its revenue at times.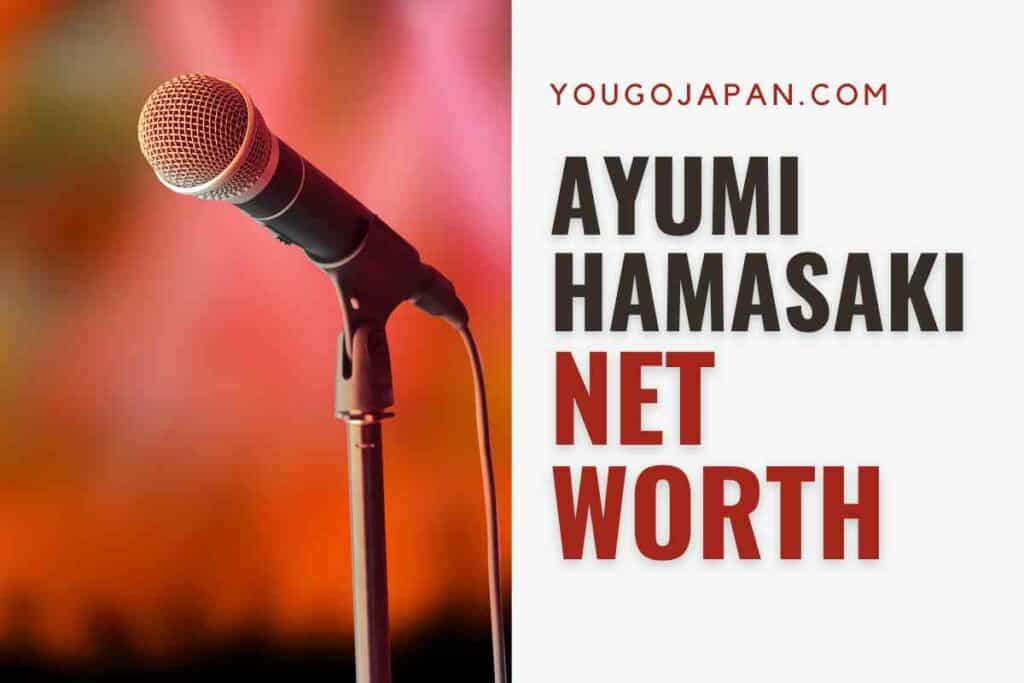 Such popularity and fame have translated into big bucks for Ms. Hamasaki.
In this article, we'll take a look at the net worth of Ayumi Hamasaki including the best-selling songs that made her rich. 
The net worth of Ayumi Hamasaki 浜崎あゆみ
Ayumi Hamasaki is the richest singer in Japan. Her net worth is vast and estimated as being anywhere between $70 million and $185 million!
In the past, she has ranked high as one of Japan's top taxpayers, with her name published on an official list in 2002. 
Hamasaki is continuing a long run as one of the world's highest-paid singers this year, earning  $58 million in the last 12 months alone.
Despite being a J-pop artist, her sales have put her on a par with western artists like.   Her earnings outstrip other Japanese artists by at least $30 million. 
A breakdown of Ayumi Hamasaki's net worth
Ayumi Hamasaki's $185 million net worth  has come from a variety of sources including:
Here back catalog of 18 studio albums, 3 live albums, 9 compilation albums, and 7 EPs. Hamasaki writes many of her lyrics. 
Shrewd stock investments during her career.
A large property portfolio that includes a Roppongi penthouse near Music Station, a Minato Ward apartment, and coastal property.
A substantial roster of endorsements that includes Rimmel, BOSS Coffee, the Honda Crea Scooter, and Panasonic.
A stake in her hometown soccer team called Avispa Fukuoka.
Ayumi Hamasaki x Hello Kitty products developed with Sanrio.
The MTRLG (Material Girl) fashion line and Ayupan merchandise.
Her TV show called Ayuready? was broadcast between 2002 and 2004 on Fuji Television. 
The 44-year-old pop powerhouse has continued to go from strength to strength with her latest album 'Remember You', released this year.
Ayumi Hamasaki 浜崎あゆみ biography
Ayumi Hamasaki was raised in Fukuoka by her mother and grandmother. Hamasaki's father had left the family when she was three.
Her mother was a single parent who worked while her grandmother took care of her. Ayumi has said that she was a tomboy in her early years but by age seven she was supplementing the family income with work as a model for local companies. 
At age 14, Hamasaki signed with the SOS modeling agency and left the family home to live in Tokyo. However, her petite stature meant that she was deemed too short to model successfully.
SOS transferred her to a music agency, where she signed with Nippon Columbia and produced her first EP 'Ayumi' in 1995. The album failed to chart and she was dismissed from her record label. 
Ayumi Hamasaki then worked in television presenting and acting jobs on B-movies.
During this period her education was extremely sporadic and she endured prolonged periods of unemployment, shopping, dancing in discos, and living with her mother who had moved to Tokyo. 
Ayumi was introduced to the leading music producer, Max Matsuura at Velfarre disco club. She initially turned down the offer of a record deal but eventually signed with Avex.
Before recording, she undertook vocal training in Japan ad New York. The record label execs were impressed with her lyrics and encouraged her to write her songs.
Ayumi Hamasaki's debut and breakthrough albums
Ayumi Hamasaki's debut was in 1997 with a debut single called 'Poker Face' which charted.
With subsequent single releases, Hamasaki became more visible and interest from the public increased. 
A Song for ××, released in early 1999 was Hamasaki's debut album. Its 'tortured soul' themes including loneliness, introspection, and isolation resonated with the Japanese youth who started to flock to her music.
A Song for ×× was a success, topping the Oricon charts and selling a cool million copies. Hamasaki was honored with a Gold Disc for being the Best New Artist of the Year.
Ayumi Hamasaki built her brand on the success of her first album with a series of remix albums that included trance, dance, reggae, and orchestral arrangements of her songs.
This clever strategy earned her a number-one single with the track Love: Destiny. The song 'A' was her first million-selling single. Later records started to consistently sell in the millions and in late 1999 Hamasaki announced her first tour. 
Ayumi Hamasaki's career highlights 
In the early noughties, Hamasaki began to acquire more creative control over her music. She wrote entire albums under the pseudonym 'Crea'.
She began to use her music to address societal issues like world peace and record charity singles. 
Her music was popular right across Asia, leading to many lucrative touring opportunities. She was described as the voice of the lost generation and admired for her fashion taste and personal lyrics.  
Her Y2K aesthetics and gyaru-kei (RnB and hip hop) fashion sense have become classic styles in contemporary Japanese fashion. Ayumi put a lot of work into creating dramatic costumes, makeup, and imagery that would wow her fans.
By 2003, Hamasaki's earning power and record sales were piquing global interest with a feature in Forbes magazine that noted the $190 million she had generated in sales for her record label, with estimated earnings of $9 million per year at that time.
Ayumi Hamasaki's hearing loss
In early 2008 Ayumi Hamasaki shared with fans that she had an inoperable auditory condition, causing complete deafness in her left ear, along with episodes of dizziness and nausea.
It has been speculated that the problem developed because of continuing to perform through an ear infection. She continued her career despite the setback.
Ayumi Hamasaki 浜崎あゆみ personal life
Ayumi Hamasaki has had several high-profile relationships including:
Dating the actor Tomoya Nagase between 2000 to 2007. 
Marriage to Manuel Schwarz an Austrian actor and model between 2011 and 2012.
Marriage to Tyson Bodkin a medical student between 2014 and 2016.
Ayumi Hamasaki has also had two children, announcing their births to fans in 2020 and 2021.
Facts about Ayumi Hamasaki
Ayumi Hamasaki donated more than 30 million yen ($224,682) to help victims of the 2011 Tōhoku earthquake and tsunami. 
Hamasaki personally visited the aftermath of the 2022 typhoon in Shizuoka to bring attention to the suffering of its victims. While there, she participated in relief work. 
Between 2000 and 2023, Ayumi Hamasaki performed a series of Ayumi Hamasaki's Countdown Live concerts to celebrate the new year. These concerts have been compiled and are available on DVD.
Ayumi Hamasaki quote
"I don't think you should meet the people you most admire. I don't want reality to interfere with my image."
Rounding up
Ayumi Hamasaki is a Japanese cultural icon with over 20 years of hits under her belt. She is a master of reinvention, so the next decade is likely to bring even more hits and trend-setting styles, from Japan's most famous singer.