Tokyo is one of the world's safest cities and is generally safe at night.
However, as with any large city, it's important to exercise caution and common sense when exploring Tokyo after dark.
If you wish to have a safe stay in Tokyo, there are some things you need to know.
Is Tokyo Safe At Night?
Yes, Tokyo is generally a safe place at night.
Stunningly, Japan has one of the lowest crime rates in the world and Tokyo is no exception. The Japanese capital offers a safe environment for travelers to explore, day or night.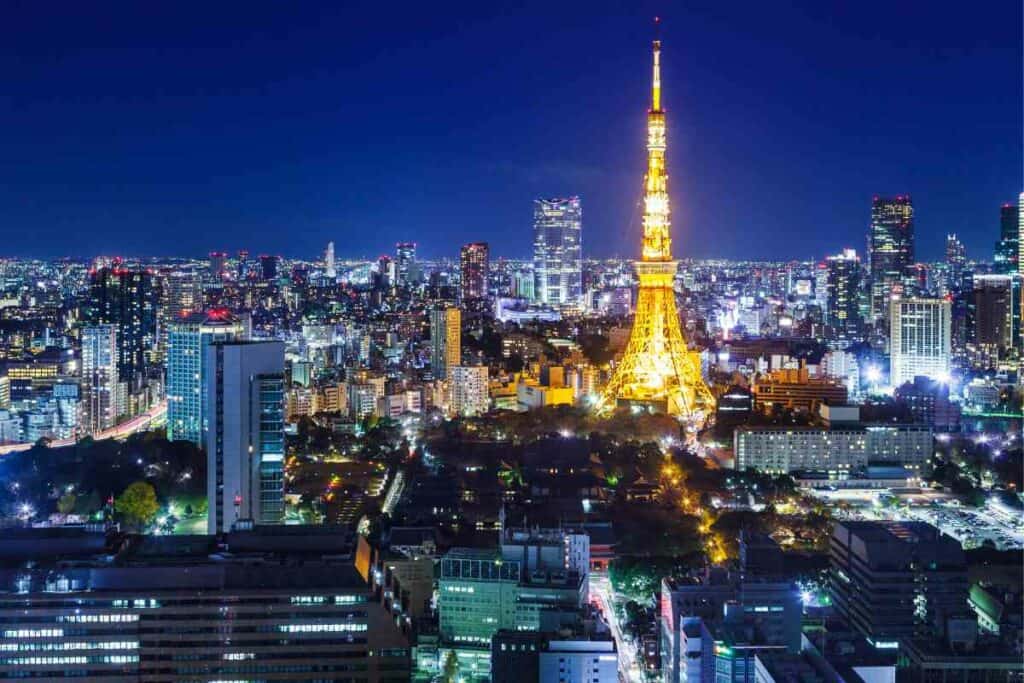 While violent crimes against tourists are rare in Tokyo, petty theft does occur in crowded areas like train stations and popular tourist spots.
Streets are usually quite busy and well-lit, but tourists should be aware of pickpockets.
To minimize risk:
Only carry what you need with you and keep your valuables secure in a bag or pocket.
Avoid leaving any cell phones or electronics out of sight unattended as they may be an easy target for pickpockets or thieves.
When walking around alone at night, avoid dark alleys and stick to well-lit and populated areas.
When using the train system at night, it's best to stay on the main lines that run throughout the city.
Avoid using the local buses or taking back streets as these can be more dangerous late at night.
If possible, try to travel with a group of friends for added safety.
These are some basic precautions to take when traveling to Tokyo or basically anywhere in the world.
Tokyo Crime Rate Compared To Other Major Cities
The crime rate in Tokyo is significantly lower than that of other major cities around the world.
According to a 2017 survey conducted by the Japanese National Police Agency, Tokyo reported fewer than 37 annual violent crimes per 100,000 people.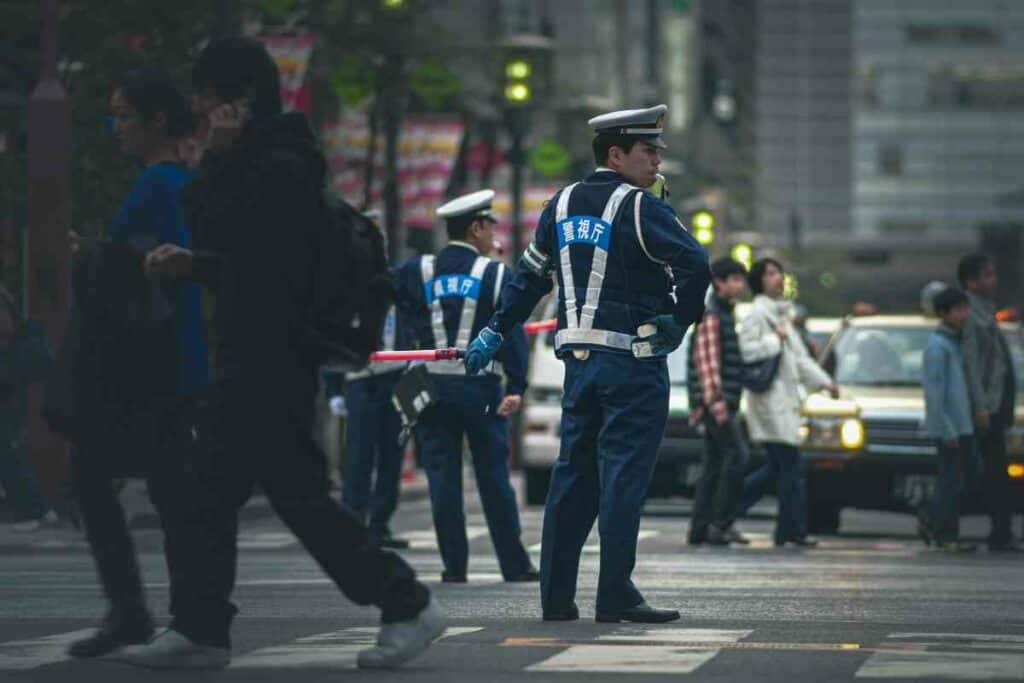 This figure is substantially lower compared to cities like:
New York (253)
London (114)
and Los Angeles (472)
In fact, of the 20 largest cities around the world, only Paris reported a lower crime rate with 34 incidents per 100,000 people.
Tokyo's low crime rate can be attributed to several factors.
Foremost among these is Japan's strong gun control laws which make it difficult for criminals to obtain firearms.
In addition, police officers in Tokyo are more visible in the streets and have a greater presence at places of entertainment.
Japan's cultural values also play an important role in deterring crimes like robbery or assault.
Areas in Tokyo That Tourists Should Avoid at Night?
Shinjuku, Kabukicho, and Ikebukuro are areas in Tokyo that tourists should be cautious of at night.
These popular entertainment districts have large concentrations of bars and clubs, making them attractive to would-be criminals.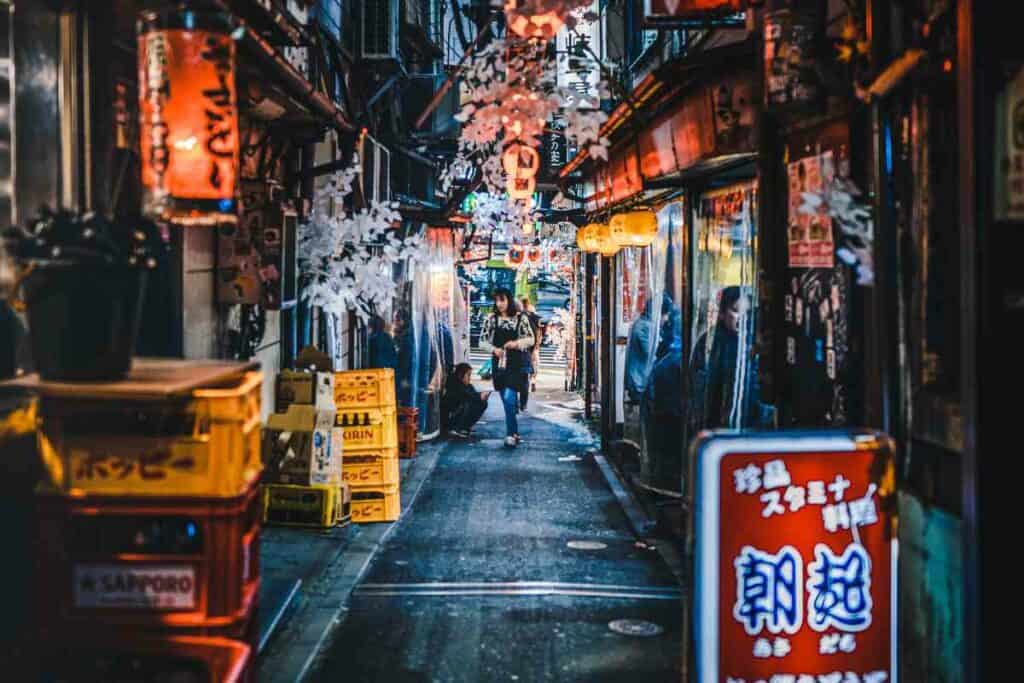 Additionally, these areas can become chaotic later in the evening as people flock to pubs and karaoke joints.
It is advisable to avoid visiting these locations after dark unless absolutely necessary.
The Roppongi area is also known for its late-night activities and can be a dangerous place after hours.
This area is a popular hangout spot for expats, so it attracts more attention from criminals looking for easy targets.
Tourists should not venture out alone during the nighttime hours in this area either.
While incidents do not occur all the time in these places, when something happens, it is usually in one of those neighborhoods.
I would definitely avoid going there drunk which will increase the chance of something happening.
Just knowing these types of things makes you not an easy target.
Recommended Modes of Transportation For Tourists Traveling in Tokyo At Night
If you're a tourist traveling in Tokyo at night, it's important to choose the right mode of transportation.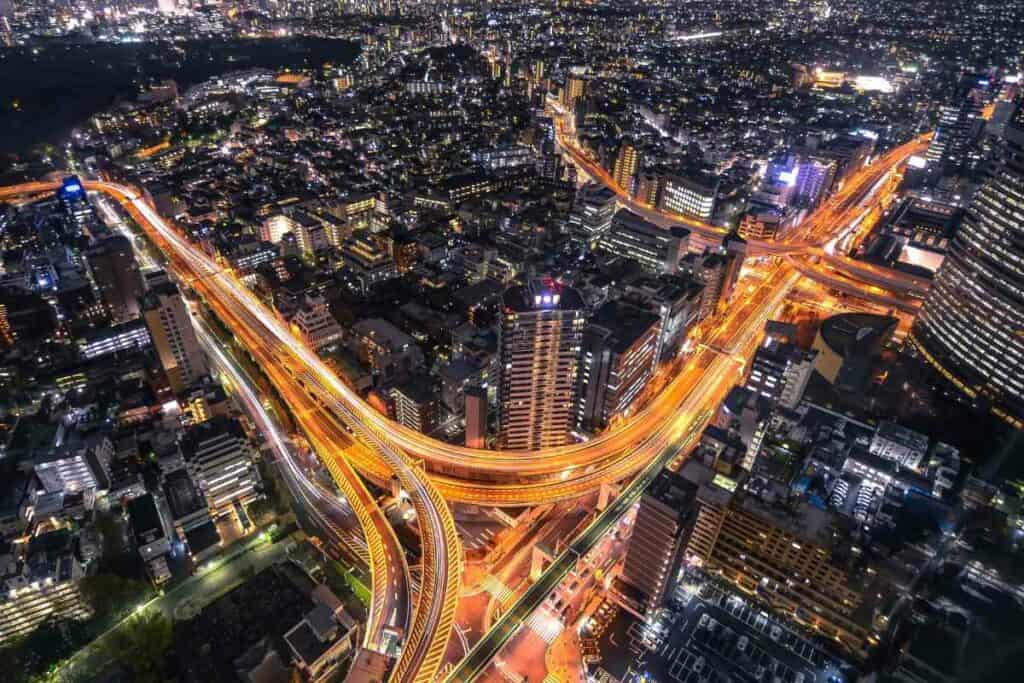 The options available are:
Buses
Trains
Taxis
Rideshares
Buses are one of the most economical ways to get around Tokyo at night, but due to traffic congestion, it can take a long time to reach your destination.
Most bus services run until 11 pm or 12 am but may have limited service hours on weekends and holidays.
The subway and train networks provide efficient and reliable transport in Tokyo at night.
The majority of lines operate 24/7 so you won't find yourself stranded after dark – simply make sure to check out when the last train departs before making any plans!
Taxis are a great option for door-to-door transportation, provided you have the budget to pay for it. All taxis in Japan accept major credit cards and some even offer discounted fares during late-night hours.
They come in different sizes and can accommodate larger groups of people, so if you're traveling with friends or family this could be a great option.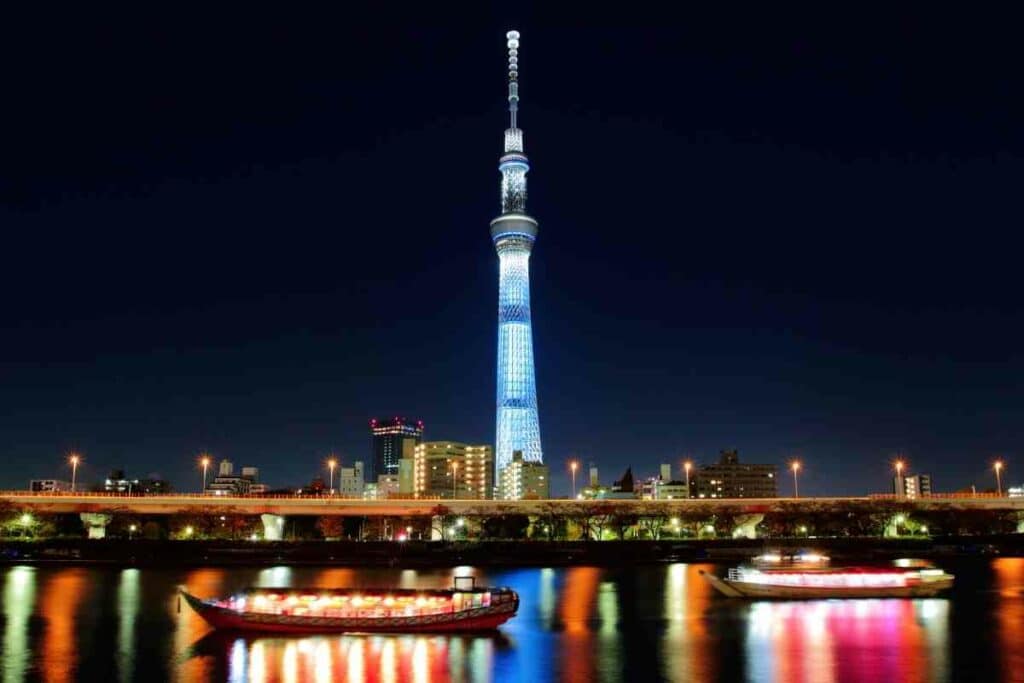 If you're looking for convenience and comfort, several private car services offer rides in luxury vehicles at competitive prices.
Ride-hailing apps such as Uber and NACCS are popular choices for those visiting Tokyo due to their reliability and ease of use.
Is Tokyo Active At Night?
Yes, Tokyo is incredibly active at night. There is a myriad of activities to take part in during the evening hours.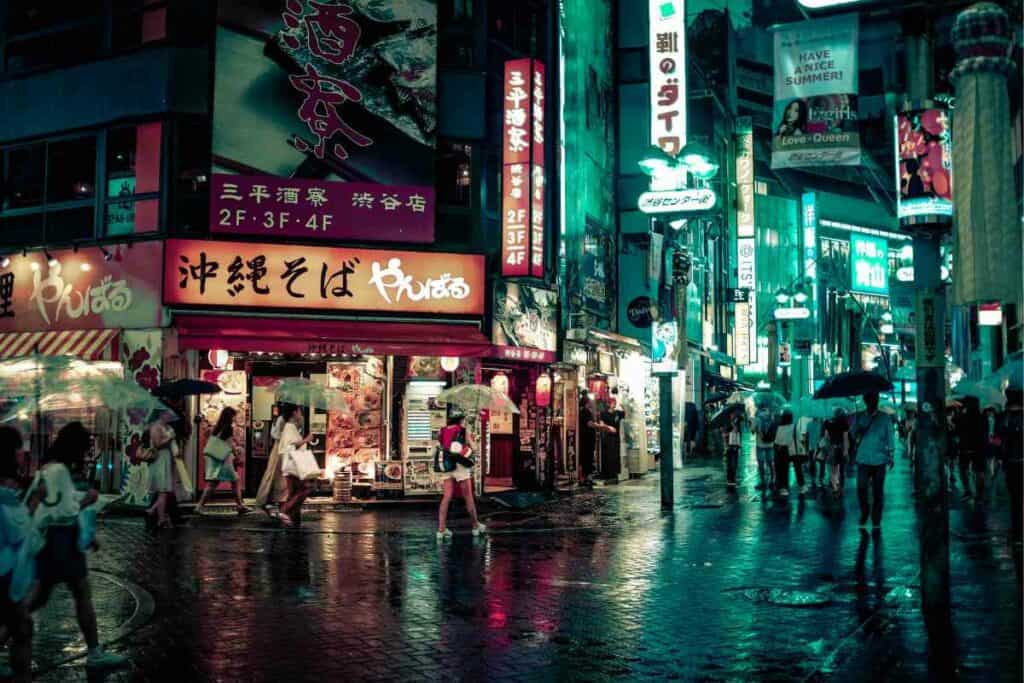 From visiting lively bars and clubs to indulging in delicious izakayas or taking in the beauty of traditional kabuki theater performances, there's no shortage of things to do.
Shopping also remains a popular activity for both locals and travelers alike throughout the night.
You can find everything from fashion boutiques and high-end department stores in Shibuya to bustling flea markets and quirky vintage shops in Ueno or other areas around Tokyo.
And if you're looking for something more unique and interesting, then head over to Nakano Broadway where you'll find an assortment of niche anime and manga stores.
No matter what you're looking for, Tokyo has nightlife activities to satisfy any taste!
Looking for a place to stay? 📖
In Conclusion
Overall, Tokyo is an incredibly safe place for travelers both day and night. With a little bit of precaution and common sense, you can enjoy your trip without worrying about safety issues in this stunning city!