Japan loves to show the West how they do things so much better! Examples include Japanese Disney, Yōshoku cuisine, and even Kit Kats.
So it's no surprise that the Japanese have made and mastered their own version of the classic Rubik's cube, known worldwide for its precision engineering, high-quality materials, and unique color scheme.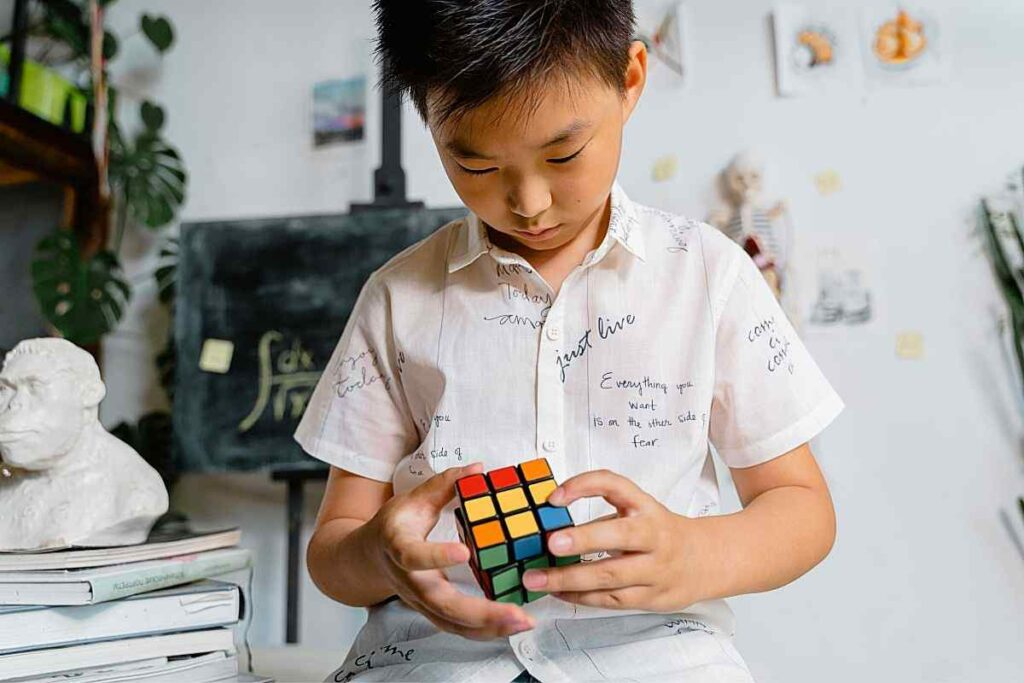 Let's take a closer look at what makes the Japanese Rubik's cube special and where you can get your hands on one of your own!
3 Best Japanese Rubik's Cubes
09/20/2023 09:29 am GMT
The Rubik's Cube has become a Japanese institution
Rubik's Cubes have been a popular puzzle toy since their invention in 1974.
While sales have waned globally, 50 years later, the fiendish puzzle is going strong in Japan, with up to half a million Rubik's Cubes sold every year. 
Rubik's Cubes have been produced in various shapes, sizes, and colors over the years, with the original 3×3 cube remaining the most popular.
But, not all Rubik's Cubes are the same, and Japanese Rubik's Cubes have become a distinct class of this classic puzzle.
The design and engineering of Japanese Rubik's Cubes make them favored by speedcubers, who solve Rubik's Cubes in record times. 
Japanese Rubik's Cube vs Western Rubik's Cube: What's the difference?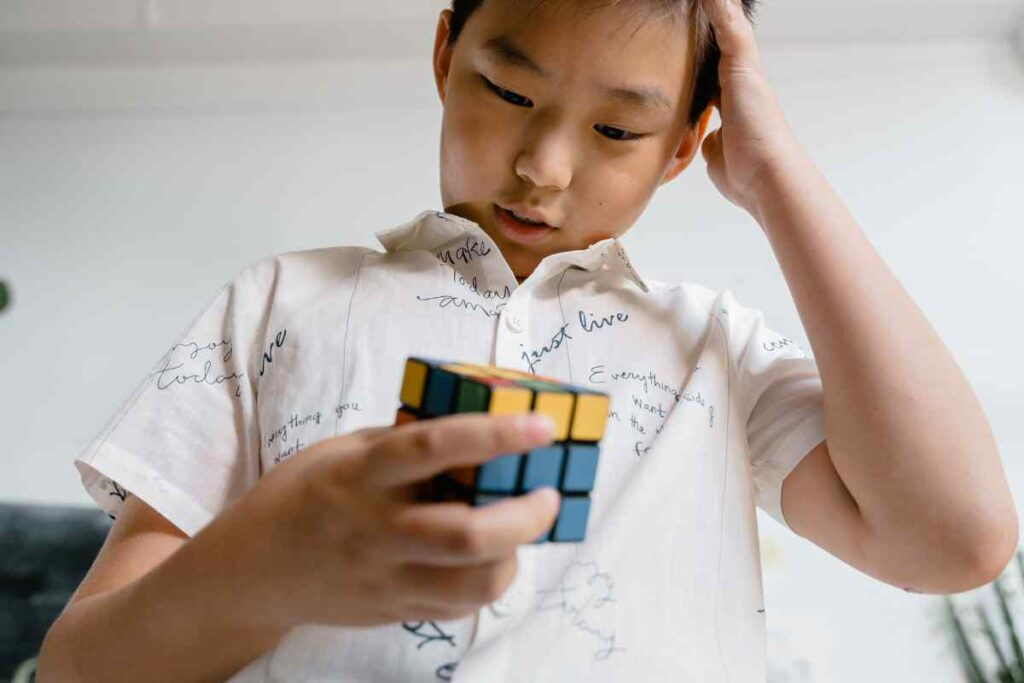 Japanese Rubik's Cubes have a smoother turning mechanism, allowing for faster solving times. 
The internal engineering of the cube is more complex with magnets, additional gears, and layers that facilitate more advanced solving techniques.
The Japanese Rubik's Cube has a distinct color scheme that is actually from the earliest versions of the cube. It is sought-after by speedcubers that use the Fridrich method of Rubik's Cube solving.
Japanese Rubik's Cube Brands and Manufacturers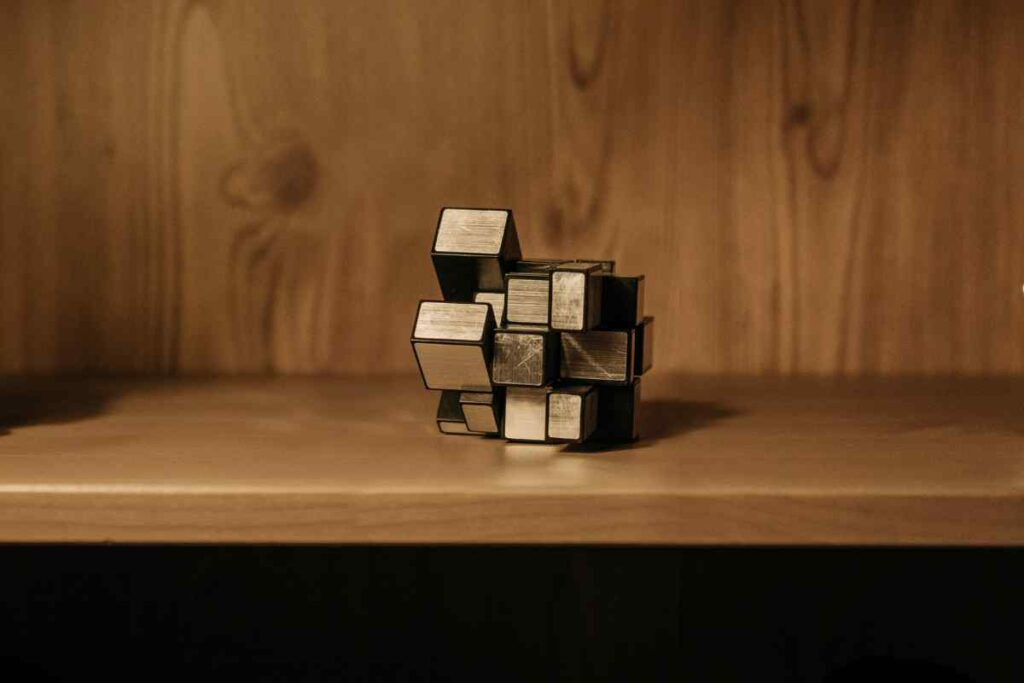 Japan has its own Rubik's Cube manufacturers who are licensed to produce Rubik's cubes, but most Japanese-style cubes are made in China.
Since the patent on the Rubik's Cube expired in 2000, these companies have come up with many Japanese versions of the famous cube.
The leading Japanese Rubik's Cube manufacturer is MegaHouse, a subsidiary of Bandai Namco.
They produce some of the most original and challenging Japanese Rubik's Cube designs including the world's smallest Rubik's Cube and their new 'Impossible' Rubik's Cube that changes colors as you try to solve it!
Perhaps the strangest Japanese Rubik's Cube is this pair of cubes that have been modeled after popular Japanese instant meals of Maruchan's Akai Kitsune Udon:
This special-edition bowl of udon, made by the ramen noodle company Toyo Suisan Kaisha, has a smart Rubik's cube that pops out for you to solve.
The instructions are cleverly concealed in the seasoning sachet!
The Best Japanese Rubik's Cubes You Can Buy Today 
After researching and testing various Japanese Rubik's Cubes, we have identified the top options that offer speed, durability, and ease of use.
Japanese Rubik's Cubes are some of the best Rubik's Cubes you can buy, with great features for beginners and advanced users alike. 
Editor's Pick
1. Rubik's Impossible
While it might seem like an ordinary 3×3 Rubik's cube at first glance, its iridescent tiles set it apart.
These special tiles change color depending on the angle of view, adding a layer of complexity and wonder to your solving experience.
Although it's a Chinese replica of the original Megahouse Impossible Rubik's cube, it doesn't compromise on the challenge it presents.
Details:
Chinese copy of the original Megahouse Impossible Rubik's cube
Iridescent tiles change color when viewed from different angles
Advanced challenge
Working 3×3 Rubik's cube
Dimensions: 2.2 x 2.2. x 2.2 in (5.7 x 5.7 x 5.7 cm)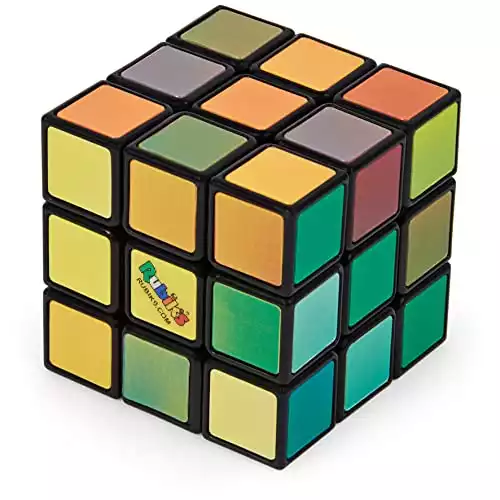 We earn a commission if you make a purchase, at no additional cost to you. Thanks!
Runner-Up
2. Megahouse Rubik's Revolution (Japan Import)
 this cube transcends traditional boundaries with its electronic game integration.
As you twist and turn, immerse yourself in a sensory treat of lights and sounds. With multiple electronic game settings, there's always a new challenge awaiting.
And for an added touch of authenticity, the voice guiding your gameplay is in Japanese, allowing you to enjoy a genuine Japanese gaming experience.
Features:
Megahouse brand
3×3 Rubik's cube
Dimensions: 7.17 x 7.17 x 7.17 in (18.2 x 18.2 x 18.2 cm)
Electronic game with sound and light
Multiple electronic game settings
The voice is in Japanese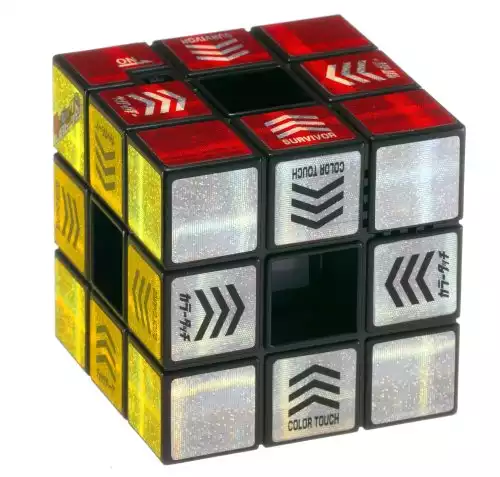 We earn a commission if you make a purchase, at no additional cost to you. Thanks!
Best Asymmetric
3. Puzzles Rubik's Mirror Blocks
This asymmetric magnetic mirror speed cube puzzle is not for the faint of heart.
With its irregular shapes and non-removable mirror plates, each twist transforms the cube into a mind-bending reflection of art.
Challenging even for seasoned puzzle enthusiasts, the Rubik's Mirror Blocks promises endless hours of cognitive stimulation and awe. 
Features:
100% authentic Japanese import
Megahouse brand
Asymmetric magnetic mirror speed cube puzzle
Dimensions: 4.88 x 3.39 x 3.35 in (12.39 x 8.58 x 8.50 cm)
A challenging puzzle with irregular shapes
Non-removable mirror plates
We earn a commission if you make a purchase, at no additional cost to you. Thanks!
What to look for in a Japanese Rubik's Cube
One critical factor to consider when purchasing a Japanese Rubik's Cube is the type of mechanism used.
There are two main types:
the traditional ball-bearing mechanism
and the newer magnetic mechanism
The ball-bearing mechanism is the more common and affordable option, but it can be prone to lockups and require more maintenance.
The magnetic mechanism is more expensive but provides a smoother and more consistent solving experience.
Other Japanese Rubik's Cube features to look out for:
Good quality materials for durability
Fast movements for quick and easy turning
Fun aesthetics, with special edition cubes that feature manga and anime characters like Naturo!
Japan's famous speedcubers
Japan has many, highly successful speedcubers, who hold world records in the sport of solving Rubik's Cubes competitively. A notable Japanese 3×3 speedcuber is Shotaro Makisumi, who is also known as Macky Makisumi.
This 33-year-old from Ube in Yamaguchi can solve a Rubik's cube in seconds. Yu Nakajima is another successful Japanese speedcuber who has held world records in the past.
Watch them in action:
Frequently Asked Questions
What is the top Japanese Rubik's Cube brand?
Toy brand MegaHouse is the #1 Japanese-designed and manufactured Rubik's Cube brand. MegaHouse Rubik's Cubes come from Japan. 
What is the color scheme used on Japanese Rubik's Cubes?
Japanese Rubik's Cubes typically use the standard color scheme, which includes white, yellow, orange, red, green, and blue. However, brands like MegaHouse use different shades of these colors or even different colors altogether.
Rounding Up
Japan's fascinating Rubik's Cubes make an excellent souvenir or something to pass the time on flights to and from Japan.  Whether you're a beginner or an experienced solver, Japan is the country that is most likely to have a cube that is perfect for you.