Yoshiko Shinohara is Japan's richest woman and an entirely self-made billionaire.
Her journey from being a secretary to running one of Japan's biggest temping firms is remarkable.
In this article, we take a look at the net worth of Yoshiko Shinohara and chart her meteoric rise to the elite boardrooms of Japan.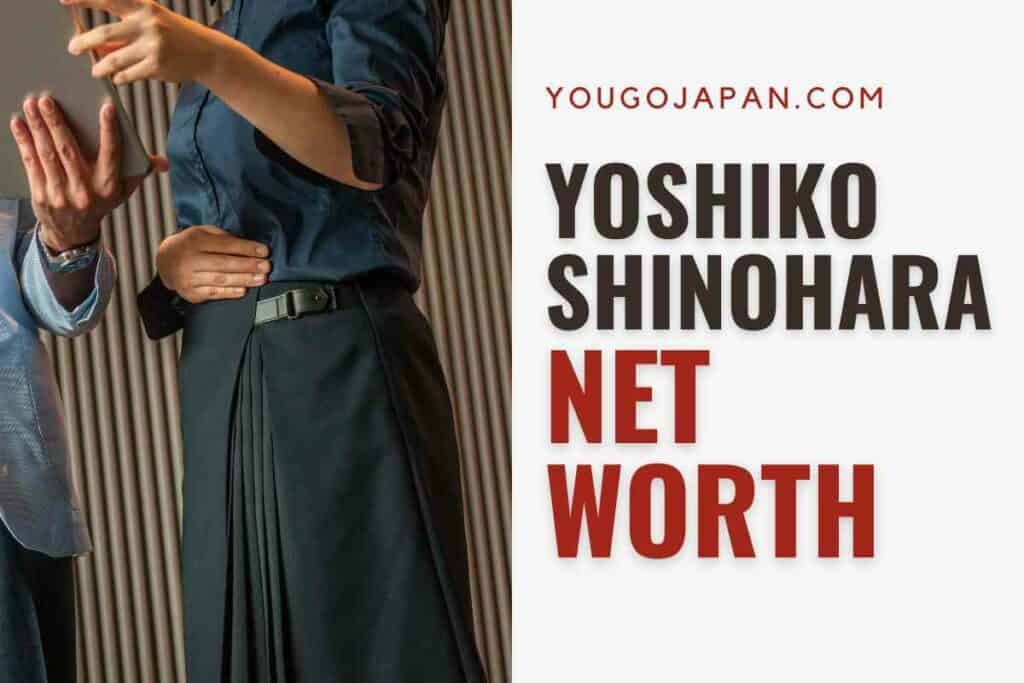 The net worth of Yoshiko Shinohara
Forbes has listed Yoshiko Shinohara's net worth as $1.15 billion, based on a period when she entered the rich list of the American business magazine between 2017 and 2018.
At that point, she had just become the first self-made female billionaire in Japan and became one of Japan's 50 richest people by net worth.
Since then she has fallen off the radar but her net worth has continued to increase, tipping $1.5 billion in 2021.
A breakdown of Yoshiko Shinohara's net worth
Yoshiko Shinohara's wealth comes from her company, Temp Holdings (now called Persol Holdings) which she founded in 1973.
She was chairman of the company until April 2016 when she retired at the age of 82! Shinohara has retained a 25% stake in the company which has revenues of over $5 billion annually. 
Persol Holdings is Japan's first and largest temporary staffing agency
Shinohara's company is one of the largest staffing companies in Japan and was the first company of its kind in the country.
It currently has over 32,000 employees on its books, contracts with over 27,000 Japanese companies, and international clients, and a market capitalization of more than $5.7 billion.
Following Shinohara's retirement as chairman the company is led by its current president and CEO, Takao Wada. The bulk of Persol's revenue comes from temporary staffing but the company has diversified into outsourcing, recruiting, and systems development.
Persol has also acquired two Australian labor hire companies; Programmed Maintenance and Skilled Group. These acquisitions in 2017 cost at least $800 million and led to a massive uplift in Yoshiko Shinohara's net worth that made her Japan's richest woman.
Yoshiko Shinohara biography
Yoshiko Shinohara is currently 88 years old. She was born in 1935 to a father who was a schoolmaster and a mother who was a midwife.
The family was initially comfortable, but the sudden death of her father when she was just six years old rocked her world. 
Despite the devastation of WWII, her mother worked incredibly long hours to provide for the family and raise Yoshiko, a feat that inspired her throughout her life. 
Divorce and travels abroad
Another key landmark in Yoshiko Shinohara's life was her marriage and subsequent divorce.
She married to make her mother proud, but in her mid-20s soon found she could not continue to live with her husband and initiated a divorce, a societal taboo in Japan. 
Knowing that this action would disgrace her mother. Yoshiko left for Europe to find work that would be more fulfilling than the mundane jobs that were usually reserved for women at that time. 
An ingenious business idea!
During her travels in Europe and later Australia, Shinohara learned English working as a secretary.
In many interviews, she has talked of how she was inspired by the sight of women managers and better working conditions for women.
The exposure to a foreign culture was key to her idea to develop a temp agency in Japan. 
Launching an illicit business 
On her return to Japan, Shinohara was determined to introduce temping to the Japanese market, starting her employment firm Temp Holdings Co. Ltd in her tiny Tokyo apartment. There was just one small problem – temping was essentially illegal in Japan. 
In Japan, employment was meant to be with a single company for life, so Shinohara's temp agency was potentially breaking the law by introducing this new concept.
However, companies desperately needed the temporary employees she could provide and the business grew. During the early days of starting her temping agency, Shinohara was repeatedly questioned by the police.
A determined lobbyist
For Temp Holdings Ltd. to really grow, Shinohara would have to get Japan's labor laws reformed and get temporary workers recognized.
It took years of lobbying the Ministry of Labor alongside other private companies to get the law changed to accommodate her more favorable working arrangements. 
With the relaxation of labor laws, Yoshiko Shinohara's company grew. For many years Temp Holdings was run with an all-female board and management but in 1988, her shrewd business instincts told her that men needed to be included.
This was a smart move as growth accelerated with the balance of men and women working cooperatively. The company went public on the Tokyo Stock Exchange with an IPO on October 1st, 2008.
Yoshiko Shinohara personal life
After her divorce, Yoshiko Shinohara never remarried or had children. She currently lives in Tokyo.
Yoshiko Shinohara facts
In 2014, Yoshiko Shinohara founded the Yoshiko Shinohara Memorial Foundation. This philanthropic venture provides grants and scholarships to female students working in fields that include nursing and social work. 
In the later years of running Temp Holdings, Yoshiko Shinohara had an executive board that was 60% female. 
Yoshiko Shinohara is the Honorary Chairman of Persol Holdings.
Persol Holding has retained many of the values instilled by Yoshiko Shinohara including sincerity, professionalism, and the individual's opportunity to decide their own work. 
Shinohara never pursued wealth. Her objective was to contribute to society through business. 
Yoshiko Shinohara quotes
"The importance of women being able to work as well as raise children left an indelible impression on me."
"Mistakes are the sea of opportunity"
Rounding up
The life of Yoshiko Shinohara is an amazing rags-to-riches story that has many lessons about the place of women in society.
She is an astute businesswoman who directed her drive and determination to create new opportunities for Japanese workers and change the perception of women in Japan.
Her legacy foundation is likely to continue that work through the young Asian women it provides opportunities for.