Japan is beautiful all year round. It is hard for me to decide which Japan I like the most.
I had the chance to see Japan in all seasons, but I think that it is most beautiful during the winter months.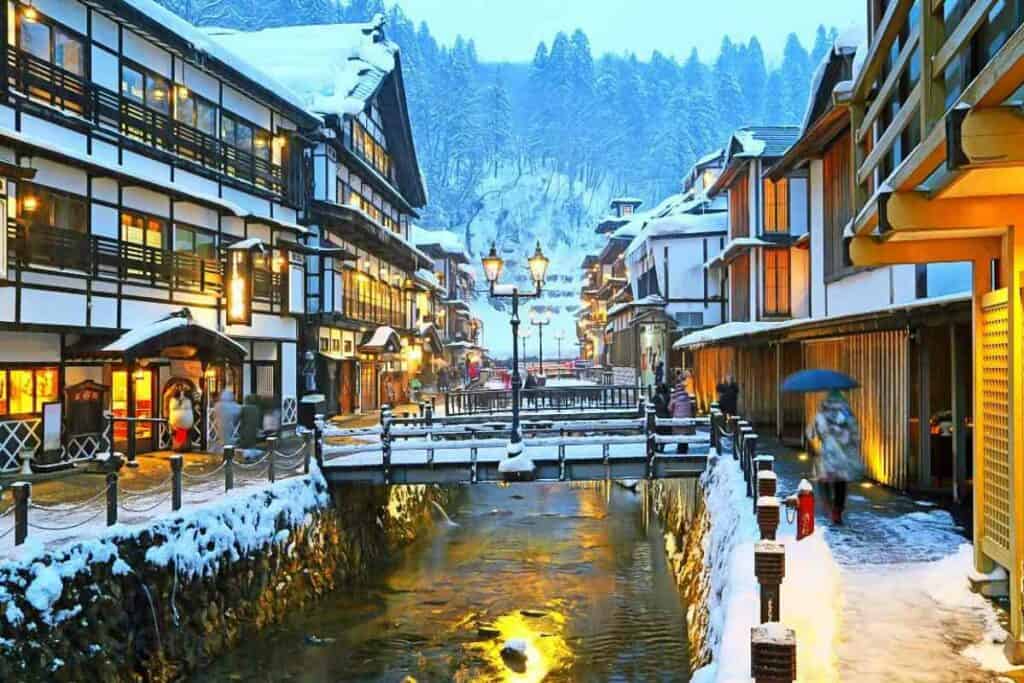 There are lots of things to do in Japan during the winter.
If you wish to find out the best winter activities in Japan, read on.
1. Skiing and Snowboarding
Japan is home to a bunch of amazing mountains where people from all over the country and abroad go skiing and snowboarding.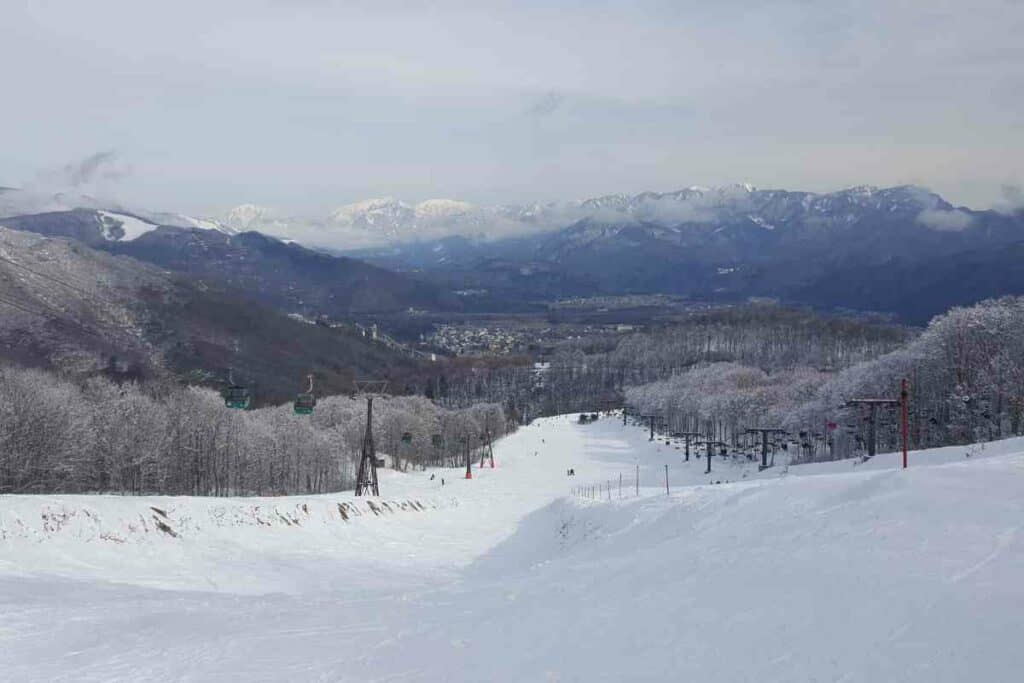 Here are the best 5 skiing and snowboarding destinations in Japan:
Kagura. Located in the town of Yuzawa, Japan, this is one of the most accessible resorts, especially if you are coming from Tokyo because it is only an hour's ride away to Echigo Yuzawa station followed by a 15-minute bus ride to the actual mountain.
Hakuba. Located in the Nagano prefecture and about an hour's drive away from Nagano station, Hakuba is definitely one of the most famous ski destinations in Japan. There are many different terrains that are great for beginners and advanced skiers and snowboarders.
Nozawa Onsen. This is an all-year-round destination located in the Yamabiko area. This destination offers plenty of good runs for beginners and for immediate-level riders as well. Also, this place is not so much crowded, which is always a plus.
Niseko. Located in Hokkaido, this place is comprised of multiple resorts including Hanazono, Grand Hirafu, Niseko Village, and Annupuri. All four of these resorts are connected at the top of the mountain, and if you get the all-mountain pass, you can cross between all the resorts.
Rusutsu. Located just 30 minutes drive away from Niseko, this area has the softest snow in all of Japan, combined with amazing runs for beginners and advanced riders. Rusutsu has some of the best tree runs where you can pretty much ride down any part of the mountain and end up back on the groomed paths again.
Read Next – 5 Best Hotels Near Rusutsu Amusement Park
2. Soaking in Hot Springs (Onsen)
Onsen, which is another word for hot springs, is very popular in Japan. In fact, Japan has around 3,000 onsens (hot springs) establishments scattered across the country.
The Onsen are natural pools that use hot water which comes from underground sources of geothermal heat.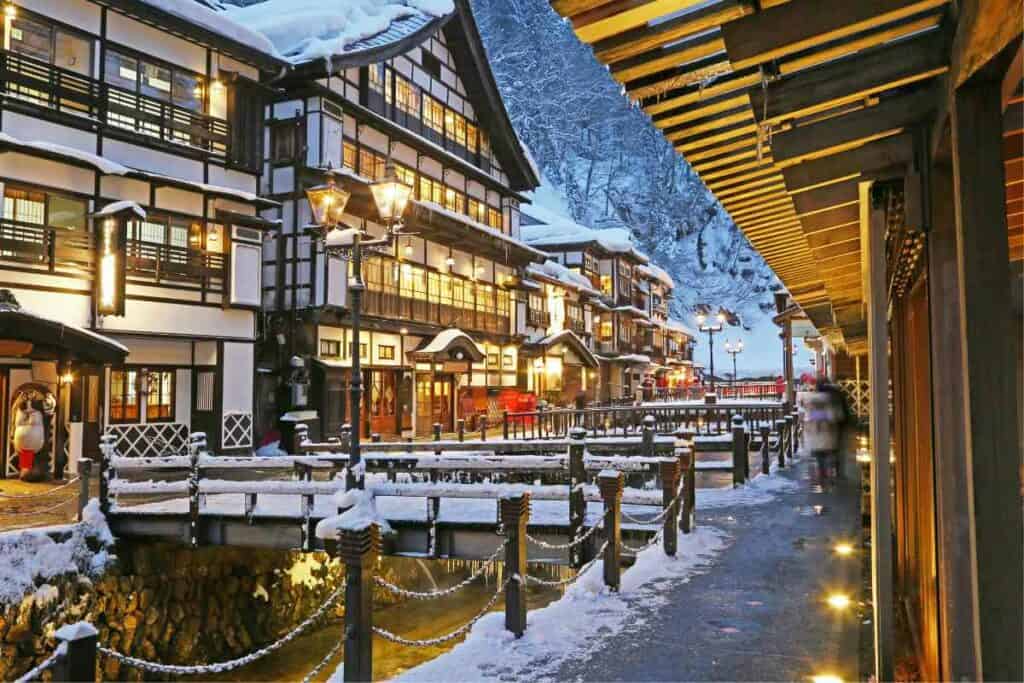 Because the temperature of the water coming from Earth's lower mantle is so high, the Onsens are available all year round.
The Onsen offers calming effects and they are known to improve circulation, relieve muscle tension, and promote a feeling of relaxation (which is something we all need!).
With a wide range of Onsens throughout Japan, I have a list of the top 10 that are the best in my opinion:
Hakone Onsen – It is located near Tokyo and offers views of Mount Fuji. This is probably one of the best hot springs in Japan.
Beppu Onsen – Situated on the southern island of Kyushu, has great sand baths.
Kusatsu Onsen – Located up in the mountains of Gunma Prefecture. Provides stunning views of the mountains.
Noboribetsu Onsen – Can be found on the northern island of Hokkaido. Very nice and easily accessible.
Gero Onsen – Situated in the Gifu Prefecture, has amazingly clear water and colorless hot springs.
Kurokawa Onsen – Located in the Kumamoto Prefecture, offers amazing outdoor views.
Yufin Onsen – Located in the Oita Prefecture with amazing views of Mount Yufu.
Atami Onsen – Another hot spring located near Tokyo.
Arima Onsen – Situated near Kobe, rich in history and traditional Japanese architecture.
Ibusuki Onsen – Located on the southern island of Kyushu, offers great coastal views.
3. Winter Illuminations
If you think that Japan is beautiful during the summer with all the Cherry trees blooming, wait until winter gets there.
There are a lot of destinations in Japan that offer winter illuminations that will blow your mind.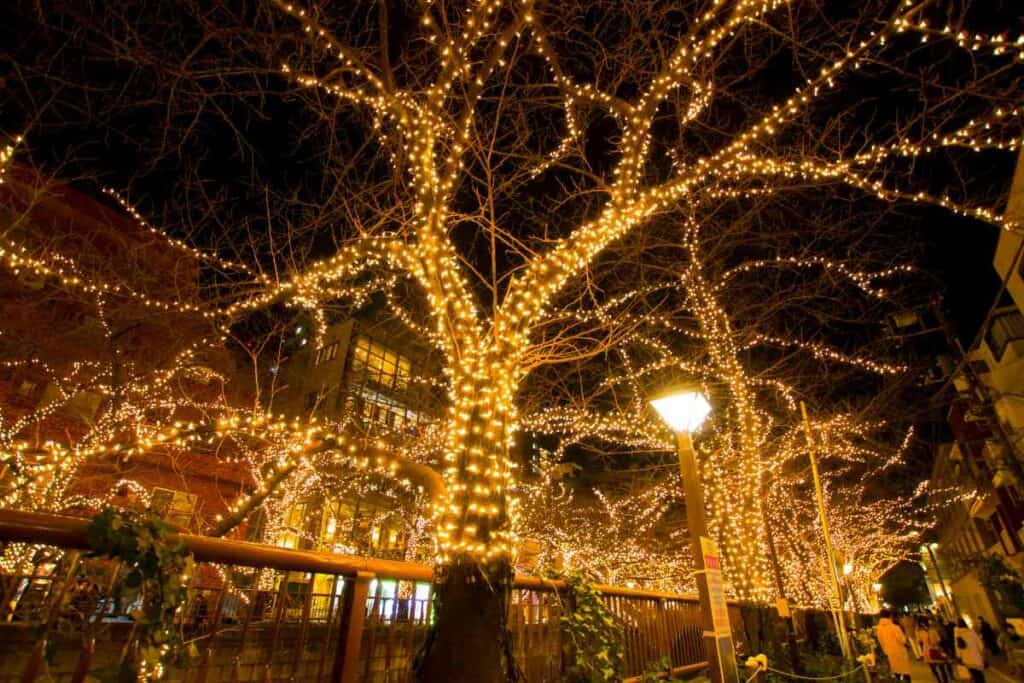 In fact, these illuminations are exceptional and on a huge scale and are only getting bigger and bigger each year.
If you enjoy the winter spirit with streets glowing in different lights, here are some places you must visit:
Yokohama Milight. This is Yokohama's largest illumination where they color the Minato Mirai area of Yokohama and all the way to the Yokohama station. The city of Minato Mirai is surrounded by lights with over 1.5 kilometers (1 mile) and approximately 500 000 LED lights that glow in blue, gold, and white color.
Sea Paradise Night Aquarium. This is also in Yokohama and it's an aquarium wrapped in a mysterious world of lights with illumination. While this destination can be enjoyed all year round, there is some special charm when you visit it in the winter.
Higashi-Totsuka Music Light. Located in Kanagawa, outside of the Totska station, about 100 000 LED light bulbs are lit from around 5 pm to 11 pm. There are different shows with sound, lights, and videos for about 15 minutes every single hour.
Sagamiko Illumination. It is the biggest illumination in the Kanto region. This area covers a huge area with a festival of lights that color the forest of Lake Sagami. This destination is just one hour away from the city center of Tokyo.
Matsuda Kirakira Festa. Mount Matsura is surrounded by dazzling lights and invites you to fairy tales during the festival. The park is located on the summit of Mount Matsura where you can enjoy beautiful night views as well as illuminations.
Tokyo German Village Winter Illumination. This illumination occurs each year, and this year will be its 18th year. with over 3 million light bulbs shining in the area, the theme park makes you feel like you have entered a dream.
4. Snowshoeing
If you are a fan of hiking, you should definitely try snowshoeing.
For those who don't know, snowshoeing is a winter sport that basically involves walking over a thick layer of snow with the help of special footwear called snowshoes.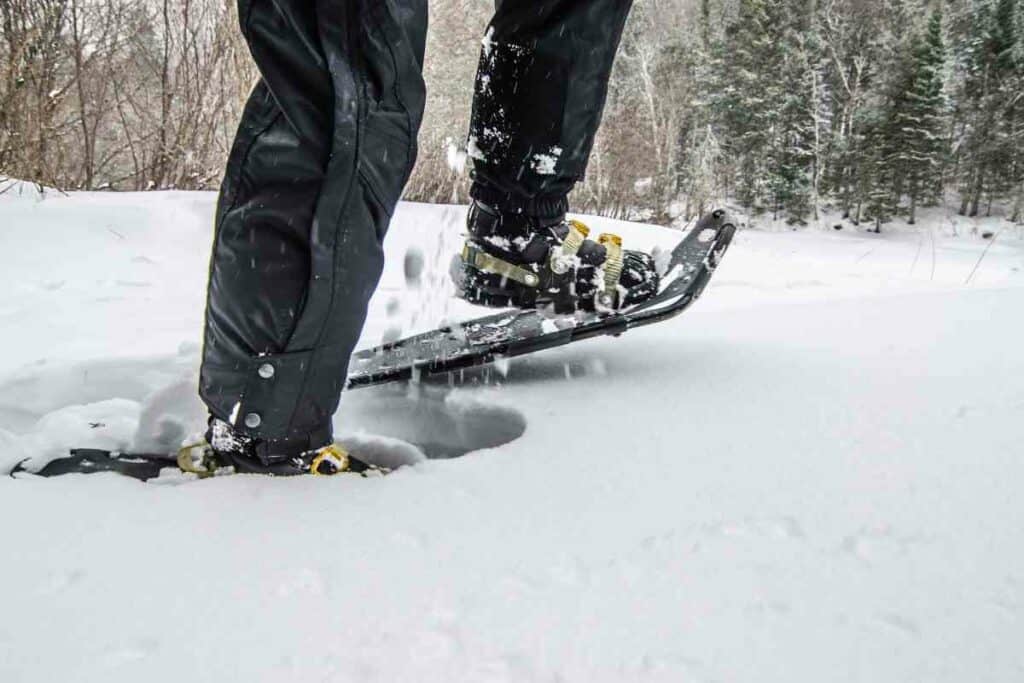 Let's drop the fancy words. You put on shoes that look like tennis rackets and they distribute your weight over a larger area so you don't fall in the snow.
It is the same as hiking but instead of having green surroundings, everything is white!
There are lots of places for snowshoeing in Japan, but here is a list of my favorites:
Oze National Park. It is located in the mountains of Gunma, Fukushima, Niigata, and Tochigi Prefectures. This park is very famous for its snowshoeing trails.
Jigokudani Snow Monkey Park. It is located in the Nagano Prefecture and has snowshoeing trails and lots of hot springs.
Shiga Kogen. Located in the Nagano Prefecture, has lots of snowshoeing trails with stunning views of the surrounding mountains.
Mount Daisen. Situated in the Tottori Prefecture, this mountain has snowshoeing trails for both beginners and more advanced persons.
Mount Hachimantai. It is located between Iwate and Akita Prefectures and has some of the best snowshoeing trails.
Mount Yotei. Located in Hokkaido, this mountain offers pretty challenging snowshoeing trails and is more for those who have better stamina.
5. Winter Festivals
One of the most famous events in Japan during the winter months is the Winter Festivals. These annual events are known for outdoor concerts, beautiful parades, a wide range of food stalls, and lots of snow sculptures.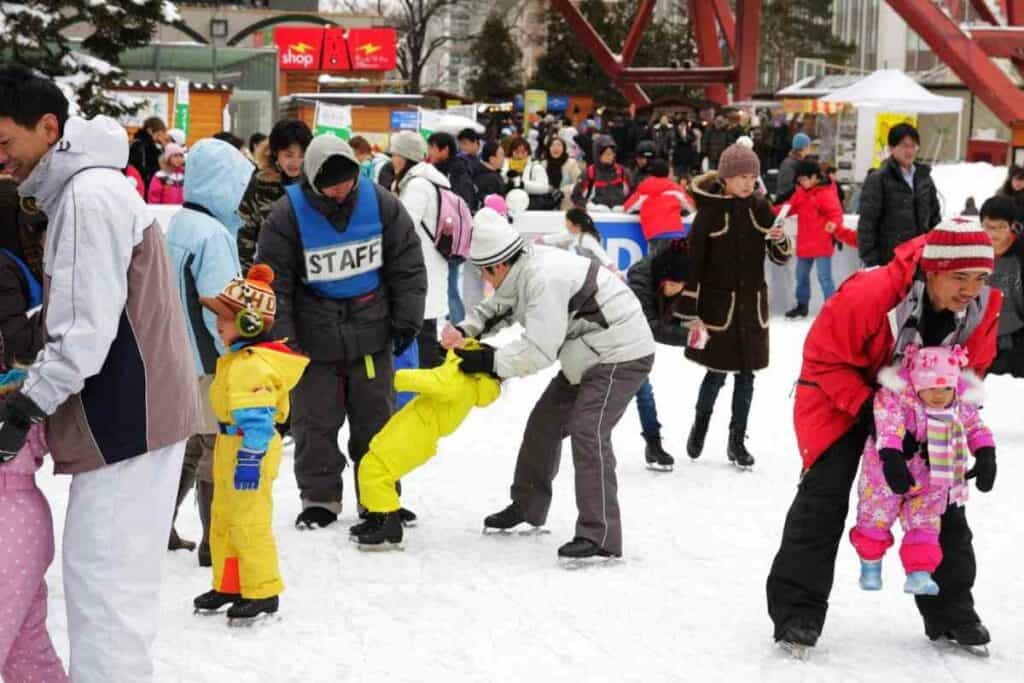 Most of these festivals are held in the northern regions where they have heavy snowfall each year. Thanks to the freezing temperatures, many of these festivals have ice sculptures high up to 60 feet.
In some places, due to warmer temperatures, the locals are only able to entertain the crowds with parades and food stands.
While there are many winter festivals, here are some that you must visit:
Sapporo Snow Festival. Held in Sapporo, this is one of the largest festivals in Japan. Here, you can see massive snow sculptures, ice slides, and lots of winter activities.
Otaru Snow Light Path Festival. It is held in Otaru, with lots of snow lanterns and light displays in the streets.
Hirosaki Castle Snow Lantern Festival. Held in Aomori Prefecture, has hundreds of snow lanterns around the Hirosaki Castle.
Yokote Kamakura Festival. Situated in Akita Prefecture, this winter festival has hundreds of igloo-like snow huts also known as Kamakura.
Lake Shikotsu Ice Festival. It is held near Sapporo on the frozen surface of Lake Shikotsu.
Iwate Snow Festival. Situated in the Iwate Prefecture and offers lots of activities for visitors.
Shirakawa-go Winter Light-Up. Held in the Gifu Prefecture with traditional thatched-roof houses with LED lights.
Onbashira Festival. This festival is held every six years in the Nagano Prefecture and is definitely worth seeing.
Hida Furukawa Winter Festival. This annually held festival is located in Gify Prefecture and has tons of snow lanterns and light displays.
Read Next – 5 Best Hotels in Otaru
In Conclusion
Japan is out of this world.
Visiting Japan during the winter months includes lots of skiing, snowboarding, snowshoeing, and visiting their famous winter festivals and winter illuminations, but what I like the most is soaking in the hot springs.
Regardless of what you like, in Japan, you will definitely find something that you will enjoy.