Tenkara fishing is a traditional Japanese method of fly fishing that has gained popularity in recent years.
Keen anglers looking to take up a new method of fly fishing will appreciate the minimalist approach with a long, telescopic rod, a furled line, and a single elegant fly.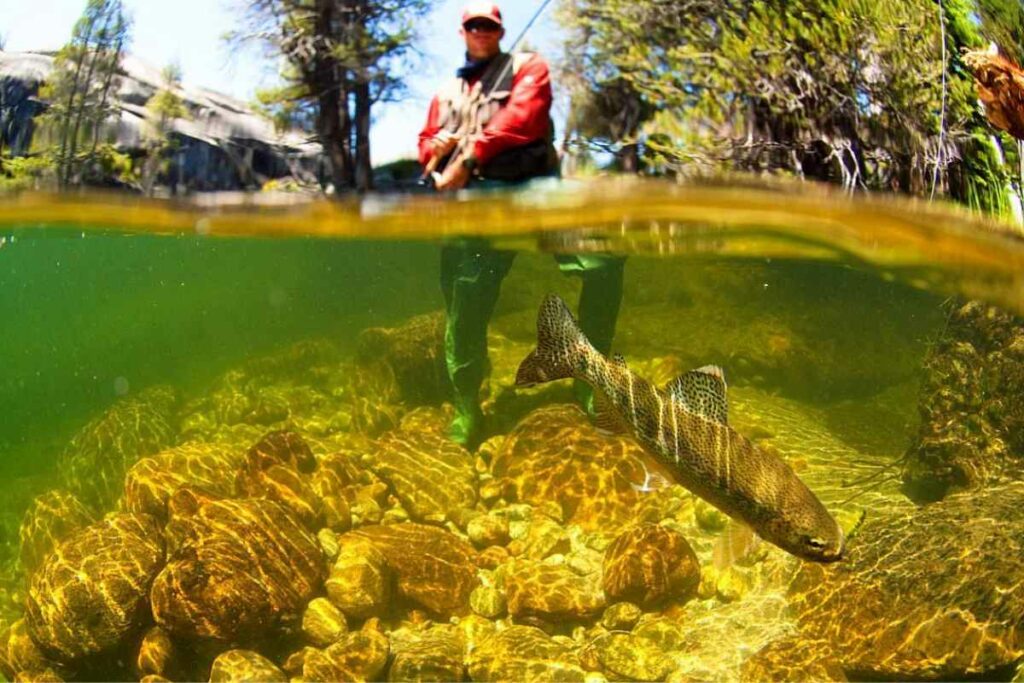 Its simplicity and accessibility also make it great for people who are new to fishing.
So if you're looking for a new angling technique that is authentic and meditative, I'll explain the essentials of Tenkara and recommend the best fishing rods, lines, and flies for getting started. 
3 Best Japanese Fishing Rods
09/23/2023 04:08 pm GMT
What is Tenkara fishing?
Tenkara is a simple traditional type of rod angling or fly-fishing that originated in Japan.
The name Tenkara means 'sky fishing' or 'fishing from heaven' reflecting the movement of the line as it is cast into the water.
One of the most distinctive features of this type of angling is the Tenkara rod.
These long rods were originally made of bamboo, but modern rods are made from carbon fiber or graphite and extend between 10 and 14 feet in length.
The long length of the rod helps anglers to keep the line off the water so that the fly can be presented in a more controlled manner. 
The History of Tenkara Fishing
Tenkara fishing developed over 300 years ago in the mountains of Japan stream among line fishermen who needed a lightweight and portable method of fishing in remote areas.
The long bamboo cane rod allowed them to reach overhanging branches and bushes, and the light line and fly allowed them to make delicate presentations to wary fish.
It was proven to be effective in catching popular Japanese freshwater fish species including red-spotted masu salmon, white-spotted char, and cheery trout (yamame).
For hundreds of years, Tenkara was a commercial form of fishing. It only became a recreational form of angling at the start of the 20th century.
Interest in Tenkara largely remained confined to Japan and only began to be practiced overseas in 2009. 
Fundamentals of Tenkara Fishing
Tenkara fishing is a minimalist technique that requires only a few basic skills and a small amount of equipment.
This makes it relatively inexpensive and easy to master, especially when compared to conventional fly fishing.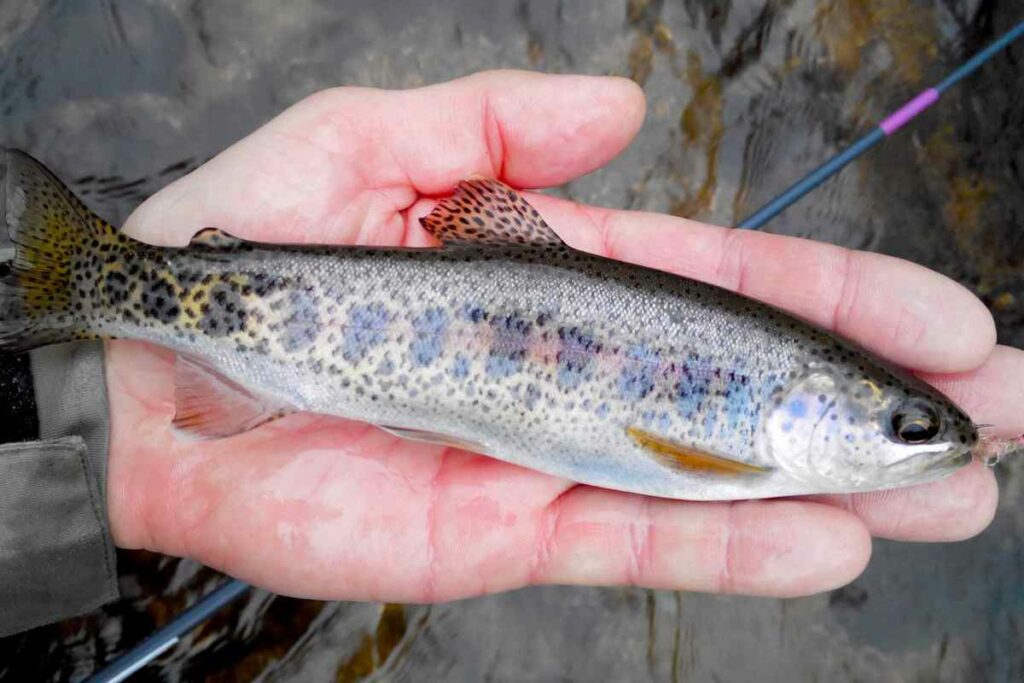 Here are the four fundamental aspects of tenkara fishing:
Casting: Though Tenkara casting is similar to fly casting, there are differences. Rather than using a backcast and a forward cast, the angler uses a single motion to cast the line and fly. The angler also uses a shorter casting stroke and a slower tempo than in traditional fly casting.
Presentation: Tenkara fishing is all about the presentation of the fly to the fish. The long rod and line get the fly over the middle of the stream, using the current to help drift the fly naturally downstream.
Hookset: When you get a bite, Tenkara fishing requires a quick and decisive hookset. The angler must keep the line tight and be ready to set the hook at the first sign of a strike.
Landing: Tenkara fishing requires the elegant landing of fish. Anglers can use the flexibility of the rod to absorb the fish's energy and prevent the line from breaking.
Essential Equipment for Tenkara Fishing
So what do you need to do to try Tenkara fishing?
As a minimalist form of angling, the equipment is simple.
Here's all you need to get started.
Tenkara Rods
The Tenkara rod is completely different from conventional fishing rods.
Tenkara rods are up to 14 feet long, made of lightweight carbon fiber or graphite, and are extremely flexible.
The length of the rod determines the reach and control of the angler.
It is an extension of your arm, allowing you to reach over the water and place your fly perfectly in the current.
Tenkara Lines
Tenkara lines are made of lightweight braided or furled nylon, with no reel.
You control the line by hand even though they are longer than traditional fly fishing lines (12-20 feet).
Tenkara Flies
Tenkara flies are simple, lightweight flies. Like Western flies, they imitate the insects and fish found near the fishing streams.
Flies are made from natural materials like feathers, or fur, and to a single hook. Common types of Tenkara flies include kebari, sakasa kebari, and reverse hackle flies.
Extras
Other practical items for Tenkara fishing include:
Tippet material: A thin length of line that is attached to the end of the Tenkara line to attach the fly.
Floatant: This is an oily lubricant that is applied to the fly to help it float on the water's surface.
Nippers: These are small scissors for trimming the tippet material and the fly.
Forceps: Use these to remove the hook from the fish's mouth without causing injury.
Best Japanese Fishing Rods for Tenkara
When it comes to Tenkara fishing, having the right rod can make all the difference.
Japanese fishing rods are known for their quality and durability, with leading brands like Shimano, Daiwa, and Nissin offering a variety of rods to suit different needs and preferences.
Here are the 3 best Japanese fishing rods for Tenkara.
Editor's Choice
1. DRAGONtail Shadowfire 365
The inclusion of an EVA foam line holder, coupled with the top-notch American-made furled Moonlit line, promises a superior fishing experience.
And for those who are always on the move? This rod's fast set-up and compact storage tube have got you covered. Its smooth casting and enhanced flex make it perfect for both pros and newbies.
If you've been waiting for a sign to elevate your angling adventures, this is it. Dive in and experience the difference firsthand.
Features:
Rod weight: 2.9 oz
Handle length: 10 inches
Includes: rod sock, 3 soft hackle flies, an EVA foam line holder, ultra-premium American-made furled Moonlit line, tippet, and storage tube.
Portable, fast set-up
Smooth casting with an enhanced flex
Beginner-friendly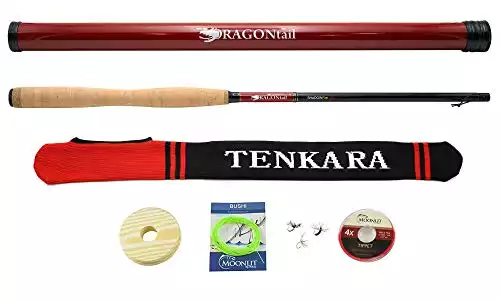 We earn a commission if you make a purchase, at no additional cost to you. Thanks!
Runner-up
2. Wild Water Fly Fishing Tenkara Rod
Experience the timeless allure of fly fishing with the Wild Water Fly Fishing Tenkara Rod.
Boasting a traditional design, this rod is meticulously crafted from IM8 graphite, allowing it to telescope seamlessly between 12' to 13' while ensuring durability and precision.
The robust cork handle not only offers a comfortable grip but also pays homage to classic fishing aesthetics. With its 9-section design, the rod integrates a thoughtful plug to keep those telescopic lengths securely in place, eliminating any worry of sections falling out.
Despite its strength and versatility, the rod is impressively lightweight at just 10 ounces and packs down beautifully, making it a dream for avid anglers on the move. 
Key features:
12' to 13' IM8 graphite telescopic fishing rod
Robust cork handle
9 sections with a plug to prevent telescopic lengths of rod from falling out
Rod weight: 10 ounces
Traditional design
Includes: hard tube rod case, a knitted rod sock, and plastic protective end topper
Suitable for small streams to open water
Lightweight and pack down beautifully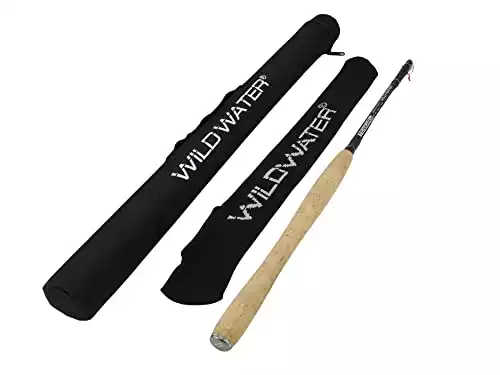 We earn a commission if you make a purchase, at no additional cost to you. Thanks!
Budget Option
3. Maxcatch Mini Tenkara Fishing Rod
Discover the M MAXIMUMCATCH Maxcatch Mini Tenkara Fishing Rod – the epitome of portability and versatility in the fishing world.
Weighing in at a mere 6.3 ounces, this rod doesn't compromise on comfort, featuring a meticulously crafted cork handle for an ergonomic and comfortable grip.
One of its standout features is the swivel-tip on the rod, ensuring smoother casts and retrievals. And we understand the importance of protecting your gear; that's why each rod comes with both a sturdy tube rod case and a plastic rod holder.
The magic lies in its design – collapsing down to just 12″, it's the perfect companion for backpacking trips or spontaneous fishing excursions. 
Features:
Rod weight: 6.3 ounces
Cork handle
Swivel-tip on rod
Includes: tube rod case, and plastic rod holder.
Highly portable, collapsible to 12"
Versatile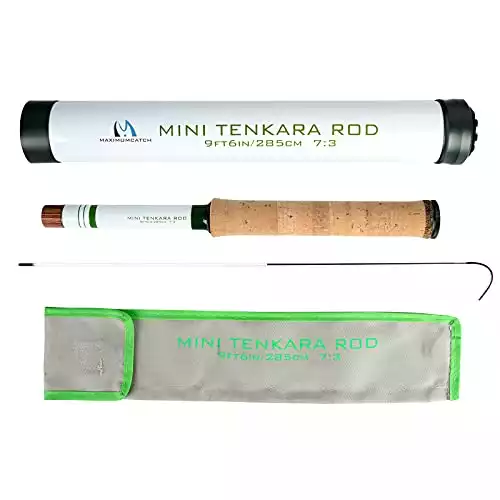 We earn a commission if you make a purchase, at no additional cost to you. Thanks!
How to Choose the Right Tenkara Rod
Tenkara angling has become popular, because of its simplicity, ease, and elegance. The rod and line are completely different from conventional fly fishing tackle.
You need to carefully select a rod that is comfortable to use and gets results.
Here's what to look for in a great Tenkara rod.
Rod Length
The length of the rod is an important factor to consider when choosing a Tenkara rod as it determines casting distance and accuracy.
Longer rods are ideal for larger streams and rivers, while shorter rods will be better suited for smaller streams and creeks.
Rod Action
The action of the rod refers to how flexible or stiff the rod is. This determines how it performs when casting and fighting fish.
A fast action rod is stiffer and more responsive, so it's ideal for casting longer distances and catching larger fish.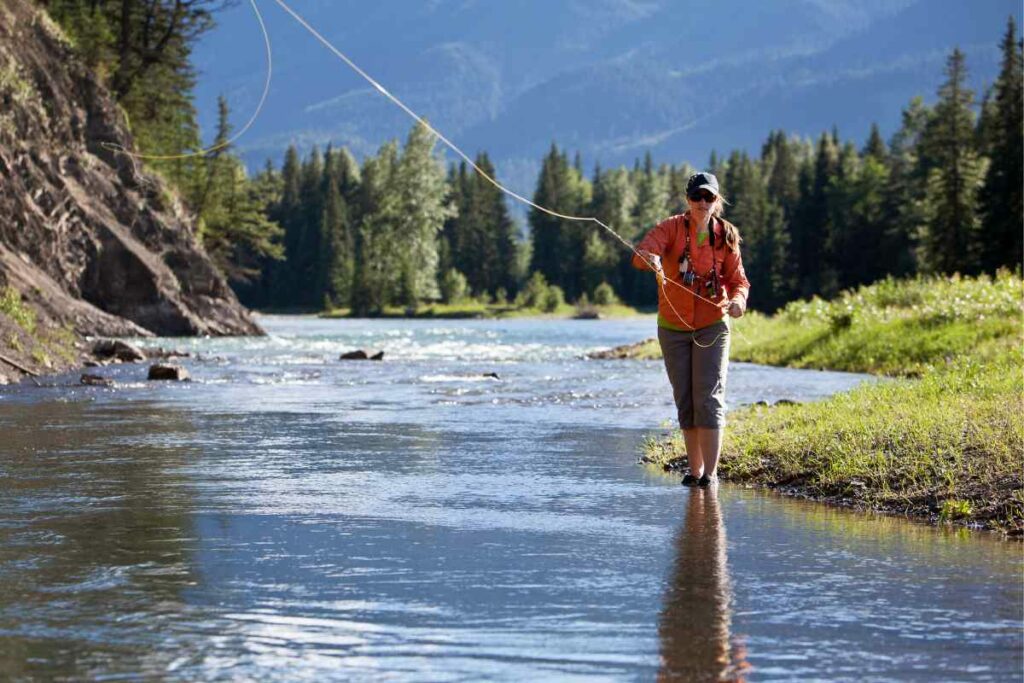 A slow action rod is more flexible and forgiving, making it easier for a beginner to cast and ideal for smaller fish.
Rod Material
Carbon fiber rods are stiffer and more sensitive, making them ideal for fishing in larger streams and rivers. Fiberglass rods are more flexible, making them ideal for smaller streams and creeks.
Final thoughts 💭
Tenkara fishing is a unique and effective method of fishing that has been practiced in Japan for centuries. The simplicity of the technique and the equipment required makes it an excellent choice for beginners and experienced anglers alike.
The rods listed in this article are all excellent options that offer a balance of performance and affordability for someone new to this type of fishing. With a high-quality Japanese rod in your hand, you can enjoy the benefits of Tenkara fishing for years to come.