The excitement, pace, and drama of Tokyo and other big cities in Japan are beautifully balanced by the rich agrarian heritage of Japan's rural villages.
No trip to the islands of Japan can be complete without immersing yourself in the beauty and charm of Japan's villages.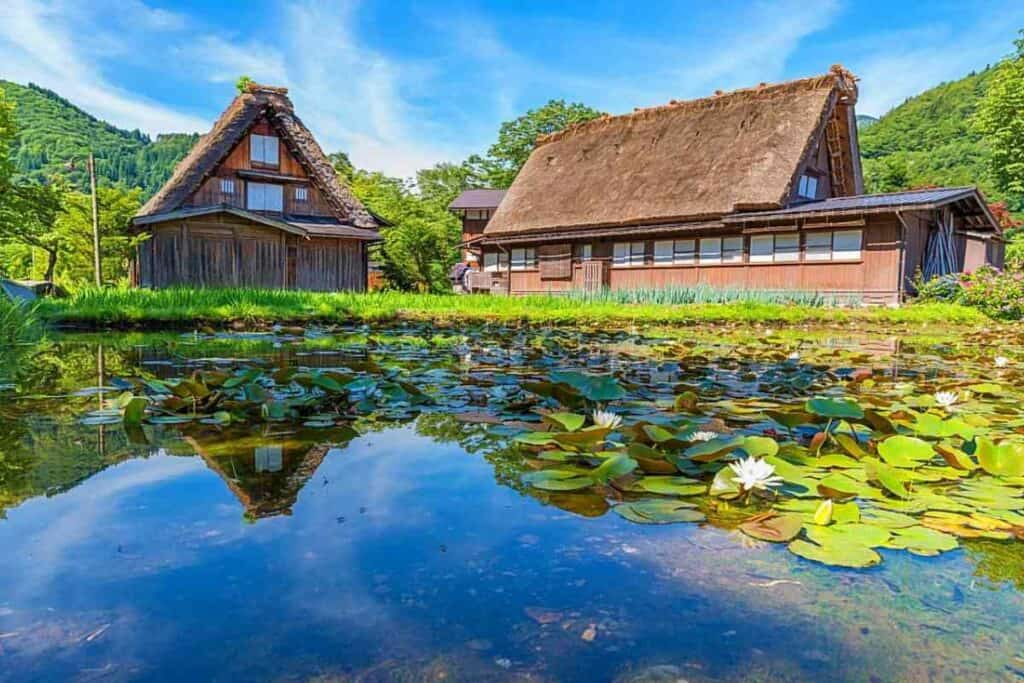 In this article, we share five must-visit villages that show you Japan's authentic tradition and culture. 
Japan's most beautiful villages
These five rural regions boast exceptional examples of Japan's traditional architecture and natural beauty.
Each of these destinations is perfect for escaping the big three cities (Tokyo, Kyoto, and Osaka) and learning about how people live and work in rural Japan.
Visit these popular town and village destinations for an excursion or a longer stay.
1. Shirakawa-go 白川郷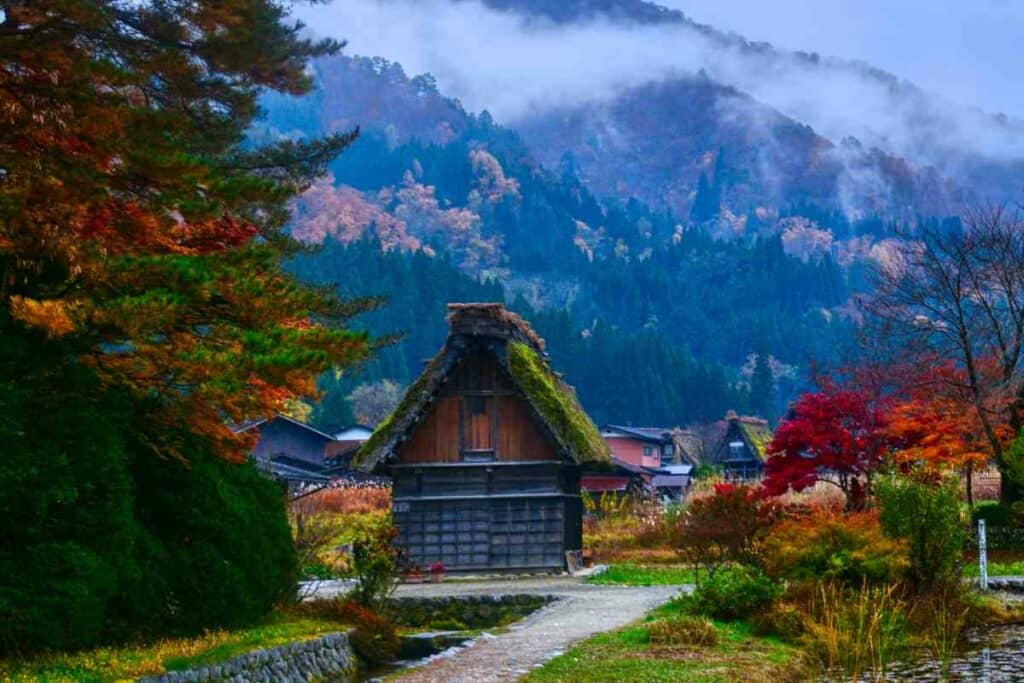 The beautifully rustic region of Shirakawa-go in Gifu prefecture has some of the best examples of traditional gassho-zukuri architecture.
The distinctive steeped thatched roofs of the houses in the cities in this river valley have earned it the honor of being a  UNESCO World Heritage Site.
Some of the properties in this famous region are more than 250 years old. 
Why visit Shirakawa-go?
Shirakawa-go at the heart of Japan is a that attracts millions of visitors from Japan and around the world each year. This expansive rural region has breathtaking scenery, set against the rugged mountains of the Chubu region. 
Ogimachi Village, the largest in Shirakawa-go has numerous traditional farmhouses that now serve as museums, tea rooms, or minshuku bed and breakfast accommodations.
The village has even relocated gassho-zukuri properties from other regions to create an outstanding open-air museum, which you can explore in 3D online, in a beautiful riverside location. 
Trails in the village take visitors to the Shiroyama Viewpoint at the northern end of Ogimachi which offers outstanding views of the village. You can also explore the Wada-ke House, which was owned by village leaders, the Wada family. 
For the Japanese, no trip to the countryside is complete without a restorative hot spring bath. Ogimachi has its own guesthouse with an onsen called Shirakawa-go no Yu. There are also seasonal events including roof thatching events and winter illuminations. 
Learn more about Shirakawa-go on the Shirakawa Village Official Website.
Best accommodation for Shirakawa-go 白川郷
Find traditional and modern accommodation options with the latest prices near the historic Shirakawa Village.
2. Takayama 高山市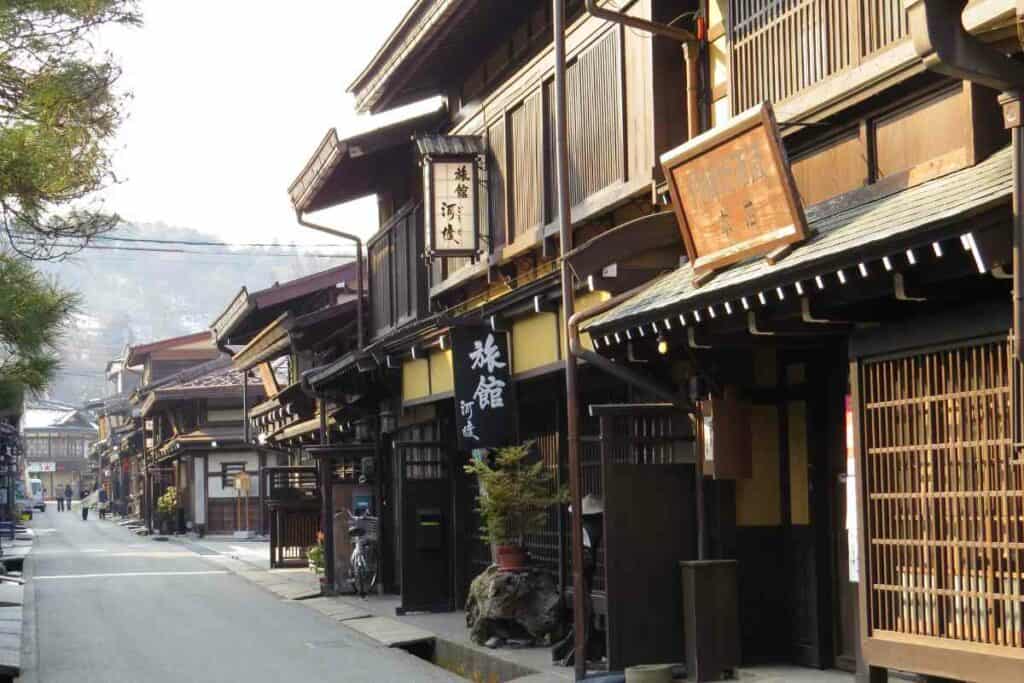 Another highlight of Gifu prefecture is the mountain town of Takayama.
The old town of Takayama, with its narrow streets and traditional wooden townhouses, is a tourist trap.
This historic quarter and its interesting museums and local crafts can be explored for hours. 
Why visit Takayama?
Takayama is known for its two-day biannual festival called the Takayama Matsuri (高山祭). It dates back at least 400 years and is considered one of Japan's most beautiful festivals.
Visitors flock to the spring and autumn Takayama Festivals which feature parades of golden floats, dancing puppets, and lanterns.
These festivals are so popular that accommodation in Takayama routinely books out months in advance!
Best accommodation for Takayama 高山市
Stay in beautiful ryokans and comfortable hotel accommodation just minutes from the historic village of Takayama.
3. Ouchijuku 大内宿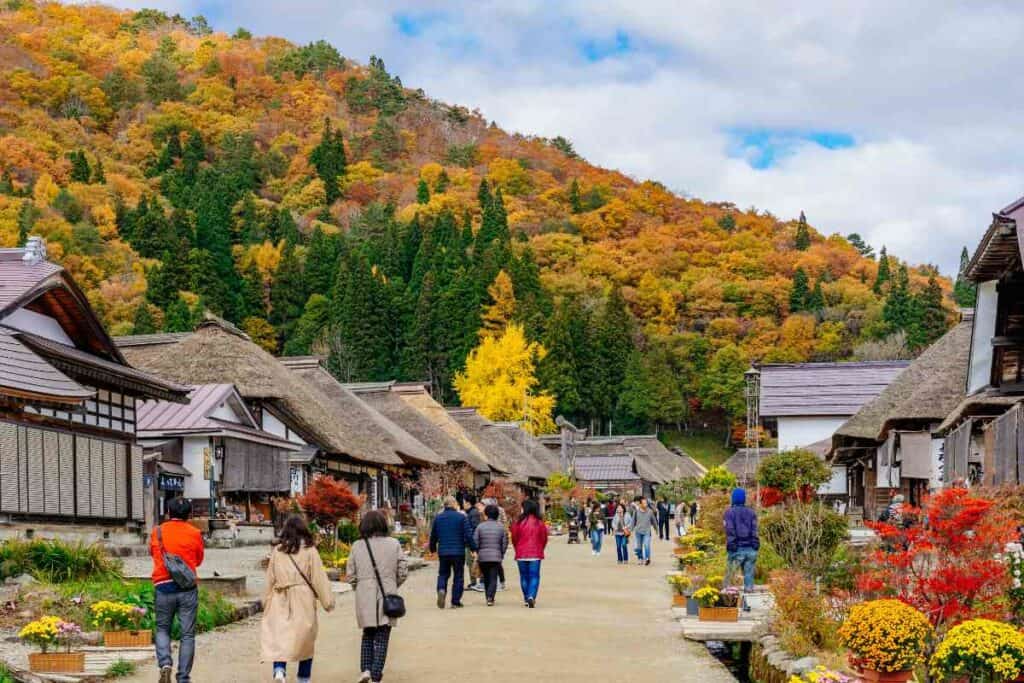 Ouchijuku is a charming village in Fukushima Prefecture. Its main attractions are the quaint thatched houses and cobblestone streets that date back to the Edo period.
A large proportion of Ouchijuku's buildings pre-date the Meiji Restoration. The age and beauty of this village make it a popular tourist attraction, especially its main street. 
Why visit Ouchi-juku?
Ouchi-juku is a highlight of travel to the Tōhoku region.
The town was established as a post town in the 17th century and therefore prospered as a hub of trade, travel, and regional commerce.
Its historic thatched buildings have been preserved by the Japanese government. Domestic and overseas tourists love to see details of what life would have been like in the village centuries ago.  
One of the specialties of this village is its hearty buckwheat noodles, known as negi soba. Interestingly it is eaten using leeks instead of chopsticks.
The Japanese love the nourishing rural foods of Ouchi-juki that include a rice and horse chest dumpling called tochimochi, and a miso-flavored dumpling called shingoro.
After all the eating and exploring, it is routine to soak in one of the many onsens in the region. You can also have a restorative stay at the numerous hillside ryokan, traditional Japanese guest houses known for their delicious food and onsen. 
Best accommodation for Ouchijuku 大内宿
If you're keen to visit Ouchijuku, you can find quality accommodation at great value prices online.
4. Kiso-machi 木曽町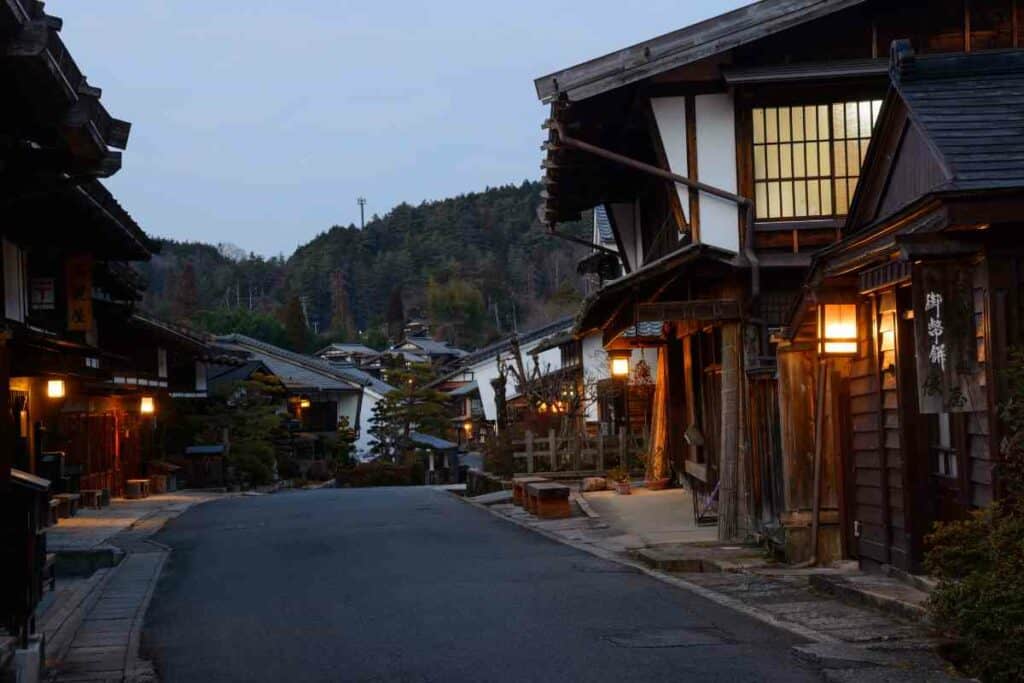 Kiso in the southwest of Nagano prefecture has long been considered one of Japan's most beautiful villages.
It has a unique combination of outstanding natural beauty and charming traditional architecture, making it a remarkable example of Japan's rural heritage. 
Why visit Kiso-machi?
You'll fall in love with the misty mountains and lush forests of the Kiso Valley, with miles of trails to hike or cycle.
The town is a popular base for exploring the nearby natural beauty of sites like the waterfalls of the Kakizore Gorge and the winding Kakizore River. 
Kiso is a historic post on the old Nakasendo merchant trail between Kyoto and Edo.
It is full of the atmosphere and history of old Japan with beautifully aged buildings and streets. Regional specialties include its soba, which is esteemed across Japan. 
Best accommodation for Kiso-machi 木曽町
Visitors to Kiso-machi can find local accommodation for this beautifully forested region online.
5. Miyama 美山町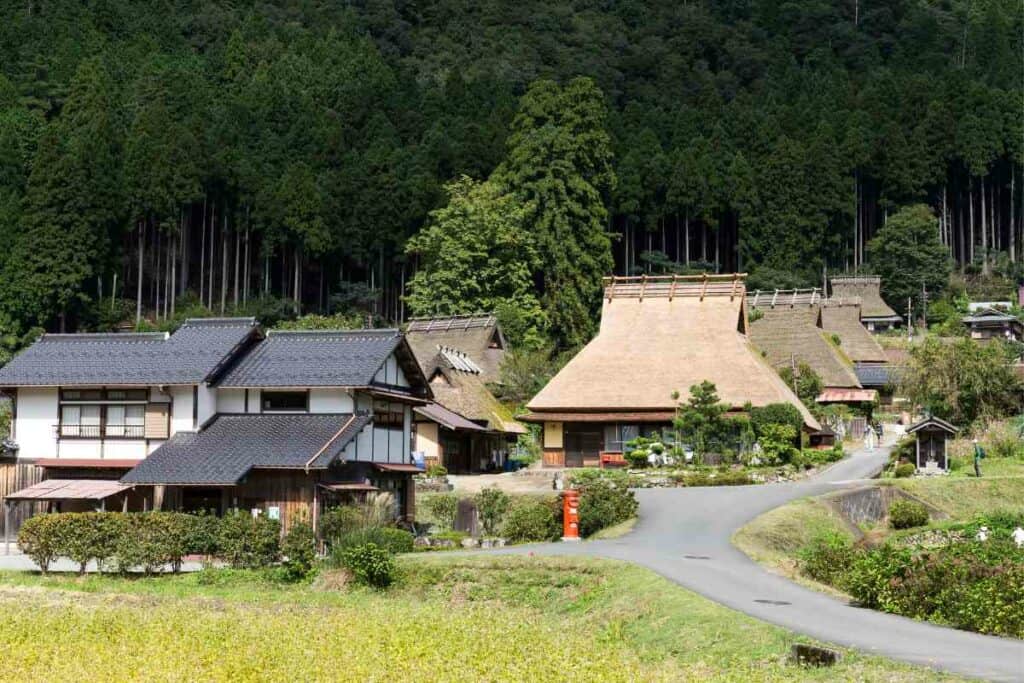 These small villages in Kyoto prefecture also boast gorgeous thatched-roof houses and breathtaking agricultural scenery.
It is just 30 kilometers from Kyoto and makes an ideal excursion to view the many traditional Japanese crafts that take place in the village. 
Why visit Miyama?
If you're in Kyoto, Miyama offers a satisfying escape into rural Japan. Enjoy the pace of life completely slowing down as you wander among the rustic kayabuki farmhouses, many of which are still home to Kyoto farming families. 
The name 'Miyama' means beautiful mountains. The steeped hillside and forests have hiking trails among numerous hidden waterfalls. Local guides are available to share the very best of this idyllic mountain town. There are also traditional activities you can try, like organic farming, indigo dying, and weaving at the Little Indigo Museum. Between January and early February, the town also holds a delightful snow lantern festival. 
Best accommodation for Miyama 美山町
Plan your rural Japanese escape with outstanding accommodation options for Miyama.
Rounding Up 
The village culture of Japan is beautiful and enduring and should be a part of any well-rounded tour of Japan.
These historic towns and villages have been beautifully preserved by thriving communities who cherish and maintain this traditional and wholesome way of life. A visit to Japan's villages will bring you closer to Japan's people and culture.