Central in Japan's Kyoto prefecture, Kyoto City (京都市) is close to Ōsaka and is another place packed with amazing things to see and do.
Once the seat of Japan's Imperial Court, Kyoto in the Kansai region is considered the cultural capital of Japan – making it an incredibly popular and attractive tourist spot.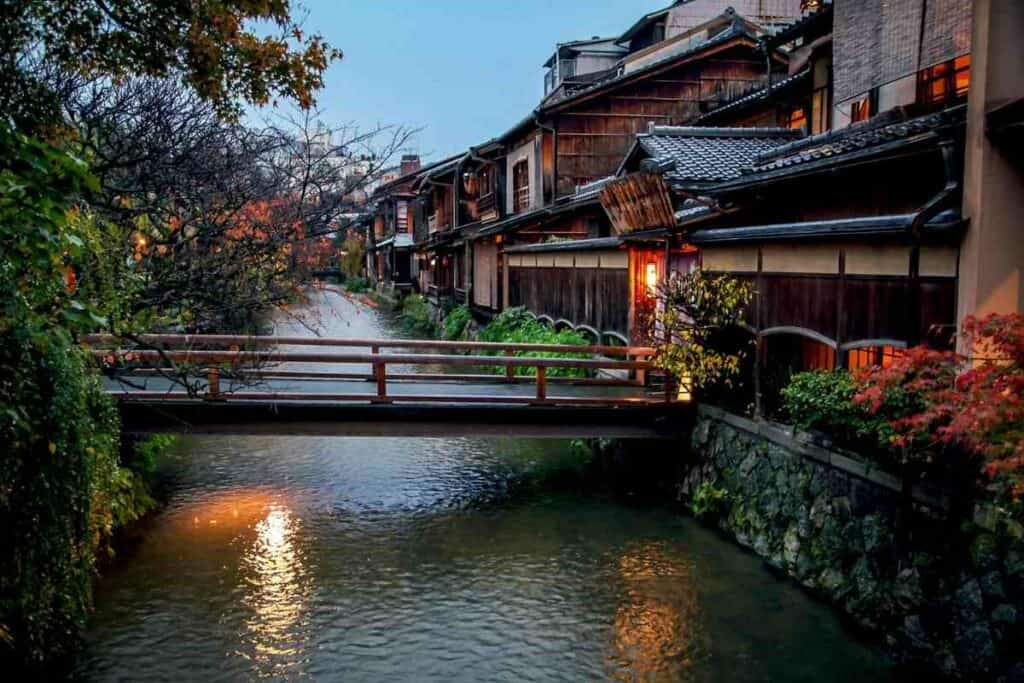 With awe-inspiring architecture, historical and religious sites, challenging hikes, buzzing nightlife and a multitude more; take a walk in the Geisha District, or along the Philosopher's Path.
Explore magical markets and take breath-taking photographs to share your experience with your friends and family.
Admittedly, Japan can be quite an expensive place to stay, but there is much that you can do on a low budget, or even without any money at all – particularly if you are willing to walk.
In This Article – We will outline some of the best free activities you can take part in, across Kyoto prefecture and in Kyoto City itself. From Nishiki Market, all the way to the temple atop Mt. Kurama, we will take a journey through this culturally rich Japanese landscape.
Kyoto Station
Whether it's your first time in Japan or not, then even the train station can suffice as a free thing to do.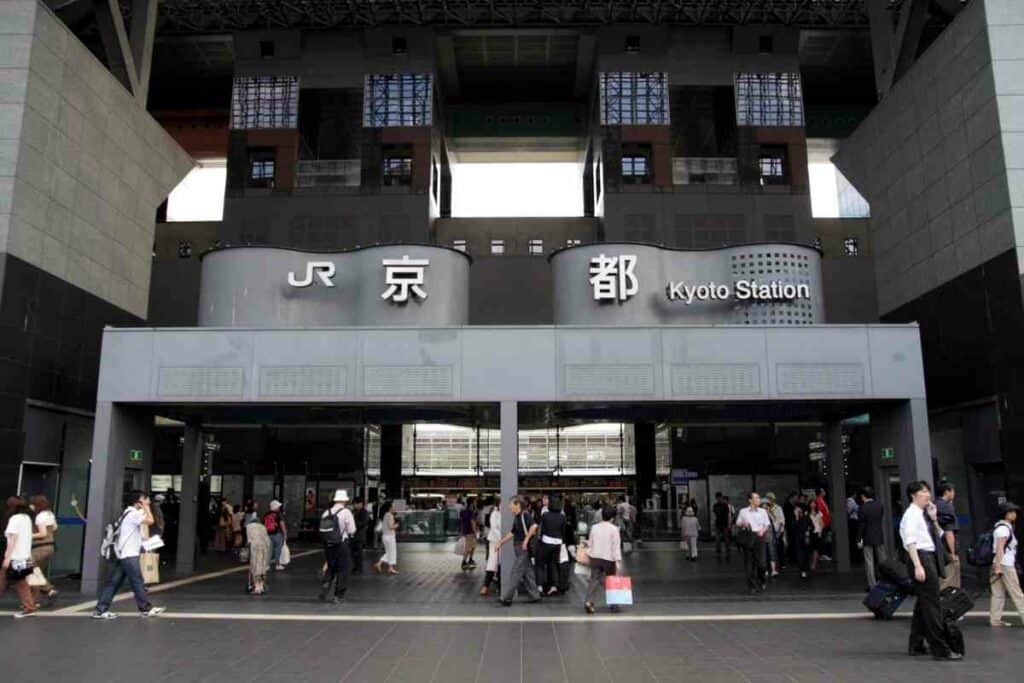 This stunning example of modern architecture has an intriguing skywalk, with a relaxing garden boasting panoramic views of the busy city below.
So, it is worth spending some time there before you rush off to climb a mountain or visit a famous temple somewhere.
Known as one of Japan's largest buildings, and the second-largest station in the whole of the archipelago, this amazing superstructure is comprised of a movie theatre, a mall, and even a hotel.
You will not be lost for things to keep you occupied should you ever get stuck there.
Mount Kurama
Not quite in Kyoto but close enough and definitely worth the effort to visit, is the local mountain range.
Travel a little north of Kyoto City and you will come across Mt. Kurama.
Taking an arduous hike up this mountain trail will lead you to what is apparently the sacred birthplace of the practice of Reiki: Buddhist temple Kurama-dera.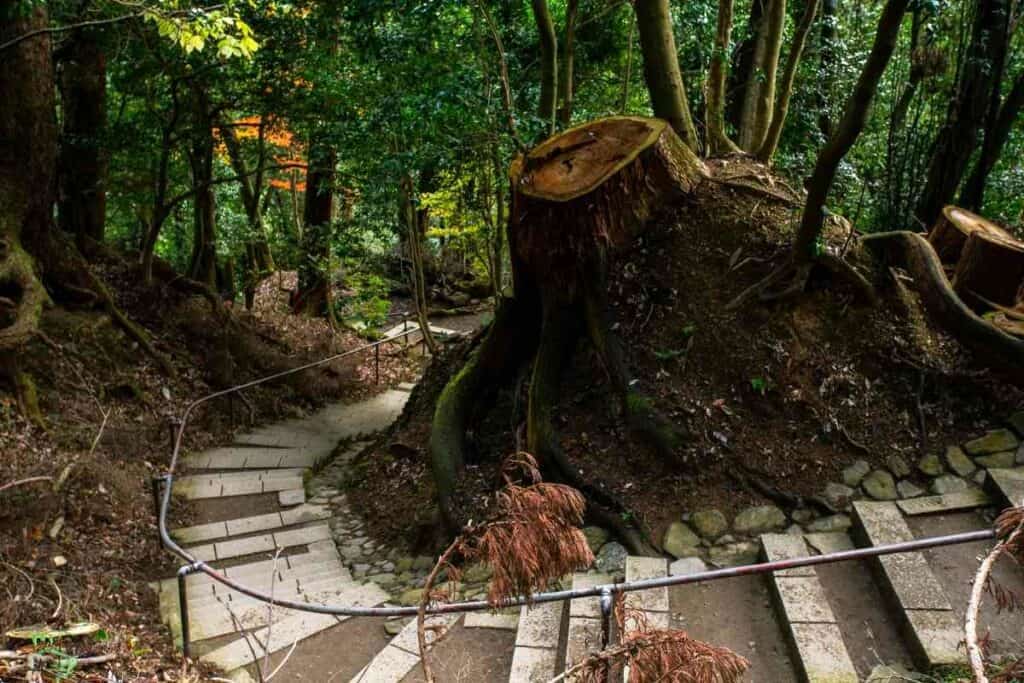 Said to be home to a Shinto king and a little easier to manage than Mt. Fuji's trail, the path to Kurama-dera Temple lasts about an hour up the trail and is reportedly not too difficult to traverse.
Enroute to the temple, you will also discover Yuki-jinja Shrine. Built over a thousand years ago, this is the spot where a famous Fire Festival takes place, annually, on October 22nd.
Join the tens of thousands of people who make the trip to experience this spectacular torchlight procession.
You can take a cable car to the temple but walk the cost-free route, and you will not be disappointed at all with the panoramic views.
You won't want to forget your camera!
Kamogawa River
Along the banks of the river, discover more beautiful views of Kyoto and stop for a picnic with the locals, who frequent the area at the weekend.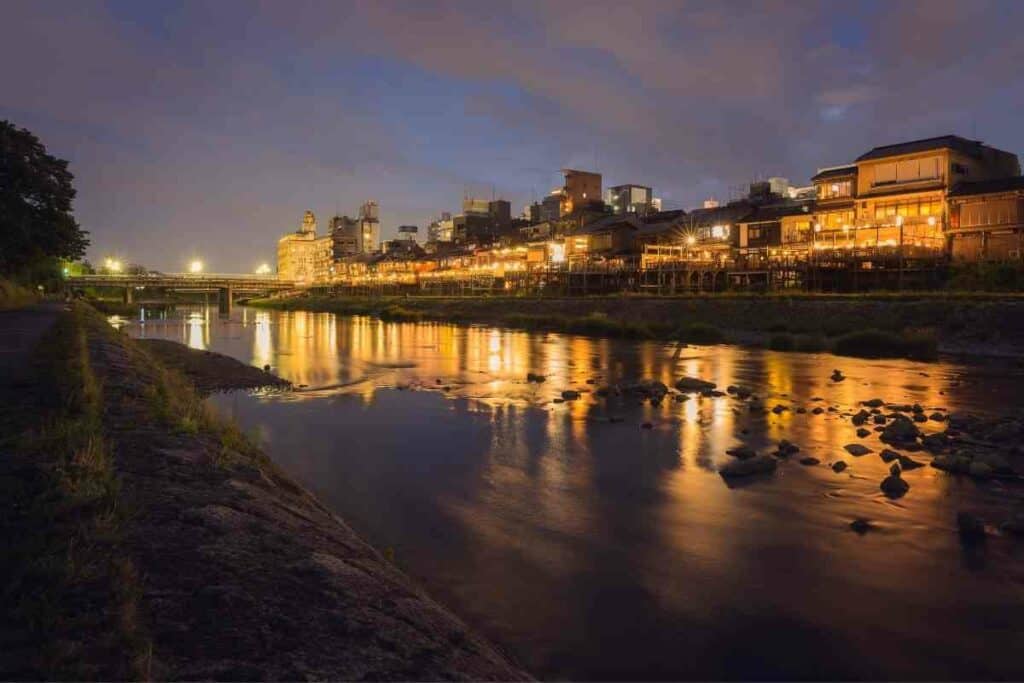 A perfect place to see the famous blossom trees blooming, the riverside is stunning at sunset, and you may even happen to come across a Japanese entertainer or two, on your journey.
History buffs will be interested to know that there was once a time when the dead lined the banks of the historically significant water.
A harrowing but very distant past when you witness the beauty of this pulchritudinous place.
The Imperial Palace
Steeped in local history, Kyoto's Imperial Palace is a fabulous free visit to make.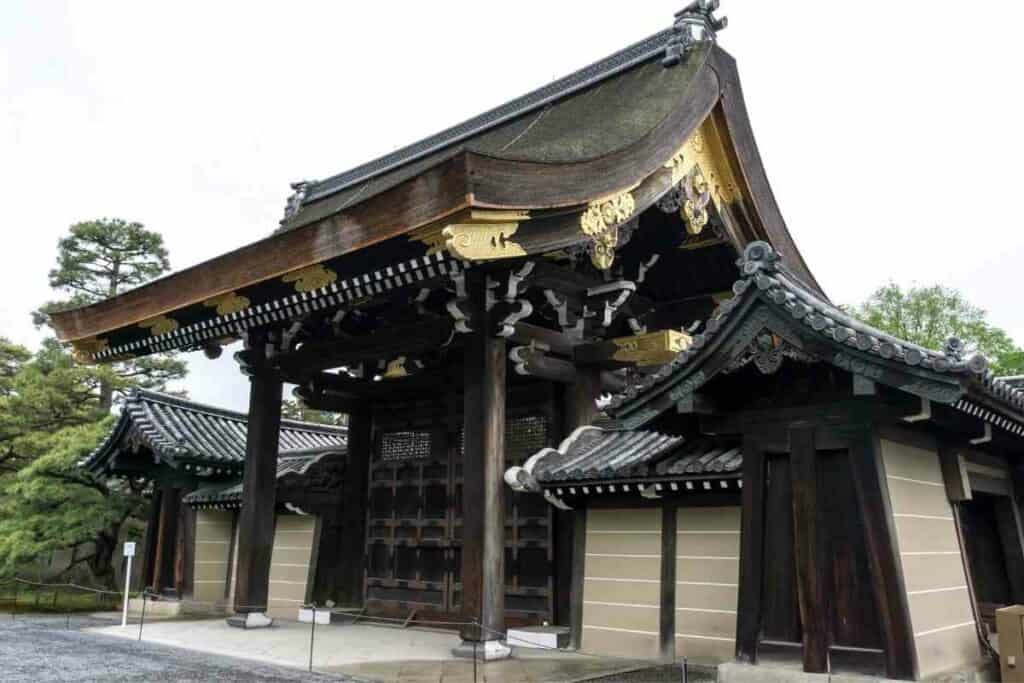 Even entry is free, but you should be aware that it can get very busy in peak times.
Once the luxurious residence of the Japanese royal family, it is most definitely an extravagance worth seeing.
Walk the ceremonial halls of this incredible architecture, along with its traditional Japanese gardens, which make this a brilliant place to spend some time, learn and keep the wallet in your pocket.    
Gion – The Geisha District
A short walk from downtown Kyoto, lies Gion: a row of streets comprised of charming, wood-crafted buildings that will seem like a literal walk, through Japanese history.
Home to the famously talented and entertaining Japanese Geisha, this magical place is also known for the most famous festival throughout all of Japan: The Gion Matsuri.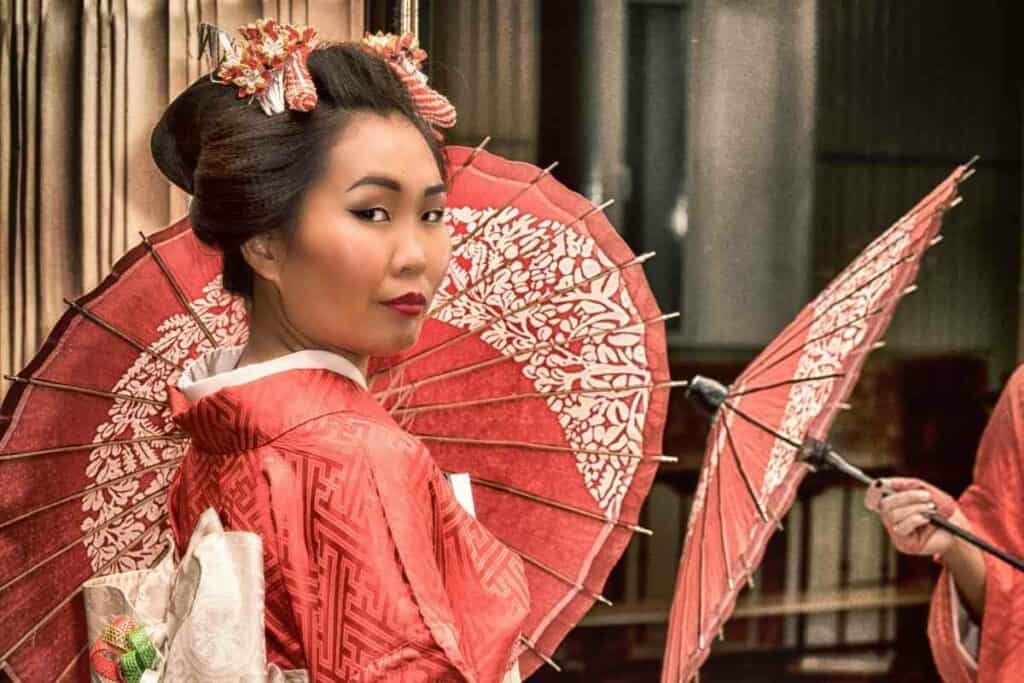 This takes place at the local Yasaka-jinja Shrine and lasts the whole month of July.
Witness eye-widening parades of magnificent floats as you enjoy authentic Japanese cuisine.
A place of entertainment, ever since the Sengoku period (c.1467-1615), this is a must-see for any tourist.
As well as Yasaka-jinja Shrine, when in this district, you are also close to Higashiyama which is one of the best places to visit, for free, in Kyoto.
This is a place where time seems to have stopped and one which is laced with traditional houses, merchants, and cobblestone walkways.
The Philosopher's Path
One of the most endearing free places to visit in Kyoto, is the two-kilomoter-long Philosopher's Path.
Taking its name from the professor who once frequently walked the tree-lined path to meditate: Nishida Kitaro of Kyoto University (1870-1945).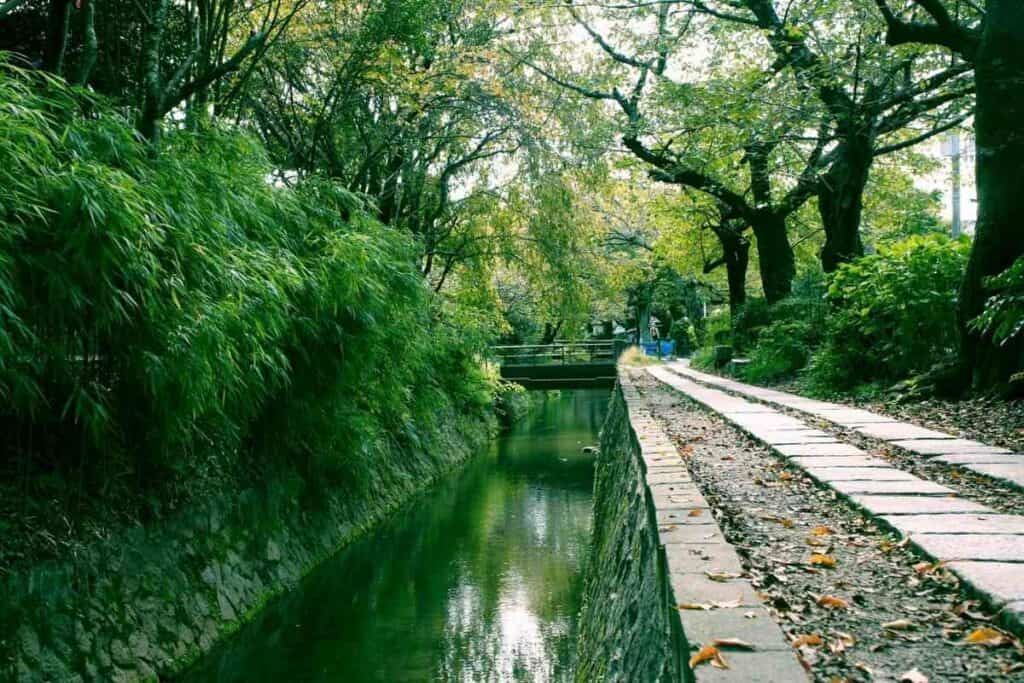 Considered to be one of the most influential philosophers of his time, Kitaro was the founder of the Kyoto School of Philosophy.
There is even a little rock carving of a poem, written by him, for you to read along the way which was placed in his memory.
This scenic route is visited by many and runs parallel with a canal, along which you can immerse yourself in the local culture and enjoy the company of many cats, use quaint little bridges and enjoy exquisite views all-year-round.        
Maruyama Park
One of many parks throughout the prefecture and indeed, throughout the whole of Japan, Maruyama is loved by the locals and well-maintained.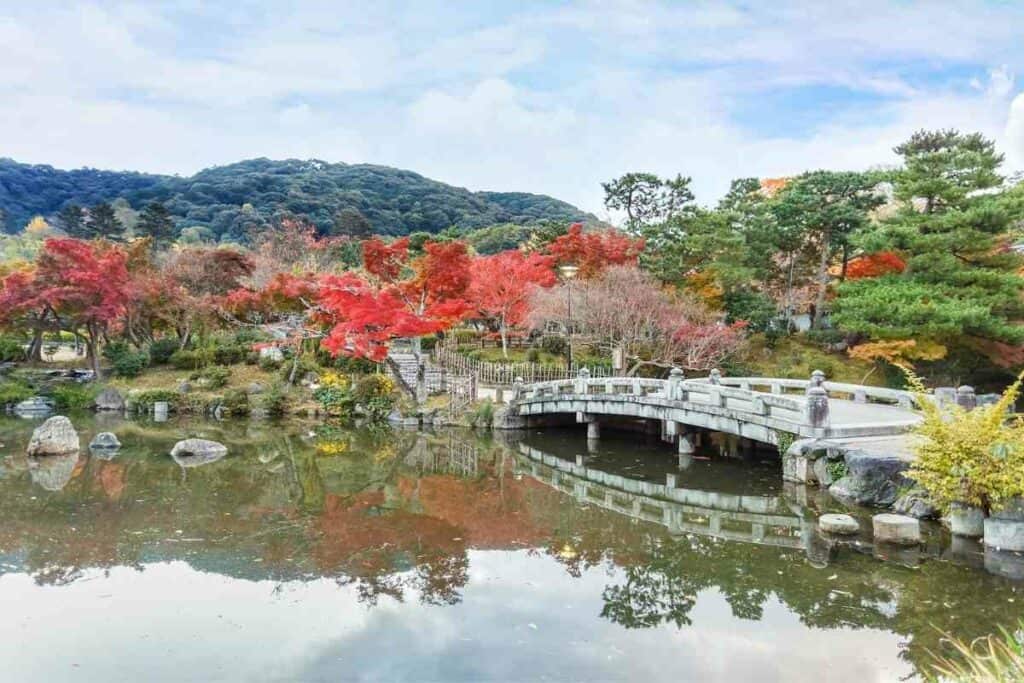 Lit up at night-time, this magnificent park covers 86,000-square-meters and is speckled with the drooping branches of blossoming cherry trees.
In Spring – The lush pink landscape is truly a wonder to behold and will envelop you in traditional Japanese beauty.
Just a short trek from Yasaka-jinja Shrine, this park is the oldest in Kyoto and is very popular among the locals.
With plenty to both see and do, get a bite to eat in a Japanese restaurant, take a stroll through indulgent gardens and orchards.
Picnic or simply sit and absorb the awesome scenery.
Fushimi Inari-taisha
A particularly stunning and unique shrine, on the Kyoto prefecture, Fushimi-inari is a Shinto shrine with some significance.
Thousands of Senbon Torii gates of vermillion, flank a hub of trails to the rear of the main buildings, which are astonishing to see.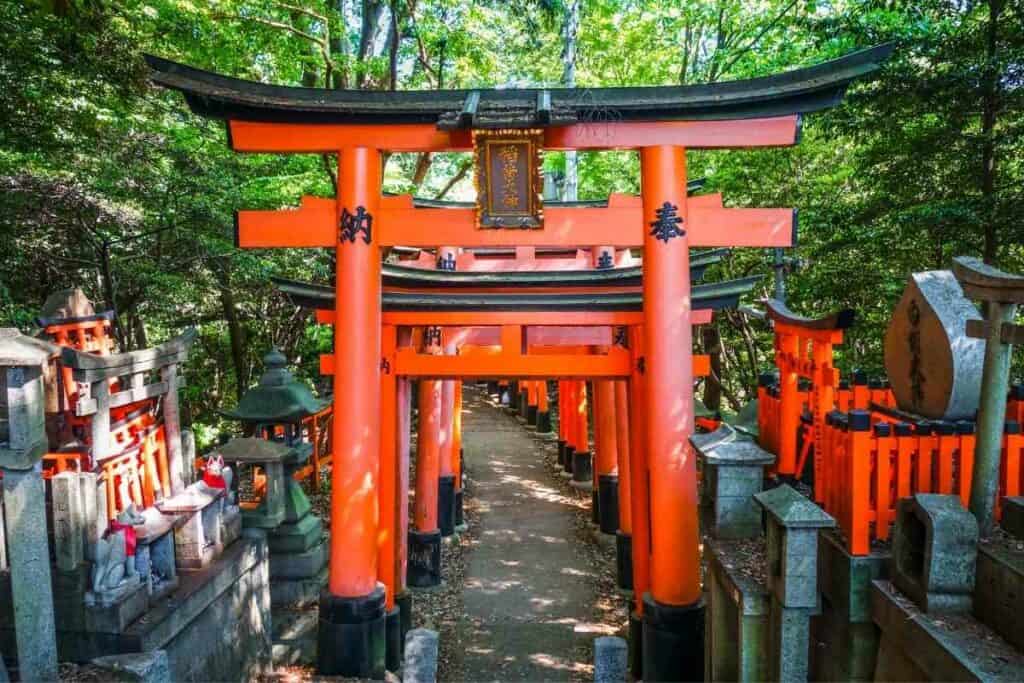 The colour pays homage to the Shinto God of Rice, whose messenger was thought to be the Fox.
Within these enchanting grounds, lies a mountain to which all enclosed trails lead, via a tranquil canopy of trees.
Mt. Inari is just over two hundred meters high and provides a short hike with some excellent views of the local area.
---
You'll Love It: Walk the hidden Bamboo trail, if you want to miss the crowds, from Mt. Inari and you will reach Tofuku-ji Temple. A famous place of worship, this spiritual place hosts a famed Zen rock garden.        
Kimono Parades
The Nishijin Textile Center, close to the Imperial Palace, is a wonderful place to experience completely free of charge.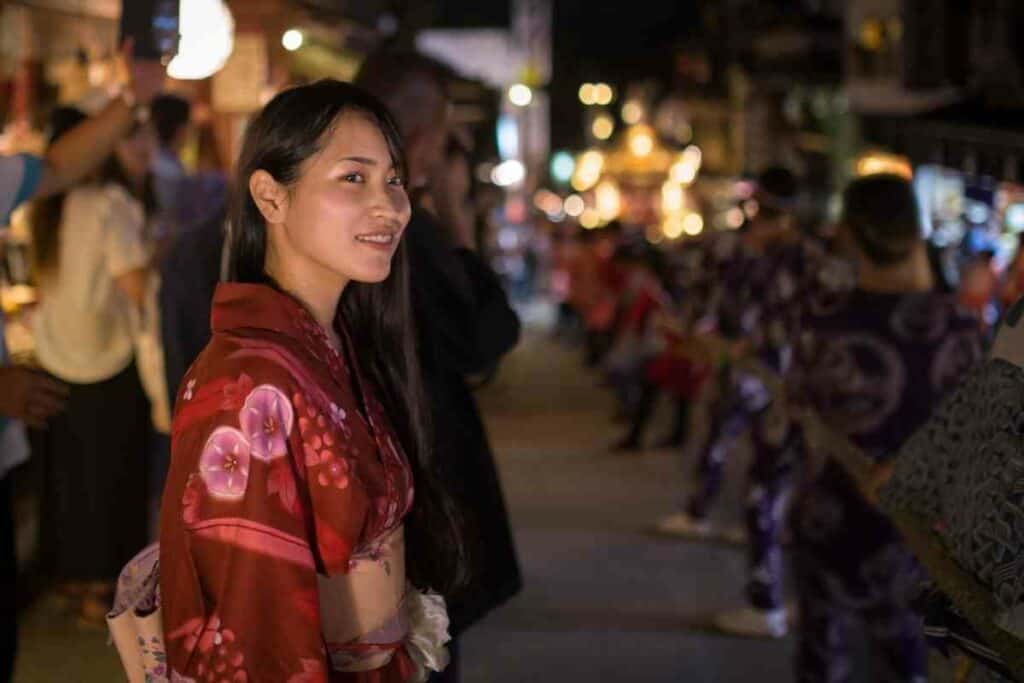 Learn how the traditional Kimono is crafted from silkworm and watch as they demonstrate the process right before your eyes.
Colourful parades are frequent, throughout the day, and are a fashion spectacle one should not miss.
Nishiki Market
Occupying a spacious street in downtown Kyoto, Nishiki Market is a thriving display of vibrant enterprise.
Buy anything from skewered octopi to ingredients for your dashi, in this extraordinarily versatile and almost overwhelming environment.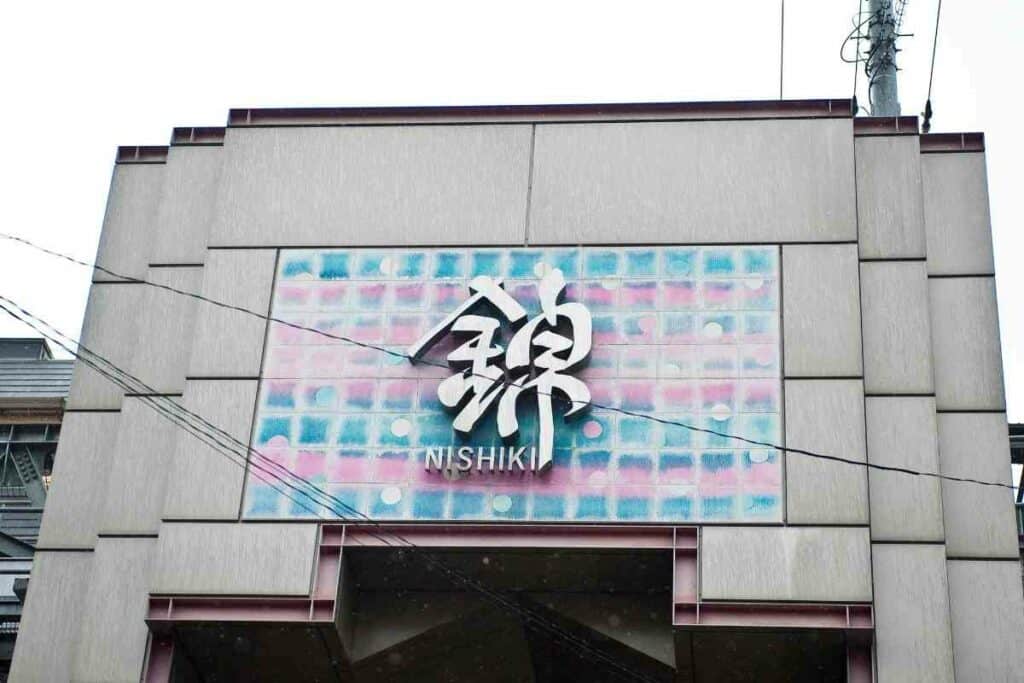 Also shop for kitchenware, including your very own customised chopsticks!
Open from 10:00am until 06:00pm, it is easily accessible but is packed with varied produce and can take a long time to fully explore.
Enjoy the delectable street food and peruse over a hundred different stalls, as you take in the scents of locally sourced delicacies.
Even if you decide not to buy a thing, this can be a great experience all the same.        
Final Thoughts
Whomever you should ask – many people often consider Japan to be a place that is far too expensive to visit more than once, in your lifetime.
You may even sacrifice Kyoto for Tokyo or Osaka, but if you find yourself with the time, try to fit in this marvel of Japanese culture.
Whilst there is an abundance of things to splash the cash on, all over both the city and the prefecture, as we've highlighted here: there are a great many things you can do with little-to-no money in your pocket at all.
Experience the enchanting entertainment of the Geisha of Gion, the spiritual charm of Fushimi-Inari Shrine, climb a mountain, go to a festival, watch a parade, and experience the many wonders of the region of Kyoto.      
Also Read