Japan has produced some of the greatest motorcycle manufacturers of the 20th century, with the 'big four' Honda, Yamaha, Suzuki, and Kawasaki dominating the global motorcycle market.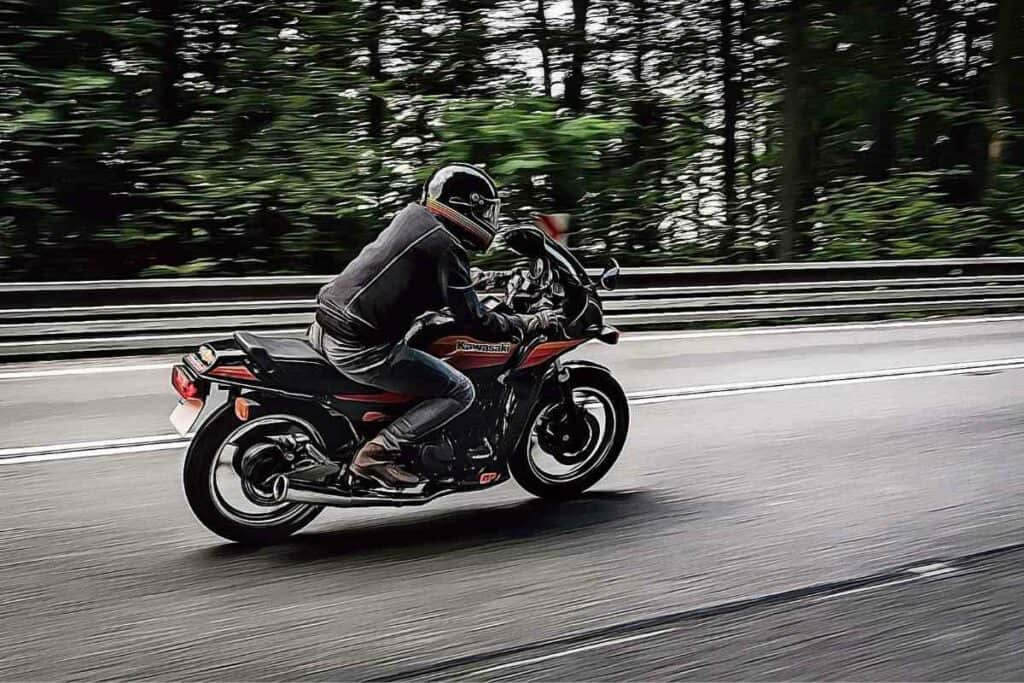 In this article, we profile the best Japanese motorcycle brands with an in-depth look at these four legendary brands and what made their motorcycles market leaders.
The best Japanese motorcycle brands
Japan has undoubtedly produced some of the world's best motorcycle brands.
The very best Japanese motorcycle brands are the four companies profiled below.
If you want to own a Japanese motorcycle, it will be from one of these iconic brands.
1. Honda Motor Co. Ltd. (本田技研工業株式会社)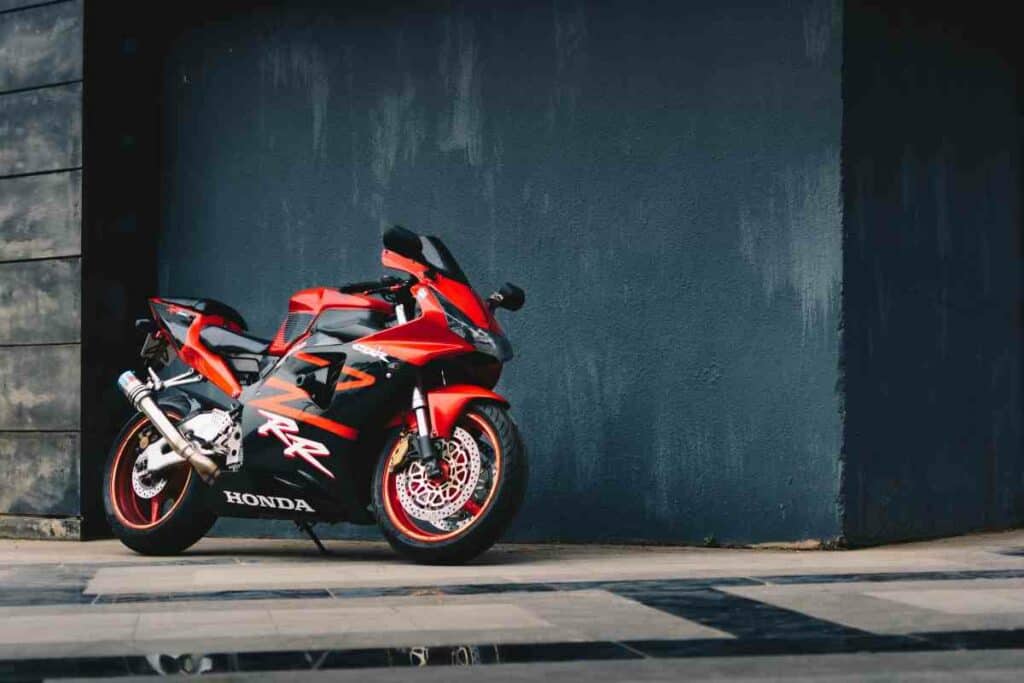 Honda Motorcycles is the world's largest motorcycle manufacturer and has led the way in the advancement of motorcycle engineering and technology.
Since its founding in 1948, Honda has produced over 400 million motorcycles and currently makes over 17 million models each year!
In addition to motorcycles, Honda manufactures cars, marine, and aerospace engines, industrial equipment, generators, and power tools. 
Honda Brand Profile 
| | |
| --- | --- |
| Headquarters | Minato, Tokyo, Japan |
| Founded in | 1948 |
| Founder(s) | Soichiro Honda and Takeo Fujisawa |
| First motorcycle model | Model D / Dream D |
| Latest motorcycle model | XL750 Transalp (2023) |
| Types of motorcycles produced | Street bikes, Touring bikes, Cruisers, Scooters, Sports bikes, and Dirt bikes. |
| Average price | $10,000 |
| Sponsorships | Honda Racing Corporation sponsorships span: MotoGP, WorldSBK, Suzuka 8HMX, GPRallyTrial, AMA SX/MX |
| URL | www.honda.com |
| Social media | www.instagram.com/hondamotorcyclesusa |
The History of Honda 
Honda is named after its founder Soichiro Honda (1906 to 1991), who was a mechanic that tuned race cars in the 1930s.
In 1937, Honda transitioned from his mechanic work to manufacturing piston rings and formed his first company, the Eastern Sea Precision Machine Company (Tōkai Seiki). 
Honda initially failed to sell piston rings to Toyota, because of their low quality, but after receiving training in engineering and visiting competitor factories, he succeeded in selling his piston rings to Toyota.
Honda's company was brought under state control throughout WWII and Toyota took a 40% stake in his company. However, Honda gained manufacturing experience from producing aircraft propellers and other military components. 
His factories were destroyed in a bombing in 1944, leading Honda to sell all salveagble assets to Toyota for ¥450,000.
Honda used the proceeds of the sale to start the Honda Technical Research Institute, which manufactured and sold simple motorized bicycles, powered by war surplus generator engines. 
When he ran out of engines, Honda, copied the war surplus engine design and sold them to customers for attachment to bicycles.
This was the first Honda engine, the Honda A-type, and it kickstarted the incorporation of Honda's enterprise into the Honda Motor Co., Ltd.
Honda brought Takeo Fujisawa into the company to provide business expertise that proved invaluable to the company's growth.
By 1964, Honda had become the world's largest motorcycle manufacturer. Honda and Fujisawa headed the company until they both stepped down in the 1970s.
A Timeline of Honda Motorcycles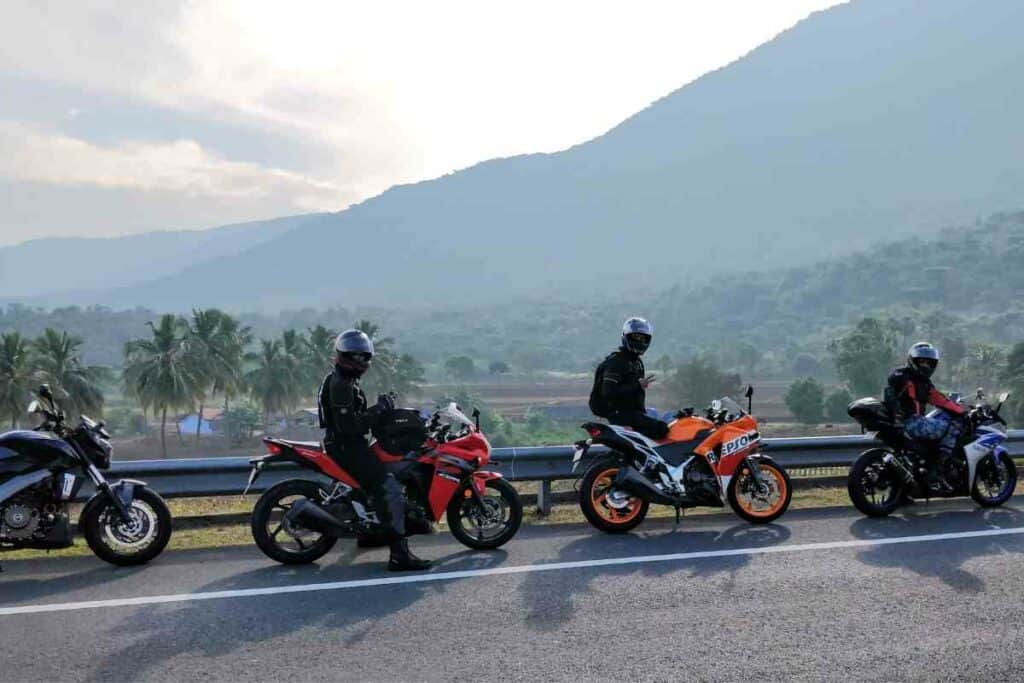 Here is a selection of the highlights of the history of Honda's development and production of motorcycles.
1949: The Honda D-Type/ Dream motorcycle, with a 98cc two-stroke motor.
1951: The Honda Dream E motorcycle, with a 146cc four-stroke motor.
1952: The Cub F clip-on motor (for bicycles), with a 50cc two-stroke motor.
1953: The Benly J motorcycle, with a 90cc four-stroke motor. 
1958: The Honda Super Cub (also known as the C100, CA100, or Honda 50) motorcycle, with a 50 to 90cc four-stroke motor.
1964: The Honda 3RC164 motorcycle, with a 250cc six-stroke motor.
1969: The Honda CR250 'Elsinore', with a 250cc two-stroke motor.
1974: The Honda GL1000 'Gold Wing', with a water-cooled four-stroke engine.
1974: The Honda NR500, with a four-cylinder V8 engine that featured oval pistons. 
1987: The CBR600F 'Hurricane', with a four-cylinder street bike. 
1990: The  VFR750R / RC30, a fully faired, solo-seat street bike.
1992: The Honda NR 750, with a 750cc eight-cylinder motor. Only 200 of these motorcycles were produced. They included carbon fiber bodywork, a digital display, and a single-sided swingarm.
1995: The Honda EXP-2, with a 400cc two-stroke motor.
2004: An experimental prototype motorcycle powered by fuel cell. 
2007: Production of the world's first motorcycle with airbag protection.
2010: The Honda VFR1200F,  a sportsbike with a V4 1237cc motor, ABS, and dual-clutch.
What Makes Honda's Motorcycles Special?
From its inception, Honda has been a motorcycle company that is motivated to learn, innovate and adapt and this really shines through in the reliability and consistent performance of its engines. 
Honda has always kept its motorcycles in the public eye through the creation of innovative racing bikes, written by legendary motorcycle racers like Naomi Tanaguchi, Mike Hailwood, Freddie Spencer, and  Valentino Rossi.
Along with power and speed, contemporary Honda engineering ensures that motorcycles are fuel efficient, with minimized exhaust pollution. 
How much do Honda motorcycles cost?
Honda motorcycles have a wide price range spanning models like the 2022 Honda Grom Standard Motorcycle, a sports bike that comes in at under $3,500 to the Honda RC213V-S which costs a staggering $184,000!
Latest Honda motorcycle models
2023 Honda motorcycles include:
XL750 TRANSALP
THE 2023 HONDA CBR650R AND CB650R
THE NEW CB750 HORNET
THE NEW CL500
2023 FORZA FAMILY RANGE (125, 350 and 750cc engines)
EM1 e (2-wheel electric vehicle)
THE CRF1100L AFRICA TWIN
2023 CMX500 AND CMX1100 REBELS
2023 GOLD WING
2023 CB1000R Black Edition
2. Yamaha Motor Co., Ltd. (ヤマハ発動機株式会社)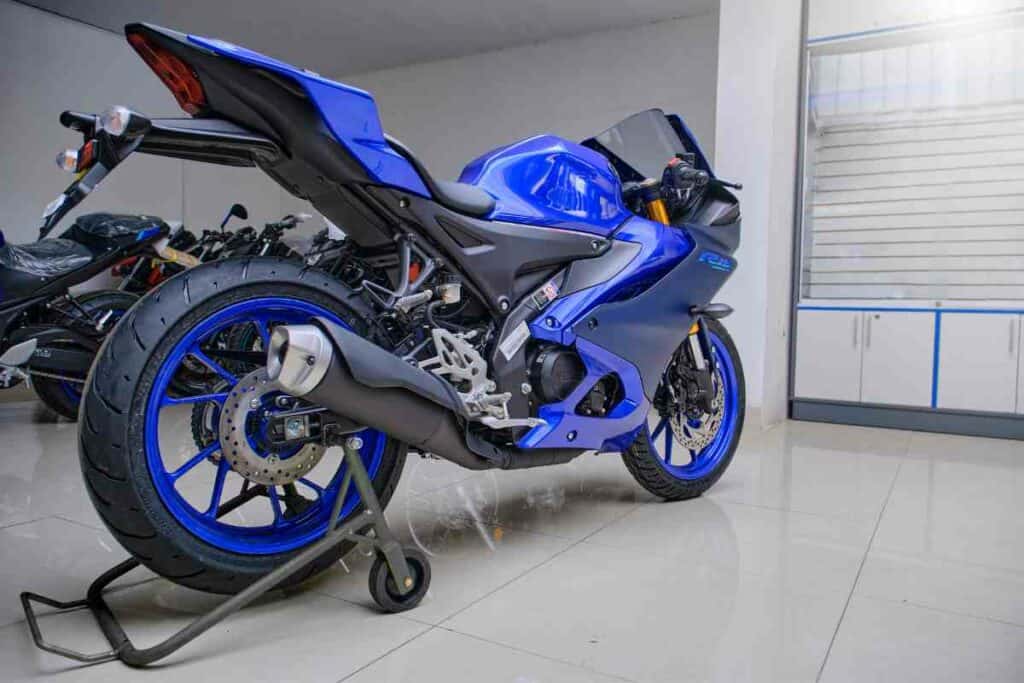 Yamaha Motor Corporation is one of Japan's leading motorcycle manufacturers.
It was initially a subsidiary of the larger Yamaha Corporation, but since 1955 has been a distinct private company with Yamaha Corporation as its largest private company shareholder.
In addition to motorcycles, Yamaha Motor Co. manufactures marine outboard engines, boats, generators, pumps, wheelchairs, and unmanned aerial vehicles across over 100 subsidiaries. 
Yamaha is second only to Honda for motorcycle sales worldwide, selling just over 4.5 million motorcycles per year. 
Yamaha Brand Profile 
| | |
| --- | --- |
| Headquarters | Iwata, Shizuoka, Japan |
| Founded in | 1955 |
| Founder(s) | Genichi Kawakami |
| First motorcycle model | YA-1 Motorcycle |
| Latest motorcycle model | 2023 Yamaha MT-07  |
| Types of motorcycles produced | Street bikes, Trail bikes, Touring bike, Cruisers, Scooters, Sports bikes, Dirt bikes, Road bikes, Off-road motorcycles, Step-bikes, Electric motorcycles, and scooters. |
| Average price | $11,500 |
| Sponsorships | Yamaha Racing has numerous sponsorships, including Yamaha MotoGPWorld, SBKSuperbike, MXEnduro, Dakar MotocrossRally, bLU cRU / Cups |
| URL | global.yamaha-motor.com |
| Social media | www.instagram.com/yamahamotorusa |
The History of Yamaha Motor Co. Ltd.
Yahama Motor Co. was originally part of the parent company Yamaha Corporation. This conglomerate was founded by Torakusu Yamaha in 1887 as the Nippon Gakki Co.
The company gained prominence as a manufacturer of pianos and reed organs. Yamaha later diversified into the production of airplane propellers during WWII.
Following the war, Yamaha chairman Genichi Kawakami used surplus war resources and facilities to manufacture a line of small motorcycles.
By 1955 – The motorcycle manufacturing side of the business had grown to a size where the company could separate and become incorporated as Yamaha Motor Co. Ltd.
Yamaha introduced new motorcycles such as the YA-1, adapted from a popular German design.
Yamaha was early to participate in racing with the introduction of several winning motorcycles in national and international races. Yamaha Racing maintains a healthy rivalry with other Japanese motorcycle manufacturers to the present day. 
Yamaha enjoyed sustained growth throughout the 1960s and 1970s.
They focused on innovative two-stroke engine designs, with several motorcycles that won several races including the Belgian GP. Yamaha then progressed to developing a four-stroke motorcycle, the XS-1.
This more powerful ride was a notable challenge to the British Triumph Bonneville.
Off-road and recreational racing bikes were also developed leading to an enduring commercial relationship with dirt bikes.
Its 'Monoshock' dirt bike, released in 1973 Yamaha's motorcycle with the longest continual production run. 
The 1980s brought a push for Yamaha to diversify and specialize its range of motorcycles, with the introduction of touring, cruising, and off-road designs that grew the brand's appeal.
In the 1990s, to lure the lucrative US cruiser market, Yamaha created  Star Motorcycles which manufactured beautiful cruisers and continues to the present day. 
Iconic Yamaha Motorcycles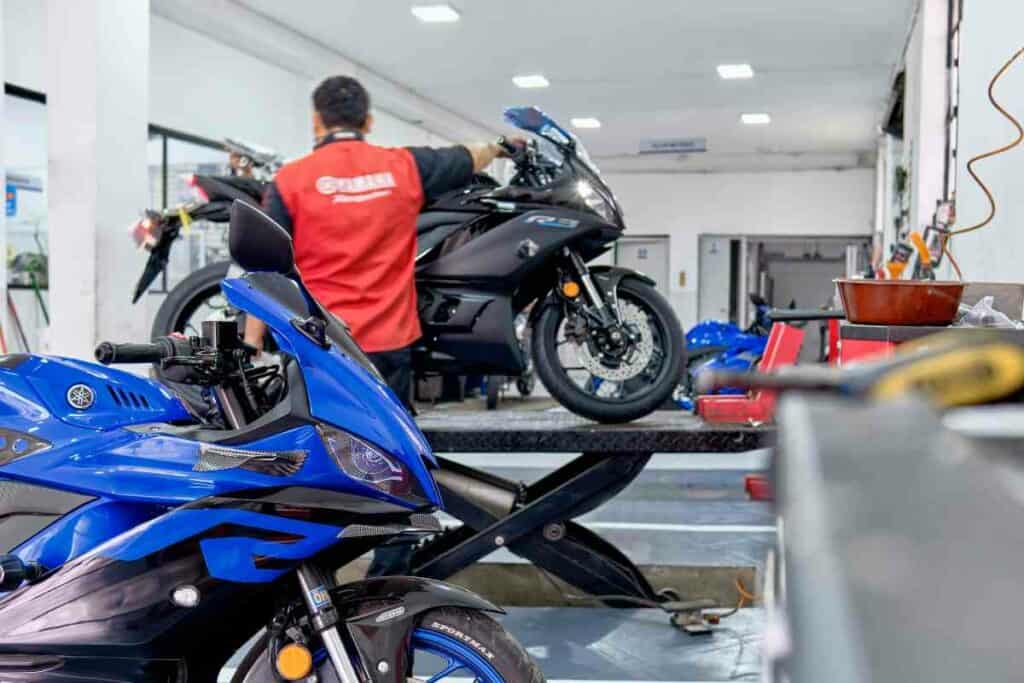 Here are some highlights from Yamaha's impressive product history, including motorcycles that have been bestsellers around the world:
The YA-1 (1955): This iconic design featured chestnut red coloring, earning the nickname the Red Dragonfly'. The YA-1 won the 3rd Mt. Fuji Ascent Race and 1st Asama Highlands Race within a year of production.
The YC-1 (1957): The YC-1 set Yamaha apart as a motorcycle manufacturer that could master design and functionality. This elegant design, complete with European detailing and a classy gray-brown finish became a global hit. 
The AT90 (1965): This sporty motorcycle featured the 'Jet Twin' a 90cc twin engine that beautifully balanced fuel economy and performance. The motorcycle also included a world-first automatic oil lubrication system for motorcycles. 
The DT1 (1968): Yamaha's first trail bike was built for off-road exploration and racing with practical additions like engine guards and wide-radius block pattern tires. It was extremely successful in the U.S. and led to the widespread adoption of trail riding in Japan.
The XC180 Cygnus (1982): The Cygnus was a comfortable commuter vehicle (scooter) that resonated with the urban lifestyle of young professionals in the 1980s. Despite being a scooter, it had a 4-stroke 180cc engine and a large body, making it suitable for touring. 
The FJ1200A (1991): This bold and powerful big sport tourer included an air-cooled  Dual Overhead Camshaft (DOHC) 4-cylinder engine, ABS, and proprietary orthogonal mounting to reduce vibrations.
The VMAX (2008): This powerful motorcycle, with a 1,679cc V4 engine, succeeded the drag racing-inspired original VMAX and is optimized for maximum acceleration and straight-line speed. Despite its imposing aesthetics and potency it still retains comfort and stability for the rider.
What's so special about Yamaha motorcycles?
Yamaha offers one of the world's most diverse ranges of motorcycles spanning everything from long-term touring to scooters for the daily city commute.
It is easy to find a motorcycle that suits your exact needs because their inventory is so large and encyclopedic, with updated and new models added all the time. 
A Yamaha motorcycle is also extremely reliable, a quality that the company prioritizes in its design and production of motorcycles.
Yamaha motorcycles do not require frequent servicing, or costly parts, and owners enjoy a long lifespan for their motorcycles. 
Yamaha also has an amazing racing legacy. Moto GP legend Valentino Rossi has been with Yamaha since 2004, and Fabio Quartararo continues to ride Yamaha Moto GP bikes, showcasing what this great Japanese motorcycle brand can do. 
How much do Yamaha motorcycles cost?
Yamaha manufactures motorcycles for every price point, from the extremely cost-effective PW 50 dirt bike to the $21,000 YZF-R1M.
There is even a custom 24-karat gold-plated, 1700cc V-twin Yamaha Roadster Chopper which will set you back over $3 million!
Latest Yamaha motorcycle models
Upcoming Yamaha motorcycles in 2023 include:
The R1 GYTR
The R125 R-Connection
The MT-07 Hypernaked motorcycle
The MT-125 Hypernaked motorcycle
The XSR700 Legacy
The NIKEN GT Touring motorcycle
The TRACER 9 GT+ Touring motorcycle
The Ténéré 700 Rally Edition
The YZ450F
3. Suzuki Motor Corporation (スズキ株式会社)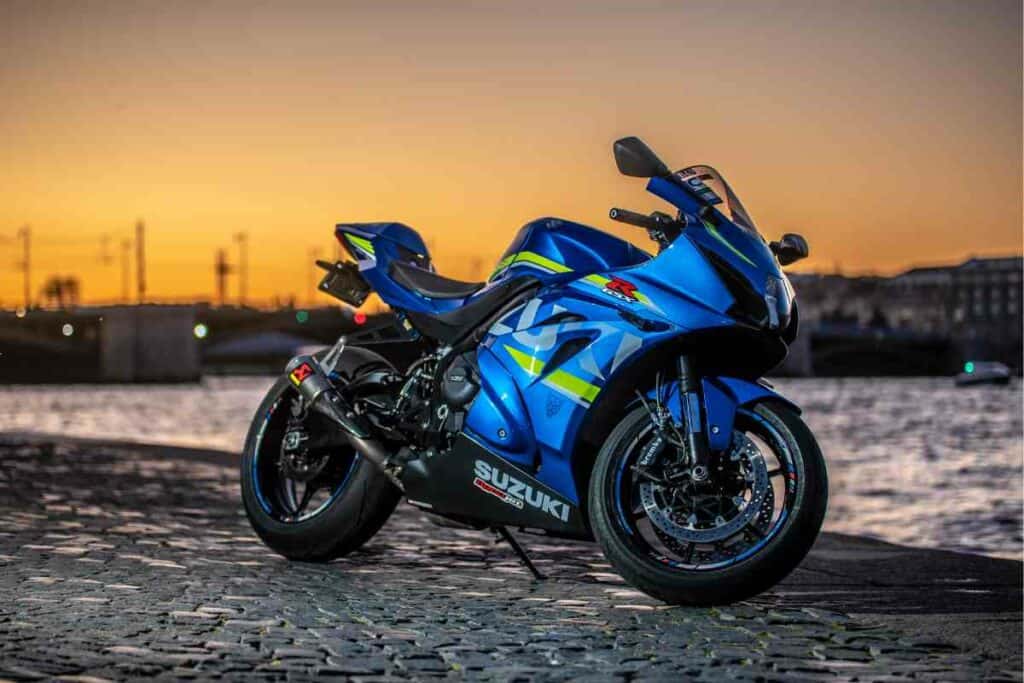 The Suzuki Motor Corporation of Minami-ku in Hamamatsu is Japan's third largest manufacturer of motorcycles.
In addition to motorcycles, Suzuki also produces motors, generators, cars, marine outboard engines, all-terrain vehicles, quad bikes, and wheelchairs.
Suzuki is a global company with manufacturing facilities in 23 countries and distributors in 192 countries.
The company is still family-run, with current chairman Osamu Suzuki, an adopted son-in-law known in Japanese culture as a mukoyōshi (婿養子).
Suzuki Brand Profile 
| | |
| --- | --- |
| Headquarters | Minami-ku, Hamamatsu, Japan |
| Founded in | 1909 |
| Founder(s) | Michio Suzuki |
| First motorcycle model | Power Free 36cc 2-stroke pushbike |
| Latest motorcycle model | 2023 GSX-8S 776cc |
| Types of motorcycles produced | Cruiser, Dual sport, Off-road, Enduro, Maxi scooter, Minibike, Moto GP, Motocross, Moped, Street, Underbone                                                                                                                                                          |
| Average price | $7,500 |
| Sponsorships | Suzuki has numerous sponsorships including MotoGP, Superbike, MXEnduro, Grand Prix, Supercross |
| URL | suzukicycles.com |
| Social media | www.facebook.com/SuzukiCycles/ |
The History of Suzuki Motor Corporation
The Suzuki Motor Corporation started out as Suzuki Loom Works, a company founded in 1909 by company patriarch Michio Suzuki (1887–1982).
Suzuki Loom Works, based in the coastal village of Hamamatsu, built silk-weaving looms. Thirty years later,  Michio Suzuki sought to diversify his business by developing a small vehicle design for mass production.
Suzuki began developing prototype cars and personal transportation in 1937. His compact models featured a cutting-edge liquid-cooled, four-stroke, four-cylinder engine.
WWII halted his plans and Suzuki returned to loom production, developing designs for the processing of U.S. cotton after the war. When the cotton import market collapsed, Suzuki returned to his motor vehicle designs.
Suzuki turned to motorcycle manufacturing as it provided an affordable personal transportation solution for the people of Japan. His first model, the 'Power Free' was a 36cc two-stroke pushbike that could be pedaled or run on engine power alone.
The success of the Power Free led to the Japanese government subsidizing Suzuki's research and development. 
By the mid-1950s – Suzuki has changed the company name to Suzuki Motor Co. and was manufacturing over 6,000 motorcycles each month. Suzuki also produced an extremely successful car, the Suzuki Suzulight, in 1955. 
However, motorcycles were the Suzuki brand's strength.
Their sports bikes, dual sport, and off-road riders became iconic models for enthusiasts, driving a large proportion of Suzuki's sales.
The DR650, a single-cylinder, dual-sport rider produced in the 1980s is still manufactured relatively unchanged to this day. 
In 2009, Volkswagen became a 19.9% non-controlling shareholder of the company.
However, the deal, which was on the basis of sharing technology fell through, with Suzuki agreeing a $3.8bn stock buy-back in 2015. 
Suzuki's most popular motorcycles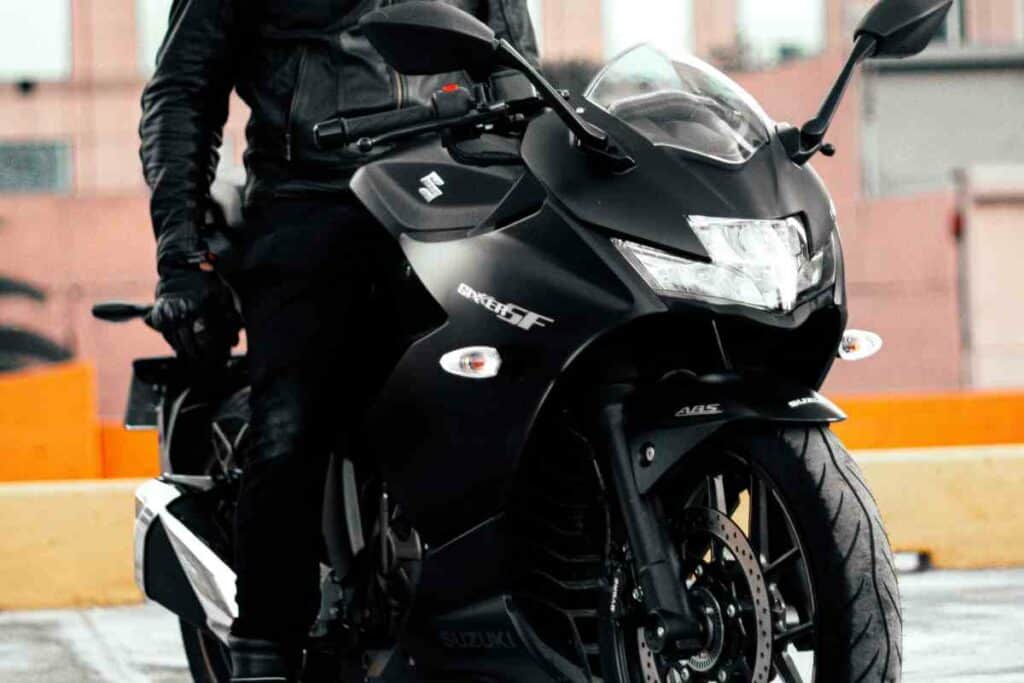 Suzuki has so many successful motorcycles that it is a certain contender for Japan's best motorcycle brand. Here are some of Suzuki's most popular models:
The Diamond Free (1953), a 60cc two-cycle motorized bicycle. This successful model took advantage of a recently passed law that allowed Japanese citizens to ride motorized bikes without a license. 
The Colleda (1955): This 125cc 3-cycle motorcycle was Suzuki's first non-bicycle motorcycle. The name 'Colleda' means 'This is it!', meaning that the customer had found the right bike. Its practical design featured a rigid frame and luggage carrier.
The T20 (1965): Suzuki produced this 250cc motorcycle to target the U.S. market. Marketed as the 'world's fastest 250cc motorcycle, the 6-speed transmission T20 featured a tubular steel double-cradle frame and a twin-chambered sleeved aluminum cylinder engine.  
The T500 (1968): The T500 was a powerful 500cc, two-cycle engine, capable of achieving speeds of up to 112 mph. This successful motorcycle boasted the largest 2-cycle engine displacement at the time.
The TM400 (1971): This successful 500cc motorcrosser raced in several World Motorcross GP series. The famous Belgian racer Roger De Coster won several world titles on Suzuki motorcycles of this class. 
The GSX-S1100S Katana (1982): This iconic motorcycle had a revolutionary design that departed from the traditional style of motorcycles up to that time. The 110 bhp Katana was likened to a spaceship and featured engineering that was just as advanced.
The GSX-R1000 K5: This 600cc Supersports bike was a fast and powerful road and race bike with responsive handling, geometry, and a riding position that suited riders of all levels.  BMW is rumored to have modeled its S1000RR sports bike on the K5.
What makes Suzuki motorcycles different?
Suzuki is a world-renowned brand that has produced some legendary models that have shaped motorcycle road riding and racing.
Its motorcycles are distinctive with as much attention paid to form and style as to their innovative engineering and performance. 
In Particular – Suzuki pays attention to riding position and balance on the road. Care has been taken to ensure that these bikes have high handling accuracy on and off-road.
This is excellent if you want a fast, high-performance motorcycle and the longevity of these motorcycles and their parts also ensures that your ride will be reliable. 
How much do Suzuki motorcycles cost?
Suzuki motorcycles are great value for money, with prices ranging between $2,500 and $19,000 USD.
For the ultimate speed fix, you can enjoy speeds of up to 188 MPH with the $200,000 Suzuki AEM Carbon Fiber Hayabusa!
Latest Suzuki motorcycle models
Upcoming Yamaha motorcycles in 2023 include:
The 2023 Suzuki V-STROM 800DE/DE Adventure
The 2023 Suzuki GSX-8S
The 2023 Suzuki GSX-S1000
The 2023 Suzuki Katana
The 2023 Suzuki Burgman 200
The 2023 Suzuki DR650S
The 2023 Suzuki DRZ-400SM
The 2023 Suzuki V-Strom 650/650XT/650XT Adventure
The 2023 Suzuki Boulevard C50T
4. Kawasaki Heavy Industries Ltd. (川崎重工業株式会社)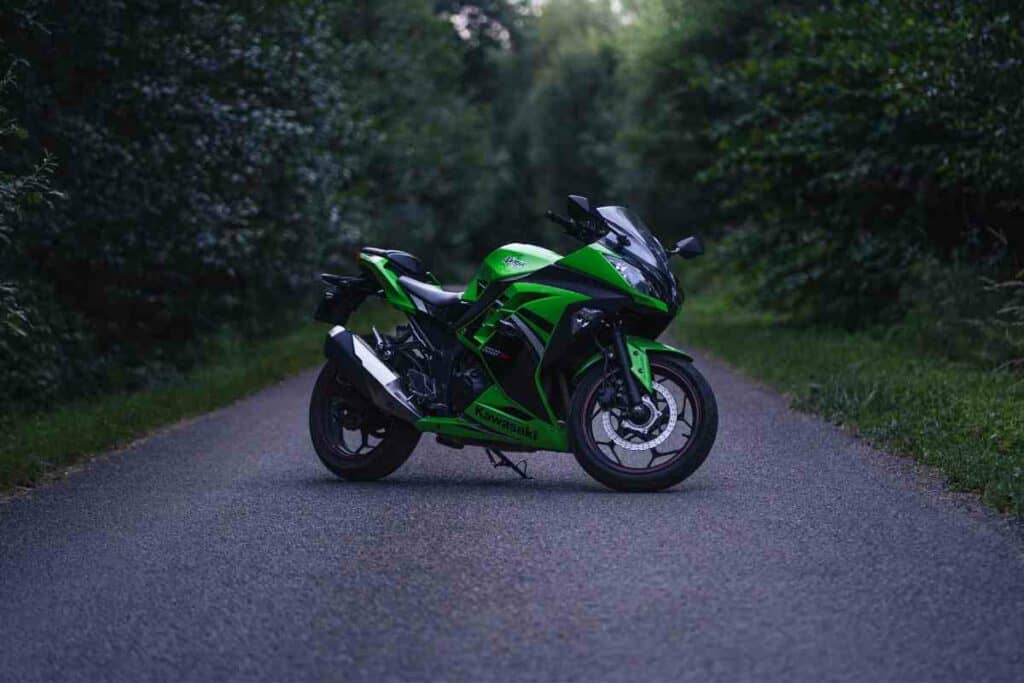 Kawasaki motorcycles are manufactured by the Motorcycle & Engine division of Kawasaki Heavy Industries Ltd, a Japanese conglomerate with subsidiaries spanning aerospace, shipping, defense, generators, boilers, gas turbines, industrial robotics, manufacturing equipment, and engines. 
The motorcycle and engine division is probably one of the most well-known parts of the Kawasaki brand, due to the success of their motorcycles.
It is also the most consumer-facing part of the company with its popular slogan "Let the good times roll!"
Kawasaki Brand Profile 
| | |
| --- | --- |
| Headquarters | Chūō, Kobe, Japan and Minato, Tokyo, Japan |
| Founded in | 1896 |
| Founder(s) | Shōzō Kawasaki |
| First motorcycle model | B8 single-cylinder, two-stroke |
| Latest motorcycle model | 2023 Z900RS SE |
| Types of motorcycles produced | Cruiser, Dual sport, Off-road, Scooter, Minibike, Moto GP, Motocross, Street, Enduro                                                                                                                            |
| Average price | $9,000 |
| Sponsorships | Kawasaki has numerous sponsorships, including MotoGP, WorldSBK racing, FIM MXGP Motocross World Championship |
| URL | www.kawasaki.com |
| Social media | /www.facebook.com/kawasaki |
The History of the Motorcycle & Engine Division of Kawasaki
Shōzō Kawasaki (1836 – 1912), the founder of Kawasaki was an industrialist who had a background in the shipping industry.
His involvement in two shipping disasters led him to develop innovations for the shipping industry which were sold under the Kawasaki brand.
The company was established in Tokyo in 1896 and subsequently moved to Hyogo where Kawasaki built a dockyard and began shipbuilding. 
In the early 20th century – Kawasaki Heavy Industries began to diversify its products, manufacturing components for the aviation, railroad, and automotive industries. WWI and the great depression has a significant impact on the company.
Later, in WWII, Kawasaki built combat aircraft for the Japanese army.
After the war, Kawasaki purchased Meguro, a failed motorcycle manufacturer. The company repurposed its aviation manufacturing for the production of motorcycles.
The first motorcycles were initially sold as Meguro Motorcycles, then later changed to Kawasaki Motor Sales, with the "Kawasaki Aircraft" emblem on the fuel tank.
By 1963 the Kawasaki Motorcycle Co., Ltd, was formed with several novel motorcycle models released in quick succession. 
In the 1960s and 70s, the Kawasaki Motorcycle Company started to export motorcycles to the U.S. It emerged as a strong competitor to Honda, Yamaha, and Suski and established an assembly facility in Lincoln, Nebraska 1974. 
Kawasaki's most successful motorcycles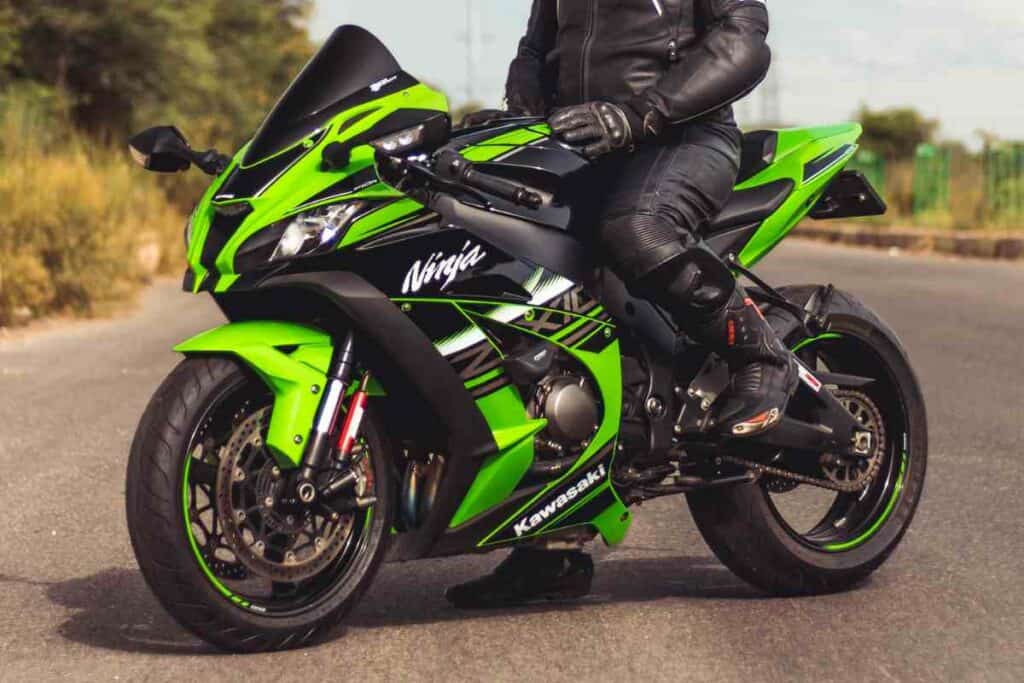 Kawasaki has earned its place as one of Japan's 'big four' motorcycle manufacturers with some legendary bike designs.
Here are some of the greats of Kawasaki:
The B8M (1963): This was one of the early 125 cc two-stroke street motorcycles produced by the newly formed Kawasaki Motorcycle Company. Nicknamed  'the Red Tank', the B8M was used in motocross events. 
The Kawasaki Ninja H2 (1971):  This three-cylinder 750cc motorcycle was an extremely successful model that could go toe-to-toe with the race bikes of its generation. Riders were impressed with its speed, going from a cold start to a quarter-mile distance in less than 12 seconds. However, the bike was so light and fast that it had a tendency to pull unexpected wheelies, leading Kawasaki to make extensive adjustments. 
The Kawasaki Ninja ZX – 10 Tomcat (1988): High-stakes speed was always a feature of Kawasaki and the Tomcat lived up to the 'bad boy' reputation of the brand. The Tomcat was one of the fastest motorcycles of its time, achieving speeds of up to 165 MPH. It was only produced for a limited run but remains a sought-after collector's item. 
The Kawasaki Ninja ZX – 6R: This popular race bike was designed to compete with Honda's CBR600. The 600 cc, 100 bhp engine was extremely powerful for its time, achieving a top speed of 152 MPH. Kawasaki continues to update and innovate this design with releases continuing to the present day.
The Kawasaki W650 (1998): The retro look of this 676cc, four-stroke motorcycle mad it a real crowd-pleaser. This was one of Kawasaki's less dramatic rides, with a respectable 110 MPH peak speed.
The Kawasaki Vulcan 1500 Drifter (1999):  This vintage cruiser had many modern upgrades including electronic fuel injection for its 8-valve, four-stroke, 1470cc engine. This low and slow ride was extremely comfortable, allowing riders to enjoy the highways of America in style. The Vulcan was highly customizable, with an impressive inventory of catalog and after-market parts available to enthusiasts.
Are Kawasaki motorcycles worth it?
Kawasaki is a brand that is associated with speed and adventure.
If you're looking for a sports bike or racer, Kawasaki will give you the drama and thrill you want. Its fast and furious Ninja range of bikes has become iconic, and the lurid bright green finish instantly lets you know a Kawasaki has zoomed by. 
Along with speed, Kawasaki motorcycles have great handling and the agility you need when traveling at 150 MPH!
As with other Japanese brands, build quality is excellent, and you'll never be without parts due to the company's encyclopedic collection and reliable distribution networks.
On the other side, Kawasaki has some legendary enduro, cruiser, and touring bikes that are robust and reliable, perfect for those once-in-a-lifetime experiences.
How much do Kawasaki motorcycles cost?
Kawasaki motorcycles start at around $6,000 with their famous Ninja bikes costing upwards of $12,000. The powerful Kawasaki Ninja H2 R is the company's most expensive bike at $56,000!
Latest Kawasaki motorcycle models
Upcoming Yamaha motorcycles in 2023 include:
The 2023 Kawasaki KLX230
The 2023 Kawasaki KLX230 S
The 2023 Kawasaki KLX230SM
The 2023 Kawasaki KLR650 S
The 2023 Kawasaki Ninja 650
The 2023 Kawasaki Z650
The 2023 Kawasaki KX450SR
The 2023 Vulcan 1700 Vaquero ABS
The 2023 Versys 1000 SE LT+
Best Japanese Motorcycle Brands: Frequently asked questions
What makes Japanese motorcycles different?
The leading Japanese motorcycle brands have amassed extensive expertise in building performance motorcycles. This has led to them being serious contenders in the global market. 
One of the strengths of Japanese manufacturing is its quality and reliability. Motorcycles from the big four companies have a great build quality and longevity with less need for servicing and maintenance than their European counterparts. Japanese companies are legendary for their abundance of spare parts, making it easy and cost-effective to keep a Japanese motorcycle at its best. 
Japanese bikes also tend to be much cheaper than European and American bikes, despite comparable performance. They are well-engineered and fuel-efficient, keeping costs down.
Does Nissan produce motorcycles?
No. This is a common question, but Japanese car manufacturer Nissan does not make motorcycles. Nissan has had commercial partnerships with Suzuki, but these relate to automobile technology rather than motorcycles.
Does Mitsubishi produce motorcycles?
Mitsubishi does not currently manufacture motorcycles but produced the popular Silver Pigeon range of scooters in the 1960s. The company also makes onboard electronics for some of the Suzuki motorcycles.
Are there any other Japanese motorcycle brands?
Yes. Over the years Japan has had many smaller motorcycle companies, which have niche followings across Japan and the world.
Here are some of the other Japanese motorcycle companies that contributed to a strong domestic market:
Abe Star manufactured motorcycles from 1951 to 1958 using a proprietary overhead valve engine.
Hodaka operated between 1978 and manufactured over 150,000 motorcycles including popular trail bikes.
Rikuo Motorcycles operated between the 1930s and late 1950s and even manufactured OEM parts for Harley Davidson. The Harley Davidson connection was kept quiet because of the WWII connotations.
Tohatsu Corporation produced motorcycles between 1950 and 1964. It continues to manufacture outboard engine pumps and other industrial engineering equipment. 
Marusho Motor Co. produced motorcycles between 1948 to 1967. The Marusho Lilac model motorcycle is noted as one of the Landmarks of Japanese Automotive Technology by the Society of Automotive Engineers of Japan. 
Rounding Up
Japanese motorcycles are some of the world's most recognized bikes.
Their innovation and future-forward designs have made them popular motorcycles that provide reliability and performance suitable for any environment and riders of all experience levels.