Shaped by thousands of years of volcanicity and steeped in natural history, Kamikochi is one of the most interesting places to hike in all Japan.
Boasting mountainous terrain, a vast river, and stunning scenery Kamikochi (or 'from where the gods descended') is a feast for the eyes and one of the only places where you'll get an actively smoking volcano as a backdrop to your photos.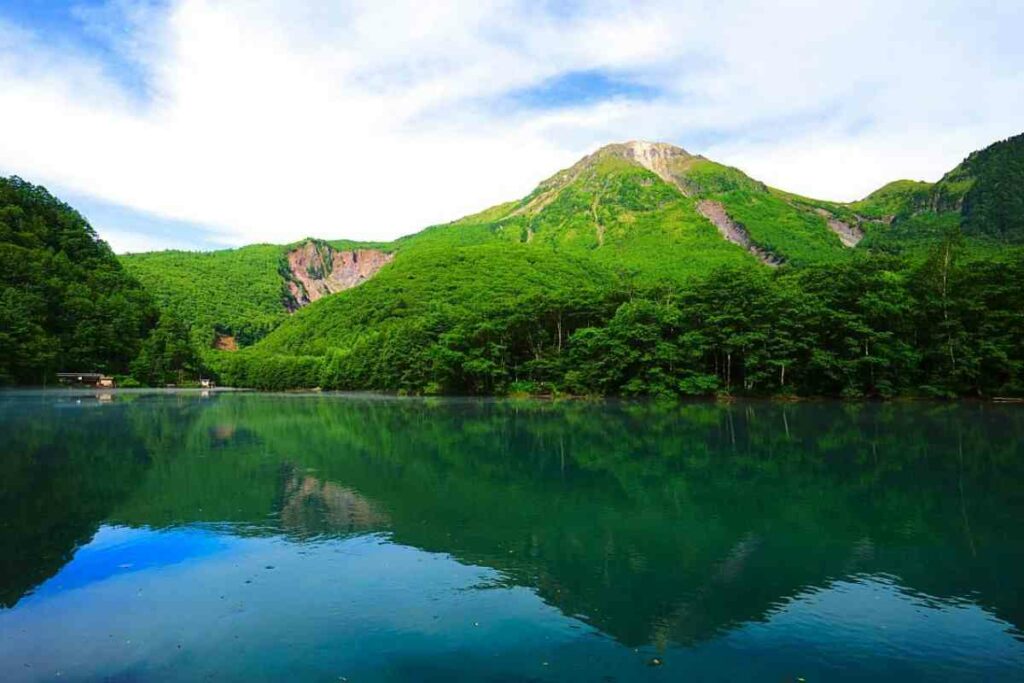 In this article, we will detail the highlights of the great many trails found in one of Japan's most unique hiking hotspots. 
Kamikochi's Natural History
Home to Mount Yakedake, the Northern Apls have been morphed by one of Japan's only active volcanoes.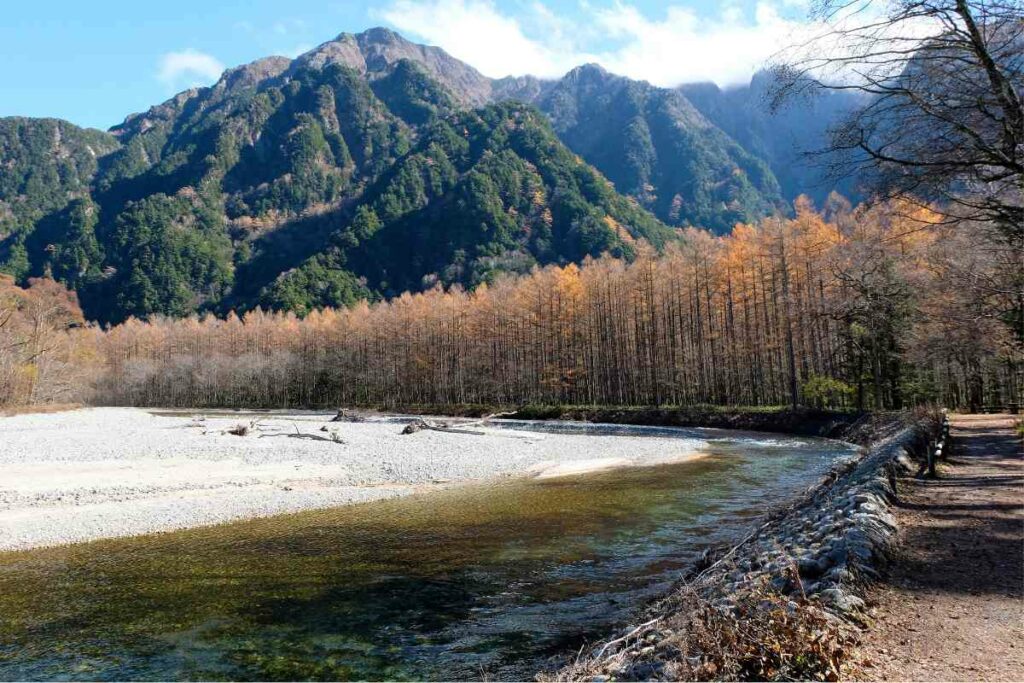 To this day, Yakedake emits a slither of smoke into the air following an eruption in 1915. This historic event altered Azusa River, forming what is now known as Taisho Pond.
There is even evidence of a 14,000-year-old eruption which was the catalyst for changes in the landscape; resulting in what both Kamikochi and neighbouring Matsumoto are seen as today.
Kamikochi and Religion
As in most of Japan, Kamikochi is built on religion.
Loosely translated as the place 'from where the gods descended', its name is inseparably linked with it.
It is also no surprise that mountains are believed to bring one closer to the gods.
Due to this belief, the area has been popular for pilgrimage ever since what is known as the Nara Period (c. 710-794).
A few hundred years later, a famous priest names Banryu climbed Mt. Yari and established a temple complex.
Following this, a trend emerged in climbing mountains in the area and it became very popular throughout the 20th century. 
Historical Fact: The first foreign visitor to scale Mt. Yari was an Englishman named William Gowland in 1828).
Kamikochi's Climate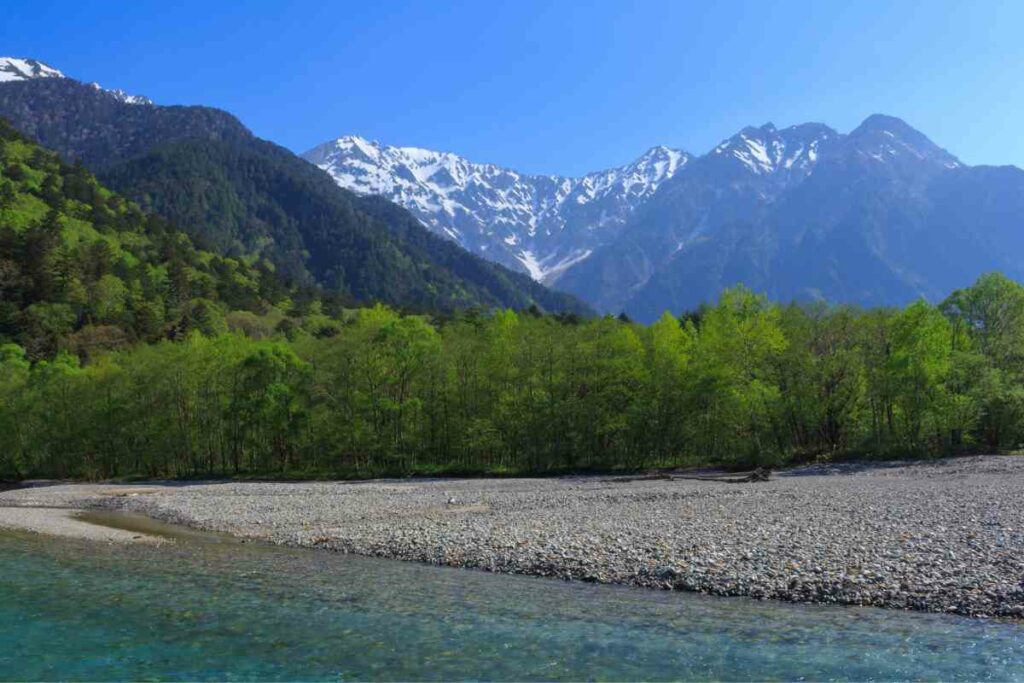 A lot of the time, the area is both fine and dry. Summers can be glorious, with temperatures reaching highs of upto 77 degrees Fahrenheit in August.
There is, however, the rain season to consider. From around June to the middle of the following month, rainfall can be significant in both frequency and amount. During late Spring and early Fall, both mornings and evenings can become quite cold.
Snow is also an issue in the area. During Winter, fallen snow reaches heights of between 5 and 6 feet.
Sticking around until May, some areas are literally buried in snow until then. Hiking in the Winter can be perilous and requires not only some skill and experience, but also some specialist winter gear.
Key Point: It is recommended that you take a range of clothing when visiting Kamikochi. The temperature can fluctuate throughout the day, often plummeting at night and persevering until sunrise.
Is Kamikochi on the Japanese Railway?
Well…no. So, if you are traveling into the area from any other popular spot, then a separate rail pass for the Kamikochi area is required.
The (usually amazing) JR pass will not be accepted. 2 and 4-day passes can be purchased upon arrival at the local bus terminals at a reasonable price. These will not be available from JR ones.
Interesting note: Even private cars are forbidden from the area to protect the environment.
How many hiking trails does Kamikochi have?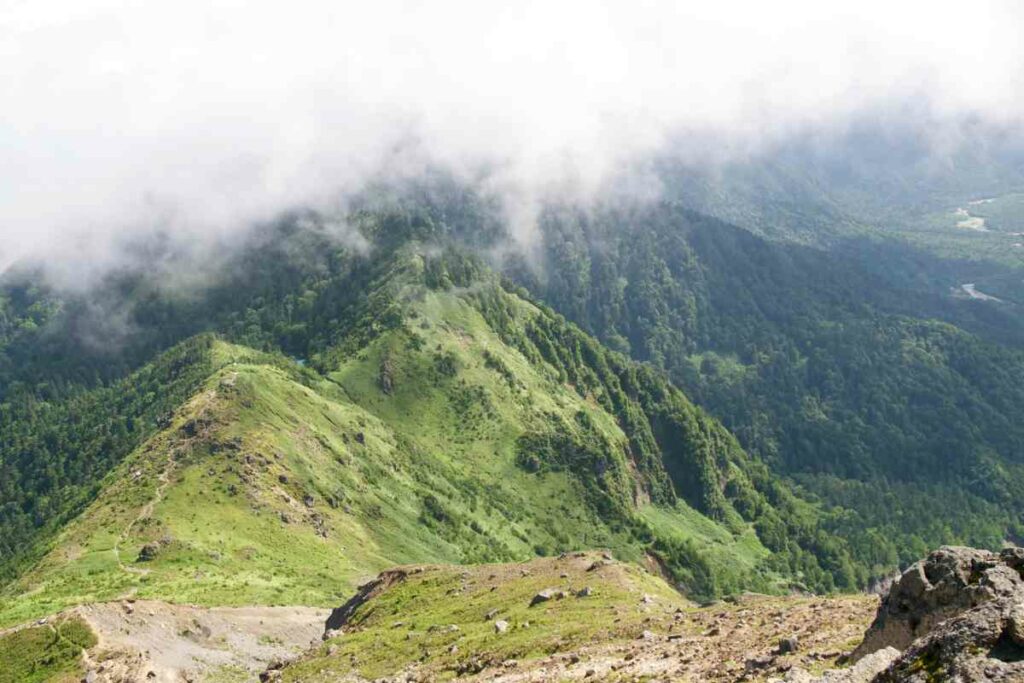 Technically there are 10 popular hiking trails to traverse in the area.
For beginners, there are some easier hikes which take a day or less. There are also a number of places to go which can take up to a few days.
Short Hikes:
Extended Hikes:
Kasumizawa
Karasawa
Ginza
Nishi Hotaka
Hotaka
Yarigatake
Daikiretto
Tokusawa Trail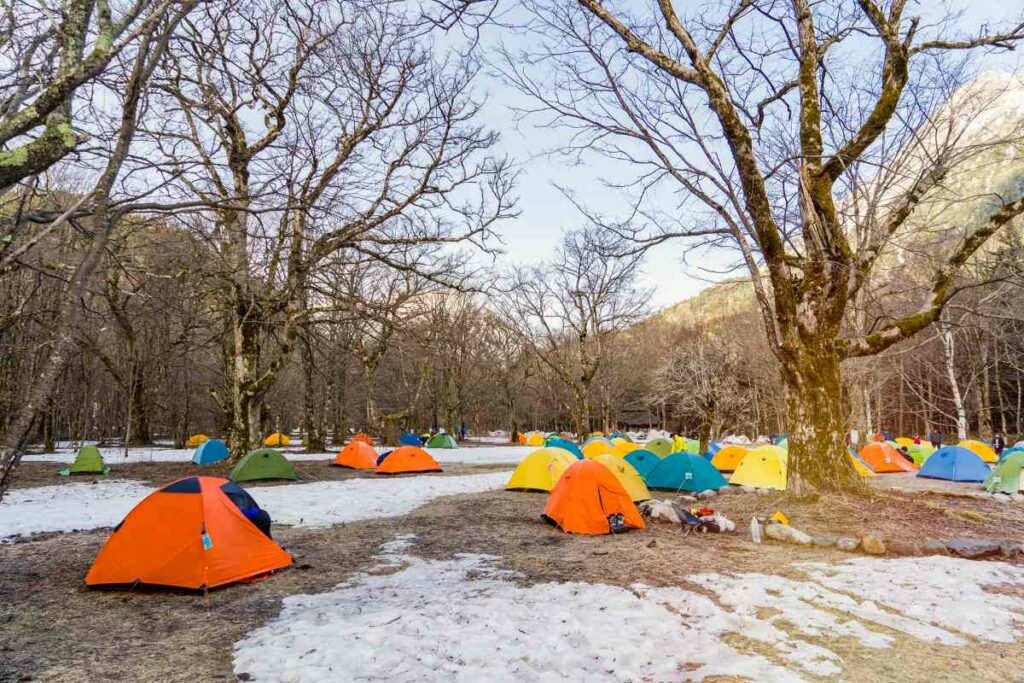 Approximate Distance: 4km
Height of elevation: 200m
One of the shorter hikes, the trail to Tokusawa takes just two hours and is perfect for beginners or those for whom long walks might be a struggle.
It takes you to Tokusawa lodge and Camping grounds, a great place to stop and even pitch a tent for the night should you wish to continue the following day.
Yokoo Trail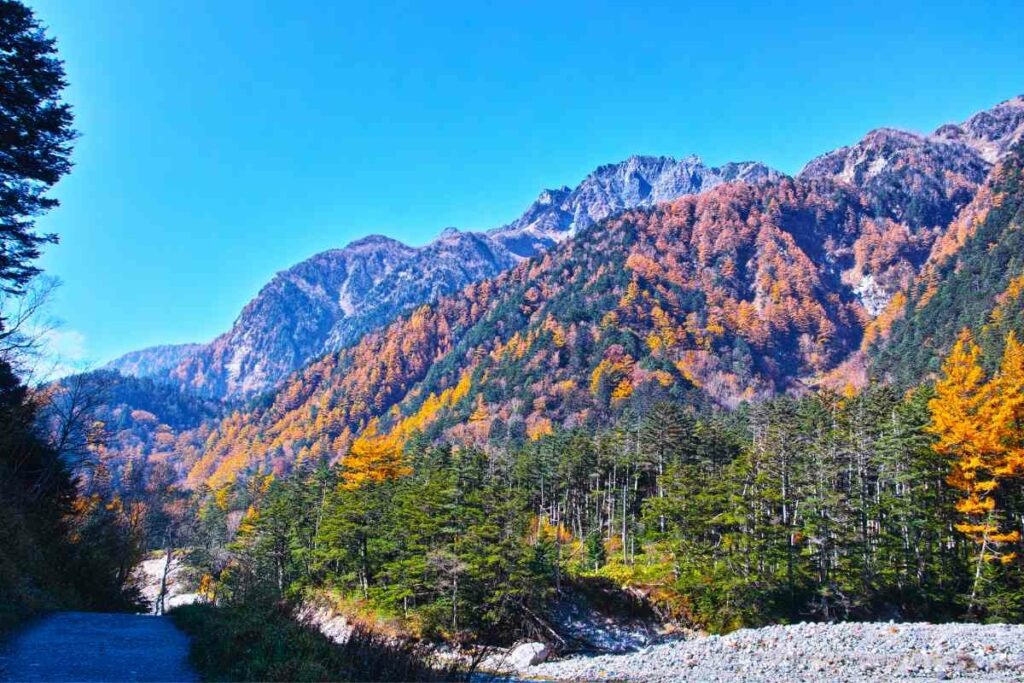 Approximate Distance: 4km
Height of Elevation: 260m
Following River Asuza further north, the Yokoo trail is a continuation of Tokusawa.
An additional three-hour hike, it provides incredible views of the enveloping valley that are unique to the journey.
Although it has limited amenities like water taps and toilets only, Yokoo also has a campsite to take advantage of.
Yakedake Trail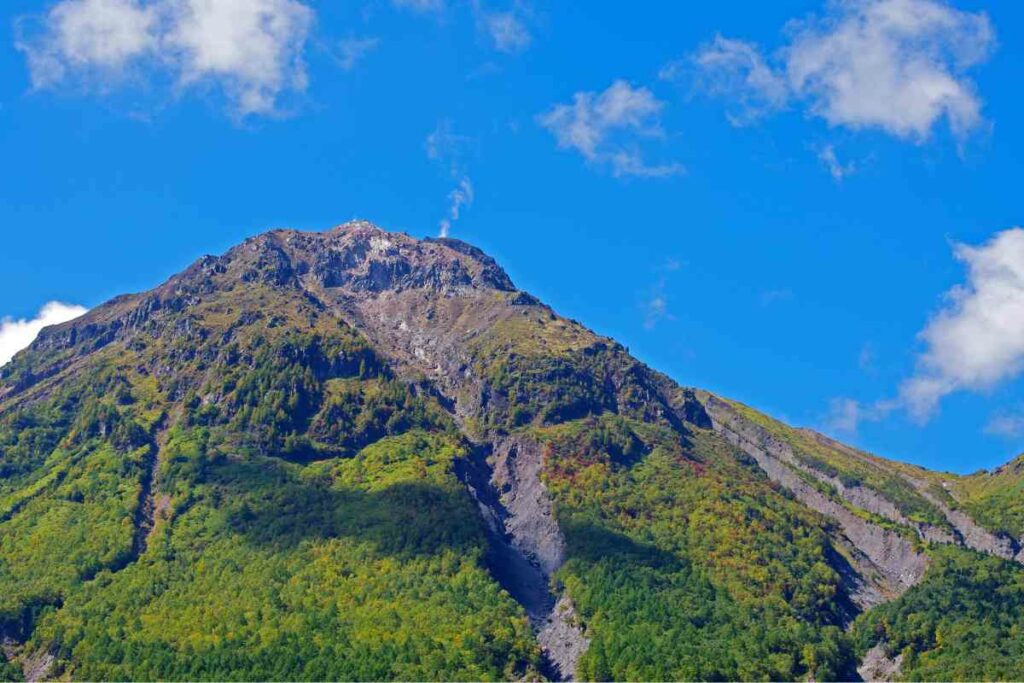 Approximate Distance: 12km
Height of elevation: 920m
Considered to be one of the best one-day hikes that there is, this trail takes you to Mount Yakedake: one of Japan's active volcanoes which still emits smoke into the clouds.
With a little more elevation and a lot more distance, this one can be a little more work but is well worth the effort.
Kasumizawa Trail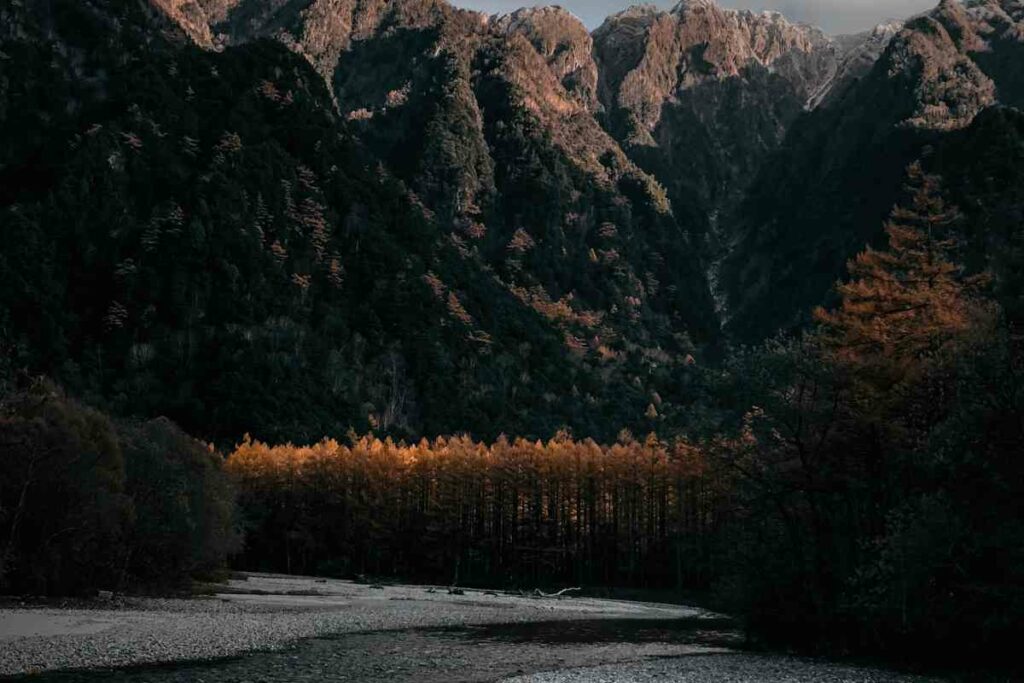 Approximate Distance: 23km
Height of elevation: 1600m
Both mildly arduous and intensely peaceful, this hike can take a couple of days and leads to Mt. Kasumizawa south of Kamikochi.
Although there are stunning views and interesting sites along the way, few people take this route, and it is the most tranquil if you wish to find some peace among the mountains.
Karasawa Trail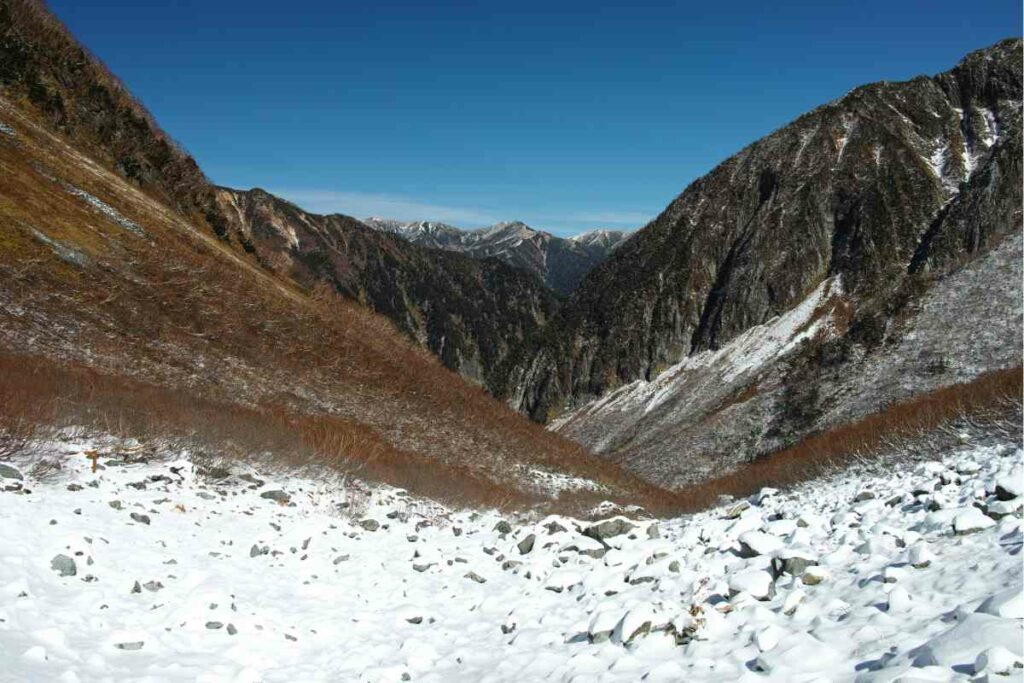 Approximate Distance: 31km
Height of Elevation: 1150
Likely one of the most popular trail in the area, Karasawa is especially busy in Autumn when the trail is ablaze with reds and oranges.
This 2-day hike attracts large crowds which appear at busy times and the area fills with a rainbow of tents. Close by, is Byobo Ridge.
Visiting Byobo will add an extra rather unique element to the journey in the form of some climbing aids which have been preinstalled in the area to help you along your way.
Ginza Trail
Approximate Distance: 35km
Height of Elevation: 2750
Also known as 'The Panorama Trail', Ginza is the more visually stunning of Kamikochi's hiking trails.
Taking around three days, there are plenty of places to camp as well as mountain huts as an alternative.
The lengthy trail takes you to Nakabusa where you can relax and finish your trek in a traditional Japanese onsen.
Nishi-Hotaka Trail
Approximate Distance: 8km
Height of Elevation: 750
Another beautiful mountain range, Nishi-Hotaka is accessed via Shinhotaka Ropeway which leads you to Nishiho's mountain hut.
This shorter trail can be quite easy to access, to a point, but takes some time (around 2 days) for an experienced hiker.
To complete the full trail, takes some rock climbing so be prepared to head back once you're out of your personal depth.
Hotaka Trail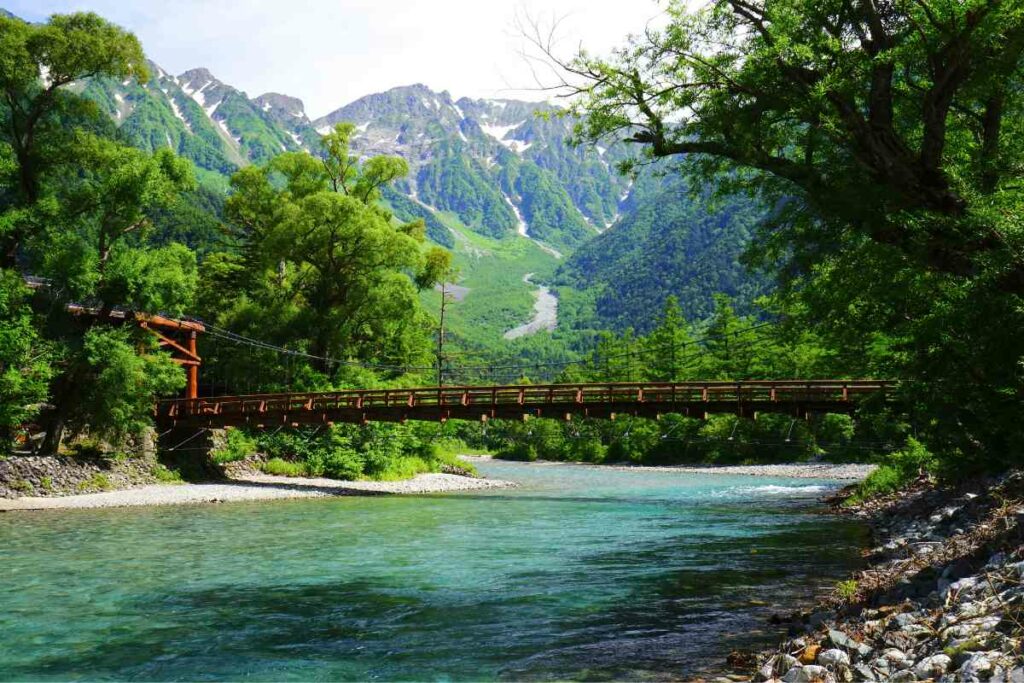 Approximate Distance: 26km
Height of Elevation: 1850
This mountain is one of Japan's tallest and there is a multitude of trails which lead to it.
Depending on which track you decide to take, this is another 2-day hike that can be completed in a circular direction, looping back to Kamikochi or Shinhotaka.
With enough time, this particular set of trails can be extended to 3 or 4 days, exploring neighbouring mountain peaks: Mae-Hotaka and Oku-Hotaka.
Yarigatake Trail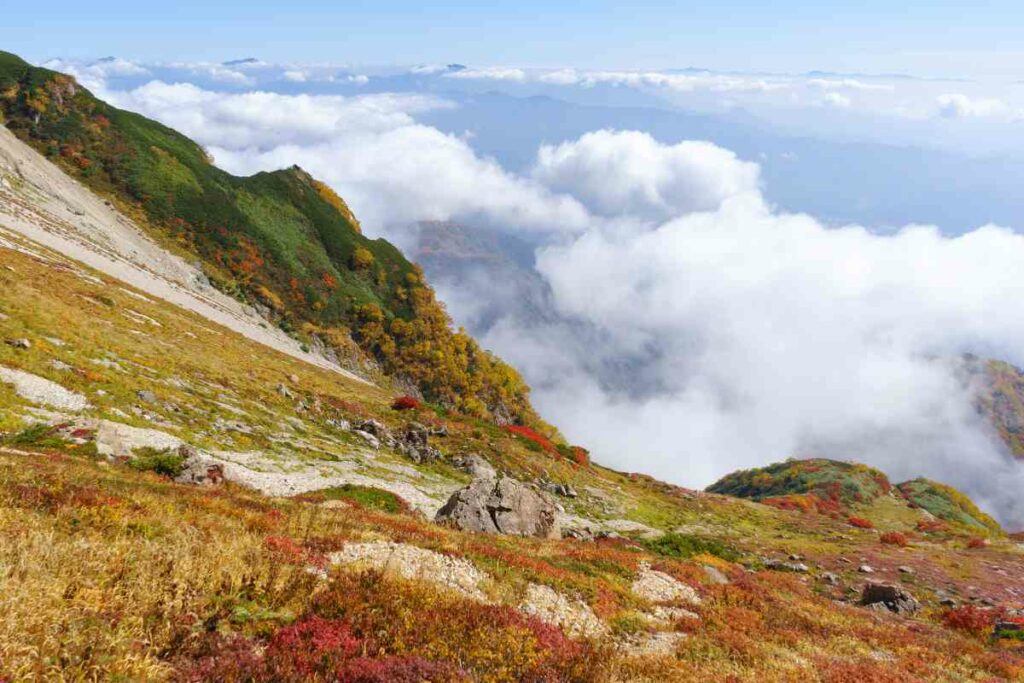 Approximate Distance: 42km
Height of Elevation: 1880m
This hike is a lengthy one which, again, takes up to and over two-days to complete.
Considered the most popular of all hikes in the area, this one can get very busy at peak times. Crowds are intense.
The trail includes a mountain lodge, which you can use if you extend the hike by another day and venture to Daikiretto Ridge. There are also bookable huts which you can reserve in advance.
Daikiretto Trail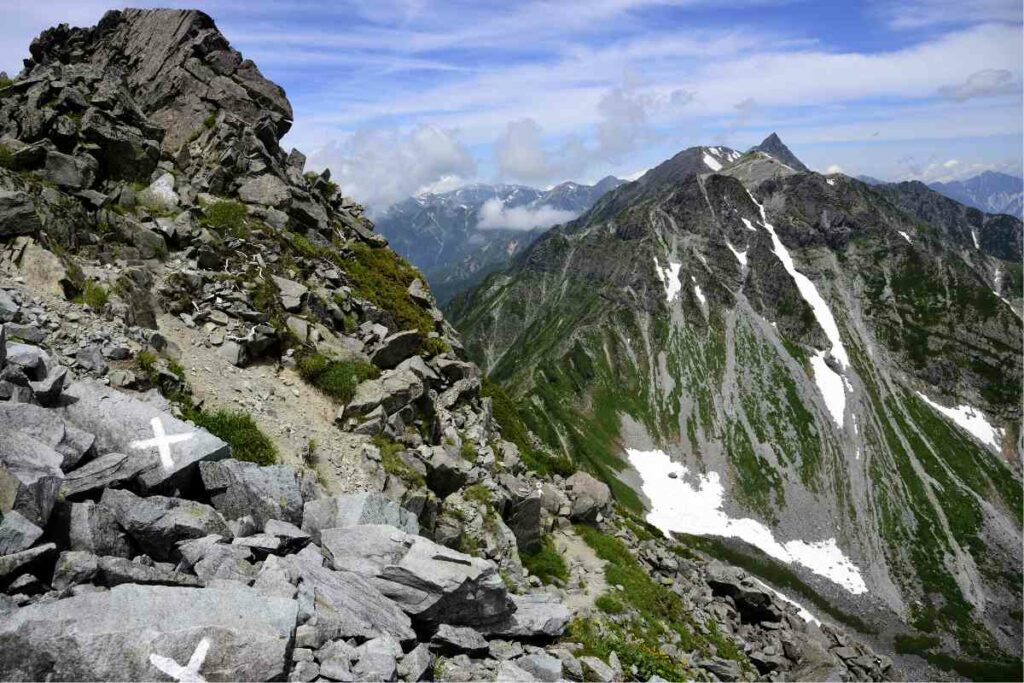 Approximate Distance: 35km
Height of Elevation: 2600
On the more daring side, this particular trail connects to other trails forming one of the most popular hikes in the whole of Japan: the circuit from Kamikochi to Mount Hotaka via Yarigatake.
A rather deep ridgeline, Daikiretto can be a rather technical hike which involves some minor rock climbing. Reportedly, no climbing gear is necessary for this but if you want a relaxing hike, then this is not it.
Taking up to four days, your hike is aided by preinstalled climbing chains and bolts. Panoramic views from close by Kita-Hotaka's mountain hut are said to be breathtaking.
Final Thoughts
Whether or not you are an experienced hiker, there is plenty of choice for people of all ages and abilities in this charming area.
Kamikochi will not only provide some of the most exquisite views of Japan, but it will also afford you the adventure of a lifetime.
Staying in mountain huts, lodges, or camping under the stars, Kamikochi truly is a hiker's paradise.