Summers in Japan can sometimes get overwhelmingly hot and humid, especially for visitors.
To make your stay much more comfortable, consider purchasing Jinbei clothing.
Of all the traditional Japanese wear, they are the most accommodating to the sweltering summer heat.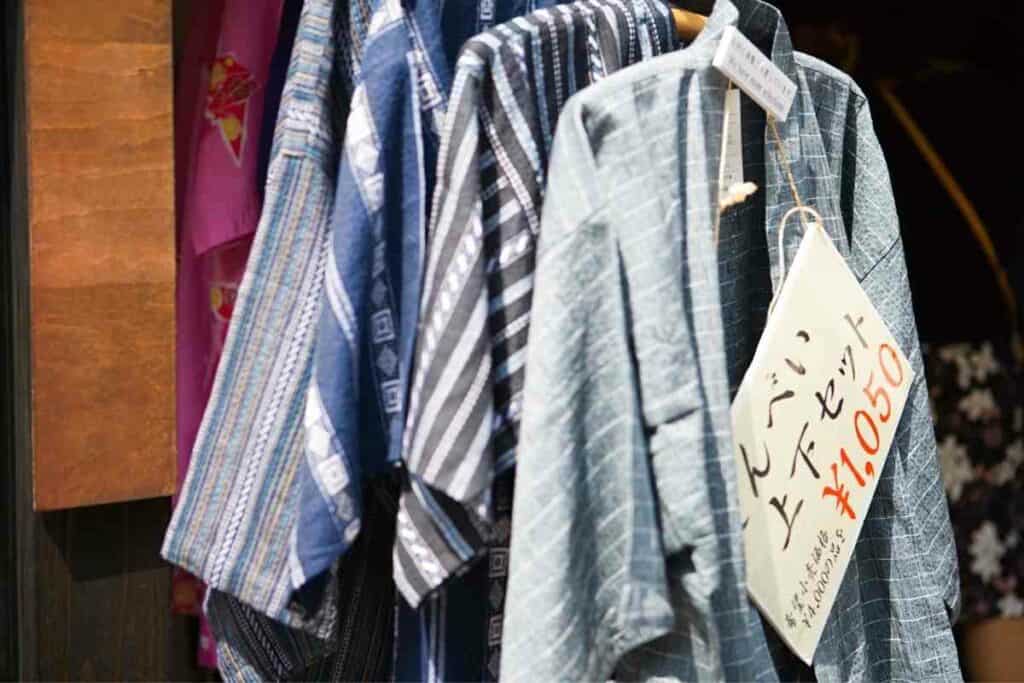 They are made to allow easy movement and wear, enabling you to put them on any time of the day simply.
You have probably seen people wearing these outfits and wondered, what exactly is Jinbei? Is it everyday wear, loungewear, or pajama?
Below is a complete Jinbei clothing guide for you.
What is Jinbei?
Jinbei, also referred to as Hippari, is a traditional light material but cozy Japanese outfit commonly worn during summer.
The light hemp or cotton material fabric is soft to the skin, and it has open arm seams to allow airflow in hot weather.
The beauty of Jinbei is that it can be worn as:
pajamas
loungewear
or casual clothing
As a result, most Japanese wear them outdoors during summer festivals, in tourist destinations, and at local attractions.
Nothing screams relaxation after a long summer day than a cool bath, your favorite airy Jinbei ready to chill with family and friends.
Additionally, you can sleep in them as they fit loosely around the body for proper air circulation.
How does jinbei clothing look?
Jinbei clothes are cool Japanese two-piece summer outfits with a shirt and pants.
The shirt flows slightly below the waist to mid-thigh length.
It crosses at the chest to close, the left side over the right, similar to a kimono but shorter.
A similar material sash is then used to tie and hold the shirt in place around the torso. 
However, unlike kimonos which use a separate and elaborate belt, the sash for Jinbei shirts is short and simple to tie. The shirt also has slits on both sides of the hips, known as Umanori.
Jinbei shirt collar is a flat or simple fold similar to kimonos or modern bathrobes. The sleeves are short, slightly longer than elbow length, but not reaching the wrists.
The most remarkable thing about Jinbei shirts is the mesh opening at the shoulder seam for extra aeration.
The pants are either slightly above the knee or below the knee in length, based on preference.
The waist also has an elastic waistband or a drawstring for easy adjustment.
Jinbei outfits are meant to be comfortable wear; hence the material is light and breathable.
They come in plaincolors that are either woven or an attractive embroidery pattern that is striking to the eye. Choose any color you prefer, as they are currently available in all sorts of blends.
Origin of jinbei clothing
Initially men's wear only, Jinbei was worn as only the shirt that fell below the knees, known as Joi until the mid-1960s.
After that, the shorts became a popular part of the outfit. Earlier, during the Sengoku period in the late 1400s to mid-1600s, the current Jinbei shirt was referred to as Jinbaori.  
Jinbaori was a combat outfit worn by samurai warriors over their armor to display their family crest and social status. Back then, the jacket had no sleeves for easy wear and removal before and after combat.
However, common belief suggests that the local community slightly changed the Jinbaori in the Edo period.
Similar to the Jinbaori structure, this new jacket was also sleeveless, but they named it Sodenashi-baori.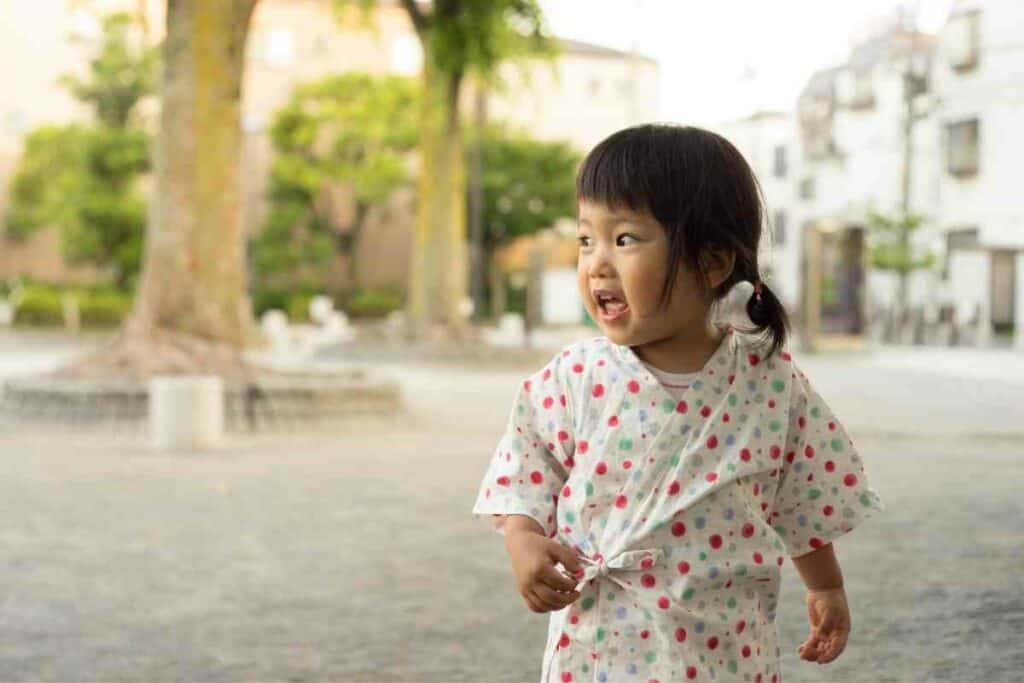 It later gained popularity among the residents of Osaka during the Taisho period. So they altered it and renamed it to the current style of Jinbei.
Nevertheless, the outfit was famous among ordinary working-class people as it was more accessible to wear to work the fields.
Now the attire is worn by men and children, and women as casual wear.
Unlike in the traditional days when the colors were conservative, modern Jinbei comes in bold and brightly flowered patterns to suit all age groups.
Where does jinbei fabric come from?
Workshops around Japan that use cotton or 100% hemp material make the fabric that sews Jinbei clothing.
In Kyoto and Osaka, especially, it is easy to find the largest and oldest textile industries still producing traditional woven fabric.  
The light cotton fabric is made either by hand or using a machine. In the Kyushu region, the craftsman's hand stitch the 100% cotton fabric made for Jinbei clothing.
The dyed and tightly woven yarn ensures the material is sturdy, breathable, and does not wrinkle in hot weather.
Who can wear jinbei?
Unlike in the past, when men primarily wore Jinbei clothing, everyone can wear it today.
Men, children, and women of all ages can adorn this easy outfit, especially in summer.
It is excellent casual wear for a day out to visit the summer festivals and local tourist attractions, especially the hot springs.
Alternatively – One can choose to wear Jinbei while relaxing at home or use them as pajamas.
Besides the Japanese, visitors and tourists to Japan now buy and wear Jinbei to embrace the region's hot summer.
If and when in Japan, buy a pair or two, as they are readily available for everyone.
When do people wear jinbei clothing?
Jinbei clothing is worn in summer due to the lightweight, easy-to-breath fabric.
However, just because you have it in your closet does not mean you can wear it in winter.
You may miss the easy, laid-back feeling you had in summer, but Jinbei is not warm clothing.
Unless your home is sweltering in winter, consider wearing other weather-appropriate traditional Japanese attire.
How does one wear jinbei?
Putting on a Jinbei is uncomplicated, unlike traditional Japanese outfits such as the kimono.
First, pull up the bottoms to fit around your waist. If they have an elastic waistband, they should fit snugly. Alternatively, pull the drawstrings to adjust the fit around your waist.
Then, put on the shirt by passing your arms through each shirt arm. Pull the right side of the shirt inwards first, then cross the left side over it.
Ensure the left flap is always on top. The shirt will have ties on both ends that you use to tie it firmly in place. You do not require much help to get it right.
Is jinbei clothing worn outdoors or indoors?
Where you choose to wear your Jinbei outfit depends on your preference.
You can wear it around the home, at social gatherings, or to attend outdoor summer events.
Walking around the city in summer, whether during the day or at night, will not raise any eyebrows either.
However, showing up to a work or office meeting in Jinbei may be too casual to be acceptable.
Are jinbei casual wear or pajamas?
Yes. Jinbei clothes can be both casual wear and pajamas. How comfortable you feel in them is what matters.
The light, airy material makes them perfect for relaxing and sleeping.
As long as you like your choice of clothing, feel free to wear Jinbei anytime during summer while in Japan.
Can one wear a jinbei at a hotel?
Traditional Japanese hotels, known as Ryokans, offer residents long robes known as Yakuta to wear indoors.
The robes are also of breathable cotton, similar to Jinbei but tied like kimonos.
Modern-style Ryokans or Japanese hotels offer an option between a Jinbei and a Yakuta.
You can choose whichever you feel comfortable wearing, although Jinbei is a better option if you go outside.
Is Jinbei available in different materials, patterns, and colors?
Yes. Modern Jinbei outfits come in varying patterns and colors.
The dyed material is cotton or hemp, and the embroidery is done in contrasting hues to fit the customer's needs.
Although standard colors and patterns are mild, with an older traditional feeling, newer clothing is striking.
In Addition – Jinbei comes in cheerful colors and designs for a bold and contemporary look and feel for children and women.
Difference between women's Jinbei and men's Jinbei clothing
Jinbei clothing can be worn by any gender, as it has a flowy, loose-fitting design.
However, modern Jinbei clothing for women is easy to distinguish from that of men.
Women's Jinbei has smooth patterns that are either brightly colored or with flowers.
Unlike men's Jinbei, which has basic patterns, colors, and designs, primarily earthy tones.
Factors to consider when buying Jinbei clothing
Before purchasing your first Jinbei outfit, be on the lookout for one of high quality in terms of material used.
Jinbei, which is of superior material, will last long as the fabric does not crease easily, even after prolonged wear.
Additionally, Jinbei from natural 100% cotton or hemp material may be costly, but a cheap synthetic fiber alternative may disappoint you.
It may look equally good, but the fabric quality degrades quickly after a few wears.
Why don't you splurge and purchase from locals who hand-make the fabric and use natural dyes to support their authentic culture?
Where can I buy Jinbei clothing?
Besides popular physical traditional outfit stores in Japan, one can buy Jinbei from online clothing stores.
Moreover, you will get international and local shipping to anywhere across the world or country.
Most stores also have accessories such as shoes, jewelry, and any other Japanese souvenirs you may like.
Is Jinbei clothing available in free size?
Although Jinbei clothes are available in various sizes, they are loose-fitting clothes that can fit anyone.
You can select between small, medium, large, and extra-large. The sizes may not be exact to measure, but you will find the perfect fit.
Care instructions for Jinbei clothing
Since Jinbei clothes are cotton or hemp, the instructions are similar to clothing of the same material:
Wash dark colors separately in cool water, and consider hand washing them if you can. Clothes that are 100% natural cotton can shrink or lose color if you wash them using hot water.
Do not dry them in the drier. Tumble drying may misshape or shrink the clothes.
Consider hanging your Jinbei instead of folding it to keep it crease-free for extended wear.
What can I wear with Jinbei?
To accessorize your Jinbei outfit, you can wear traditional or modern sandals.
For men, Setta sandals are traditional shoe wear made from bamboo with a leather sole for insulation and soft straps. These are available in stores in Japan and pair nicely with your Jinbei for a summer festival party.
For women, traditional geta wood sandals go well with Jinbei, whether at home or outside. Modern geta sandals have a smoother sole, unlike traditional ones, which have two or three elevation blocks making a clunky walk.
Additionally, you can add a bit of jewelry to soften the overall look.
Jinbei clothing vs. Samue clothing
Some people, especially those new to traditional Japanese attire, may find it tricky to differentiate between Jinbei and Samue.
Although the two are almost similar in structure, they have several differences that are simple to distinguish.
They include:
Pants. Jinbei bottoms are usually shorts that reach slightly below the knee, while Samue has ankle-length trousers.
Sleeves. The sleeves in Jinbei clothing are short with knitted yarn or laces separating them from the rest of the top for better ventilation. For Samue, the sleeves tend to be long, reaching the wrists, and can be rolled up to shorten them.
The wearing season. Jinbei is commonly worn during summer, whereas Samue is an all-season outfit. As an all-season outfit, Samue clothing comes in varying designs and materials as one wears them for more extended periods. However, having different sets of Jinbei allows you to experience the cool ways you can dress up in summer while in Japan.
Material. Although both Jinbei and Samue are cottons, Jinbei manufacturers use either 100% hemp or a blend with cotton. This material maximizes the body's cooling in the summer heat. On the other hand, Samue clothing is cotton or hemp in summer but fleece or batting during the cold winter. As a result, Samue clothing has more material options than Jinbei, depending on the season or preference.
The uses. Both Jinbei and Samue are loungewear. However, Jinbei is primarily worn during the summer to relax at home or attend festivals. Samue, on the other hand, can be worn as loungewear or everyday clothing. Monks prefer wearing them, and lately, Japanese hotels provide Samue as pajamas instead of the traditional kimono-style Yukatas.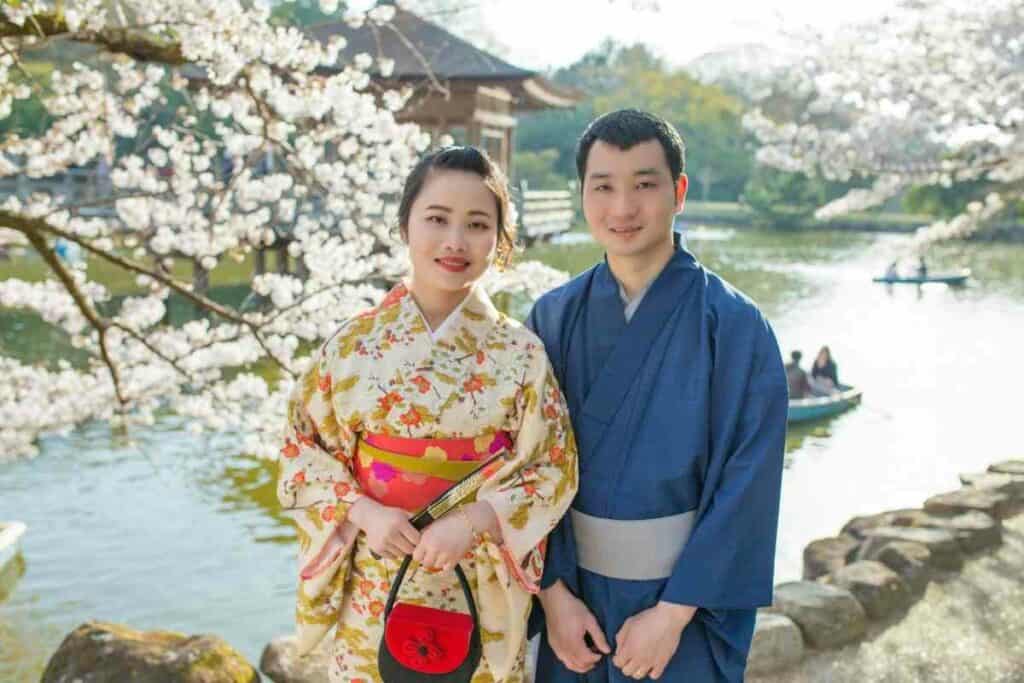 Conclusion
Jinbei clothing is indeed popular among men, women, and children in Japan today.
People who prefer versatile yet traditional everyday wear during summer greatly enjoy the Japanese cultural significance.
If you are ever in Japan during the hot and humid summers, you will appreciate the cool breeze and comfort Jinbei clothing allows.