Appreciating different cultures is something many of us enjoy when traveling. Wearing a sombrero when in Mexico?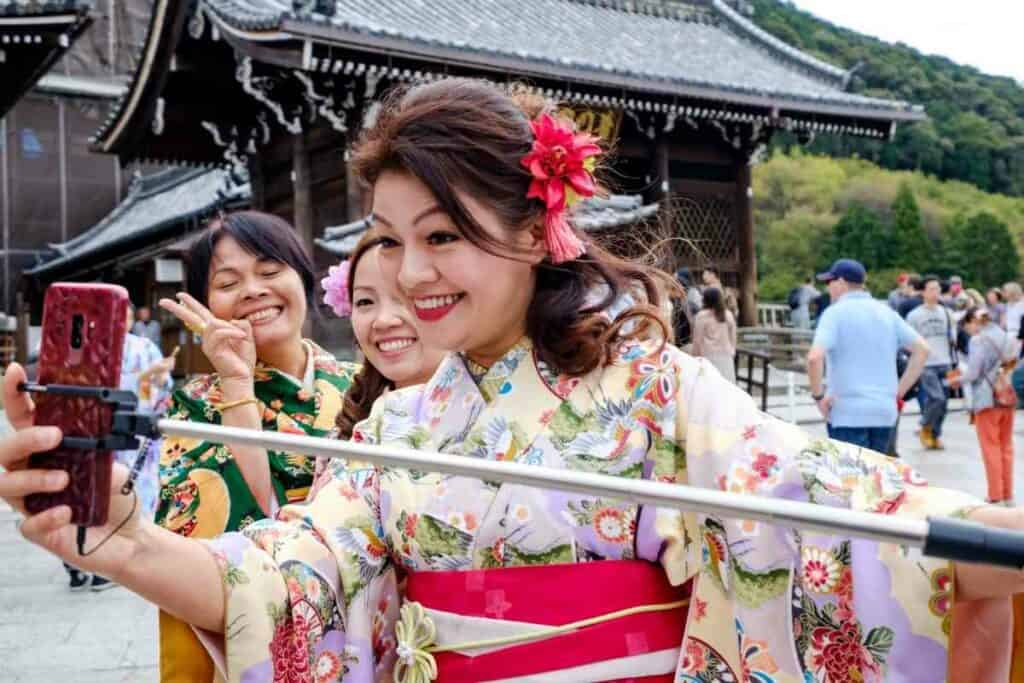 You got it. Purchasing a pair of wooden clogs in Holland? No problem. But is it offensive?
Generally Speaking – Dressing in Yukata as a foreigner in Japan is not prohibited. In fact, you will find many tourists wandering the streets dressed in these eclectic, colorful robes.
So, what do the locals think?
Let's find out. 
Can Foreigners Wear Yukata?
Not only is it perfectly acceptable to wear this thin type of kimono in public, but the Japanese government also welcomes it.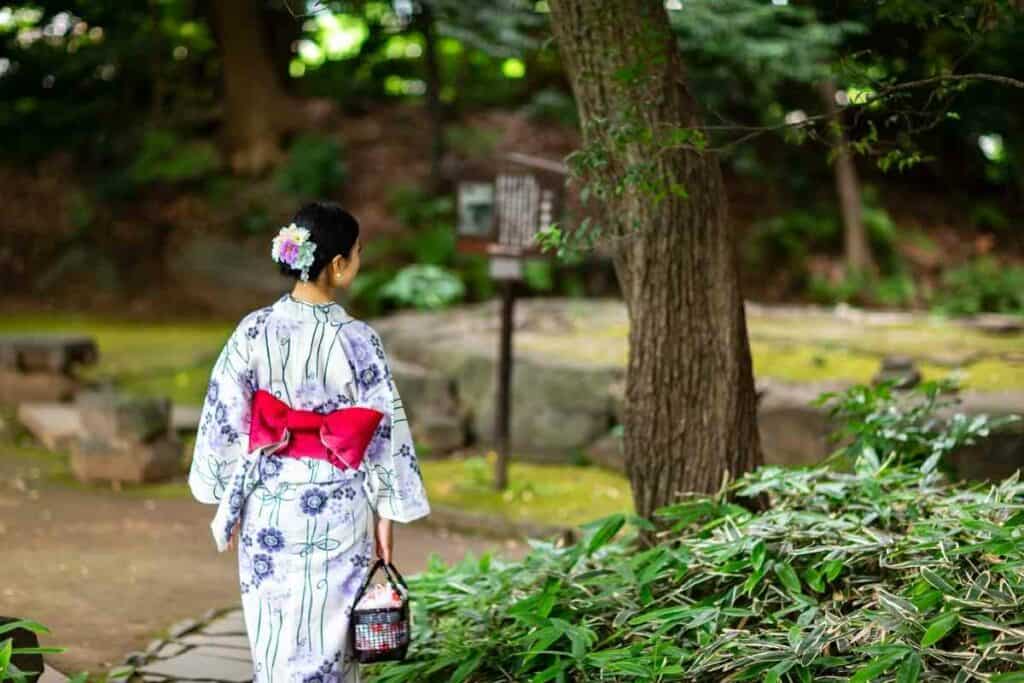 And why wouldn't they? 
Wearing a traditional robe like this is a clear sign that foreigners or tourists are simply respecting this beautiful culture and nothing more.
So how will you wear yours?
Our partners at Japan Objects Shop provide an incredible variety of Yukatas and other traditional Japanese treasures. Take a look at their enticing collection of Yukatas, available for both women and men!
How To Respectfully Wear One
Yukatas are incredibly comfortable and are designed to be worn in casual environments.
You will often see young people wearing them at celebrations such as:
Accommodations with onsen such as a ryokan will often offer Yukatas to guests to be used before and after using these natural hot springs.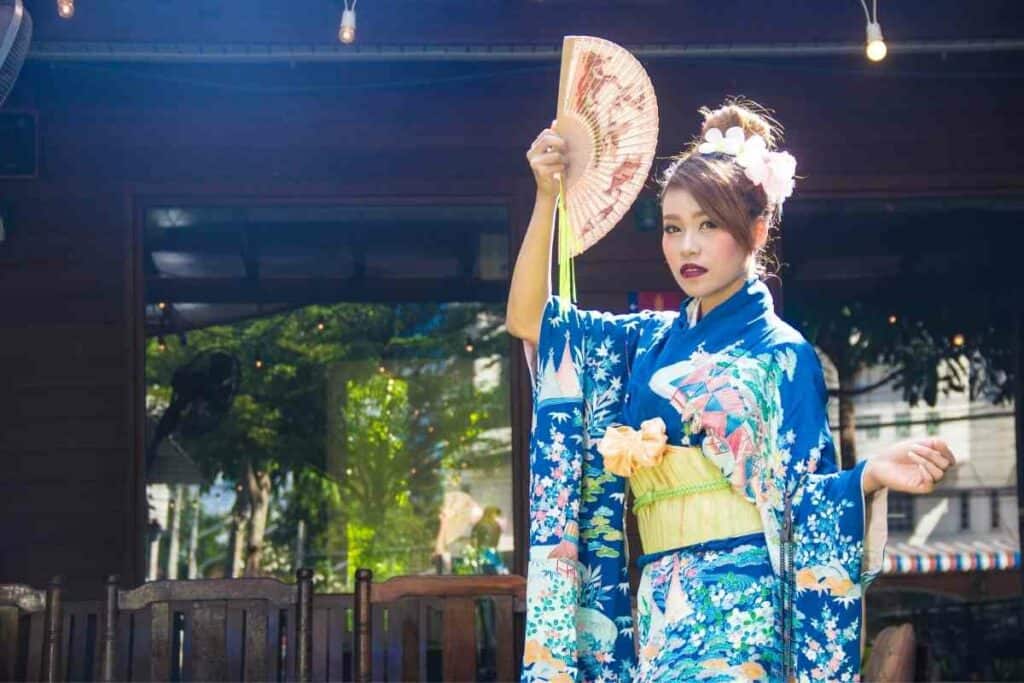 Follow our step-by-step guide to learn how to wear a Yukata successfully.
Step #1
Place each arm inside the sleeves and wrap the right side over the body's right and the left side over the left.
The left side of the robe MUST be wrapped OVER the right side. If placed the other way around, it will be seen as a sign of disrespect! 
Step #2
Hold the robe together with one hand and pick up your obi with the other.
Place the middle of the obi along your front and wrap it around your back. Then bring it back to the front of the body.
Repeat this twice before tying at the front. 
Women should always tie the obi around the waist, and men should tie it around the hips. 
Step #3
Unfortunately, these stunning traditional robes are usually a 'one length fits all' – which we know is far from the truth!
If you are small in stature, your Yukata may be far too long.
---
In This Case: You will need to roll the fabric up at the waist (or the hips) and disguise the gathering beneath your obi. 
---
Different Styles
The robes offered to visitors at a ryokan or hotel are usually simple with a thin obi.
However, Yukatas made to be worn casually can be bought in various colors and patterns.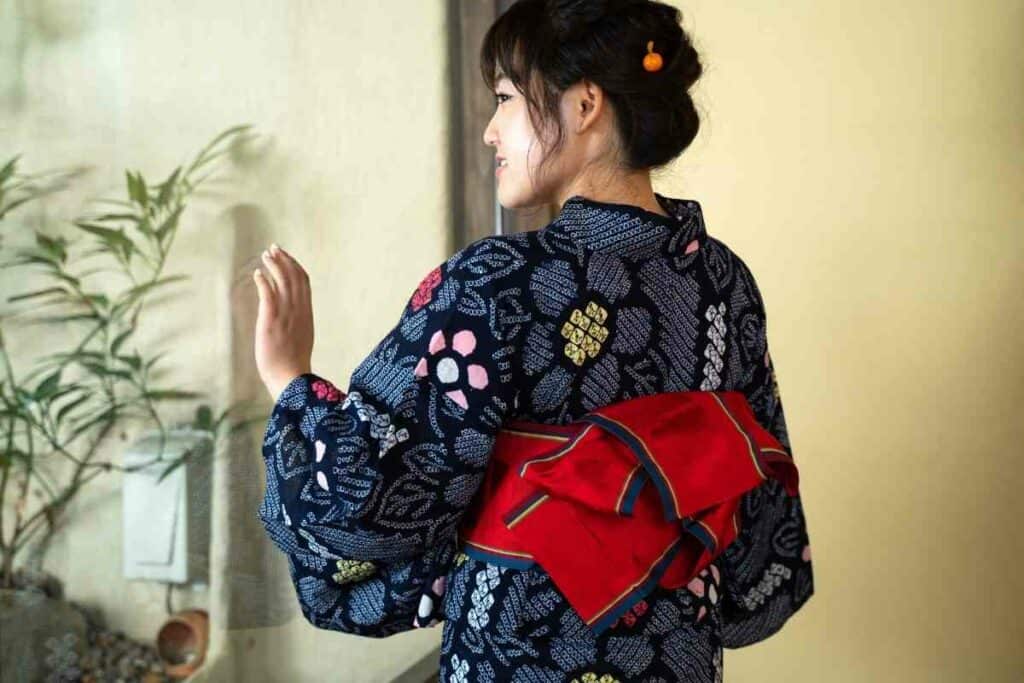 These come with two obis'; one to hold each side together and another more colorful obi for display. 
This 'display' obi should be tied around the back in a tight bow. However, this can be difficult to achieve alone, so it is best to have someone tie it for you. 
Historically – These traditional gowns were made using indigo-dyed cotton. These days, designers have much more freedom to use patterns and colors.
You will often see younger people and children wearing brightly colored robes.
The older generation likes to keep it subtle, opting for darker colors and sleek patterns. 
Yukata And Kimono: How Do They Differ?
The most obvious difference is the choice of fabric used for each.
Yukatas are commonly made from cotton or linen, whereas kimonos are designed with silk. 
Yukatas are relatively cheap compared to kimonos which can cost thousands of dollars. This is down to the cost of the silk and the labor involved.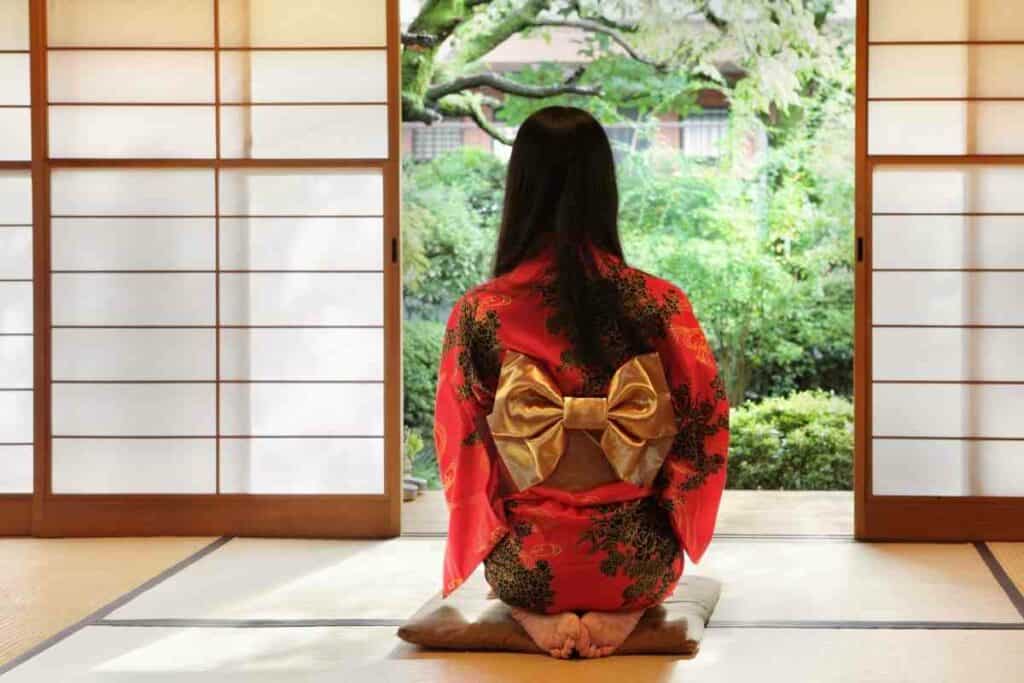 Kimonos are typically worn to formal events, whereas a Yukata is made to be worn casually. 
---
Lastly: Yukatas are designed to be worn in hot temperatures, which is why they are so light in weight. Kimonos, on the other hand, are layered and heavy. Again, this is because they are designed to be worn in colder temperatures. 
---
What Do the Japanese Think?
The locals feel nothing but pride when they see foreigners dressing in traditional garments like these.
Nothing makes them happier than seeing tourists interested in their fascinating culture.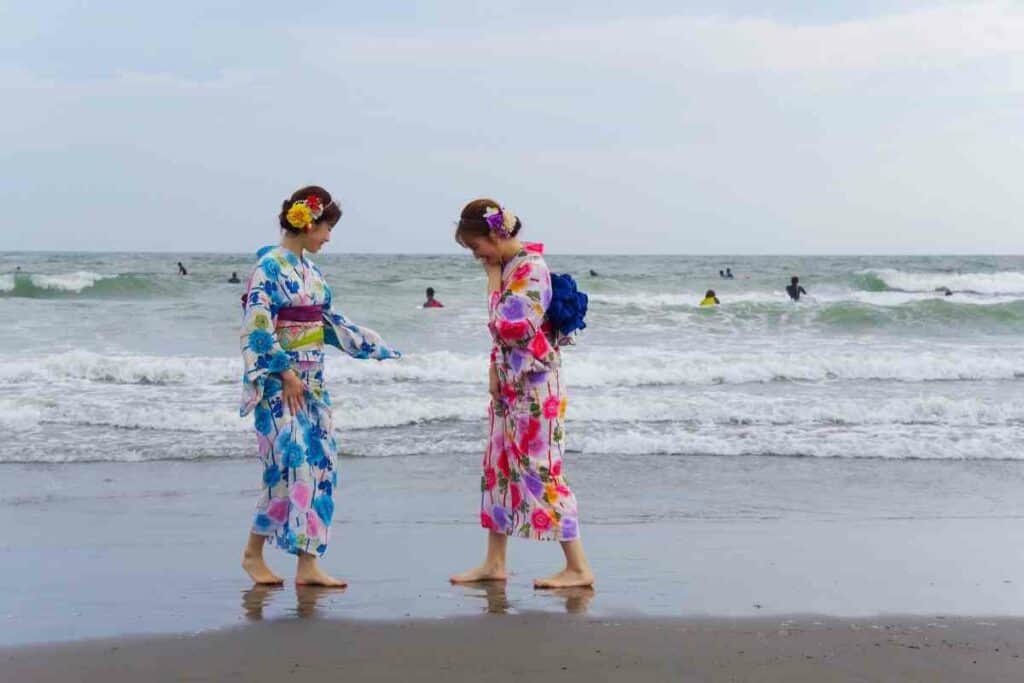 The biggest faux pas you can make is wearing the robe sloppily.
This will not go down well with the locals, who are generally impeccably well-groomed and hygienic.
If you struggle to piece this garment together – and it can be tricky – find someone to help you put it on properly. 
Yukata: A Short History
The name of this thin, cotton robe is an amalgamation of the words 'yu' (bath) and 'katabira' (under clothing).
Court nobles initially wore them in the Heian era (794-1185) to cover their bodies after bathing. 
These cooling garments became widely popular as the bathing culture became a regular activity for Japanese people.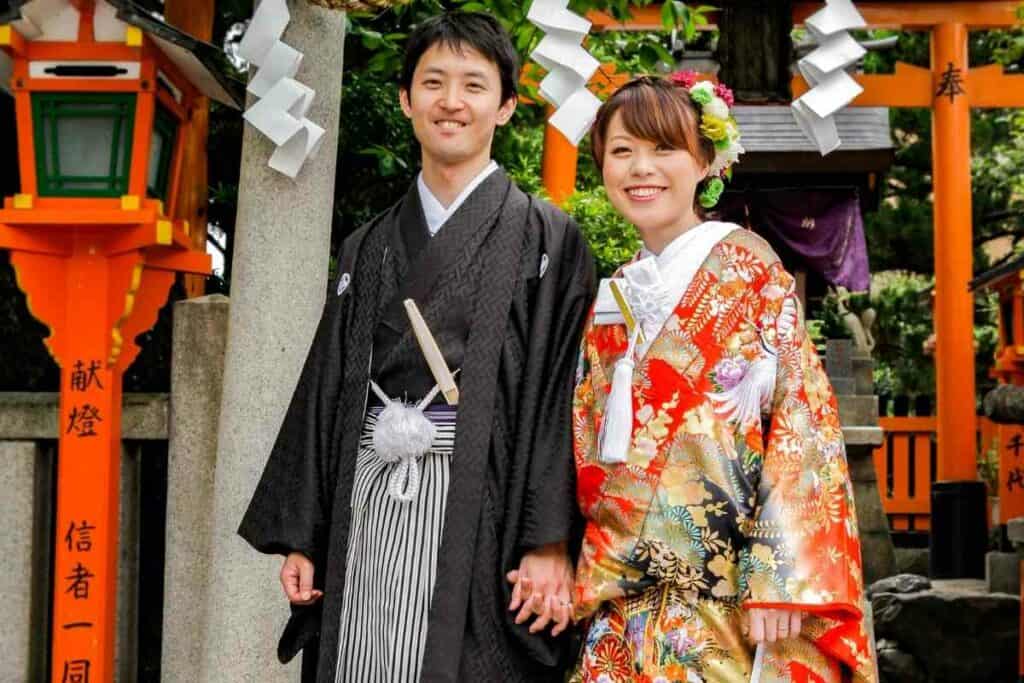 Historically, they were designed using linen, but they are often made from cotton and are unlined these days. 
They are primarily worn in warm weather seasons due to their light and airy design and come in various fascinating patterns and colors. 
Appropriation Vs Appreciation
The West has very different views regarding wearing traditional garments related to different cultures and countries.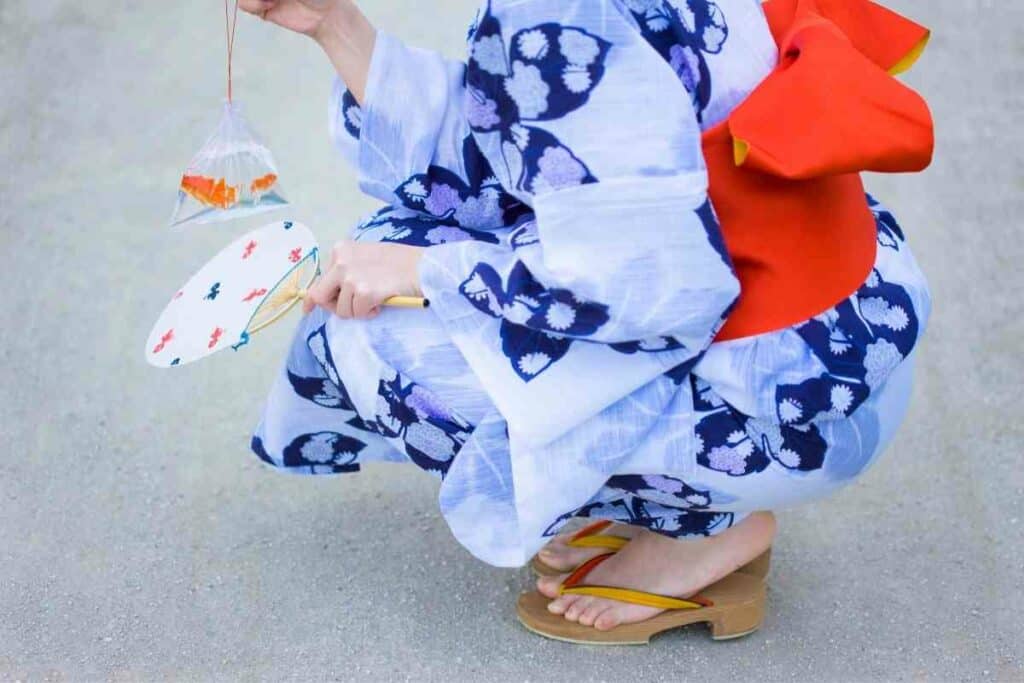 The term for this is known as cultural appropriation and is defined as the following:
"The unacknowledged or inappropriate adoption of the customs, practices, ideas, etc. of one people or society by members of another and typically more dominant people or society."

Daseler, Graham. 2019. "Steal This Article's Culture: What the Social Justice Warriors Get Wrong." American Conservative
So, would this be the case for a tourist wearing a Yukata?
Again, if we look at what we have discussed above, it is clear that as long as you are respectfully wearing one in the correct setting, you should have no problems.
The Verdict
Wearing a Yukata in Japan as a foreigner is perfectly acceptable.
The Japanese love nothing more than seeing visitors learn about and enjoy their culture. 
As for cultural appropriation, it is plain to see that if the locals are on board with wearing these lightweight robes, what is the problem?
Just be sure to wear yours correctly! 
Also Helpful