According to the Japanese, Can coffee in Japan is the best. Besides the rich flavor, people love that it is convenient to buy and drink Japan's canned coffee on the go.
If you visit Japan, you will be delighted to find that their Can coffee is available in every possible variety, in vending machines and stores all over the country.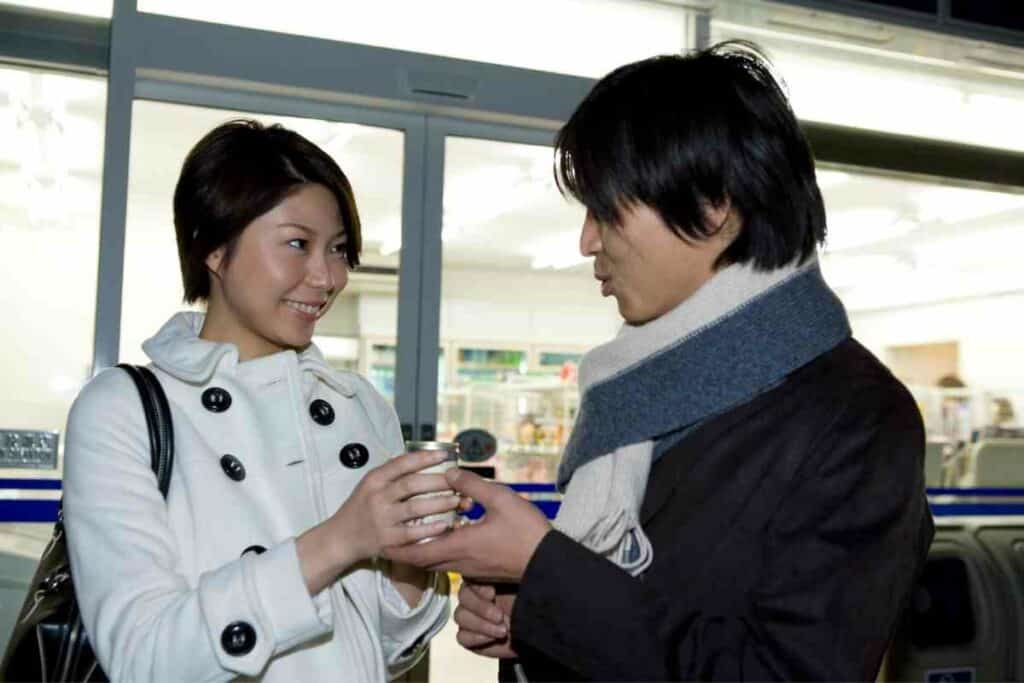 First-time visitors to Japan who are used to brewing coffee will always get curious enough to try Can coffee which is flavorful and addictive.
Can coffee Japan vending machines are available in:
airports
train and bus stations
offices
and remote towns
It's no wonder a Japanese national newspaper article estimates that there are over 4 million Can coffee vending machines in Japan.
What is the most popular canned coffee in Japan?
Boss coffee is a favorite among coffee drinkers in Japan because it comes in several flavors. Georgia Coffee comes in second.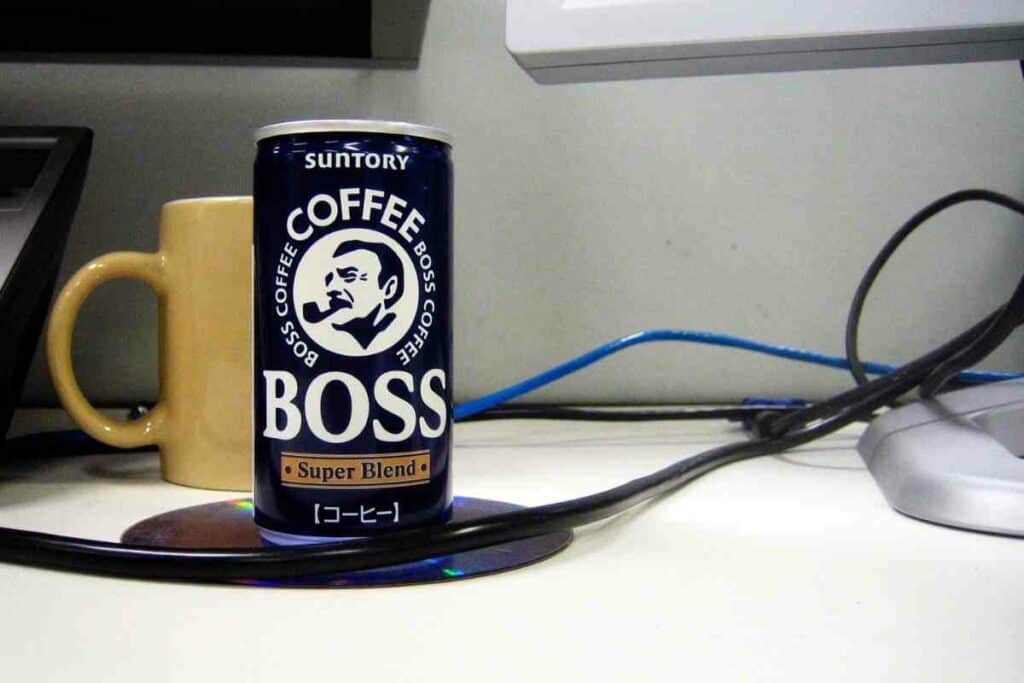 Traditionally, tea was more prevalent in Japan, but recent times have seen a growth in the demand for good coffee, mainly by daily commuters to work.
Coffee is Japanese is Ko-hi or Kohhee, and the modern and traditional coffee shops are known for brewing dark roasted coffee sourced from:
Colombia
Ethiopia
and Brazil
Regular coffee shops in Japan roast their coffee beans, making the experience different for their customers.
Despite the availability of local and international coffee shop brands in Japan, people got hooked on canned coffee which is readily available.
The fact that you can get coffee in a Can at every corner and in different flavors makes it widely popular.
Japanese take coffee at any time of the day, and being able to purchase the drink while on the move makes Can coffee sell more than regular coffee in coffee shops and restaurants. 
Origin of Can Coffee In Japan
Japan's unique drink was first created in the '60s by Tadeo Ueshima, founder of the UCC Ueshima coffee company.
From that moment on, Japan's Can coffee market has grown into a billion-dollar industry with the Japanese as the lead producers and sellers and other global brands.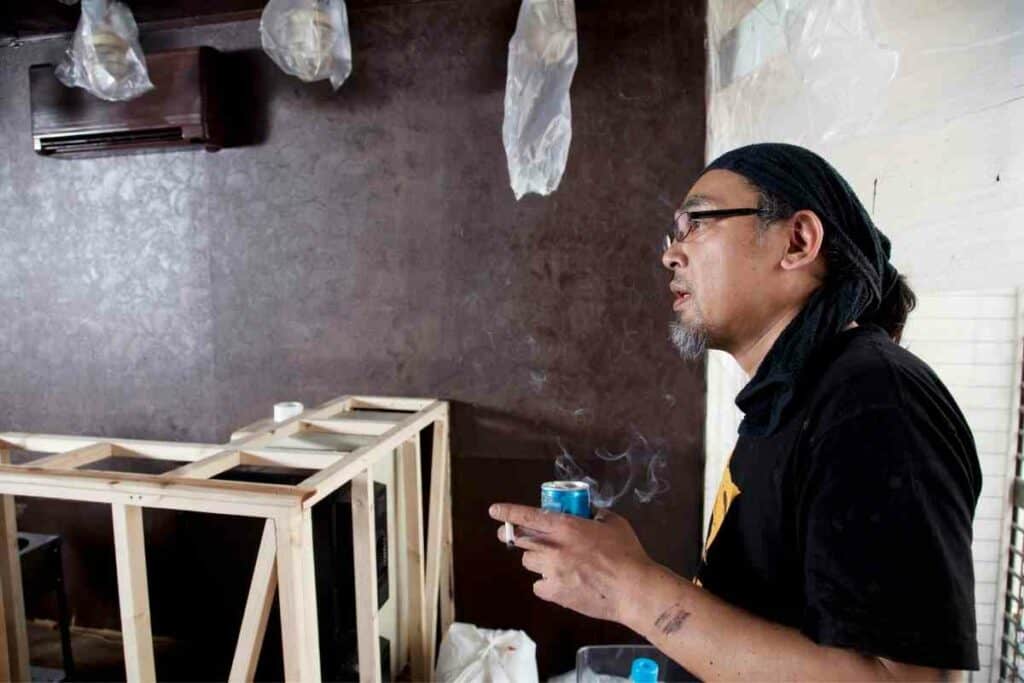 Today, the UCC coffee company, initially founded in Kobe, Japan, grows its superior quality coffee in Jamaica.
Mr. Tadeo Ueshima's story behind the inspiration to create coffee in a can is fascinating.
He came across the idea one day when he was catching a train.
Back Then – Vendors sold beverages in returnable bottles, and one had to ensure they drank the entire bottle contents in one sitting and return the bottle to the vendor before leaving.
He had to pour his drink on that day without finishing it as the train had to leave earlier than anticipated.
He wondered how convenient it would be to carry his hot or cold drink around without rushing.
It inspired him to come up with the coffee in a Can quick fix.
How is Can coffee made?
Canned coffee is made to last on a shelf and not lose its flavor.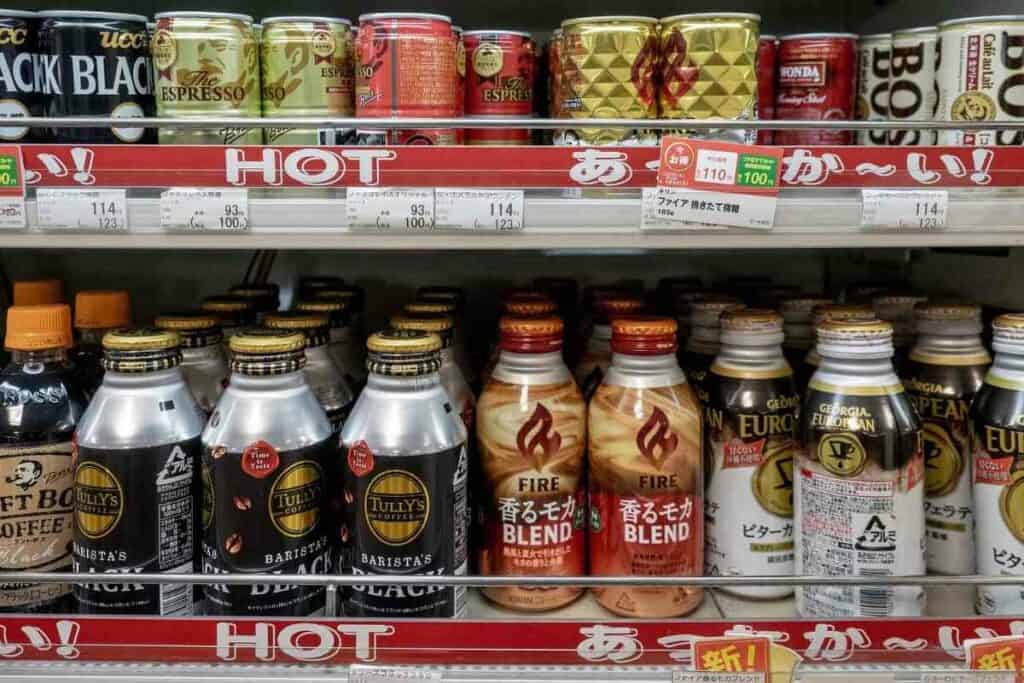 Easy access whenever you need a caffeine lift makes it the perfect solution.
Mr. Tadeo added milk to his first canned coffee, making it conveniently ready to drink.
Today – The production of Japan Can coffee is similar in the leading companies. The only difference is the source and variety of the coffee beans used, the roasting process, and the different flavors available.
Japan's canned coffee goes through a sterilization process in steel containers.
The roasted and crushed coffee beans are heated then quickly cooled to retain the unique smell, taste, and flavor.
Other ingredients go in, including milk to the variety not sold as black coffee.
Because canned coffee is said to lose its original aroma during the preparation process and over time on the shelf, companies are constantly working to meet customer expectations.
What is the difference between regular coffee and instant coffee?
Regular coffee refers to roasted coffee beans ground in a grinder to brew a cup of coffee.
In contrast, instant coffee comes in a dissolvable form of already brewed coffee.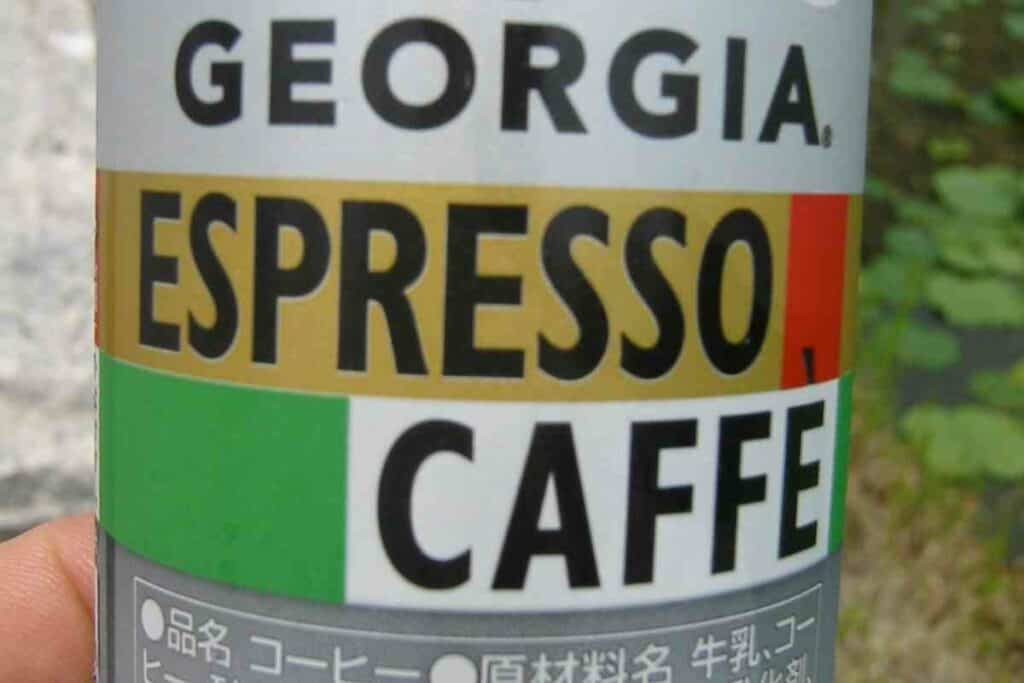 Instant coffee in most stores is usually the Robusta variety, while regular coffee is Arabica.
It takes time to extract the flavor from the bean in regular coffee.
On the Other Hand – Instant coffee only requires hot water and dissolves immediately. Instant coffee is sometimes of an inferior quality to regular coffee. However, the source and type of coffee beans used to make either coffee determine the quality.
Their taste is different; regular coffee has a sweet and robust aroma, while instant coffee can be bitter and plain.
Instant coffee is typical in many households as it is cheaper than regular coffee.
Regular coffee has more caffeine content than instant coffee, making it a favorite of coffee enthusiasts.
Is Japanese Can coffee good?
Japanese love their Can coffee.
Although popular international coffee brands also create their variety of canned coffee, Japanese Can coffee is still widely popular worldwide.
It may be because millions of Japanese consume this drink every day compared to other nationalities, but the people insist their canned variety tastes better.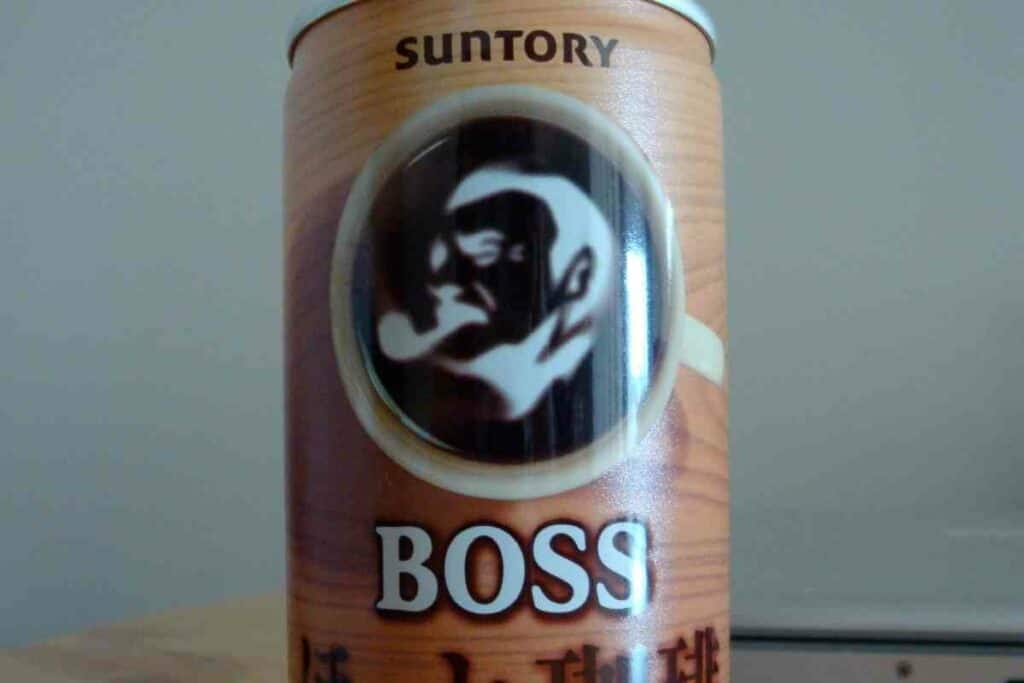 Japanese Can coffee meets those requirements for people who love their coffee with milk and sweetened.
The varieties available cater to different taste buds, making them conveniently suitable for their customers.
It is always a good thing to imagine that you can quench your coffee thirst any time of the day and anywhere in Japan.
Some people argue that Japanese Can coffee is not good; we tend to differ because, if Can coffee was terrible, it wouldn't be so popular in Japan or sell in billion dollars worldwide as it does.
Can coffee brands in Japan
There are many brands of Can coffee in Japan.
Here are the top three common brands also available in the US and worldwide:
BOSS Coffee
Produced by Suntory, one of the largest distilling companies in Japan, this brand of Can coffee is highly popular among the Japanese.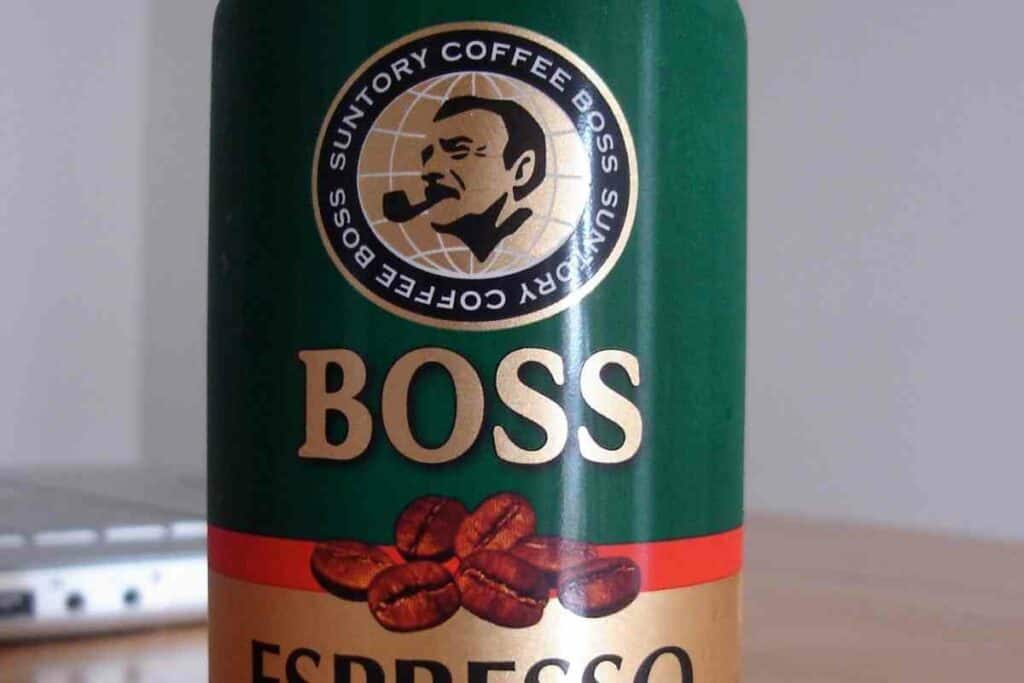 Their coffee beans come from Brazil and Colombia, and you can find this brand easily in the US. The three common varieties of BOSS Can coffee are:
BOSS Rainbow Mountain: A blend of milk, coffee, and sugar with just the right amount of caffeine.
BOSS Cold Black Coffee: It is sugar-free and without milk, the perfect early morning drink as it has a bold and rich flavor.
BOSS Cold Cafe Au Lait: A Sweet and milky Can coffee is ideal for people who love milky coffee.
UCC Coffee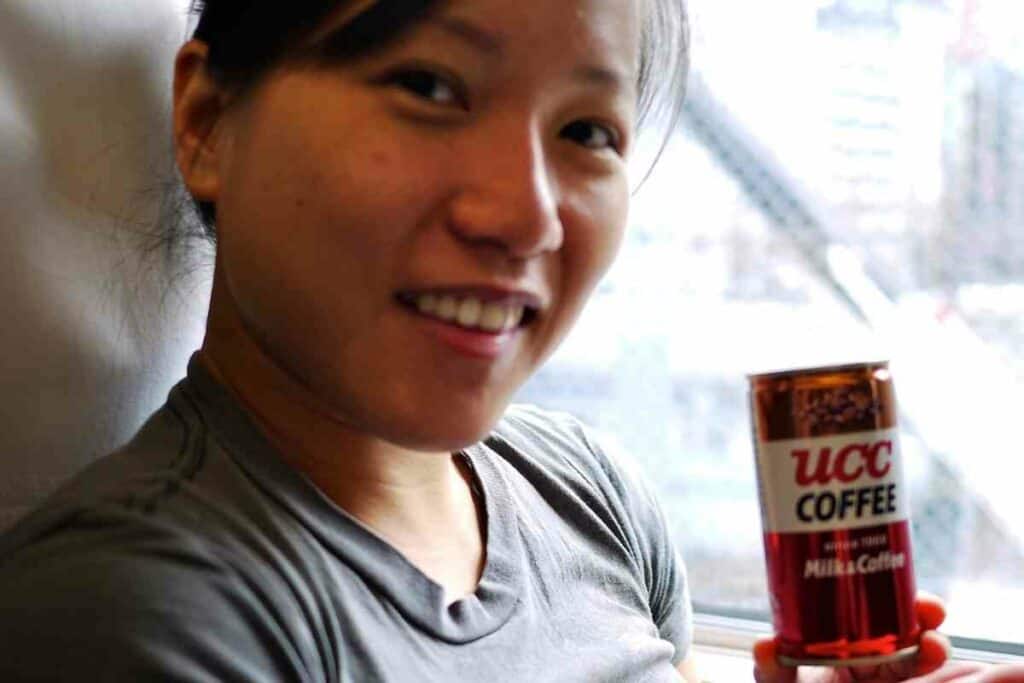 The Ueshima Coffee Company, the first in Japan, produces the UCC Can coffee in three different options:
UCC Black. This ready drink Can coffee does not have milk and is unsweetened. It has a rich flavor and is available in cartons and plastic bottles.
UCC Coffee. It was the first canned coffee drink in Japan, and it has milk. Japanese take it either cold or hot as the taste does not change with temperature.
UCC Hawaii Kona. This blended and sweetened drink comes from Hawaii, where the company grows its coffee.
Georgia Coffee
Produced by Coca-Cola Japan in the '70s, this Can coffee blend's name came from Georgia in the US, Coca-Cola's origin.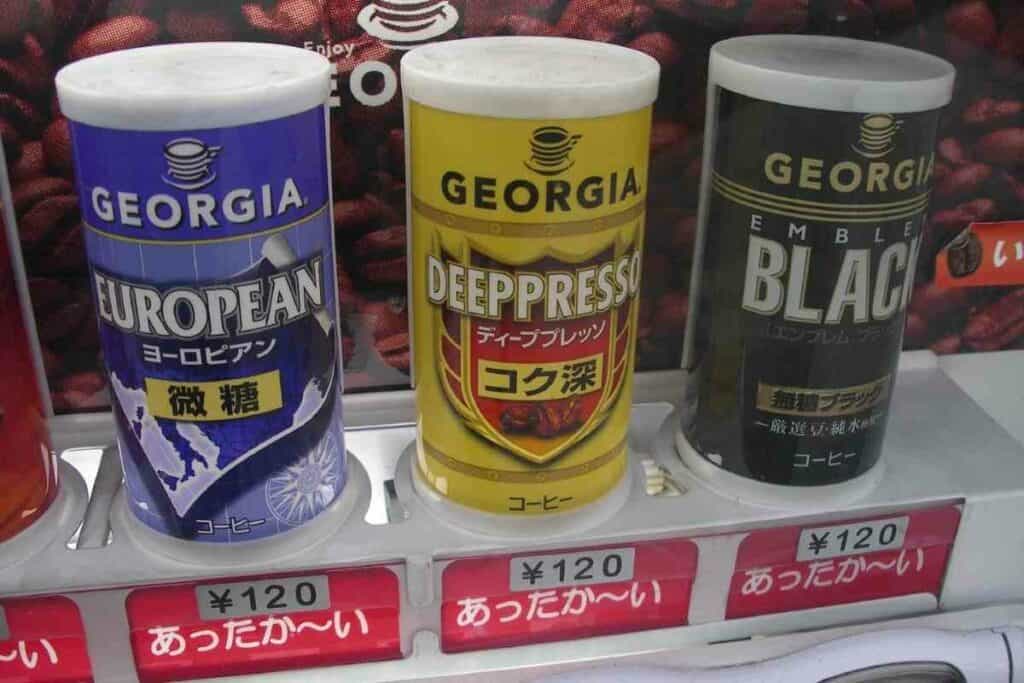 This creamy and flavorful milk coffee comes in different flavors and the coffee beans used are grown in Colombia:
Georgia Classic Original: It contains more milk than the other Georgia variety and is also sweeter. One can take it hot or cold.
Georgia Roastery Black:  Made in partnership with a local Japanese coffee shop, this brand is a rich, delicious, and sugarless black coffee.
Georgia Emerald Mountain: This blended and semi-sweetened milky Can coffee is the most bought in Japan.
Is Can coffee hot or cold?
Japan Can coffee comes in a wide range.
Depending on individual preference, it can be hot or cold, black or with milk, and bitter or sweet flavor.
The vending machines can dispense hot Can coffee during the cold winter months and cold/iced Can coffee during the warm summer months. 
Conclusion
What better way for visitors to Japan to indulge and enjoy the rich food and drink culture that the Japanese offer than to sample Can coffee?
The taste and packaging may be different from what you are used to, but this makes it part of the adventure.
It is also affordable as a can in Japan goes for less than 150 yen, meaning you can buy Can coffee for less than 2 dollars. 
You Might Also Like