The Japanese jumped into the whiskey bandwagon fairly late compared to other countries.
It is believed that whiskey production was introduced in the country around 1870.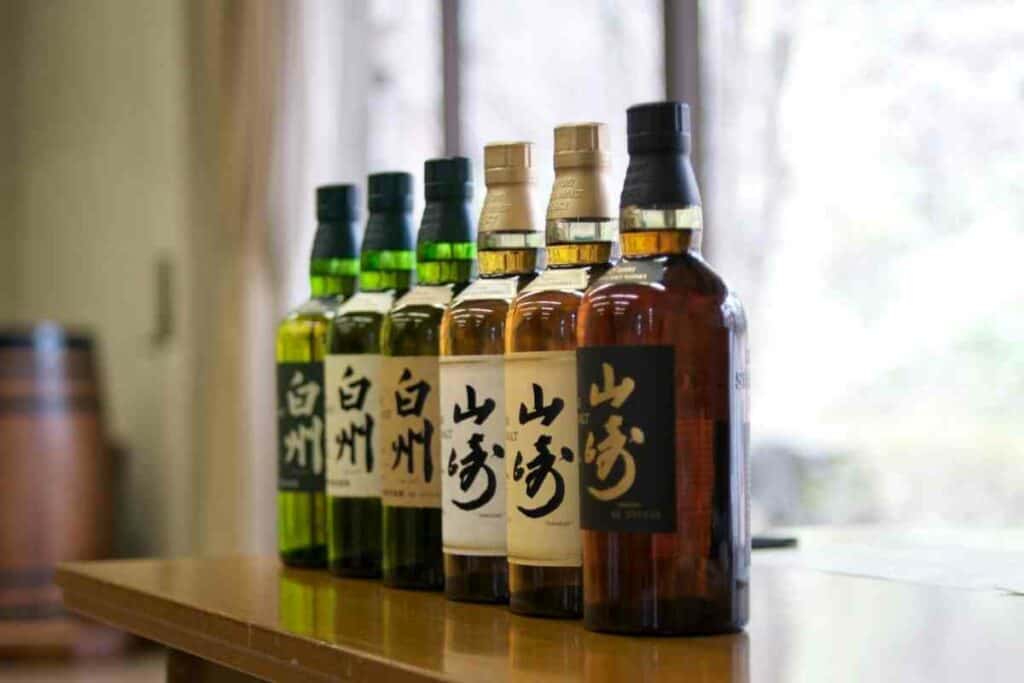 However, today the whisky art has developed further and exploded in the international market.
The most known whisky brands are the:
Suntory
Nikka
and the Yamazaki
Some of these brands have other smaller brands; for example, Suntory's other whisky brands are the Hibiki, Hakushu, and Chita, which also perform well in the Japanese and international market.
The Uniqueness of Japanese Whiskeys
Japanese distilleries use scotch ingredients; therefore, they import most of their elements from Scotland.
Haku Mizunara Whiskey Barrel Aged Shoyu – 750ml (750 ml)
Haku Mizunara Whisky Barrel Aged Shoyu is first traditionally brewed preserving ancestral methods of the mushiro koji process yielding an exceptional shoyu.

Ingredients: Water, Soybeans, Salt, Wheat Alcohol

Flavor: Delicate, Savory, Subtle Sweetness, Umami

Color: Dark Brown, Opaque

Origin: Kyoto Prefecture, Ja
Their uniqueness in taste is from:
the distilling process that is the water content
distilling tools
and type of wood that makes their aging barrels
Even though ranked as some of the best whiskeys globally, Japanese whisky is challenging to get. Its supply is limited in most states.
---
For Example: Only Suntory and Nikka distilleries are ready to supply to the United States despite having a couple of distilleries in the country.
---
Whiskeys Japanese People Love To Drink
Suntory
Suntory is a brand on its own, though it has some other brands (Hakushu and Yamazaki). Its brand is known as Suntory Whisky Toki.
It was founded by Shinjiro Torii, who was inspired by the Scottish Whisky and teachings from Masataka Taketsuru.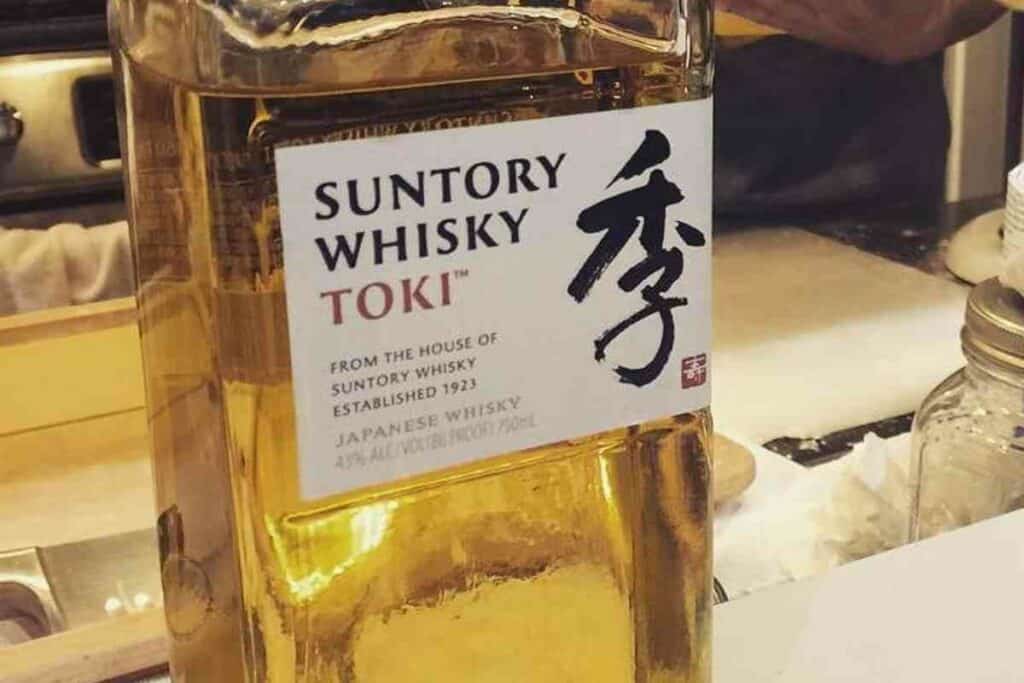 It usually smells like honey and green apple, but it tastes like a combination of:
ginger
peppermint
vanilla
apple
and grapefruits
Both the spice and fruit taste result in an incredible flavor.
Hakushu
Suntory is the owner of Hakushu, and it was officially released in 1994.
The distillery was built in 1973 in Mt Kaikoma forest by the son of Shinjiro Torii, known as Keizo Saji.
The whisky has a green beauty from the fresh waters used from the mountains.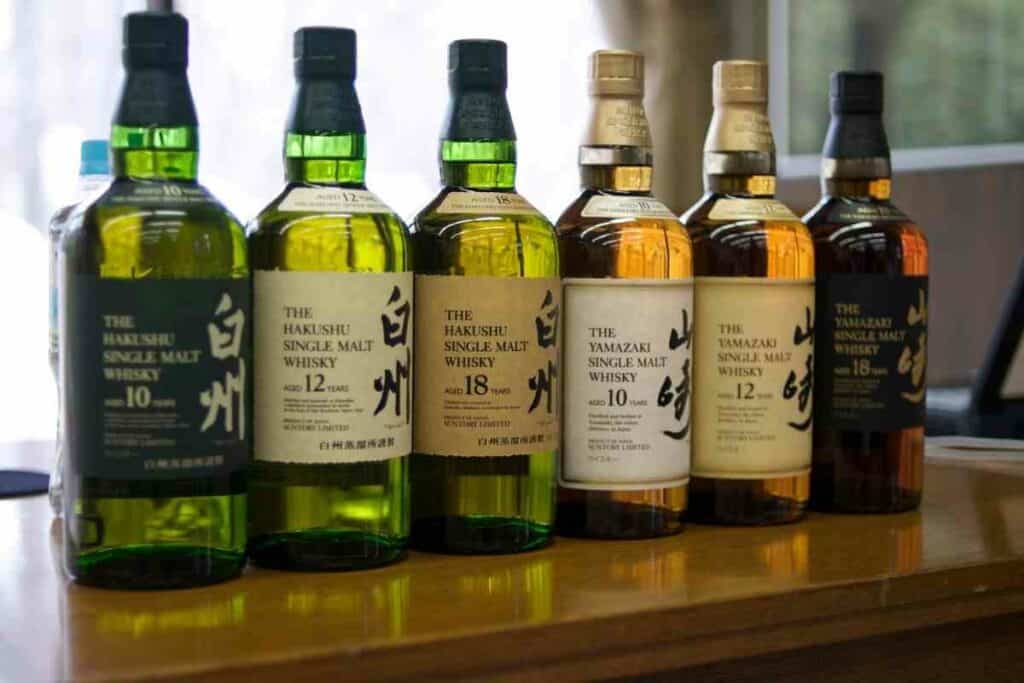 The waters are crystal clear as they run through the mountain and are measured as soft waters with 30mg/I of mineral levels.
Different seasons give different tastes of the whisky.
The aroma is also affected by
the flowers
green summers
and the foliage of fall to winter
Hakushu's 18 years has tones of mango, quince, and jasmine, while the 12 years is taste pear, kiwi, and mint.
The 25 years is better than the two, and it has a good taste and smell of lavender, Crème Brulee, and sage.
Nikka
This whiskey was launched in 1940 by Masataka Taketsuru, who learned the art from the Scotts in the early 19's.
At First – They had joined hands with Shinjiro Torri, the founder of Suntory. He later branched on his own and founded Nikka whisky.
Nikka also has other brands, but Nikka Barrel and Nikka Coffey are the most recognized.
Nikka Coffey
This whisky has two versions:
the Coffee Malt
the Coffey Grain
It was released in 2012 in Japan, 2014 in the European markets, and the US in May 2016.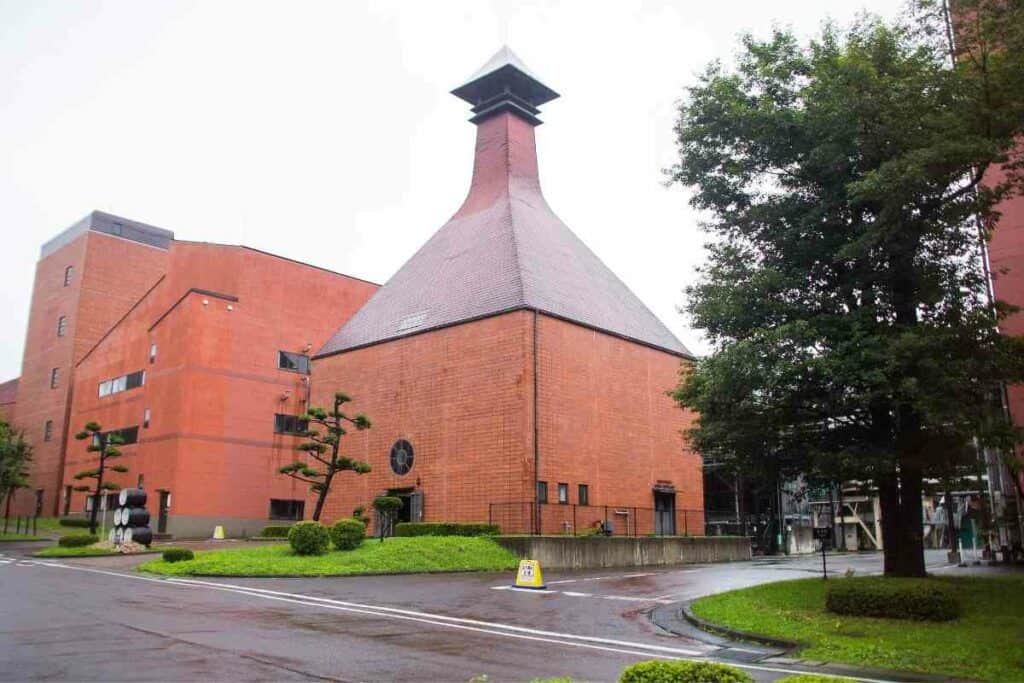 It is made using two spirits, corn, and malted barley, which are distilled separately in the Coffey.
They are then blended, diluted, and finally filtered.
Nikka from the Barrel
It is produced from the Yoichi and Miyagikyo distillery.
It's a blend from the single malt and grain whisky, which brings a combination of flavors and smell.
Other countries did not first introduce the drink until 2018, which has acquired many buyers since then.
It has sweet notes of vanilla, butterscotch, and orange fruit.
Hibiki
Hibiki is a blend of grain and malt whiskies.
It brings sherry notes, white chocolate with light citrus all together, and a slight bitterness for the Masters Select.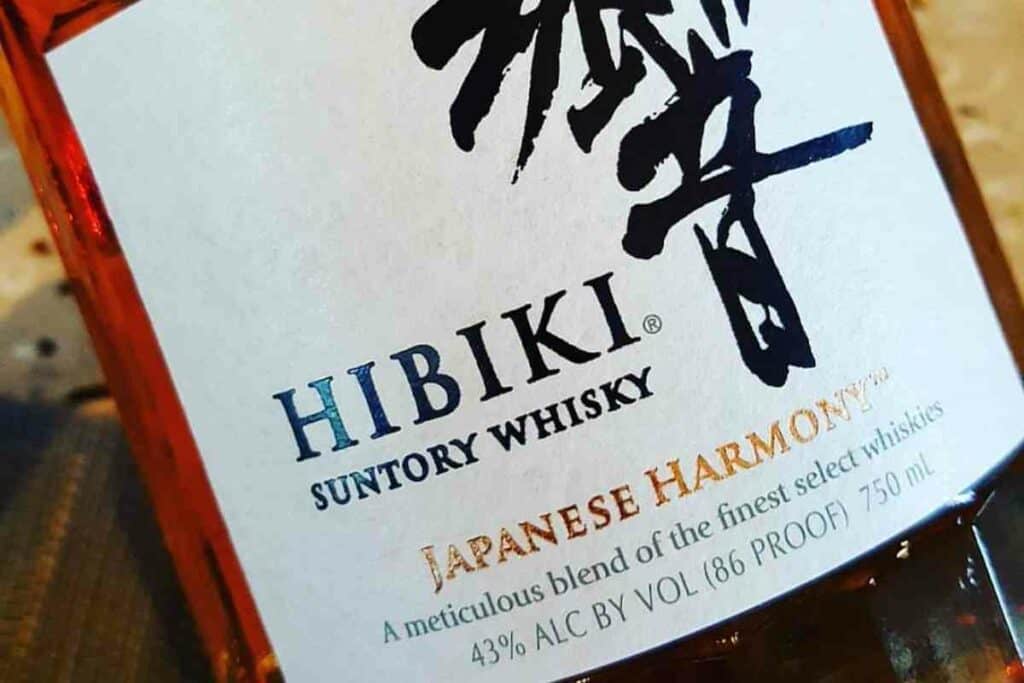 The whisky comes with different age options, which are 21, 17, and 12 years of age.
The 17-year-old whiskey is beautiful with the silky smooth texture, buttery fruit taste, and honey.
It became famous after winning an award in World Spirit Competition in 2013.
Hibiki 21-year-old tastes flavors of:
black cherry
apples
dried fruits
Japanese Oak
and orange peel
The whisky has won more than six times in the whisk world awards.
The Chita
Chita distillery is on the shores of the Chita Peninsula.
The whisky was released in 1972 under the brand Suntory.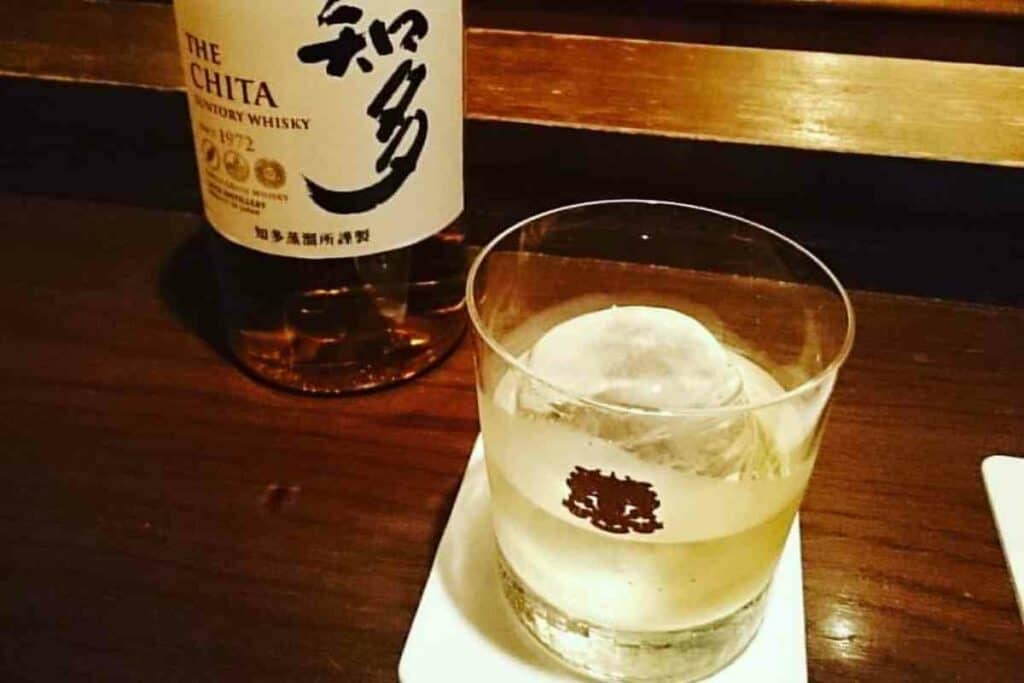 The combination of grain and different column distillation enables the distillery to make three types of whiskey:
clean
medium
heavy
Chita is made from corn and a little bit of malt.
It's the only distillery specializing in grain whiskey, giving it a sweet taste. It has sweet notes of mango, honey, and corn grain.
The blend of corn and quality waters results in a smooth and soft drink, making you want to go for more.
Yamazaki
Yamazaki distillery is the oldest malt distillery in the country.
It's located in the convergence of three rivers: the Katsura, Uji, and Kizu; hence, they have good water sources to distill the whisky.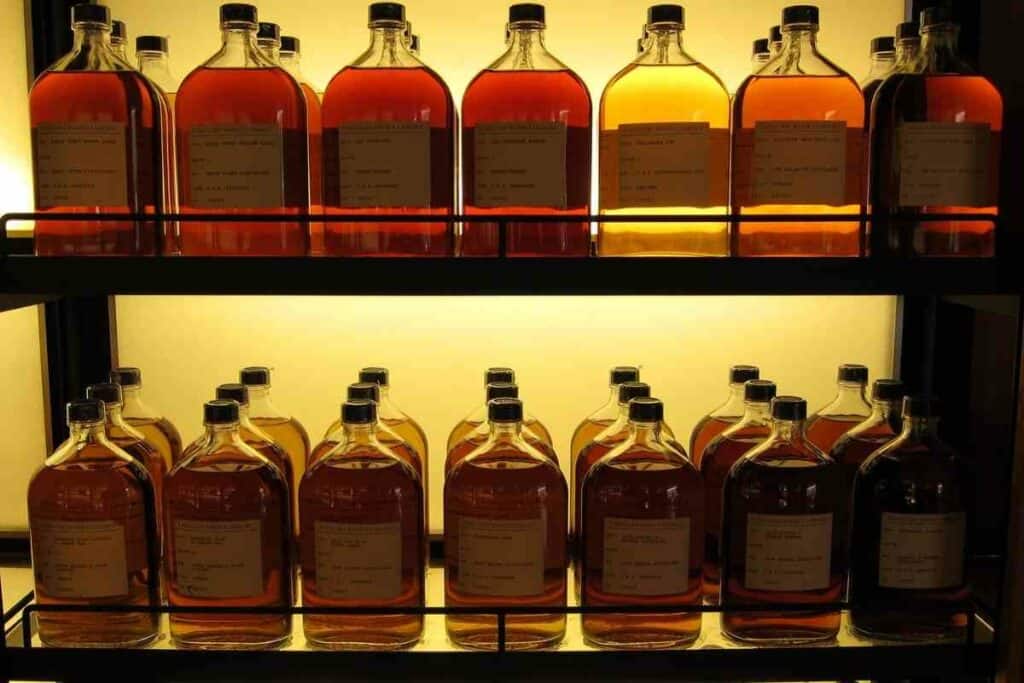 The Yamazaki produce a whisky of different years, the 12, 18, and 25-year-old whisky:
12-year whisky is a blend of coconut, butter, and cranberry, while the 25-year-old displays a dark mahogany color. It's a complex note of coffee, cocoa, and marmalade.
The 18 years, Yamazaki has delicate notes of blackberry, honey, dark chocolate, plum wine, and a smooth spice of black pepper finish.
It has won many awards from its complexity to its balance which wants you to crave more.
Why Do Japanese People Love Their Whisky?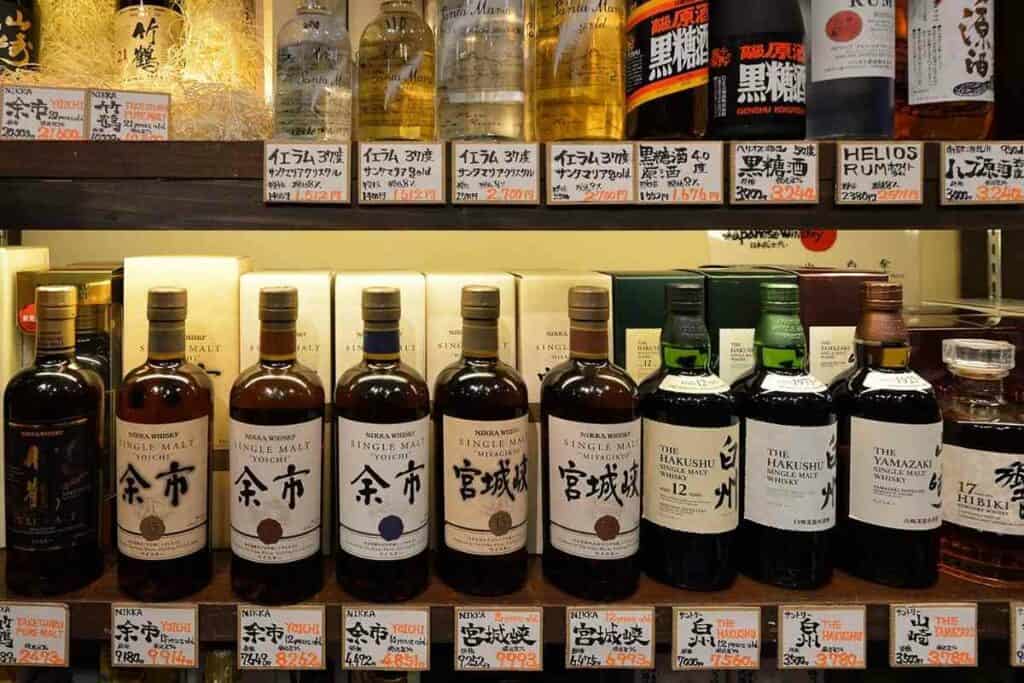 The Japanese don't consider whiskey as just a drink but also as art.
Their water quality is high. The water quality greatly affects the taste and fermentation process of the whisky.
The quality of the whisky is not only in flavor but texture, nuance, and fragrance.
Their whiskies have won International Whisky Contests; for example, the Suntory and Nikka have won several times.
The japan climate increases the maturation of their whisky.
Their whisky pair well with their foods.
Where Can You Buy Japanese Whisky?
Japan has a limited number of distillers, and thus it can be challenging to buy a Japan Whisky.
Their whisky is in high demand, contributing to its limited supply globally. Unless you live in Japan or near Japan, it will be challenging for you to buy some.
More prominent brands such as Suntory and Nikka are easier to get than smaller brands. The best way to acquire one of their finest whisky is by shopping online.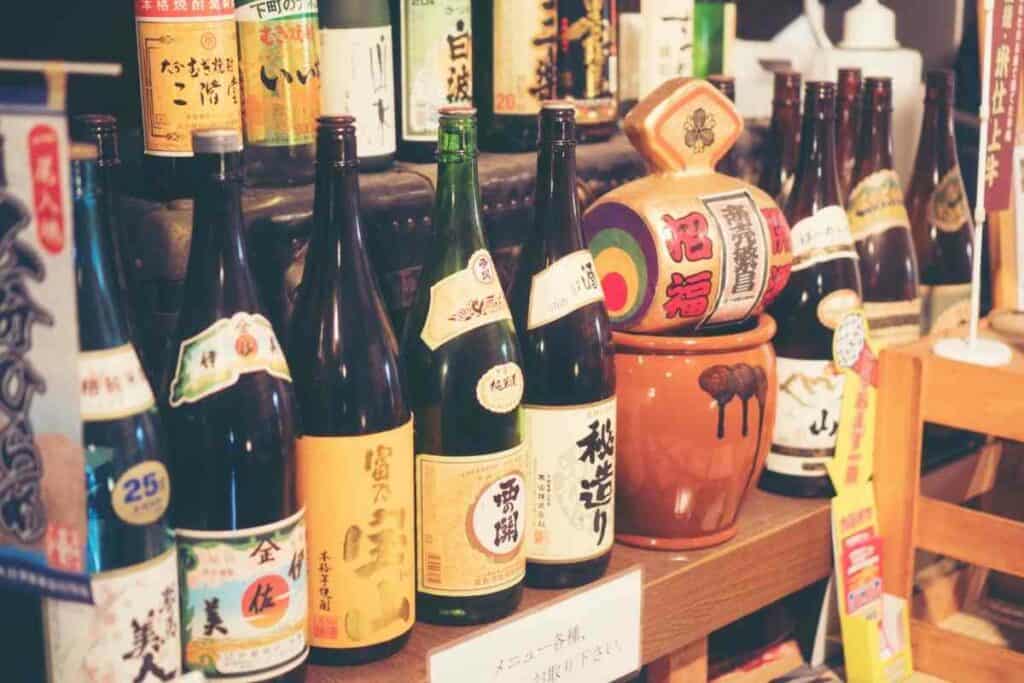 Japanese whisky is quite expensive compared to others due to its limited supply and high demand.
The whisky has been famous over the years, but the number of distilleries is few making it more expensive to acquire.
The quality of their product also affects the price of the bottle.
Rules You Should Be Familiar With Of Japanese Whisky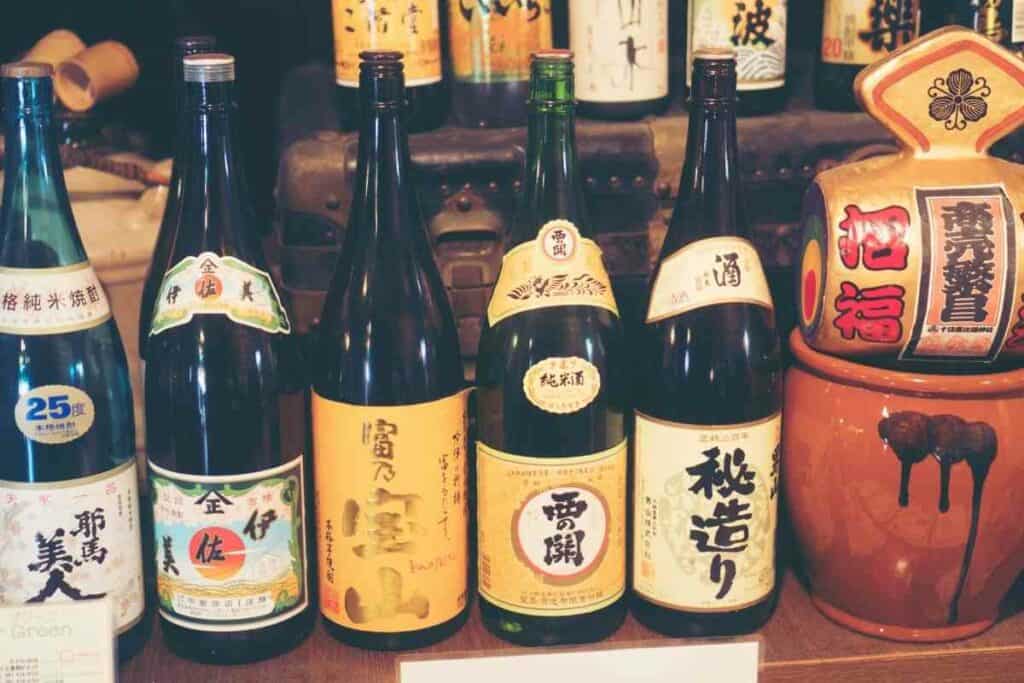 You should not worry about what you can't get. This is due to the huge global shortage of Japanese whiskies.
You can drink the whisky in whatever way you want. So don't worry about enjoying Japanese whiskey on the rocks or even as a cocktail.
Japanese whisky goes well with food.
Japanese whisky should not be called Japanese Scotch.
Final Thoughts
Japanese whisky has become popular in the world market due to its unique elements and distillation processes.
Different companies produce whisky, but the most renowned in the country are Suntory and Nikka. Suntory brand was first, and Nikka came later after branching from the Suntory brand.
Even though they import some of their ingredients from Scotland, they find it better than Scotch whiskey.
Japanese people prefer their whiskies since they are good at maintaining quality and also their waters suit best to distill their drinks.
In Case You Missed It