As the CEO of the Japanese e-commerce conglomerate Rakuten, Hiroshi Mikitani has become a millionaire many times over.
This famous Japanese business magnate, writer, and personality is part of Japan's high society and has a background and accomplishments to match.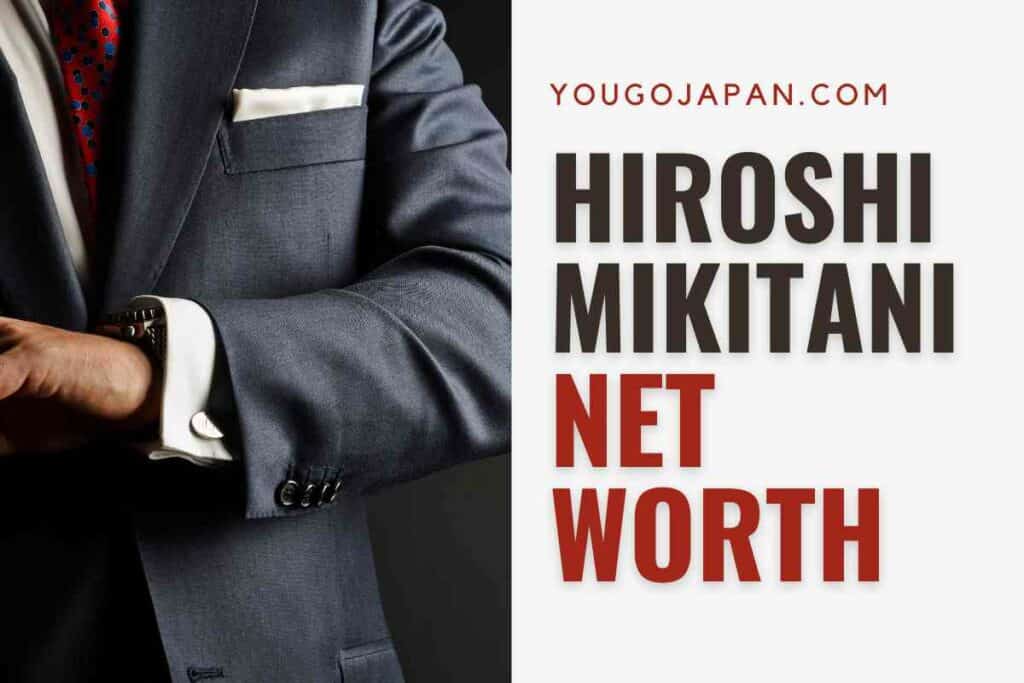 In this article, we share everything you need to know about the net worth of Hiroshi Mikitani, one of Japan's richest men. 
The net worth of Hiroshi 'Mickey' Mikitani 三木谷浩史
Hiroshi Mikitani, also popularly known as Mickey Mikitani is one of Japan's richest men.
His estimated $3.3 billion fortune, which climbed by as much as $8 in the last 12 months makes him the 7th richest person in the Land of The Rising Sun.
According to Forbes magazine, Mikitani is the 852nd richest person in the world with massive wealth that has climbed and fallen in recent years. 
Hiroshi Mikitani is best known as the founder, President, Chairman and CEO of Rakuten Inc. Rakuten is one of Japan's largest e-commerce, financial services, and technology companies.
Bloomberg reports that Rakuten turned over revenues of $12.73 billion in 2022. The conglomerate's diverse holdings and robust market share have been key to establishing Mikitani's high net worth.
A breakdown of Hiroshi Mikitani's net worth
Mikitani has risen to prominence as one of Japan's wealthiest and most successful businessmen through his efforts with the following companies: 
Rakuten Group、 Inc. 楽天グループ株式会社
Hiroshi Mikitani's net worth is driven by his ownership of Japan's biggest e-commerce retailer Rakuten.
Mickey and his wife Haruko Mikitani together own 33.9% of the conglomerate that spans retail, telecommunications, affiliate marketing, and Fintech in Japan.
In addition, Rakuten has investments in a variety of companies including a  $300 million investment in Lyft, a ride-sharing firm.
Crimson Group
Crimson Group is a consulting firm that was set up by Mikitani after leaving his banking career. 
Rakuten Vissel Kobe football club
Mikitani purchased the Vissel Kobe football club after its stadium was devastated by the 1995 Kobe earthquake.
It was initially named the Crimson Football Club, but after Rakuten was founded, he changed the name to Rakuten Vissel football club. 
Mikitanai also created and owns the Tohoku Rakuten Golden Eagles, after stepping in to restore and renovate their stadium in Sendai.
He has owned this baseball team since the 2011 earthquake in Tōhoku. In 2013, the team won the Nippon Professional Baseball Japan Series.
Kosmos Holding
Hiroshi Mikitani is a co-founder of this sports, events, and entertainment company alongside the FC Barcelona player Gerard Piqué. 
Hiroshi Mikitani 三木谷浩史 biography
58-year-old Hiroshi Mikitani comes from an esteemed Japanese family with outstanding educational accomplishments.
His father, Ryōichi Mikitani, is an eminent Economics professor at Kobe University. Interestingly Mikatani is a direct descendent of Honda Tadakatsu, a samurai general known as one of the 'Four Heavenly Kings' of the shogun Tokugawa Ieyasu.
Mikitani was born and raised in Kobe by his academic parents and the family's close ties to their alma mater, Kobe University have persisted.
Perhaps Mikitani also inherited business skills and resilience from his grandmother who raised his father by herself, running a tobacco store. 
Part of Mikitani's childhood was spent in the US where his father was a Fulbright Scholar at Yale.
He later graduated in Commerce from Hitotsubashi University, graduating in 1988 with a degree in commerce and starting at the Industrial Bank of Japan, Limited that year.
In 1993, Mikitani completed an MBA at the prestigious Harvard Business School. Three years later he left banking to set up Crimson Group, LLC, of which he is currently a Representative Partner. 
Founding Rakuten
In 1997 Mikitani, looking for a way to help the Japanese economy, set up Rakuten. Before starting Rakuten, Mikitani set up a successful e-commerce company called Magical Digital Market (MDM).
Rakuten developed from this idea and grew to become the fastest-growing E-commerce company in Japan. 
He is currently the Chairman, President, CEO & Representative Director of Rakuten which went public on the JASDAQ in 2000.
Rakuten's online marketplace connects buyers and sellers and has managed international growth through the acquisition of foreign e-commerce companies like:
Buy.com (US)
Ebates
Awin
and PriceMinister (France)
Mikitani is well known for his innovative and hands-on approach to business. In 2010, he became known globally for this "Englishnization" initiative at Rakuten.
The drive involved running Rakuten with English as the primary language for all business and social activity at the company, helping to increase the fluency of every employee. 
Hiroshi Mikitani 三木谷浩史 personal life
Hiroshi Mikitani married his entrepreneur wife Haruko in 1993. They have two children and live in Tokyo.
He has a sister, Ikuko who is an eminent physician, while his brother Kenichi is a Biology professor at Tokyo University.
Facts about Hiroshi Mikitani 
In 2010. Mickey Mikitani became the Representative Director of the Japan e-business Association.
Hiroshi Mikitani is the Chairman of the Tokyo Philharmonic Orchestra. He has held this position since 2011.
He is also a director of AST Science, a Texan aerospace and satellite company that Rakuten invested in in 2020.
In March 2021, Rakuten sold an 8% stake to Japan Post Holdings Co. The company is now Rakuten's biggest shareholder outside the Mikitani family.
Rakuten has a 20% stake in Walmart's Japanese supermarket brand, Seiyu Group.
In 2022, Mickey Mikatani announced that he would be donating 1 billion yen ($7,566,872) to Ukraine.
Hiroshi Mikitani has written several business books including The Power to Compete, Marketplace 3.0, and Business-do.
Hiroshi Mikitani quote
"If you are only taking action after thinking, you are on the wrong track. You should be taking action to think things through. That's the right perspective"
In conclusion
Hiroshi Mikitani is a serial entrepreneur who established his significant net worth at the coalface of the e-commerce revolution.
His tenacity in investment, outward, international perspective, and willingness to take risks have made him admired in Japan and beyond.
It is no surprise that Mikitani has enjoyed such success and it will be extremely interesting to see what his next move will be.