Traditionally yukata was only used as a bathing cloth or sleepwear. Thus, the Japanese wore them directly without anything underneath, for maximum comfort.
Over time, people also started wearing it as outdoor wear, creating a need for proper dressing since most yukata fabrics are see-through.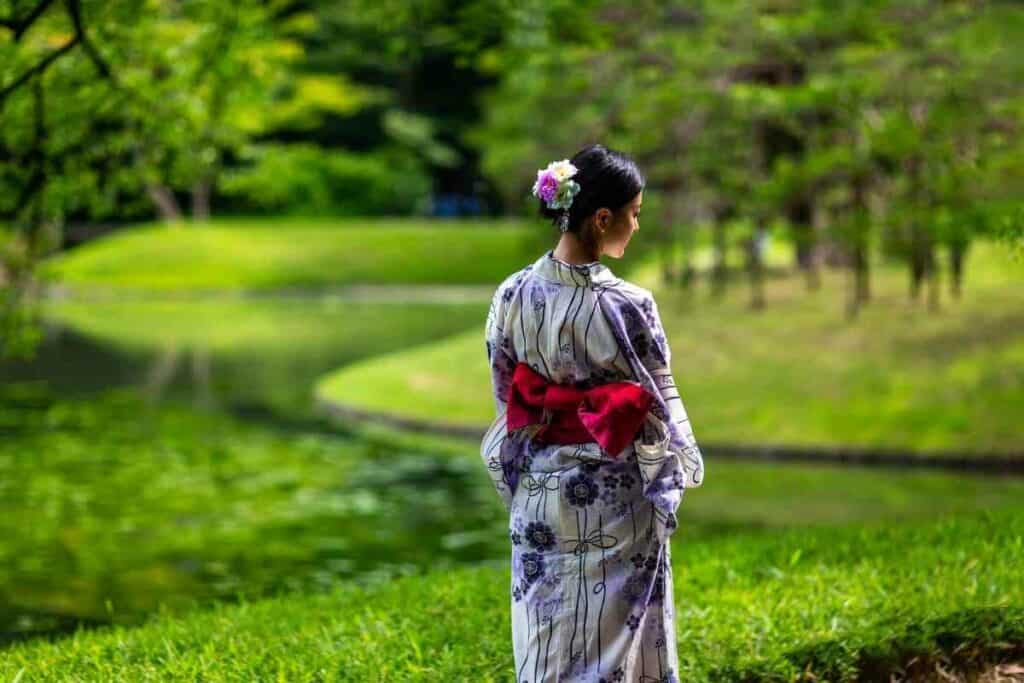 That said, people can wear yukata with or without undergarments whenever and how they feel comfortable.
However, it is recommended to have an undergarment, especially when going out.
You can wear things such as a:
juban
hadajuban
nagajuban
hanjuban
susoyoke
suteteko
panties/ boxer shorts or briefs
bra/ camisole
petticoats
slips
tank tops
t-shirts
or shorts
Undergarments were also encouraged because such outdoor activities led to body sweating, which stained yukata more often, increasing the continual need to wash it.
Frequent washing, in turn, reduced the yukata's life span. 
Explore an exquisite collection of men's and women's clothing at our esteemed partner, the Japan Objects Shop. Embrace Japan's fashion and style today!
What Kind of Undergarments are Recommended?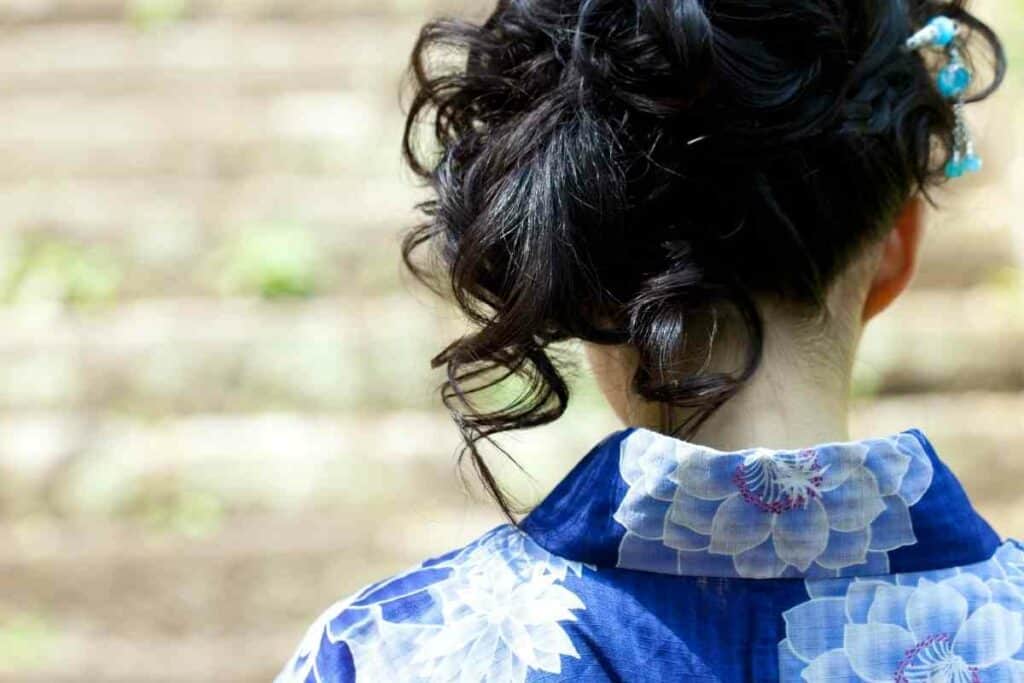 People can wear yukata anywhere.
It is great for relaxing at home or in a hotel room and stylish for the streets.
An undergarment is necessary in a public place except when sleeping at night or relaxing in a hot bath.
It is recommended to wear the following undergarments, especially on outgoings.
Juban
Juban is a Japanese traditional type of underwear worn under a kimono or yukata by both males and females.
It is nearly the same size as the yukata so that it doesn't show from the yukata's hem.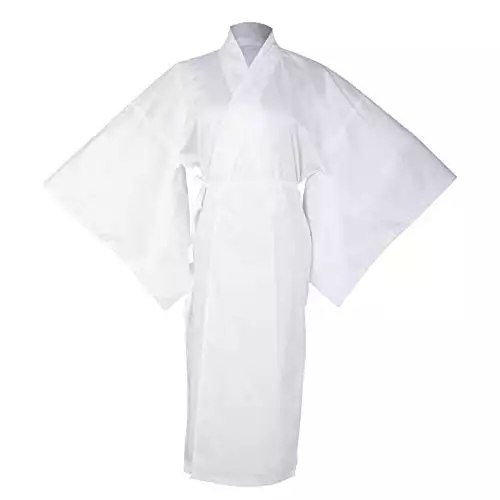 Its original role is to prevent the delicate and often 'unwashable' yukata from getting dirty by sweat and skin oils.
Its other function is to maintain and fix the shape of the yukata's collar. For that purpose, you attach haneri and put in the erishin.
It may be made from a wide variety of fabric types but are most commonly silk, cotton (used for the corsage), and polyester – is used for the collar and the sleeves to make it easier to wash.
Hadajuban
Traditionally, both men and women wore hadajuban as the first layer of clothing before nagajuban, directly on naked skin.
Made from cotton, they are comfortable to wear and wash as well.
A thin collar and tubular-style sleeves characterize it; it doesn't precisely have kimono sleeves or a proper collar.
It is the reason why it is worn underneath the nagajuban.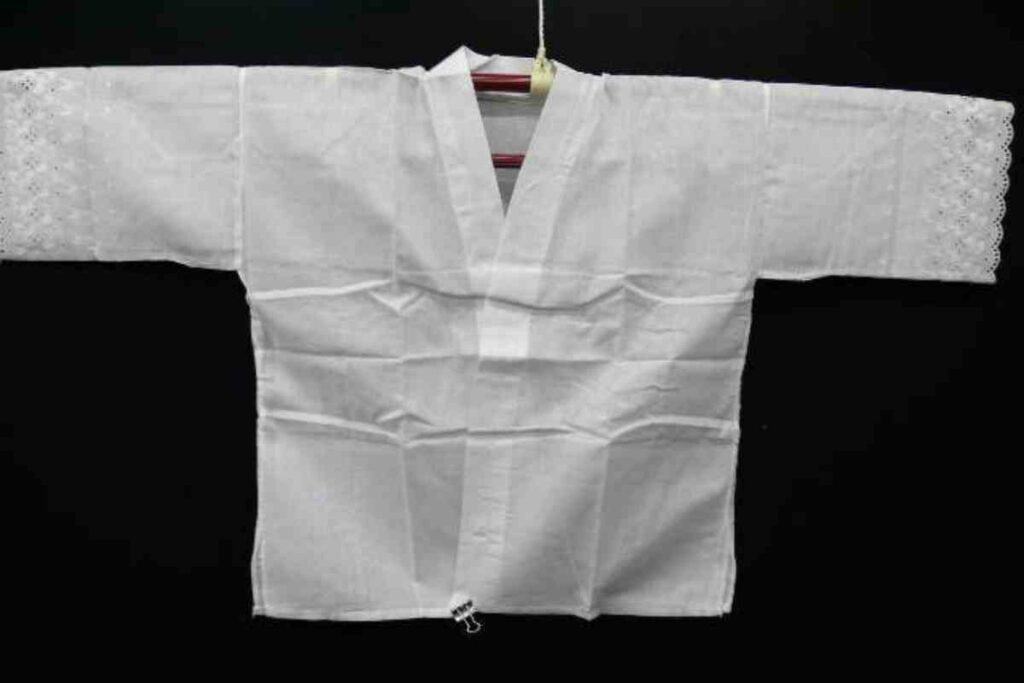 It is more of an undershirt that is worn together with a susoyoke (underskirt) or suteteko (underpants).
Its original role is to prevent the nagajuban and yukata from getting dirty by sweat.
It is usually made of hemp or cotton, with excellent sweat absorbency, and easily washable, reducing the continual need to wash the yukata frequently.
Nagajuban
Naga means long, while juban stands for underwear.
So basically, it is a full length under 'kimono' for yukata. It is worn over the hadajuban and underneath the yukata.
Nagajuban is only slightly visible at the collar and sleeve cuffs. Its hem is not visible unless when walking outside as one lifts the hem of the yukata.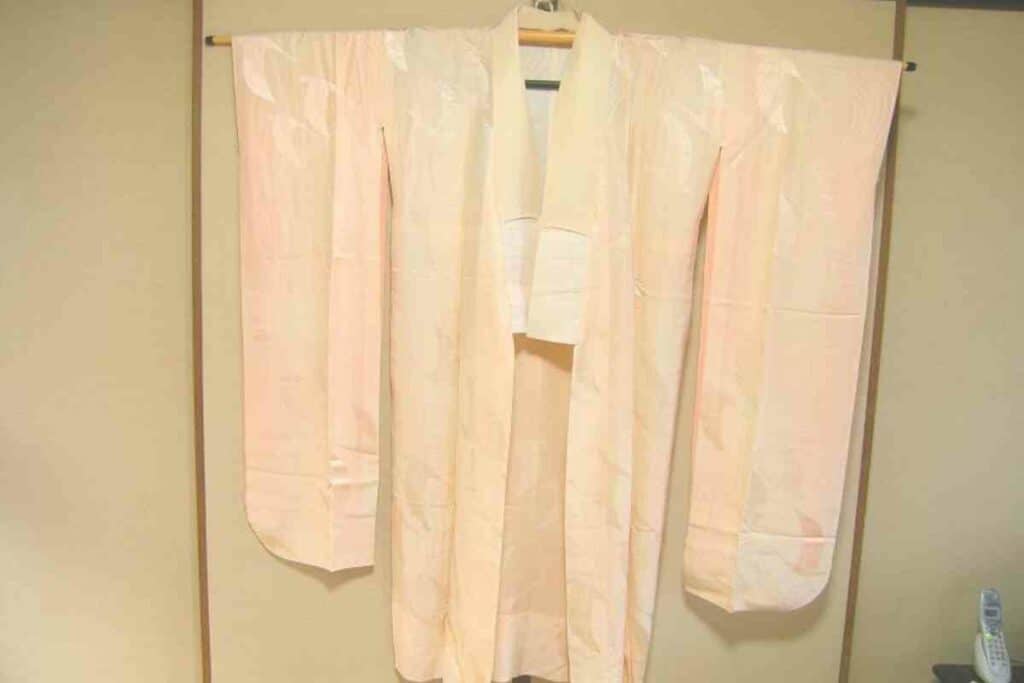 It is a good idea to wear one because it helps keep a good shape when wearing a yukata.
It creates a subtle balance of the entire outfit you are in as it slips smoothly, preserving its correct shape.
It also protects the yukata from getting dirty or stained and being washed regularly, as washing can wear it out. It is mainly made of cotton or synthetic silk, which is more washable.
Hanjuban
The Hanjuban is a traditional Japanese garment for the upper body.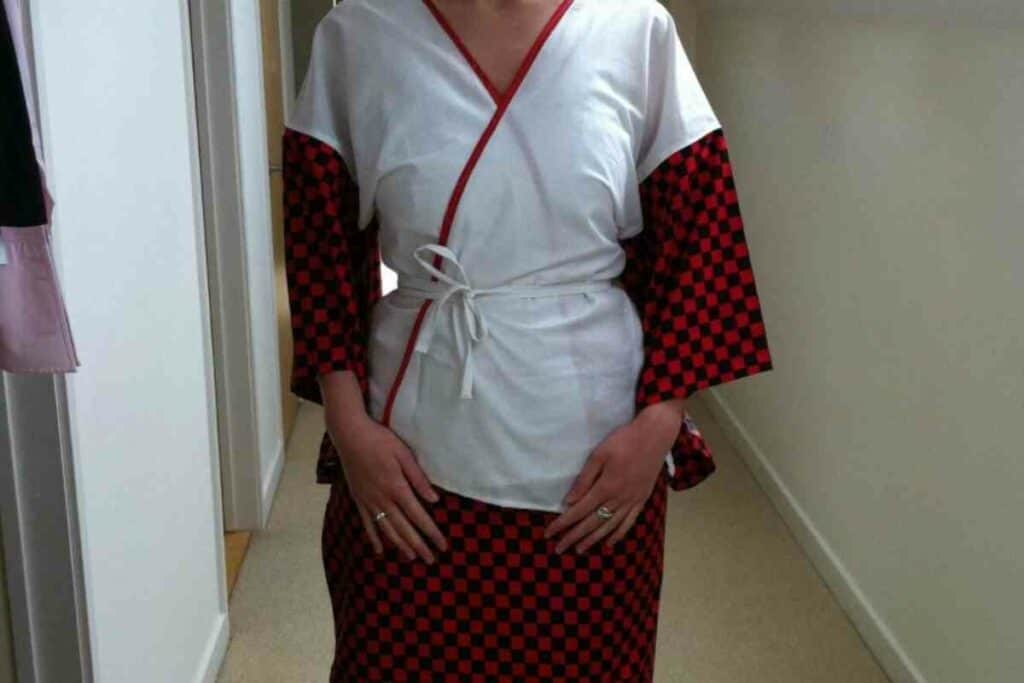 It usually is worn in place of a nagajuban together with a susoyoke. It is a half-sized yukata, similar to a shirt, usually worn under a Kimono or Yukata to protect it from sweat and dirt.
---
Quick Tip: A t-shirt with a V-shaped neck can also substitute for a Hanjuban.
---
Susoyoke
This is a conventional undergarment meant for the lower body – a length of cloth down to ankles.
Also known as a kedashi petticoat, it is an underskirt worn with a hanjuban wrap top under a yukata.
It is more of a wrap-around half-slip that ties at the waist.
Mainly used by women, it is also occasionally worn by males. It is an underskirt worn with a hanjuban wrap top under a yukata or kimono.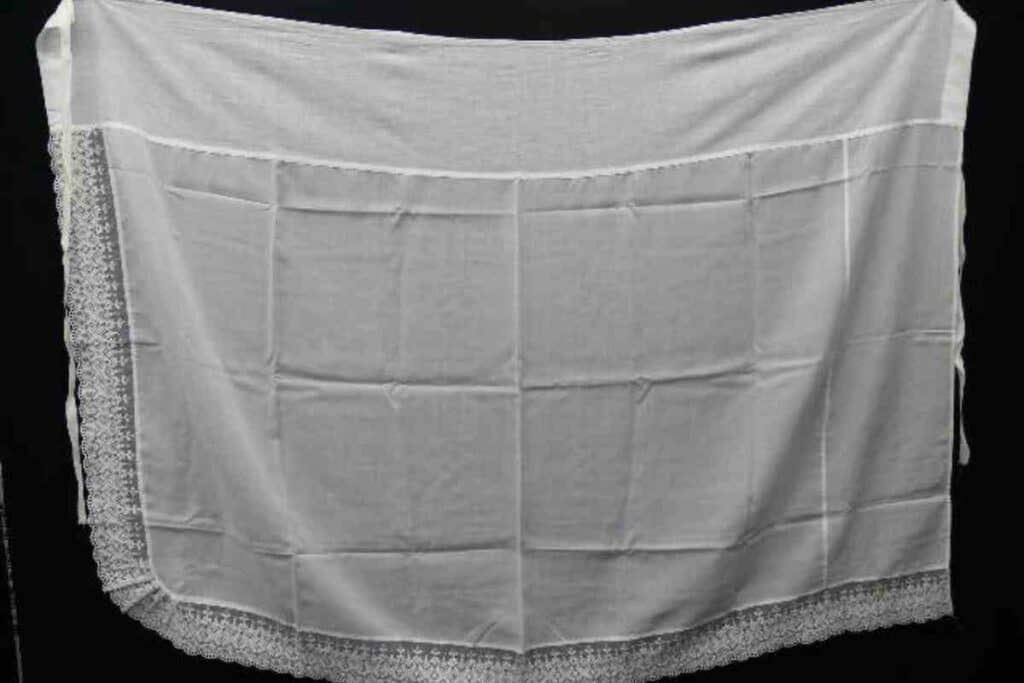 It has different sizes. The standard length is 90cm, though there is a 95cm. Its width for medium size is 132cm and for the large size is 150cm.
It can wrap the waist one and a halfway round, attached to it is a string. It is a warp and ties to fit, adjustable enough to accommodate several body sizes.
Susoyoke is made of cotton, polyester, lace, or double weave gauze. These fabrics are smooth enough to prevent the causes of static electricity to avoid the yukata from clinging to the legs.
These fabrics are also ideal for preventing moisture or sweat from getting on your lovely yukata.
Suteteko
Men usually wear Suteteko.
Males can use it in combination with hanjuban. They are traditional Japanese underpants and are knee length.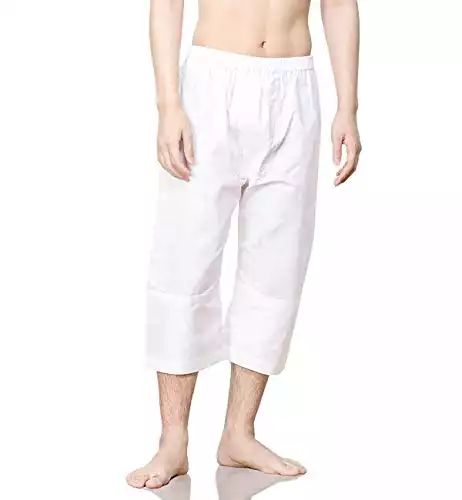 We earn a commission if you make a purchase, at no additional cost to you. Thanks!
Suteteko is generally loose-fitting and doesn't stick to the skin. They are meant to protect the yukata fabric from dirt and sweat and help it slip smoothly on your legs.
Its name originated from a story in 1880 when Sanyutei Enyu's underwear under kimono was seen while performing his 'suteteko dance.'
Fashionable Suteteko has been made in different patterns and colors to attract the younger generations. Sutetoko is even available now for women.
Camisole/ Tank Top / T-Shirt and Shorts
During summer and hot spring, you do not need a lot of clothing beneath a yukata.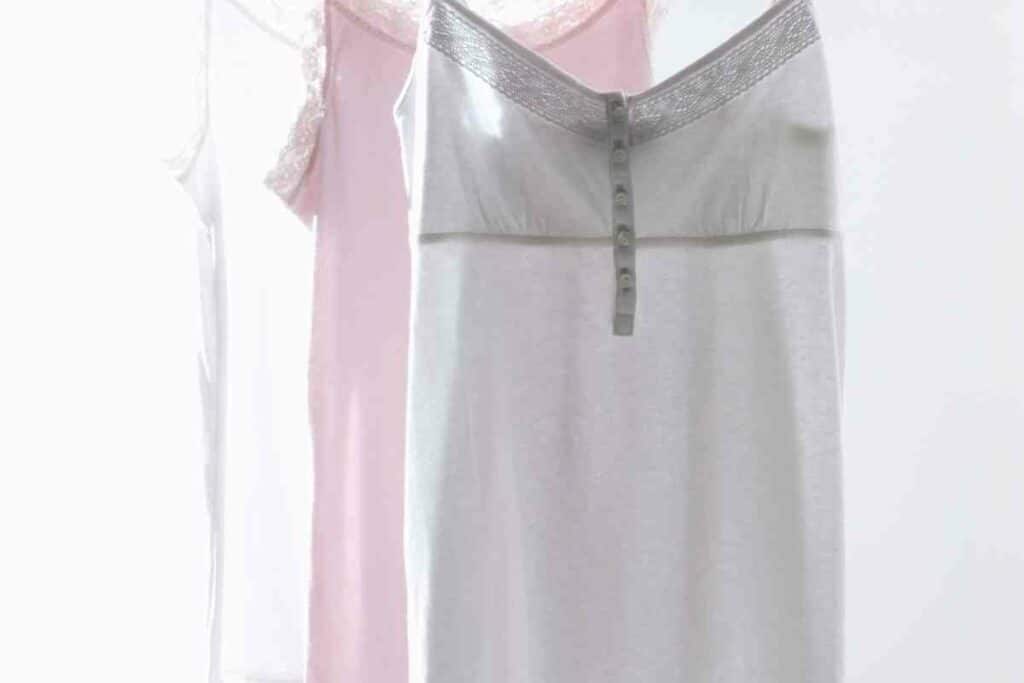 Men can wear tank tops or t-shirts together with pair of shorts underneath.
On the Other Hand – Women can wear camisoles or t-shirts with shorts inside a yukata.
A light-colored V-necked T-shirt and light-colored shorts are preferred. They are the simplest and most comfortable things to wear.
Sports/ Non-wired/ Kimono Bras
Originally Japanese people just wore Suteteko, Susoyoke, Hanjuban, Nagajuban, and Hadajuban instead of bras and panties.
In modern times women prefer to wear bras and panties.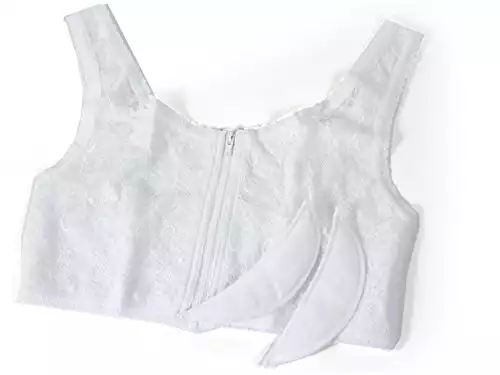 However, ordinary wired bras and girdles are dissuaded from being worn. They make the yukata lose its shape by emphasizing one's body curves.
Therefore, bras and girdles that accentuate the bust and create a waist are not suitable for the kimono.
Additionally – The presence of a bra does not allow you to shape up the collar of your yukata, and the volume of your bust might eventually open the collar wider. Wired bras are pretty painful.
With a yukata, a chest strap is tied in the under-bust position. It's just on the bra's wire, so it hurts when this digs into your skin.
It is recommended that you choose bras that flatten your bust without voluming up your bust area. Preferably it should be light in color without frills and lace.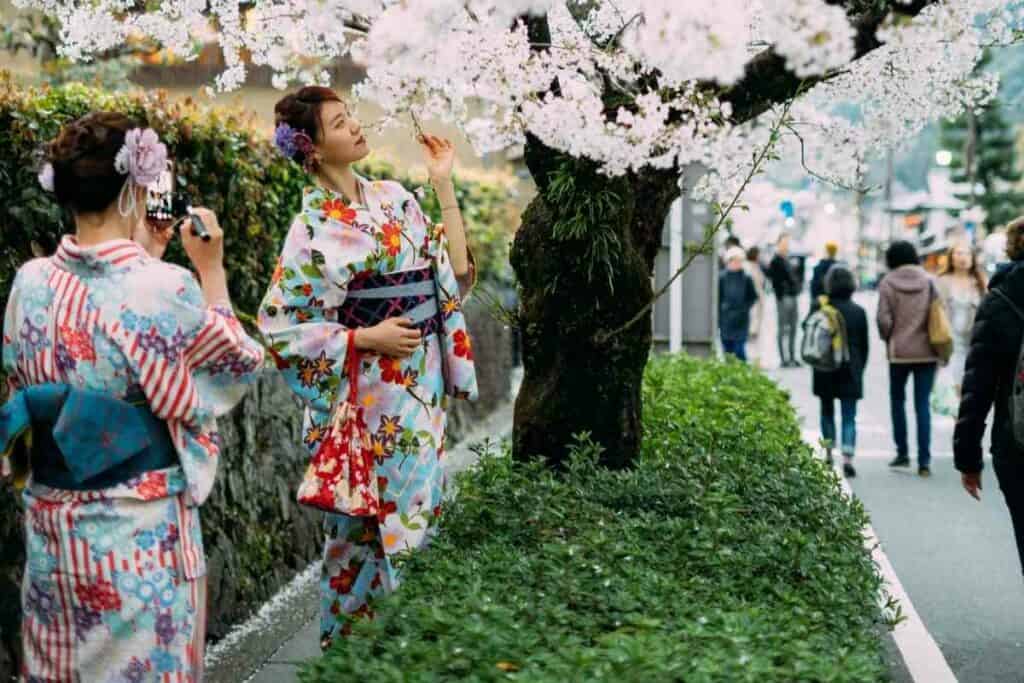 Lastly, it should not be seen from the collar of the furisode. Instead of girdles, you are encouraged to pad your waistline with a towel before wearing a yukata on top.
If you want to wear a bra, please make sure that you have an ideal one that you can comfortably sit and bow in.
Kimono, non-wire, and sports bras are the perfect bras to wear under a yukata. These kinds of bras help preserve the shape of the yukata and make the wear comfortable for long periods.
Panties, Petticoats and Slips
Traditionally, the Japanese never wore panties under yukatas, but nowadays, most people do.
Men wear boxer shorts or briefs before putting on shorts and tank tops/ t-shirts, then yukata.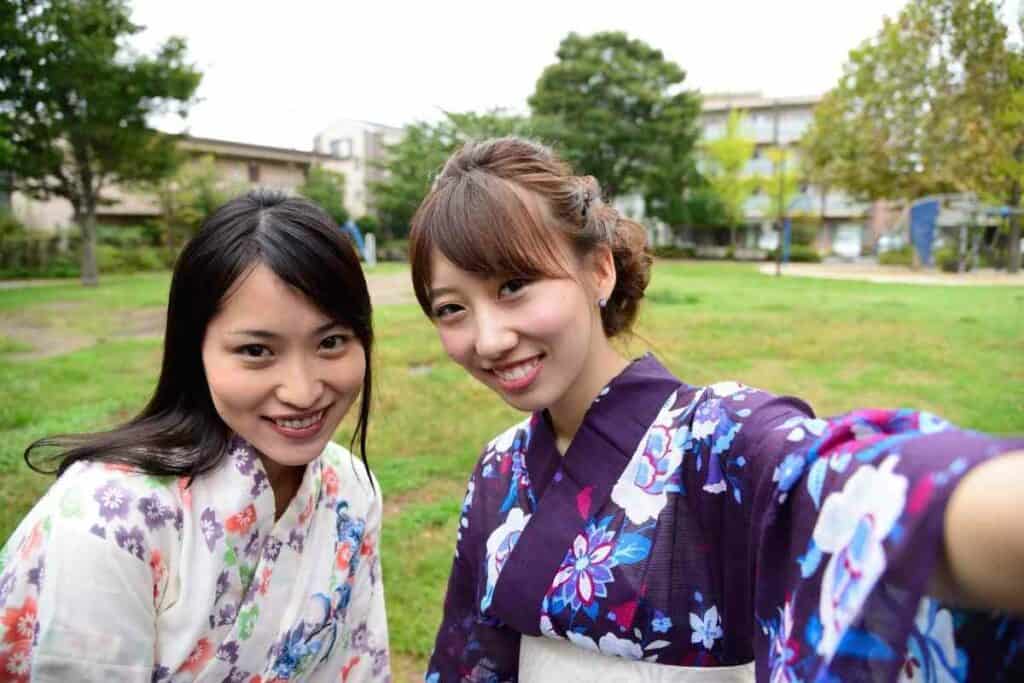 A female's panty line should not be visible when wearing a yukata. The recommended panties are seamless, back laced, and with a T-back. It also applies to men.
Women can wear a petticoat or slip-on top for better coverage to ensure nothing is see-through and are appropriately dressed without a show of panty lines.
People can wear panties whenever they want, whether they wear the yukata as sleepwear, bathing robe, loungewear, or outdoors.
Reasons Why Undergarments Should Be Worn
Yukata are both indoor and outdoor wear.
Because of its use in outdoor activities, a yukata should not be the only thing you wear. One significant aspect of wearing something underneath is that it will keep you decent.
All Colors Available
Women's Kyoto Traditional Robe
Ladies' yukata set. Includes 2-piece set of yukata, obi.This product is an authentic yukata supplied from a long-historied seller of traditional Japanese garments.
It is a fantastic pattern based on Japanese culture.

We earn a commission if you make a purchase, at no additional cost to you. Thanks!
Thus, should the yukata open in public, you will be in an outfit that is still acceptable for the time and place. Moreover, you will not have difficulty removing it should you want to undress.
Secondly, undergarments are easily washed, whereas yukata is not often washed.
Undergarments, especially cotton, should be worn to prevent sweating on and ruining your yukata, as cotton is the most comfortable and absorbent during hot weather.
Undergarments act as an under-layer that protects the yukata from getting dirty. They wick moisture from the body covering the fabric from being right up against your sweaty skin.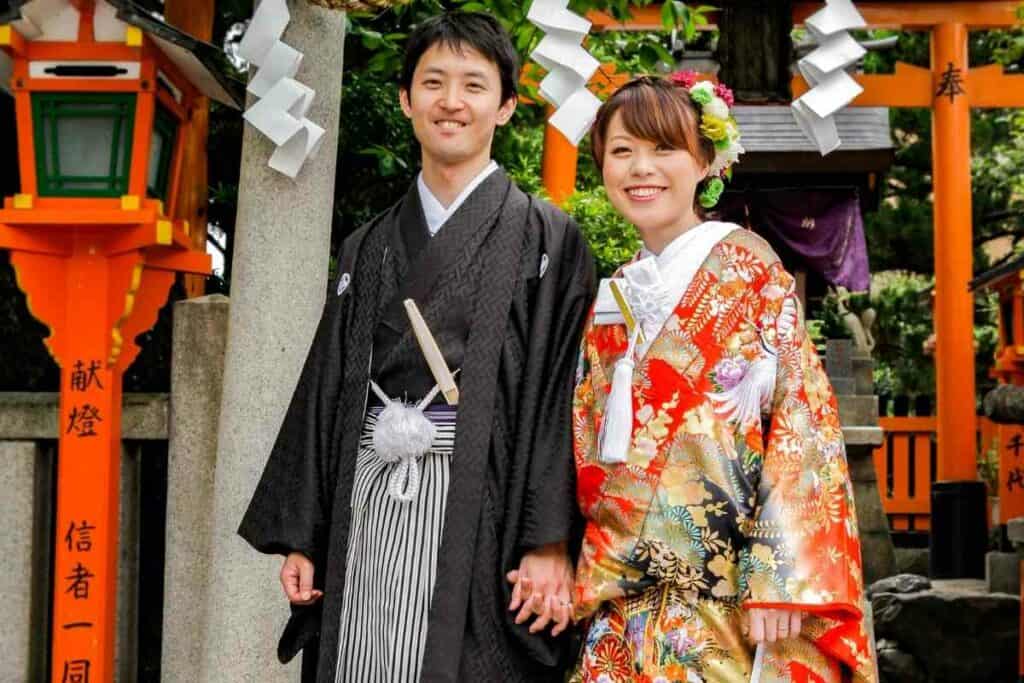 That way, you can wear the yukata without any discomfort.
Lastly, yukata is mainly made of thin fabric to allow air through. Meaning some materials are somehow see-through.
For This Reason – You should pay attention to underwear not being see-through. On top of your underwear, dress in undergarments such as juban, slips, shorts, and T-shirts to prevent your underwear from being visible.
It is recommended to not wear dark-colored underwear under a see-through yukata, moreso a white one.
For such a light yukata, dress it as a nightgown or for relaxing in your room.
You may as well get a yukata with a double layering of shell and lining, which will create natural volume and prevent seeing-through.
Final Thoughts
Yukata are becoming increasingly popular in modern fashion.
Most foreigners embrace this fashion as it can now be worn all year round irrespective of the season, is stylish, and flatters all body types.
Although wearing a Yukata can seem intimidating, especially because western-style underwear is not worn beneath yukata, and you might not know what to wear under or with a yukata.
With the above guide on the kind of undergarments that are recommended, you can now dress appropriately without worrying about it falling off and being left naked, your underwear being see-through, staining your yukata, and getting discomfort when you sweat.
You Might Also Read