If you thought Chicago was only good for deep-pan pizza, you need to think again.
The Windy City is one of America's leading culinary destinations with Japanese cuisine well represented in the city's restaurants.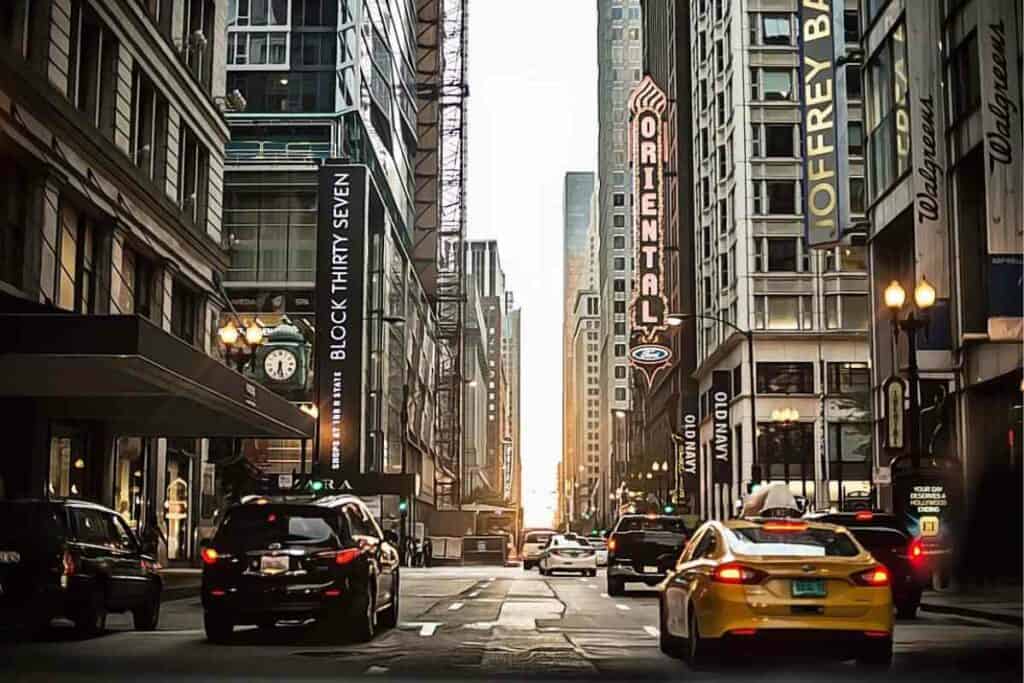 Chicago's Japanese restaurants offer a delicious introduction to the busy restaurant scene of this dynamic city.
In this article, we share 6 beautiful restaurants that are contenders for the best Japanese restaurants in Chicago.
Chi-town has a massive Japanese-American Community 
Japanese cuisine is a Chicago staple given the city being home to one of the largest post-war resettlements of Japanese Americans.
As Japanese-Americans were released from the many West Coast internment camps, they were dispersed east to find housing and work opportunities, with many families settling in Chicago.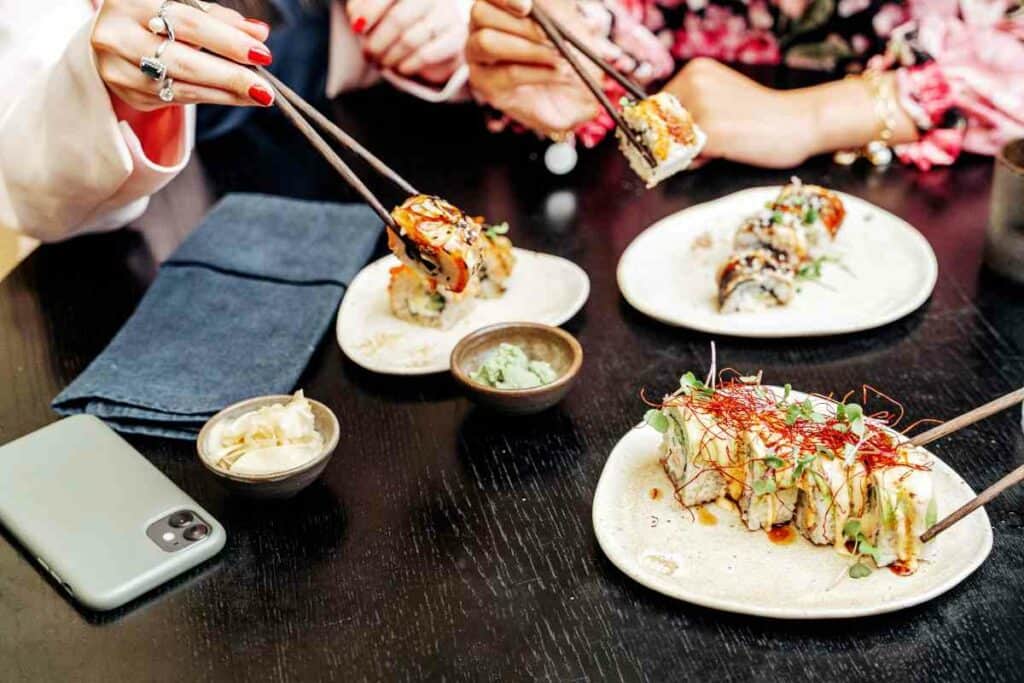 Chicago's Japanese community settled around key Chicago neighborhoods, including:
Oakland
Woodlawn
Hyde Park
and Near and Far Northside
Over time, this thriving community has reduced in size as families moved out of these areas and into the suburbs.
There are still several community groups and cultural organizations for the Japanese in Chicago which include:
Our picks for the best Japanese restaurants in Chicago
Here is our round-up of Chicago's leading Japanese restaurants.
We have shared restaurants serving delicious authentic and fusion Japanese food at a variety of price points.
We're sure you'll find a Japanese restaurant that is perfect for your next, date night, working lunch, or hanging out with friends among these outstanding eateries.
1. Momotaro Chicago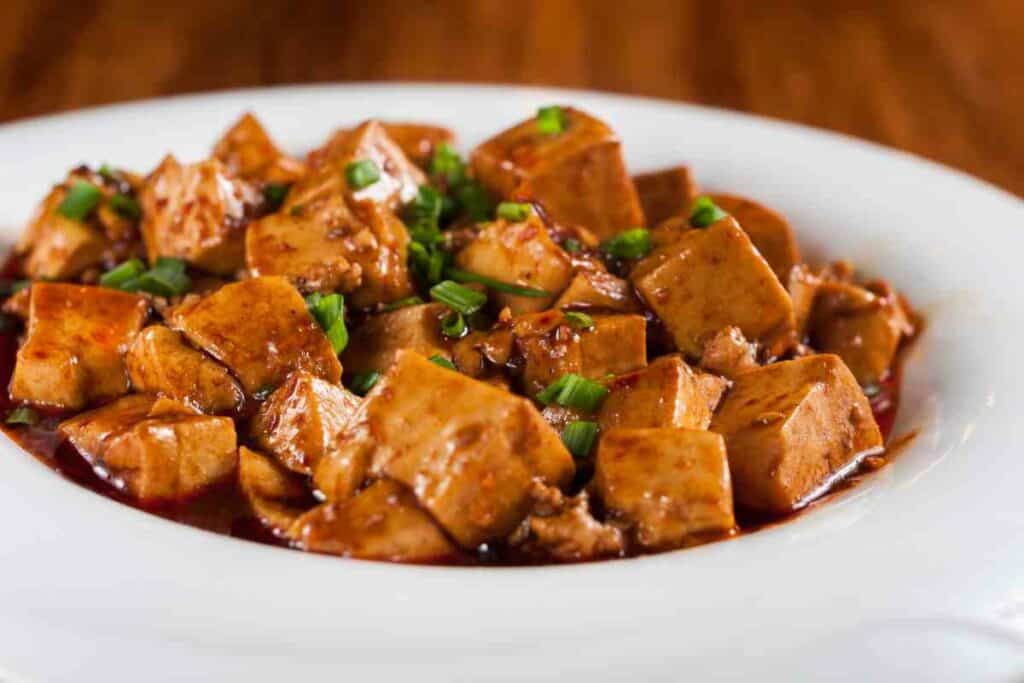 Chi-town has some epic restaurants and Momotaro is one of them.
This concept Japanese restaurant at the heart of the Fulton Market District was developed by the internationally-acclaimed restaurant designs AvroKO to a beautiful multilevel design with a dedicated sushi bar and robata grill. 
If you're in West Loop, make sure that you experience the modern Japanese cuisine which is served at Momotaro under the direction of skilled executive chef Gene Kato.
Momotaro's 'evolved' cuisine takes traditional Japanese food and applies modern preparation techniques for a new and exciting dining experience.
About Momotaro Chicago 
| | |
| --- | --- |
| Address | 820 W Lake St, Chicago, IL 60607, United States |
| Telephone  | +1 312-733-4818 |
| Opening hours | Mon to Sun: 5 pm to 10 pm |
| Reservations? | No |
| Take-out/Delivery? | No |
| Dress code | Smart casual  |
| Price point  | 🍣🍣🍣🍣 |
| Are children welcome? | No |
| Website  | www.momotarochicago.com/ |
| Email | [email protected] |
| Social media | www.instagram.com/momotarochicago/ |
Momotaro is a partnership between chef Gene Kato and the Boka Restaurant Group owned by Rob Katz and Kevin Boehm.
The restaurant first opened in 2014. This large-scale Asian eatery was an extremely ambitious venture but has been embraced by Chicago foodies as one of the city's best Japanese restaurants. 
Momotoro brings an exquisite dining experience with authentic Japanese flavors. Signature dishes the Maguro features fresh Bluefin tuna, turnip, puffed buckwheat, and a garlic shoyu.
Meals are served with some outstanding 'raw' house sakes, 'The Sound of Snow', 'Morning Flower', and 'Evening Moon'. Guests can also enjoy their meals or events in one of several private dining spaces at the restaurant. 
Momotaro Chicago menu and specials
Momotaro delivers an impeccable fine dining experience.
Here are some of the dishes you can enjoy:
Mapo Tofu, warming Japanese tofu with pork and green beans, served over rice or noodles
Momomaki, with big-eyed tuna and spicy octopus
The Imperial Strip, a mouthwatering 10 oz Waygu strip steak grilled over coals
2. ROKA Akor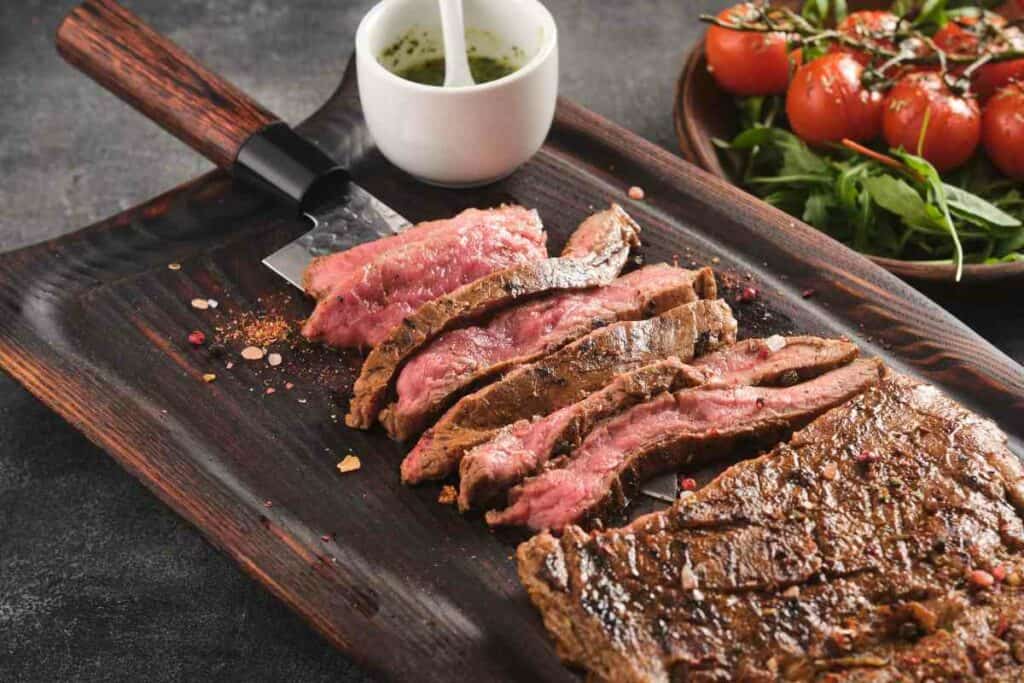 ROKA is an international Japanese brand that is known for its robata grill cuisine.
ROKA Akor is one of Chicago's most exclusive Japanese restaurants with sister establishments in upscale destinations like London, Dubai, and Houston. 
Its unique take on Japanese fusion cuisine and contemporary and stylish settings are ideal for a memorable, upscale dining experience in the heart of the Windy City.
ROKA Ator is a place to see and be seen, but brace yourself, and your credit card because this Japanese restaurant is extremely expensive.
About ROKA Akor 
| | |
| --- | --- |
| Address | 456 N Clark St, Chicago, IL 60654, United States |
| Telephone  | +1 312-477-7652 |
| Opening hours | Mon to Sun: 5 pm to 10 pm |
| Reservations? | No |
| Take-out/Delivery? | No |
| Dress code | Smart casual  |
| Price point  | 🍣🍣🍣🍣 |
| Are children welcome? | No |
| Website  | rokaakor.com/chicago/ |
| Email | [email protected] |
| Social media | www.instagram.com/rokaakorchicago/ |
There are three ROKA Akor restaurants in Chicagoland, of which the North Clark Street (River North) ROKA is one.
ROKA is the brainchild of the chef and restauranteur Rainer Becker and has a name that is reminiscent of the robata grill and the hearth where people socialize. 
ROKA Ator is known for its sleek and modern interior decor but remains an accessible and inviting venue that is suitable for casual dining.
You can enjoy delicious wines and sake from its well-stocked bars as well as rarefied house-distilled and infused shochu spirits after your meal.  
ROKA guests can dine on sushi at the bar or sit down for a more expansive meal. All fish is flown in fresh daily and is prized for its natural flavor, requiring only a sprinkling of Himalayan salt for seasoning.
The omakase (chef-selected menu) is one of the best ways to enjoy ROKA Akor sushi.
For meat eaters, the robata grill is fired up for prime cuts of Wagyu, and the finest U.S. beef.
ROKA Akor Chicago menu and specials
The River North ROKA Atol has some amazing dishes. The omakase and tasting menus enable you to experience all aspects of the ROKA menu for a single price.
Here are some highlights:
Escolar tataki, white asparagus served with a yuzu shallot dressing
Wagyu sirloin steak with bone marrow, and truffle aioli. 
Japanese mushroom rice hot pot served with shaved black truffles); an 'umami bomb'
3. TenGoku Aburiya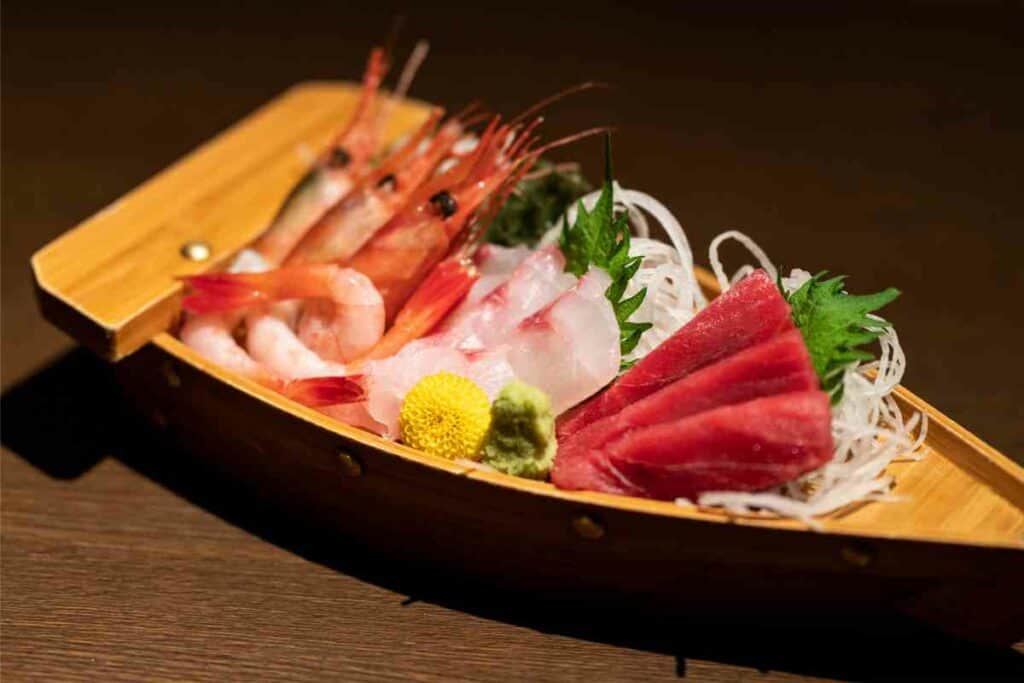 If you are looking for a Japanese dining experience in Chicago, the izakaya tavern Tengoku Aburiya is a leading choice.
This Chicago Japanese restaurant offers relaxed dining without scrimping on the quality or flavor of Japanese haute cuisine.
The name TenGoku means 'heaven' and this is where Michelin-starred Chef Sangtae and his team want to transport you, with his laid-back neighborhood vibe.
As with any pub or tavern, all meals are washed down with a choice of Japanese sake and beer. 
About TenGoku Aburiya
Address
820 W Lake St, Chicago, IL 60607, United States
Telephone 
(312) 846-6633
Opening hours
Tue to Thurs: 11:30 am to 1:30 pm and 5 pm to 10 pm
Fri: 11:30 am to 1:30 pm and 5 pm to 11 pm
Sat: 4 pm to 11 pm
Sun: 4 pm to 9 pm
Mon: closed
Reservations?
No
Take-out/Delivery?
Yes
Dress code
Smart casual 
Price point 
🍣🍣🍣
Are children welcome?
Yes
Website 
www.tengokuaburiya.com/
Email
[email protected]
Social media
www.instagram.com/tengoku_aburiya/
TenGoku is the brave and bold venture of feted chef Sangtae Park and his partner Kate Park.
They opened the restaurant during the challenging 2020 period, but the passing years have seen this Japanese eatery go from strength to strength.
TenGoku is not far from its Michelin-starred sister restaurant Omakase Yume but has a more gastropub vibe and an extremely eclectic menu. 
TenGoku Aburiya menu and specials
TenGoku Aburiya is the place to experiment. Be prepared to spend big as there are so many delicious dishes to share.
Here are some of TenGoku Aburiya's hits:
The kale-miso salad
Sashimi platters
Lollipop chicken wings
Agedashi tofu, battered tofu in a broth, with fish flakes
Ruffled chicken skin skewers, grilled to a crisp finish
Beef tongue
4. Umai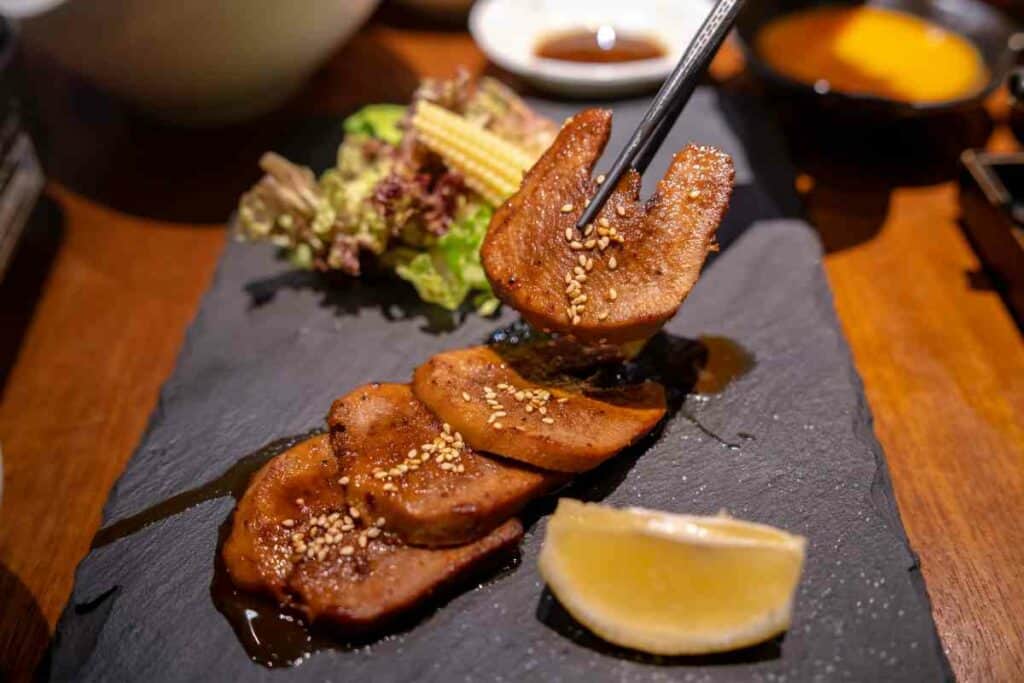 If you are looking for Japanese cuisine for lunch or dinner in Chicago's South Loop, Umai's cozy, loft setting with great corner views is an ideal choice.
Situated on Printers Row, the restaurant offers a delicious sushi bar and moreish bowls in their seated section. 
This up-and-coming restaurant is generating buzz around its modern menu, filled with authentic Japanese flavors and international flair.
This outstanding setting features a bold Japanese mural, hanging lights, and dark, earthy tones that are typical of many Japanese restaurants. 
About Umai
Address
  730 S Clark St, Chicago, IL 60605, United States
Telephone 
+1 312-986-8888
Opening hours
Mon to Sat: 11:30 am to 3 pm and 4:39 pm to 10 pm
Sun: 4:30 pm to 9:30 pm
Reservations?
Yes
Take-out/Delivery?
Yes
Dress code
Smart casual 
Price point 
🍣🍣🍣
Are children welcome?
Yes
Website 
www.umaichicago.com/
Email
[email protected]
Social media
www.instagram.com/umaichicago/
Umai is owned by Thai-American executive chef Mai Pongpeera and his family.
Pongpeera has spent time developing a menu that pays homage to the simple flavors of home-cooked Japanese food, with great attention to detail and only the freshest ingredients.
Umai's menu spans sushi-sashimi, noodles, broths, grilled meat, and fish with delicious homemade broths and dipping sauces.
Diners rate the consistent quality and professional service of this restaurant as well as the great atmosphere.
Umai menu and specials
Umai serves a fresh, seasonal lunch and dinner menu that includes classic Japanese dishes like:
The katsu don with pork cutlet over rice with mushroom and egg
Grilled beef tongue with lemon sea salt
Umai house salad with crispy wonton strips and nori
Pork and chicken miso ramen
5. Gyu-Kaku Japanese BBQ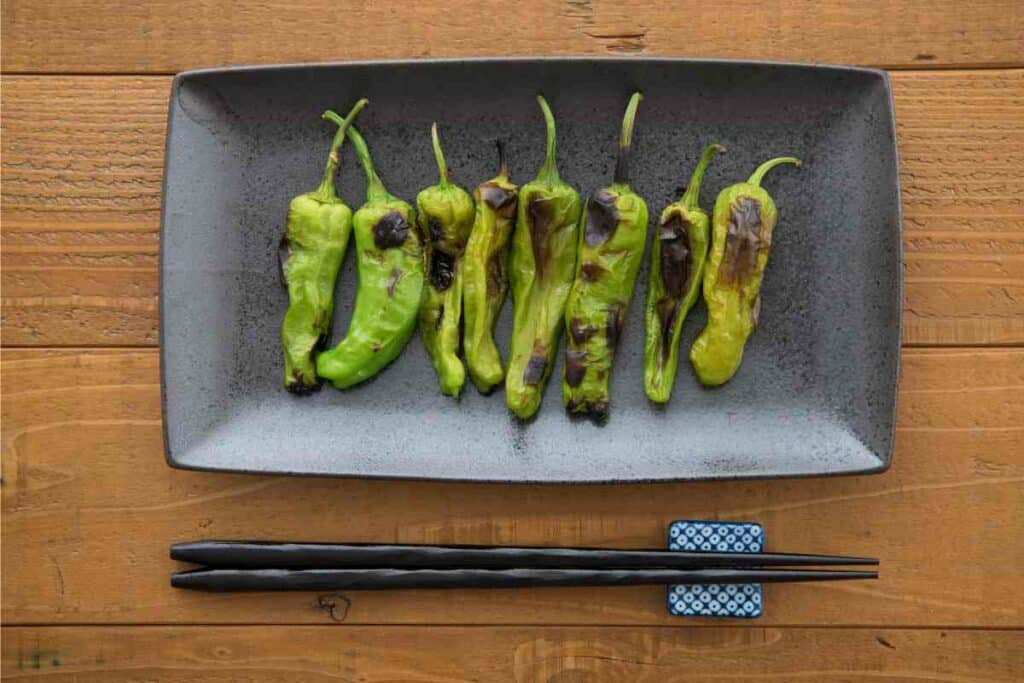 With a name that means 'horn of the bull', you couldn't get any meatier than a visit to the Japanese grill Gyu-Kaku in Chicago's West Loop.
This eatery has been a hit across the U.S. with multiple restaurants on both coasts and in-between, run on a franchise basis. 
Despite Gyu-Kaku being a restaurant chain, Chicagoans cannot get enough of their clever take on Japanese BBQ. At Gyu-Kaku, diners get to grill their meat on a grill that is built into the table.
So you can enjoy freshly seasoned and roasted meats without the hassle and prep of setting up your own BBQ and even throw on some s'mores for dessert!
About Gyu-Kaku Japanese BBQ
| | |
| --- | --- |
| Address | 1364 W Randolph St, Chicago, IL 60607, United States |
| Telephone  | +1 312-982-2840 |
| Opening hours | Mon to Sun: 11 am to 10 pm |
| Reservations? | Yes |
| Take-out/Delivery? | Yes |
| Dress code | Casual  |
| Price point  | 🍣🍣 |
| Are children welcome? | Yes |
| Website  | www.gyu-kaku.com/chicago/ |
| Social media | facebook.com/GyuKakuWestLoopIL/ |
The Gyu-Kaku brand has several restaurants in the Chicago Metro area. The menu spans Japanese and Korean BBQ cuisine.
Gyu-Kaku in West Loop is extremely popular with locals and tourists and puts on events that include 'Grill with Dad' days and Waygu and Kobe rib-eye steak specials.
Gyu-Kaku Japanese BBQ menu and specials
If you're a meat eater, you're going to get the most out of a visit to this popular spot.
They also do the grilling for you if you want to order your favorite dish as a take-out or delivery order.
Here are some of the mouthwatering dishes at Gyu-Kaku Japanese BBQ: 
Umakara pork
Shishito – grilled peppers
Toro beef
Delicious sides including garlic shio cabbage, miso soup, and spicy addicting cucumber
6. Kai Zan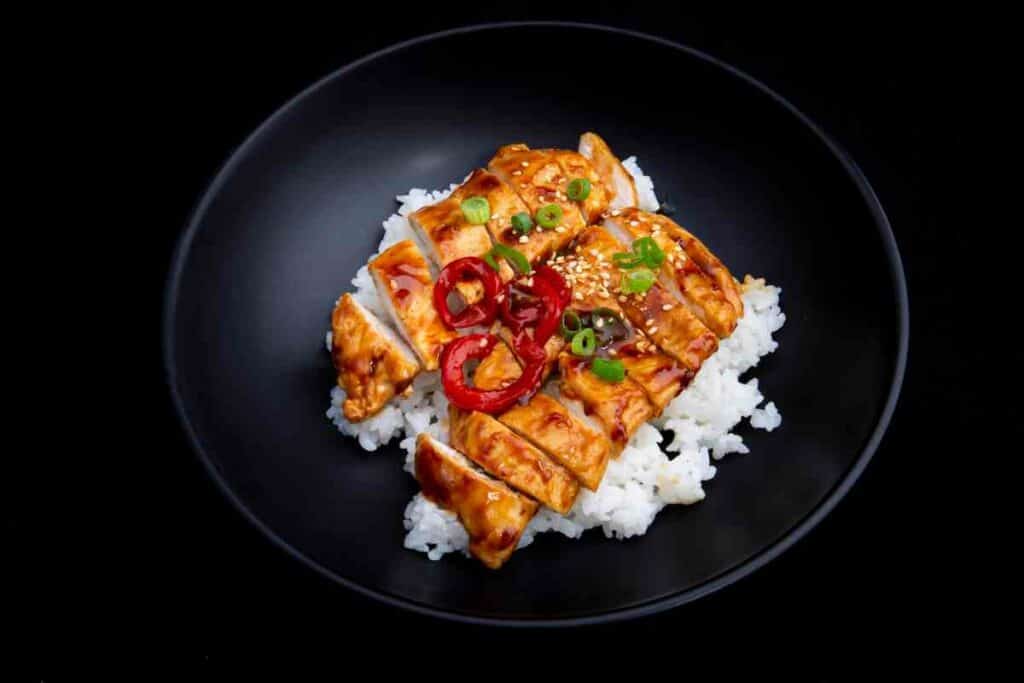 Kai Zan on West Chicago Avenue is a popular BYOB sushi bar and restaurant which serves great sushi omakase-style.
Owners Melvin & Carlo Vizconde have taken a creative approach to omakase with an expansive tasting menu that features amazing Japanese fusion dishes. 
At $75 for 10 courses, Kai Zan is competitively priced, especially when compared to other high-end Japanese restaurants.
Small plates the chef may send your way include delicious scallop shooters and dynamite mussels.
About Kai Zan
Address
2557 W Chicago Ave, Chicago, IL, United States, 
Telephone 
+1 773-278-5776
Opening hours
Tue to Fri: 11:30 am to 10 pm
Sat: 4:30 pm to 11:30 pm
Sun and Mon: closed
Reservations?
Yes
Take-out/Delivery?
No
Dress code
Smart casual 
Price point 
🍣🍣🍣
Are children welcome?
Yes
Website 
www.eatatkaizan.com/
Email
[email protected]
Social media
www.instagram.com/kaizanchicago/
Kai Zan is owned by restauranteurs and sushi experts Melvin & Carlo Vizconde, known as the sushi twins!
These Chicago-based twin chefs worked in Chicago's best sushi establishments for almost 20 years before leaping to own their own joint.
They combine modern and traditional Japanese cooking techniques to create, delicious Japanese cuisine.
The brothers are keen to share their expansive repertoire with diners in a relaxed and intimate setting. 
Kai Zan menu and specials
The Kai Zan menu is so varied and delicious that you'll be glad for the selections of your chef to help you get the most out of it.
Some of the highlights of this menu include:
Mushroom medley appetizer
Maguro pearls, seared tuna with soy, and truffle-soaked scallion
Chicken teriyaki served with rice and miso
Black garlic polenta bites
Best Japanese Restaurants in Chicago FAQs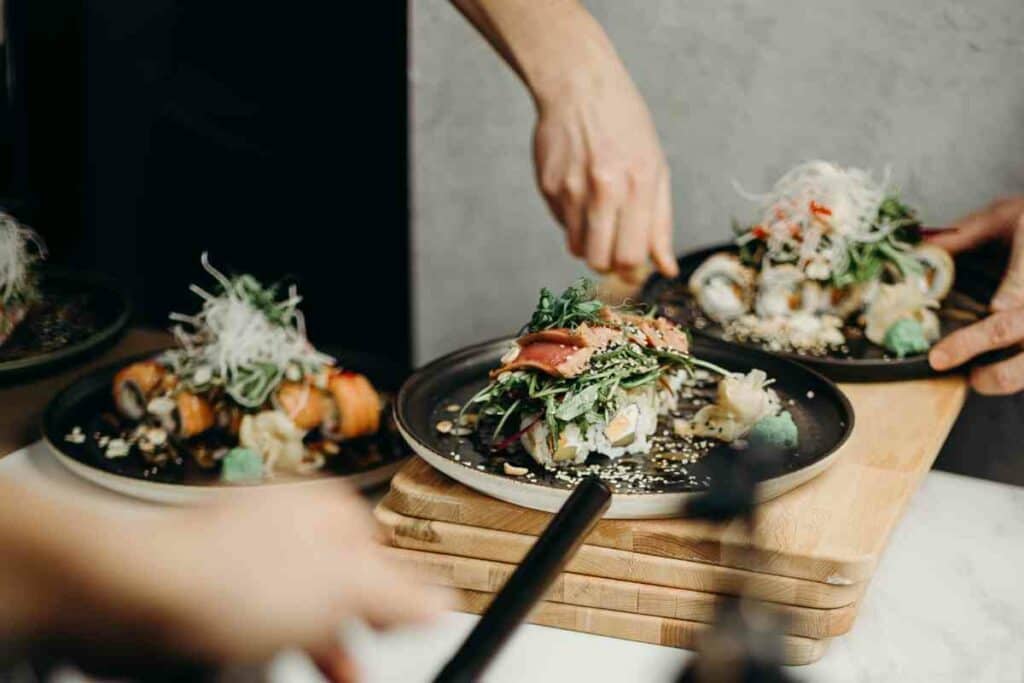 What is Wagyu beef?
Wagyu refers to the beef produced by four special breeds of Japanese cattle:
1. Japanese Black
2. Japanese Red
3. Japanese short-horn
4. Japanese polled
Wagyu is prized for its high-quality fatty meat with exquisite marbling. This beef is sold at a premium around the world.
In Japanese cuisine, Wagyu meat is eaten as:
– Shabu-shabu
– Sashimi
– Teppanyaki  
– Steak 
– Sukiyaki
What is Kobe beef?
Kobe beef (神戸ビーフ) is the beef of the Tajima breed of Japanese Black cattle. It is esteemed for the well-marbled, fat-rich meat it produces. Kobe beef comes from the Hyōgo Prefecture. Its characteristics are strictly defined by the Kobe Beef Marketing and Distribution Promotion Association.
What is Izakaya?
An izakaya (居酒屋) is a relaxed bar, tavern, or pub setting in Japan where people can enjoy after-work drinks and a variety of bar snacks. Izakaya cuisine is tapas style with lots of small plates of food rather than entrees. 
What is robata?
Robata (ろばた i) or robatayaki is a Japanese cooking method that involves cooking food at the hearth or fireside over hot coals. Robata cuisine originated with Japanese fishermen in the north, but became very popular, with numerous regional variations. 
Should you tip in Japanese restaurants?
In Japan, tipping is considered bad manners, and may even be perceived as an insult or returned to you. Money should not be exchanged with servers with most restaurants expecting diners to pay at the front entrance of the restaurant. In America, tipping is routine, even in Japanese restaurants, unless a restaurant expressly states otherwise.
In Conclusion
Mouthwatering treats await you in Chicago's Japanese restaurants. If you're a Chi-town resident, the city's Japanese eateries offer enough variety for great eating every day of the week!
The warm welcome, great vibe, and mouth-watering cuisine in Chicago can make anyone a Japanese food lover!