London has an enviable reputation for international cuisine.
But if you want to eat great Japanese food, where do you go?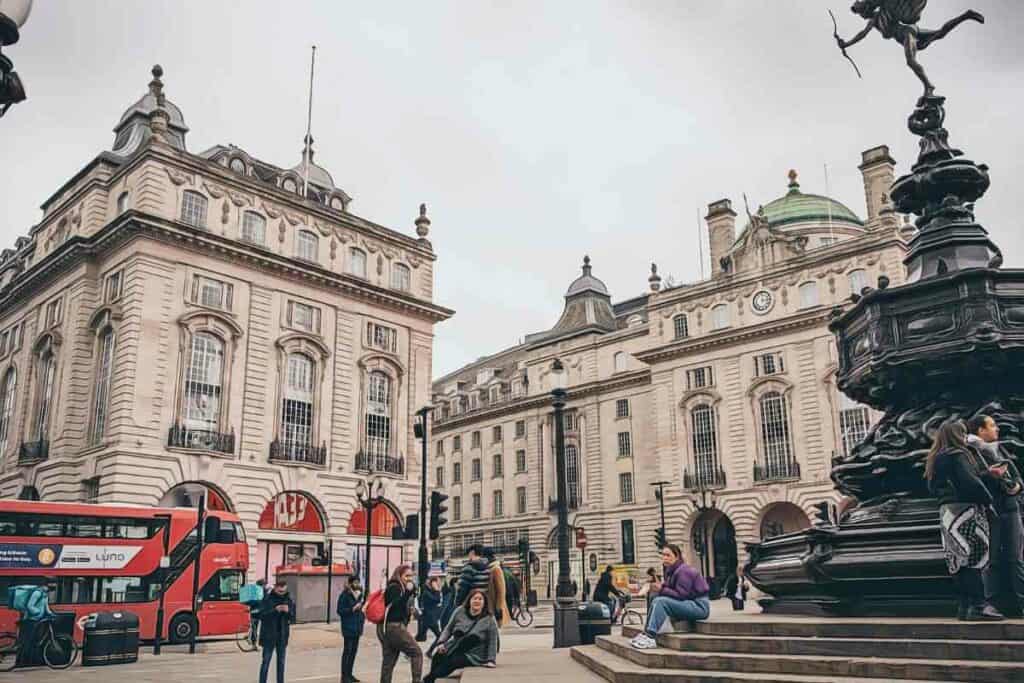 In this article, we search for the best Japanese in London, rounding up the best Japanese restaurants in London, whether you have pounds, shillings, or pence!
London Is a City of Nipponophiles!
The UK capital has had a longstanding warm relationship with the Japanese and has embraced the food and culture of Japan.
British Royal and Japanese Imperial Relations go back hundreds of years, with the establishment of popular contemporary cultural venues like Leicester Square's Japan Center and the famous Japan House on Kensington High Street being the major cultural hubs.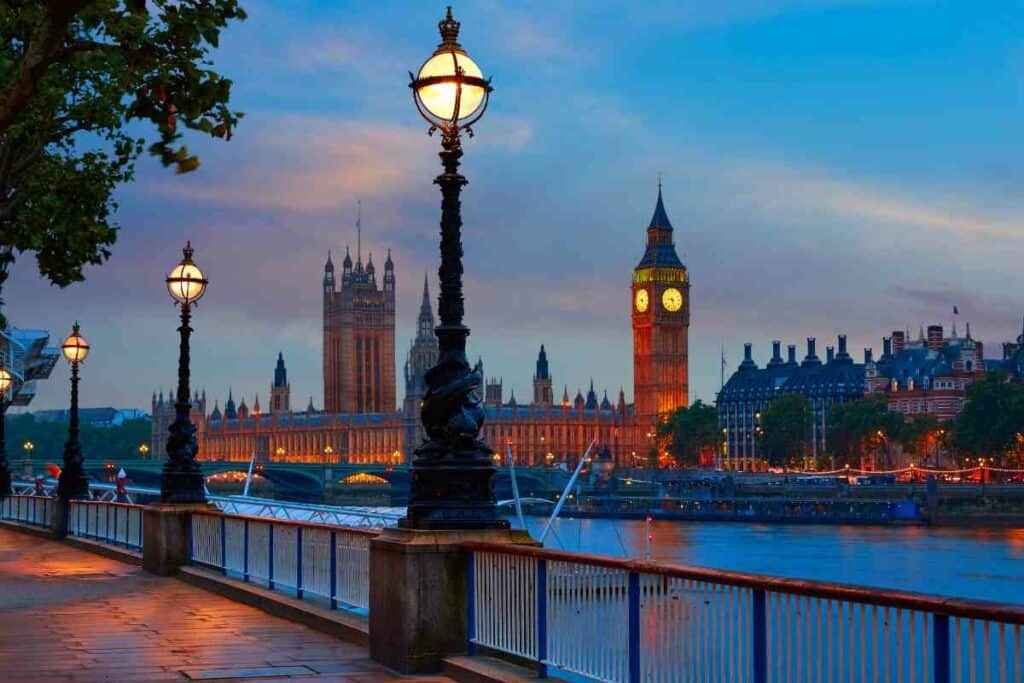 The Japanese embassy coordinates a lively roster of cultural events, including Hanami celebrations.
Take a look – 10 Best Hanami Destinations In Japan
Though London does not have a major Japanese neighborhood or Japantown, the residential districts of Acton, Finchley, and Croydon have notable numbers of ex-pat Japanese, with Acton's Japanese School in London being a key educational institution for well-to-do Japanese families. 
6 best Japanese restaurants in London?
London is one of the world's greatest dining destinations, so it's no surprise that you'll find some of the best Japanese food outside Tokyo in the UK capital.
Better still London's Japanese eateries have menus for breakfast, lunch, and dinner and most budgets are easily accommodated.
Let's take a look at the best of London's Japanese cuisine.
1. ROKA Mayfair
ROKA is an international restaurant brand, and London is where it began.
ROKA Mayfair continues to be a destination for London's well-heeled to enjoy amazing sushi, ramen, and tempura, washed down with cocktails and ultra-dry sake.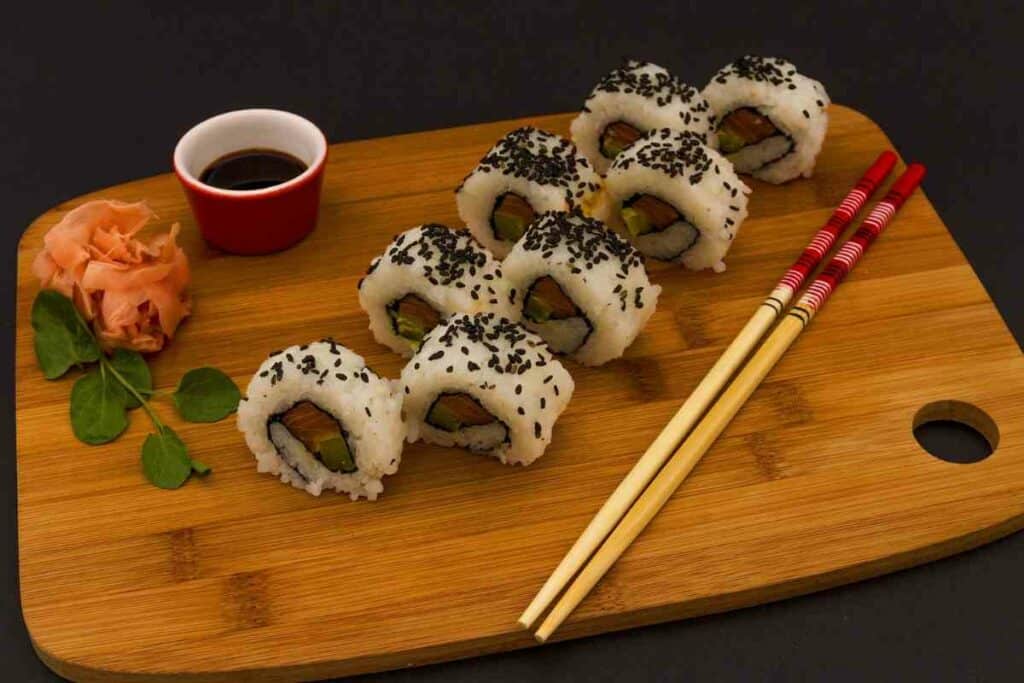 The layout and vibe of ROKA Mayfair are designed after the hibachi restaurants of Japan, with the open kitchen and robata island grill bringing the drama.
Though the dress code for the bar is smart casual, this Japanese restaurant is extremely relaxed, with attentive staff who put you at ease. 
About ROKA Mayfair
| | |
| --- | --- |
| Address | 30 N Audley St, London W1K 6RQ |
| Telephone  | +44 20 7305 5644 |
| Opening hours | Mon to Sun: 12 pm to 10 pm |
| Reservations? | No |
| Take-out/Delivery? | No |
| Dress code | Smart casual  |
| Price point  | 🍣🍣🍣🍣 |
| Are children welcome? | No |
| Website  | www.rokarestaurant.com/restaurant/roka-mayfair/ |
| Social media | www.instagram.com/rokamayfair/ |
The ROKA brand was founded by the famous German chef and restauranteur Ranier Becke.
His London Japanese restaurants are some of the world's best, and the ROKA brand he started on Charlotte Street in Fitzrovia has become an international sensation. 
This 80-cover restaurant is a great choice for grilled Japanese food, with everything cooked fresh on the robata grill.
Though the presentation and service are undoubtedly Western, this fusion menu pays homage to the freshness and flavors of traditional Japanese cuisine. 
ROKA Mayfair menu and specials
Momotaro delivers an impeccable fine dining experience.
Here are some of the dishes you can enjoy:
Gyuniku to goma no gyoza, succulent beef, and sesame dumplings with ginger and soy vinegar
unagi no kunsei to sancho doresshingu sushi, featuring smoked eel and sancho pepper dressing
tokujou wagyu to kinoko no tsukemono, wagyu beef, with a wasabi ponzu and mushrooms
yo-nashi aisu, dark chocolate, and green tea pudding served with pear ice cream
2. Tenshi
Upper Street in Islington Angel is one of the best places to let yourself find a restaurant after a stroll through the neighborhoods of central London.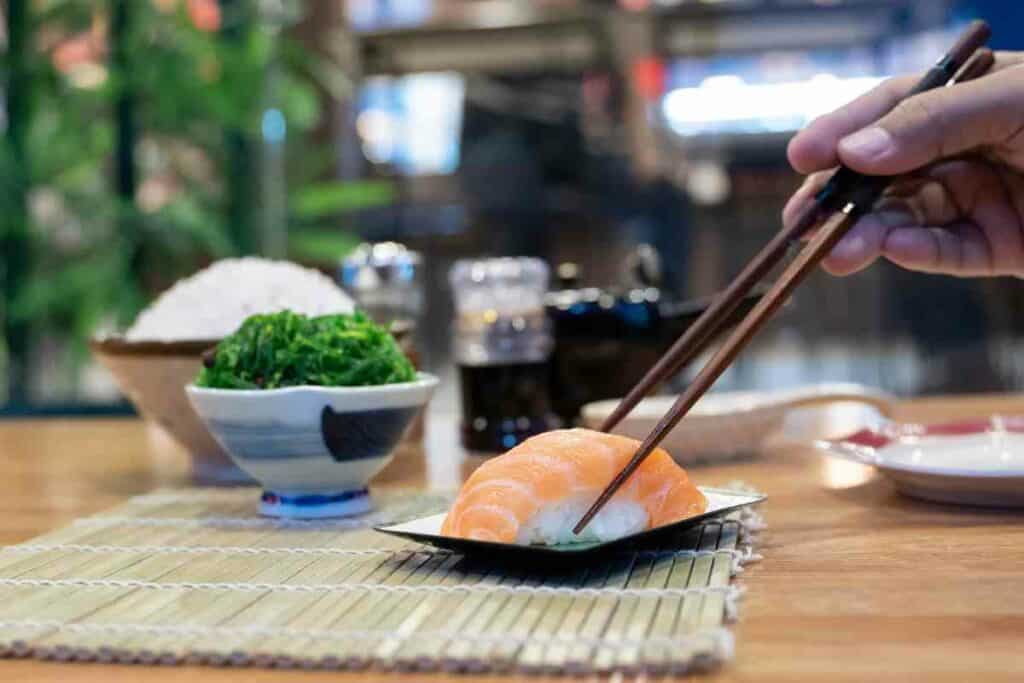 One of the best is the 100% local and authentic Japanese restaurant Tenshi. 
This restaurant has been established by Londoners who love authentic izakaya and sushi with some of the best sushi, sashimi, and noodles, you'll find this side of King's Cross.
It gets pretty hectic in the evenings and weekends, but with a fantastic lunch menu, you will be able to enjoy their great Japanese cuisine with a side of peace and quiet.
About Tenshi
Address
61 Upper St, London N1 0NY
Telephone 
+44 20 7226 4665
Opening hours
Tue to Sun: 12 pm to 3 pm and 5:30 to 10 pm
Mon: closed
Reservations?
No
Take-out/Delivery?
Not yet
Dress code
Casual 
Price point 
🍣🍣
Are children welcome?
Yes
Website 
www.tenshilondon.com/
Social media
www.instagram.com/tenshilondon/
Tenshi first opened its doors in early 2010 and has become the local's favorite Japanese.
It is family-run by Joe Mossman with a skilled Japanese team led by sushi chef Yasuo Sato and hall manager Kaori Minamimura who both hail from Osaka. 
Joe is one of Japan's London experts and a serial restauranteur.
He is well-traveled in Japan and ensures that Tenshi sources only the finest quality fish and ingredients. Tenshi brinks some rarely available dishes to the UK, such as okonomiyaki savory pancakes!
Londoners love the beautifully refurbished building which used to be a kebab shop.
They have stayed faithful to Japanese culture and expertly recreated the lively atmosphere of a Japanese neighborhood izakaya, complete with Asahi and Kirin draft beers. 
Tenshi menu and specials
Joe and the team make frequent trips to Japan to keep abreast of contemporary Japanese flavors and tastes.
This is reflected in Tenshi's dynamic menu with delicious offerings that include:
Tofu Teriyaki Bento
Pumpkin Korroke Curry
Salmon uramaki
Shrimp and leek gyoza
3. Wagamama Canary Wharf
Wagamama in Canary Wharf is a popular spot for locals, commuters, and tourists who want to enjoy this popular brand's Japanese fusion cuisine.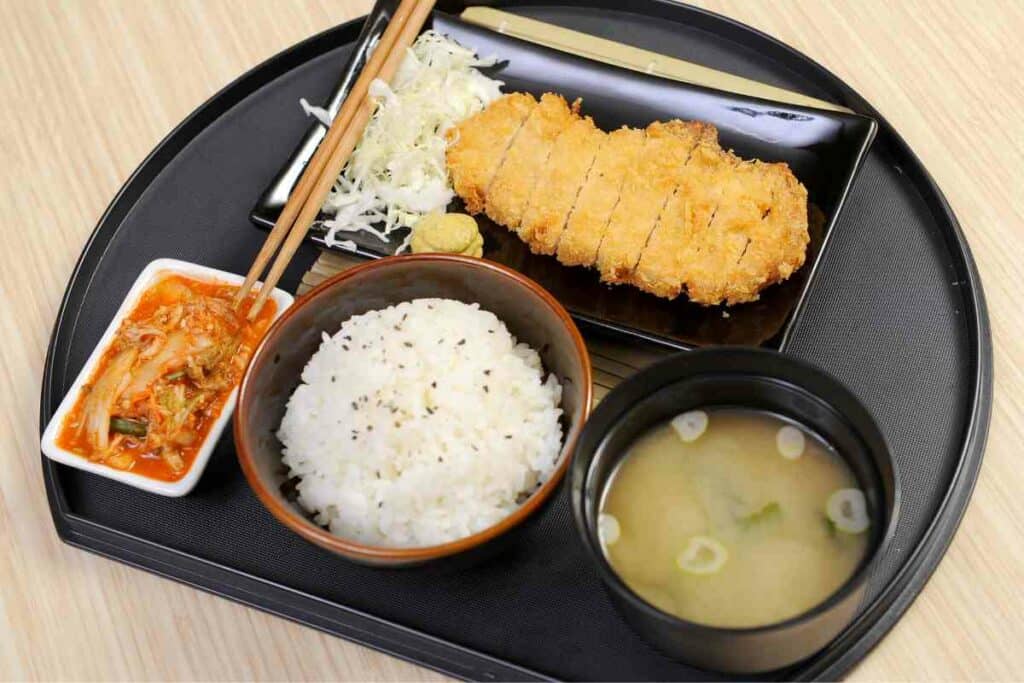 The Wagamama brand is big in the UK and loved by people of all ages and budgets.
The canary wharf location is an ideal stop if you are sightseeing or shopping in and around the East End of London. 
Wagamama has been around for over 30 years and has been credited with introducing the Brits to Japanese dishes like ramen and katsu curry.
This is not orthodox Japanese cuisine, but it's hot, fresh, and can be enjoyed by the kids too!
About Wagamama
| | |
| --- | --- |
| Address | Unit 39, jubilee place, 45 Bank St, London E14 5NY |
| Telephone  | +44 20 7516 9009 |
| Opening hours | Mon to Sun: 11 am to 10 pm |
| Reservations? | No |
| Take-out/Delivery? | Yes |
| Dress code | Casual  |
| Price point  | 🍣🍣 |
| Are children welcome? | Yes |
| Website  | www.wagamama.com |
| Social media | www.instagram.com/wagamama_uk/ |
Alan Yau, a prominent London restauranteur opened the first Wagamama in Bloomsbury in 1992.
Back then, it was extremely novel and soon developed a cult following.
The brand has grown to 130 UK restaurants and over 60 overseas. It is owned by the private equity firm, Duke Street Capital. 
Wagamama remains popular with students and young people because of its great service but the dining experience varies greatly between restaurants.
The restaurants are also running an extremely busy delivery service which can put a strain on your wait at the table.  
Wagamama menu and specials
The Wagamama menu covers a wide variety of popular Japanese and Asian dishes.
Here are some Wagamama favorites:
The Shiro dashi pork belly ramen with chicken broth, seasonal greens, menma, and tea-stained egg
The prawn firecracker curry served with mangetout, peppers, chilies, and rice
Banana katsu with panko-coated deep-fried banana and ice cream
4. Itsu, Brunswick Centre WC1N
Itsu is a London chain of Japanese restaurants and takeaways.
The brand even includes a grocery range of dried and frozen food sold in supermarkets.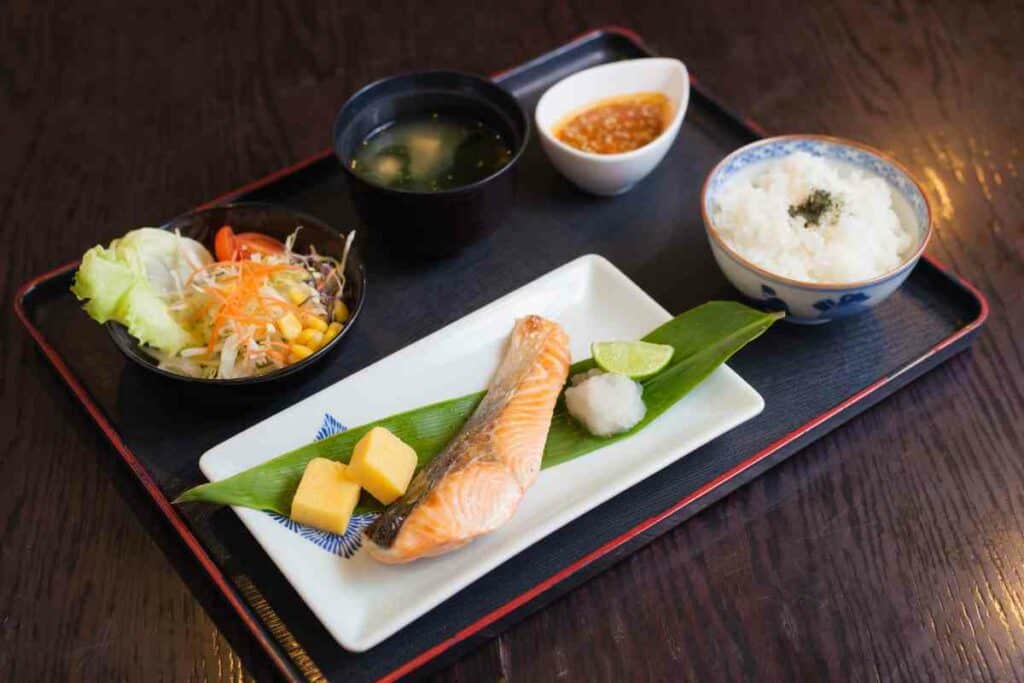 Londoners top at Itsu for a fast-paced working lunch or evening snack on the way to a night out. 
Itsu is rated for its healthy, Japanese-inspired menu, with all dishes under 500 calories.
Their sushi is pretty generic but good quality and freshly prepared in-store alongside a menu that includes steamed dumplings and noodle-rich soups.
To prevent food waste, Itsu slashes its food to half-price every evening, so you know when to go.
About Itsu
| | |
| --- | --- |
| Address | The Brunswick Centre, London WC1N 1AF |
| Telephone  | +44 20 7833 6066 |
| Opening hours | Mon to Sun: 7 am to 10 pm |
| Reservations? | No |
| Take-out/Delivery? | Yes |
| Dress code | Casual  |
| Price point  | 🍣🍣 |
| Are children welcome? | Yes |
| Website  | www.itsu.com/ |
| Social media | www.instagram.com/itsuofficial/ |
Itsu is the brainchild of British entrepreneur Julian Metcalfe who fell in love with the Japanese way of doing food while in Tokyo in the early 1990s.
Metcalfe's enthusiasm for the Japanese diet and lifestyle inspired his development of a London-based Japanese eatery. 
The first Itsu opened in Chelsea in 1997, with over 80 more added to the present day. Itsu strives to operate sustainably and pays its staff at least the London Living Wage.
Itsu also provides its staff with free food and paid breaks, unlike many of the capital's hospitality venues.
Itsu menu and specials
Itsu offers a fresh and healthy menu, with each dish being no more than 500 kcals.
Here are some of the best selections from the Itsu menu:
Salmon sashimi with sushi-grade Atlantic salmon and muki beans
Freshly steamed chicken and spring onion gyoza
Itsu's famous coconut chicken soup
Triple chicken teriyaki rice bowl
Raspberry and chocolate mochi, a cheesecake wrapped in rice dough
5. YO! Sushi London Selfridges
YO! Sushi or YO! is one of the UK's most popular sushi brands and can be credited with bringing sushi to mainstream attention back in the 1990s.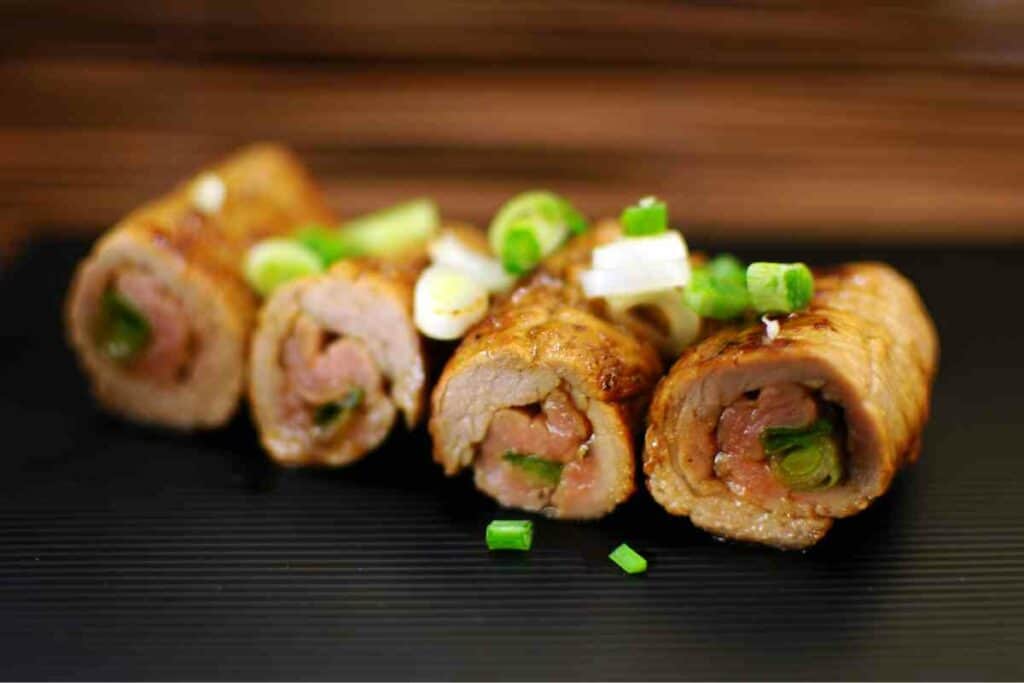 Despite being almost 30 years old, it hasn't lost its appeal, and the landmark conveyor belt in the Food Hall of Selfridges department store is one of its most famous and stylish outlets. 
YO! Sushi is not the first conveyor belt sushi restaurant, but it is the first to thrive in the UK.
Diners can select freshly prepared sushi from the conveyor belt to enjoy. The sushi is served on color-coded plates so that servers can calculate the cost of the total meal.
You can also order a la carte from the menu and have hot dishes too. 
About YO! Sushi London Selfridges
Address
Selfridges Food Hall, 400 Oxford St, London W1A 1AB
Telephone 
+44 20 7318 3944
Opening hours
Mon to Sat: 11 am to 9 pm
Sun: 12 pm to 6 pm
Reservations?
Yes
Take-out/Delivery?
Yes
Dress code
Casual 
Price point 
🍣🍣🍣
Are children welcome?
Yes
Website 
yosushi.com
Social media
www.instagram.com/yosushi/
UK entrepreneur Simon Woodroffe founded YO! Sushi in the late 1990s after seeing the conveyor belt sushi concept in Japan.
The first restaurants were in central London, where the brand has continued to be popular with Londoners and tourists.
YO! Sushi is now owned by an equity management company and has restaurants across the world.
YO! Sushi London Selfridges menu and specials
YO! Sushi has a lot of competition these days, but the Selfridges store remains a destination eatery for the brand.
They do lots of specials, including the Blue Monday offer, where all plates are £2.40 ($3).
Here are some of the most popular YO! Sushi dishes:
Chargrilled steak teriyaki with rice, radish, and pak choi
Avocado maki
Chicken firecracker rice
Hoisin duck roll
Mighty duck fries
6. The Araki
Do you want to eat at London's most elusive, exclusive, and expensive restaurant? If yes, you will be eating at the Japanese restaurant The Araki. 
The Araki is London's most expensive restaurant, with the average meal costing a whopping £1000 ($1200).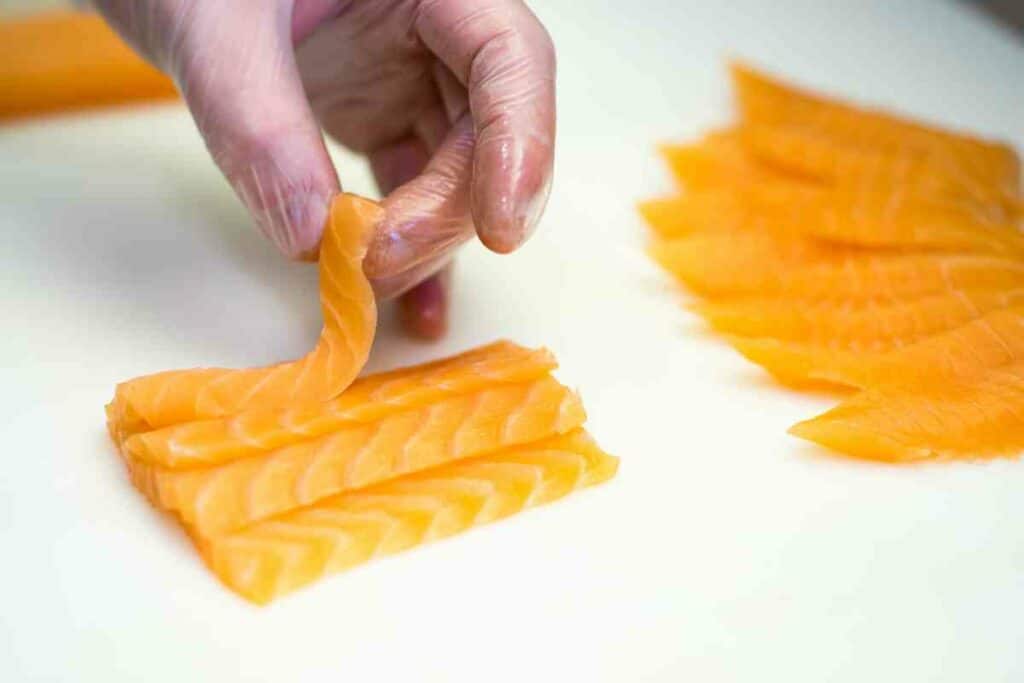 With three Michelin stars, rare for any restaurant, chef and owner Mitsuhiro Araki thinks he's worth it!
Dining at The Araki is by appointment. Diners are presented with an exclusive handcrafted meal prepared by chef-patron Mitsuhiro Araki himself.
This expensive omakase features some of the world's most premium ingredients often sourced by the maestro himself.
About The Araki
Address
Unit 4, 12 New Burlington St, London W1S 3BF
Telephone 
+44 20 7287 2481
Opening hours
Tue to Sat: 6 pm to 8 pm and 8:30 pm to 11:30 pm
Sun: 12 pm to 6 pm
Reservations?
Yes
Take-out/Delivery?
No
Dress code
Smart
Price point 
🍣🍣🍣🍣🍣
Are children welcome?
No
Website 
the-araki.co.uk/
Social media
www.instagram.com/yosushi/
Mitsuhiro Araki is a Japanese chef who established a three-Michelin-starred restaurant in Tokyo called Araki.
In 2013 he closed his Tokyo restaurant and decamped to London, opening The Araki in 2014. 
The Araki was soon a success with the restaurant earning its second star in 2016, and its third star in 2018.
The Araki consists of a sushi counter with just nine seats. Everything is prepared in front of you in real time by Oyakata (Sushi Master) Araki and his team.
To eat at The Araki you have to call up by phone and pay a £300 deposit.
The team takes payment but will not email you or confirm your booking so you have to show up on the day, on time, or lose your deposit. There is a waitlist. 
The Araki menu and specials
The Araki has no menu. Diners essentially attend an omakase audience with the sushi master where the menu is entirely up to him.
The dining session is ceremonial, a performance with ritualistic hospitality much like the tea or incense ceremony.
The Edomae Sushi served is the most renowned in Japan.
FAQs about the best Japanese restaurants in London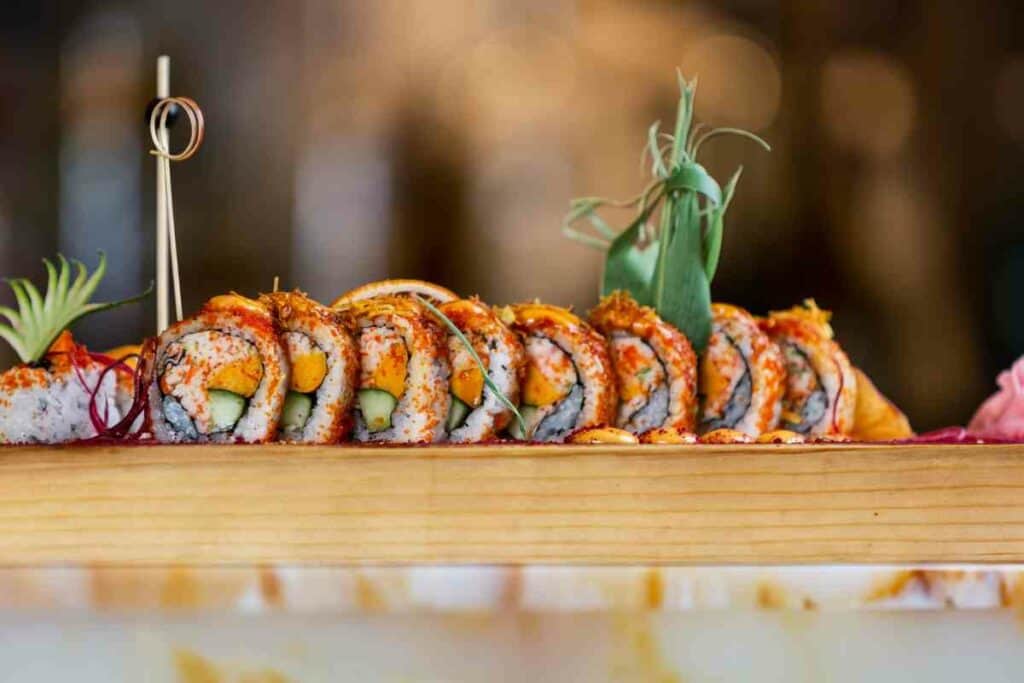 What is okonomiyaki?
Okonomiyaki (お好み焼き) is a savory pancake that comes from Hiroshima, Osaka. It has a distinctively sweet, savory, and spicy taste from flavors like pickled ginger and Worcestershire sauce. These wheat flour pancakes are filled with meat, seafood, or vegetables. 
What is an Oyakata?
The word Oyakata (親方) is a Japanese honorific meaning 'master'. It can be applied to an expert sushi maker.
Where can you buy Japanese ingredients for cooking in London?
If you want to try making your own, sushi, ramen, or yaki udon.
Here are three of London's best stored for Japanese groceries:
– Atariya Foods Golders Green: 15-16, Monkville Parade, Finchley Rd, London NW11 0AL
– The Japan Center: 35b Panton St, London SW1Y 4EA
– HIS Japan Premium Food and Travel: 212 Shaftesbury Ave, London WC2H 8EB
What is sushi-grade fish?
Sushi grade fish is a marketing term that is applied to fresh fish that is considered suitable for eating raw.
There is no official sushi-grade fish and raw fish is not regulated, but reputable retailers will do their best to ensure that their fish is carefully handled and free from parasites.
Is curry Japanese?
Curry is not a native Japanese food but was introduced to the Japanese by the British Navy in the 19th century.
The British Navy routinely fed curry to men at sea, as it was completely different from shore food, heavily spiced, and less likely to alienate particular groups of seamen. The Japanese Imperial Navy adopted curry for similar reasons.
Today, curry is one of Japan's most popular foods, often eaten more regularly than tempura or sushi.
Rounding Up
London has its take on great Japanese food with many restaurant chains inspired by Japanese cuisine. A visit to central London is easily rounded off with a visit to a great Japanese restaurant with dining options for every price point.