Hokkaido Beach is the amazing Japanese beach of San'in Kaigan Geopark that is going viral on Instagram right now because of its weird combination of sun, sand, sea, and SNOW!!!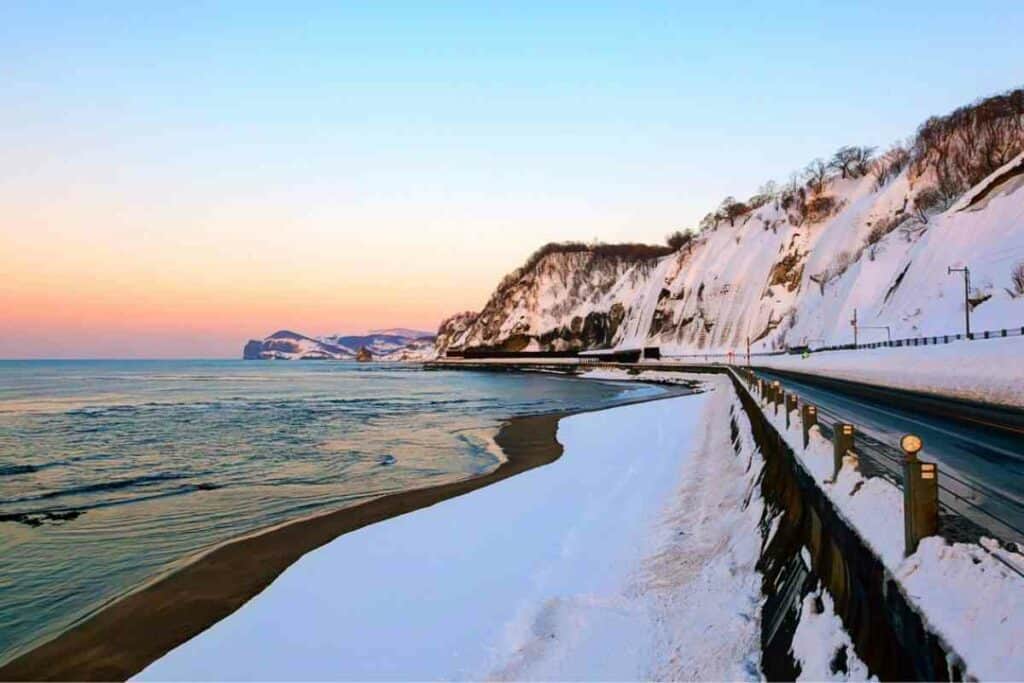 If you're thinking that images of this snow beach in Japan are a spoof your wrong – it is 100% real.
In this article, I'll explain everything you need to know about Hokkaido beach, one of the strangest beaches on Earth.
The internet is currently blowing up over a little-known Japanese snow beach
People all over the world are marveling at this amazing picture of an isolated beach in Japan.
Not only are the beach and the ocean waters lapping on it pristine, but this unusual beach also has an additional claim to fame – snow!
The meeting of snow sand and sea is something that few people have ever seen before and Instagram users who have seen the photo are rightly impressed.
Planning a trip to Japan? Check out our partner, Japan Objects Store, for all your travel essentials, from practical accessories to authentic Japanese merchandise.
At the time of writing, this enchanting image has earned over 1.24 million likes, with comments that include:
God is something else 🙌🏾🙌🏾🙌🏾🙌🏾
So… you can ski into the ocean?
snow on the beach? weird but it was beautiful??
And yes, it does look like the clash of two biomes in Minecraft! 
The consensus is that this phenomenon is weird but insanely beautiful, an iconic photo whose moment has come! This picture is also going viral on YouTube, Reddit and other social media channels. 
Is the Japanese snow beach real?
Folks are also asking if this photo is real, or just a smart piece of photoshopping. After all, how did that lone dude in the image get to that narrow strip of sand – on skis? 
However, I can reassure you that yes, Hokkaido Beach in Japan is real.
The original image of the Sea of Japan coastline was taken by the outstanding Japanese photographer Hisa (@ag.lr.88)
If you're into Japanese art and photography, check out other amazing images that are equally remarkable on his IG profile.
Where is the snow beach in Japan?
You'd think that such a marvelous Hokkaido Beach would be inundated, but in fact, this photo captures a secluded part of one of Japan's areas of outstanding natural beauty. Hokkaido Beach is different from the island of Hokkaido in the north of Japan.
Hokkaido Beach is just a small portion of an amazing stretch of coastline in the San'in Kaigan UNESCO Global Geopark.
This breathtakingly beautiful global park is located in western Japan with the Japanese sea washing up against its coastline.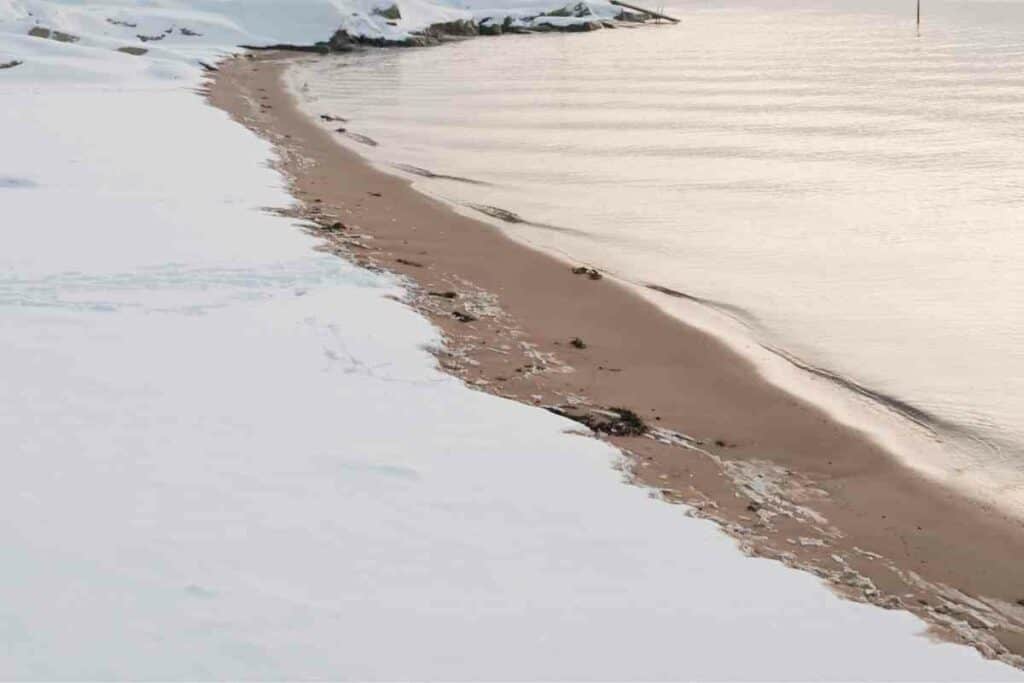 Its unusual shoreline stretches from Kyogamisaki Cape, Kyoto in the east to the Hakuto Kaigan Coast of Tottori in the west.
Hokkaido Beach is one of the few Japanese beaches where snow sand and sea meet
Despite Japan being the world's snowiest place, there are few locations where the snow beach phenomenon can be seen or visited.
There are predominantly along this coastline stretching towards Tottori beach in the west.
Hakodate, in Oshima prefecture, is another delightfully snowy location where you can see the confluence of snow, sand, and sea (and loads of snow monkeys).
Rounding up
Photographer Hisa did a great thing in bringing this little-known but stunning beach to the world's attention, and once again it has everyone talking about what an amazing place Japan is.
I'm sure this image will not only continue to grow in popularity but draw thousands more tourists to one of the most fascinating countries on Earth.