Kawaguchiko is a major tourist destination because of its stunning location at the base of Mount Fuji.
It is popular with hikers as it has numerous trails up the mountains in the region and can be used as a base for climbing Mount Fuji itself.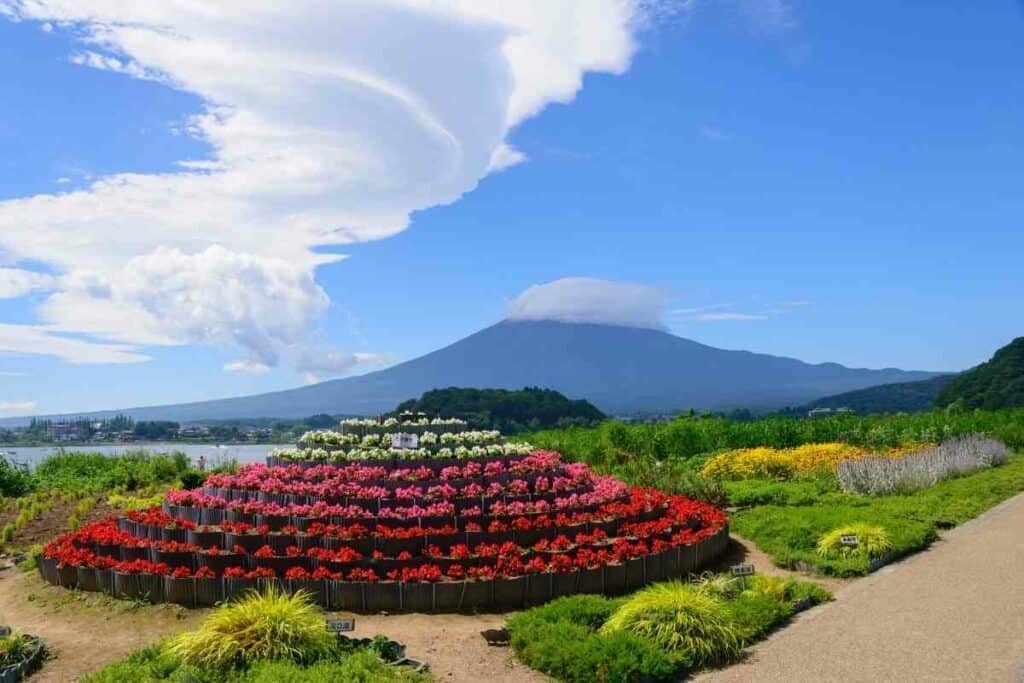 If you're planning a hiking trip to Kawaguchiko, you'll have lots of options, not only for scenic walks but also for visiting a wide range of landmarks and tourist activities.
In This Article – We provide a complete Kawaguchiko hiking guide that includes all the essential advice and information for walking in this magnificent region. 
About Lake Kawaguchi 河口湖
Lake Kawaguchi or Kawaguchi-ko is the second largest of the Fuji Five Lakes that surround the base of Mount Fuji.
It is located in the southern Yamanashi Prefecture, in Fujikawaguchiko, a town that has three of the Fuji Five Lakes in it.
Situated at an altitude of 2,625 feet (800 meters) and has the lowest elevation and longest shoreline of the lakes, making it ideal for your first hike.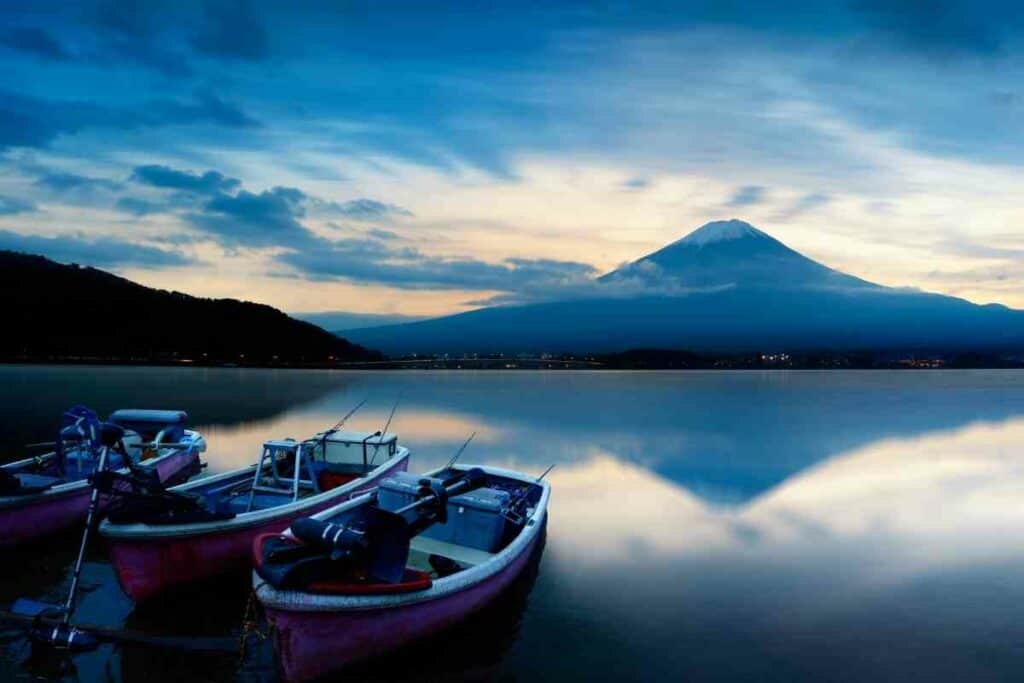 You'll find the lake with the expansive Fuji-Hakone-Izu National Park, known for its outstanding natural beauty, cool summers, and almost alpine winters.
Lake Kawaguchiko is connected to the Sagami River by a canal that was completed in 1914 to prevent extensive flooding as it has no natural outlet. 
Anticipating an exciting trip to Japan? Head to our partner, Japan Objects Store, to find all your travel necessities and authentic Japanese goods.
The Fuji Five Lakes 富士五湖
Along with, Lake Motosu, Lake Sai, Lake Shōji, and Lake Yamanaka, Lake Kawaguchi makes up the famous Fuji Five Lakes 富士五湖, formed thousands of years ago following previous eruptions of Mount Fuji.
The Fuji Five Lakes region is breathtakingly beautiful with iconic panoramas created by reflecting Mount Fuji in the waters of the crystal clear lakes.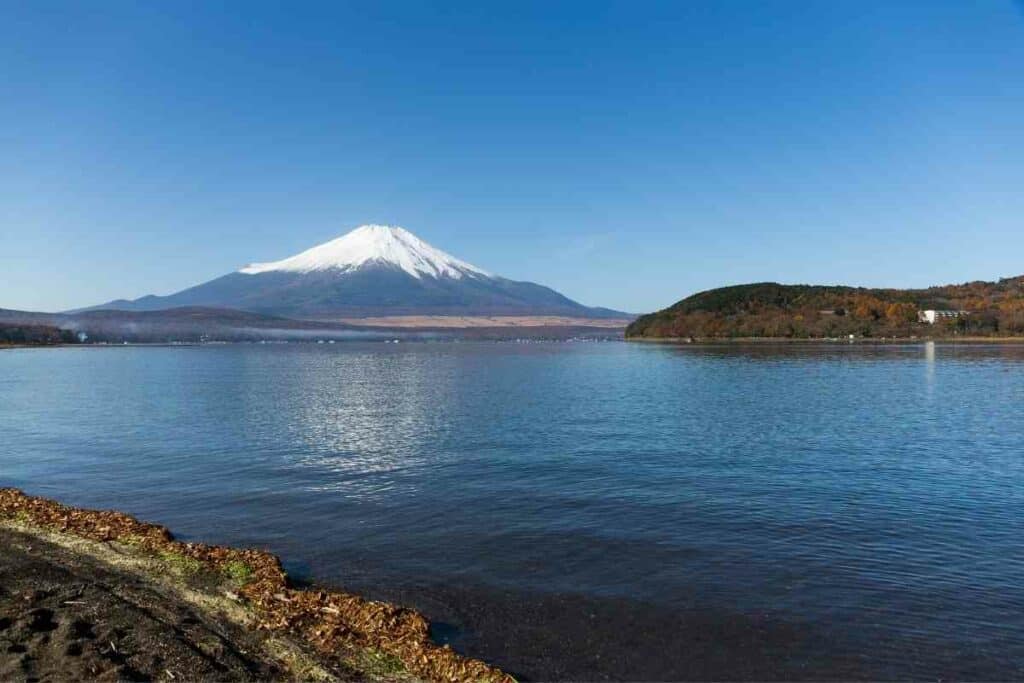 It's no surprise that in 2013, Lake Kawaguchi and the Fujisan region were added to the World Heritage list.
Gateway to Mount Fuji
The accessibility of Lake Kawaguchi makes it a gateway to this popular resort which boasts a range of amenities and tourist activities including camping, fishing, boat trips, and watersports.
Most people wishing to climb Mount Fuji use Kawaguchiko as a base.
The total population in this region is no more than 100,000 who are in surrounding towns and cities. 
Why hike Kawaguchiko?
For many Japanese, and tourists who have fallen in love with the Fuji Five Lakes region, there is no better way of taking in the iconic Mount Fuji vista.
It is impossible to miss one of the world's most famous volcanos towering at 12,388 feet (3,776 meters) with its classic snow-capped peak that can be enjoyed in winter and spring. 
Kawaguchiko offers some accessible hiking routes that deliver year round outstanding natural beauty.
By Hiking – You can enjoy a mindful and meditative experience that includes delights like beautiful cherry blossoms and fragrant lavender. 
Where can you hike in Kawaguchiko?
There are numerous trails in and around Lake Kawaguchi, some of which take hikers up into Mount Fuji.
One of the most popular Lake Kawaguchi trails is a 17.5-km (10.8 mile) loop trail that takes you around the entire lake!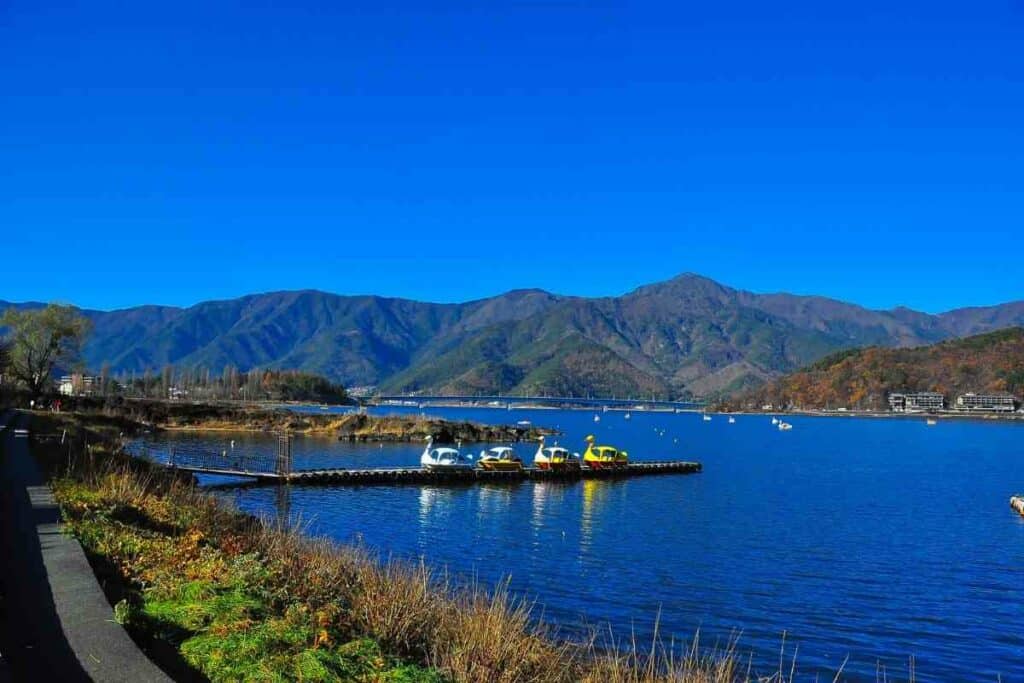 Here are some of the details, to give you an idea of what hiking in Kawaguchiko involves: 
Walking around Lake Kawaguchi is moderately challenging and should take just over 4.5 hours if you are a confident hiker. 
There is a 1381 feet (421 meter) elevation gain over the course of this circular walk. 
This is one of the most scenic routes of the Fuji Five Lakes area with lots to see so feel free to pause in an area that interests you or even go for a swim.
You'll definitely have plenty of company. There will be tourists, cyclists, birders, and other hikers roaming this popular lakeside region. 
This trail is easily accessible from the Fujikyu Line Kawaguchiko Station.
There are plenty of shops and accommodation around the lake that you can use.
If you want to cycle around Lake Kawaguchi, you can complete this route in 2 to 3 hours with stops. 
If you are a bit of a birder, look out for these delightful birds on your hike:
Ashy Minivet 
Brown-eared Bulbul 
Warbling White-eye
Daurian Redstart  
Black Kite
Varied Tit 
Japanese Tit  
Kawaguchiko landmarks, sites, and events to see while hiking 
Kawaguchiko has a lot to see and do, all centered around the magnificent views of Mount Fuji.
Here are some of the highlights of a Kawaguchiko trail walk.
1. A visit to Oishi Park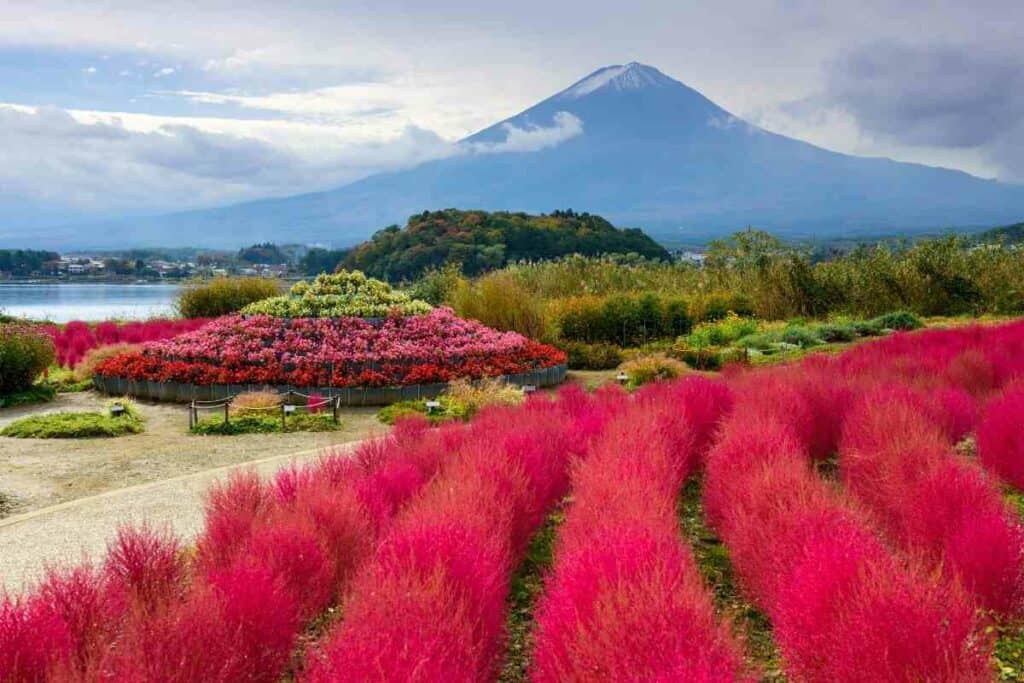 These beautifully curated gardens are set against magnificent views of Mount Fuji.
You can walk among the pleasant selection of local shrubs, herbs, and flowers that provide year-round interest.
There is also a souvenir shop.
2. Oishi Tsumugi Workshop 
This workshop showcases traditional pongee Japanese silk-making, an official traditional handicraft of the Yamanashi Prefecture.
You can observe artisans showing this ancient hand weaving technique and view displays of the centuries-old pongee silk cloth.
Depending on when you visit, you may try a hand-weaving class at the museum. 
3. The Autumn Leaves Festival
In the fall, more than 500 trees surrounding Lake Kawaguchi turn delightful shades of yellow-orange, and deep red.
Kawaguchiko celebrates this delightful season with an annual Autumn Leaves Festival, which attracts visitors from all over Japan who walk and admire the trees.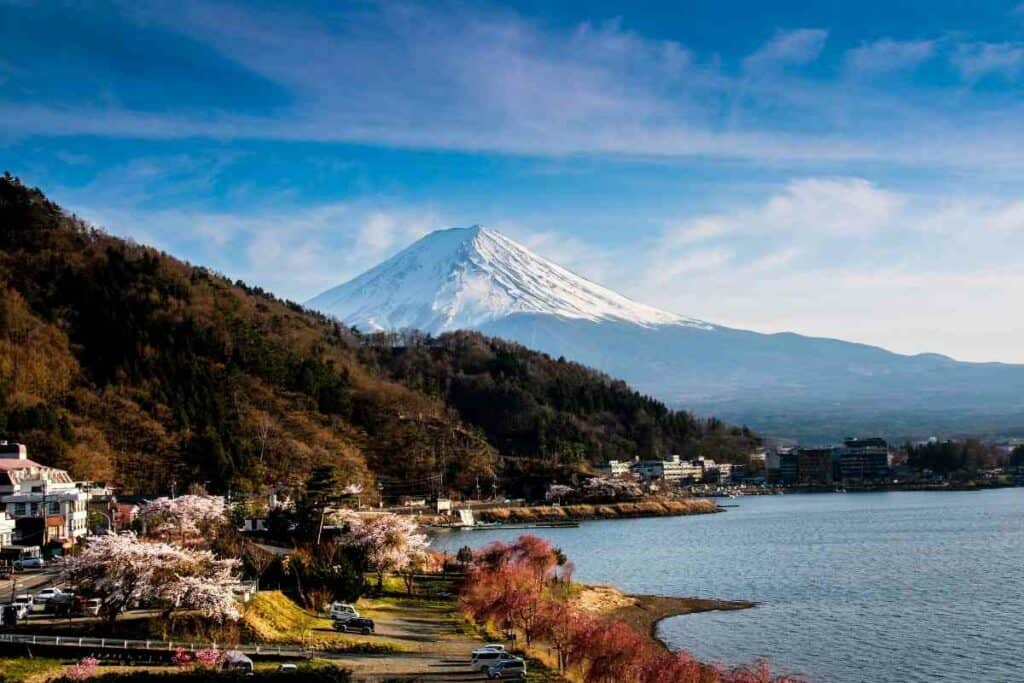 A highlight of this season is an amazing "corridor of autumn leaves" created by 60 ancient trees that you can walk through.
4. Kawaguchiko Music Forest Museum
The Kawaguchiko Music Forest museum is an Old European-themed museum dedicated to classic wind-up music boxes.
The museum has a fascinating collection of windup music boxes, a doll orchestra, and one of the largest dance organs in the world.
Listen to the classic automatic musical instruments playing Viennese waltzes and polkas and take in a lovely sentimental atmosphere and pleasant grounds.
Refreshments and gifts can be purchased from the onsite cafes and shops.
Take a look – 9 Japanese String Instruments
5. Kawaguchiko Herbkan 
The mineral-rich volcanic waters and soils of Lake Kawaguchi are ideal for cultivating a variety of herbs in the herb gardens that surround the lake.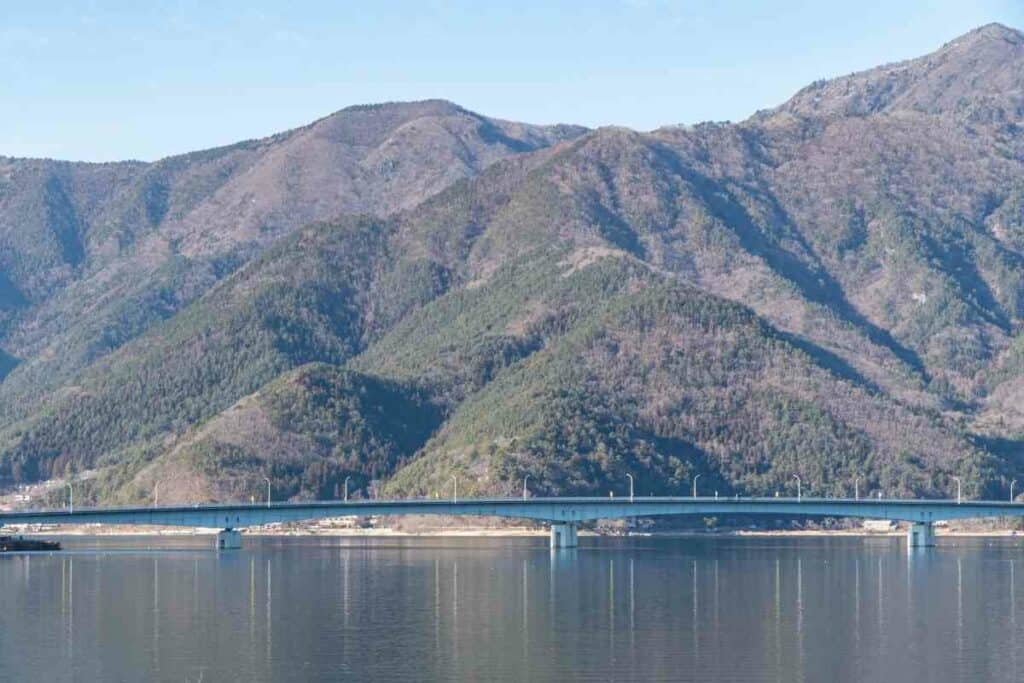 You can sample these aromatic herbs at the famous Kawaguchiko Herbkan, an emporium of herbs and teas that you can blend yourself as a healthful souvenir.
In Addition – The Herbkan sells pressed flowers and floral gifts. 
6. Kachikachi-yama Ropeway
Give your feet a rest and let this ropeway take you from the shore of Lake Kawaguchiko to the Tenjosan peak.
The ropeway ride takes approximately three minutes and offers outstanding views of Mount Fuji at a dedicated observation platform at the summit.
The cable cars offer comfortable seating so you can take a ride back down or opt for one of the numerous hiking trails to descend from the summit.
7. Lake Kawaguchi hydrangea blooming
On the shores of Lake Kawaguchi and the base of Mount Tenjo is a beautiful and expansive spread of hydrangeas that simultaneously bloom between July and August.
Take a look at the amazing display
When is the best time to hike in Kawaguchiko?
Mount Fuji is the biggest draw to the Lake Kawaguchi region.
If you want to see the iconic snow cap peak made famous by Katsushika Hokusai's Thirty-six Views of Mount Fuji, you will need to wrap up and travel in the winter months.
On dry crisp winter days, you can get amazingly clear views of the snow-covered volcano. Make your journey between November and April if the snow is a priority.
But make sure you wrap up warm; winter temperatures in Kawaguchiko can be as low as −7.8  degrees Fahrenheit (−22 degrees Celsius) with up to 15 inches of snow. 
If you make your visit to Kawaguchiko between March and October, be prepared for rain.
There is a more than 30% chance of rain daily during this period. The dry season of the Fujisan region lasts between mid-October and mid-March.
How to get to Kawaguchiko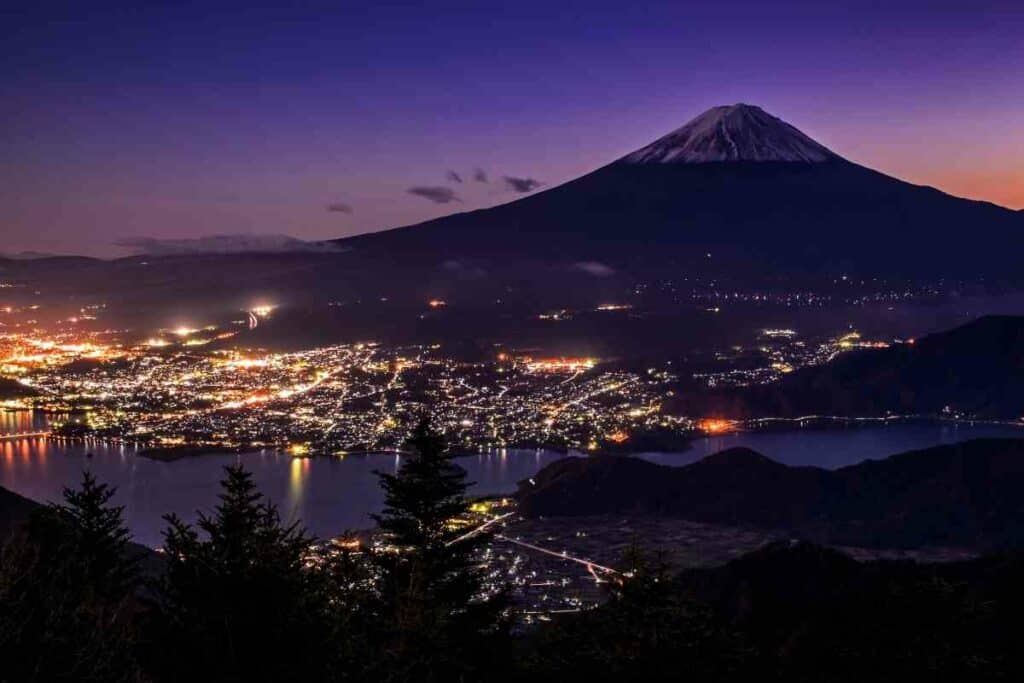 Here are directions for getting to Kawaguchiko from either Tokyo or Osaka.
From Tokyo
Travel to Lake Kawaguchi from Shinjuku station in Tokyo, taking the JR Chuo Line to Otsuki. 
At Otsuki station you will need to transfer to the FujiKyuko Line traveling to Kawaguchiko Station. 
This is a 2.5-hour journey. 
From Osaka 
Getting to Kawaguchiko from Osaka can be done using two rail options which both involve travel into Tokyo: 
Travel from Osaka to Shinagawa and Shinjuku in Tokyo, the onwards using the directions above. 
Travel via Yokohama, and Hachioji in Tokyo, then onwards using the directions above.
You can also take a train to Mishima in Shizuoka Prefecture, and then take a highway express bus to Kawaguchiko.
Best rail tickets for Kawaguchiko
There are several options for great-value rail travel to Lake Kawaguchi.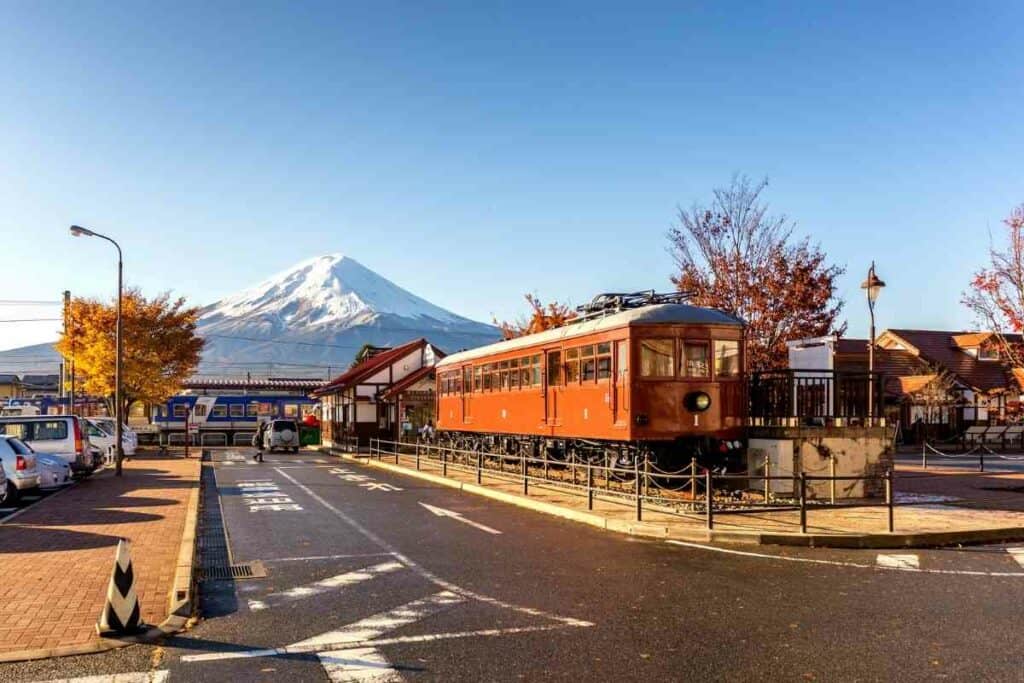 These tickets and passes provide value for money. 
Mt. Fuji Round-Trip Ticket – This round-trip ticket is an all-in-one fare covering rail and bus access between Tokyo and Mount Fuji. It is a great option for day trips or a single overnight stay. 
The JR EAST PASS – This ticket provides unlimited rail travel, though you may have to pay for bus transfers.
The JR Kanto Area Pass – You can use this rail pass to book reserved seating on normal and certain express trains.
Kawaguchiko Station
Kawaguchiko Station is well-maintained and has some great views of Mount Fuji.
At the Gateway Fujiyama café in the station, you can buy souvenirs and refreshments. 
Bus transfers to Lake Kawaguchi
The station also has a bus transfer from the train station to the Kawaguchiko Shizen Seikatsukan bus stop, which is the start of most trails around the lake.
What to take hiking in Kawaguchiko
When traveling to such an iconic region, you want to make sure that you're equipped to experience everything that's on offer.
The Kawaguchiko region is well known for its temperate climbing with cool summers and very cold winters.
Make sure you remain safe, comfortable, and get the most out of our hiking by packing these essentials.
A large backpack
Hiking in Kawaguchiko should never be a day trip because there is just so much to see and take in.
Make sure you're prepared to camp or stay in a hotel and hostel with a backpack that will fit all your essentials.
A lightweight daypack should be adequate for carrying your essentials out and about on hikes.
You don't need to hike laden with supplies as there is a wide range of tourist amenities including mountain huts where you can use the toilet and buy water and refreshments as you walk. 
Good walking shoes 
Wear comfortable walking shoes that will support your feet on the varied terrain you'll encounter on your ascent.
Prices pulled from the Amazon Product Advertising API on:
Product prices and availability are accurate as of the date/time indicated and are subject to change. Any price and availability information displayed on [relevant Amazon Site(s), as applicable] at the time of purchase will apply to the purchase of this product.
Thankfully, there are so many choices for smart low-rise boots that will easily take you from the foothills of Mount Fuji to the sidewalks of Fujinomiya or even Tokyo. 
Convertible walking trousers
Comfortable, breathable walking trousers that keep moisture dust, and dirt at bay for your hike.
If you are heading out to Kawaguchiko in the summer months, you'll be glad of the ability to convert the trousers into shorts while you're on the trail.
In cooler weather look for lined walking trousers or, if you're a lady, double up with leggings beneath your trousers.
A breathable travel shirt 
At high altitudes, in clear weather with the sun on you continually, you can really work up a sweat.
Pack a breathable travel shirt that allows your body to move and roll up your sleeves and get going.
A shell jacket
Lightweight padded shell jackets are an effective choice for layering your clothes as you hike.
When you're not using it to keep out the chill, it folds down beautifully and doesn't take up too much space in your backpack. 
A cagoule
The Mount Fuji region is known for its sudden weather changes and it is not uncommon to get caught in a downpour.
It's best to be prepared with a roomy cagoule that you can unfold and pop over what you are wearing. A packable one saves on space.
A swimsuit
Swimsuit for a hike? Yes! If you don't pack a swimsuit and microfiber towel, you'll regret it.
This is because Lake Kawaguchi and the other five lakes are amazing for swimming.
You might just find yourself roped into the Five Lakes swimming challenge
A swimsuit or trunks is also handy for a restorative soak in any of the numerous onsen (hot spring baths) in the region. 
A camera
A decent camera is a must for capturing the outstanding beauty of Lake Kawaguchi and the surrounding Mount Fuji area.
If you're a non-smartphone photography novice, we'd even recommend a short photography course to help you capture the amazing sites. 
Phone and power bank
Remember to take your phone with you on your hike so that you can contact someone if there is an emergency.
A power bank can help you keep your electronics fully charged if your hike is an extended one. 
A hat, sunglasses, and sunscreen 
Protect your skin and eyes from strong UV exposure by carrying a good quality pair of sunglasses and a high-SPF sunscreen.
Keep a wide-brimmed hat in your daypack for shade if hiking in exposed areas during the middle of the day. 
A water bottle 
Depending on the hiking route you choose, you'll have mountain huts where you can buy water, albeit at a grossly inflated price.
Carrying water with you will save your cash for a hot bowl of Ramen which will be worth the tourist prices if it's chilly. 
Cash
In Japan, cash is king, so don't take a chance on carrying your cards and hoping you'll be able to buy refreshments.
Kawaguchiko is a tourist zone so be prepared to stump up some cold cash for the numerous fees including Mountain hut fees, meal fees, water fees, toilet fee, transportation fees, souvenir fees, and, of course, a contribution to the Mt. Fuji conservation cooperation fund!
Lake Kawaguchiki hiking guide FAQs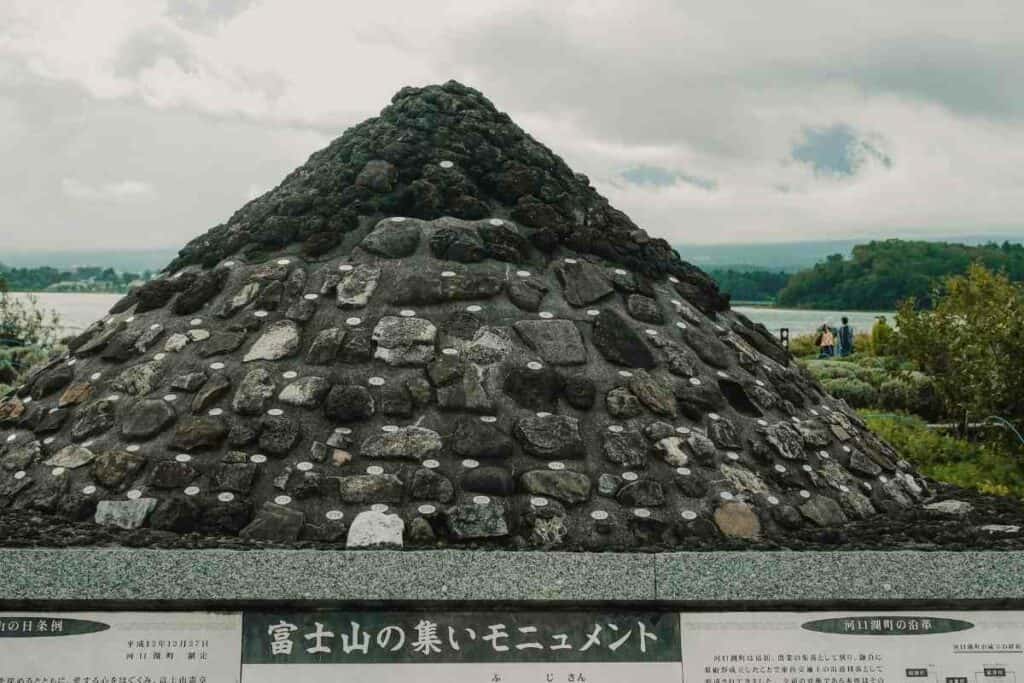 What other activities are available in Kawaguchiko?
Experience the arts crafts and culture of the Yamanashi Prefecture in museums. 
The Saiko Wildbird Forest Park is great for birdwatching. 
Canoeing and kayaking are also popular.
Lake Kawaguchi draws international carp and bass anglers for year-round fishing. You can rent rods and lures at the lake. 
Pleasure boat trips are also available. 
Does Kawaguchiko have any nearby shopping?
If you want some retail therapy or to pick up supplies for an Airbnb, the Kawaguchiko Bell Shopping Center is well worth a visit.
This is multi-level shopping center is the largest in the Fujisan region.
It has a comprehensive selection of wares including clothing, jewelry, electronics and grocery stores.
What are the accommodation options for Kawaguchiko?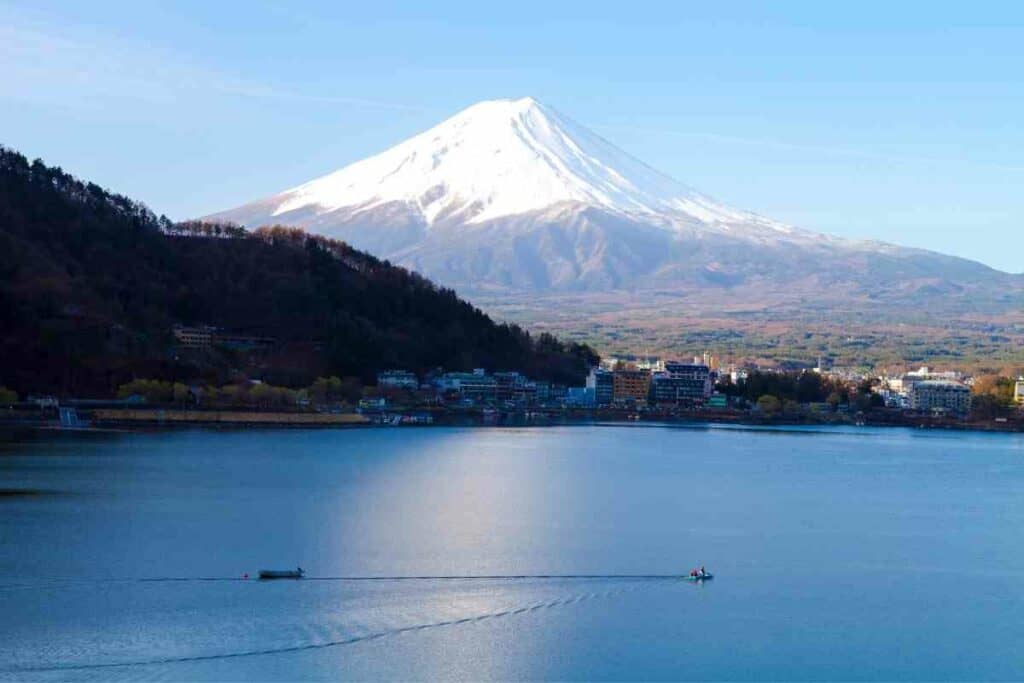 Mountain huts offer a rustic stop-off for travelers wishing to scale Mount Fuji. They offer basic overnight accommodation, hearty hot meals, toilet facilities, and snacks you can take away. They can run pricey, but staying in one is an experience of its own. 
Numerous hotels are dotted around the lake which range in the quality of their facilities. Some hotels have rooms with individual hot spring baths or communal baths on the roof where you can soak and enjoy the outstanding views. 
There are at least three campgrounds around Lake Kawaguchi including Kawaguchi-machi New bridge campground, Paseo Ashiwada Camping Ground, and Kangakuen Camping Ground. Campgrounds have diverse amenities including chalets and BBQ facilities. Book ahead as popular sites may be full. 
Rounding up
As you can see, Kawaguchiko offers access to the very best of the Fujisan region with trails that hikers of all abilities can enjoy.
There is so much to do and see in this beautiful area, that it is well worth booking an overnight stay.
Thankfully, the excellent amenities in the area mean that you can travel relatively lightly.
Just don't forget your camera!
Happy trails!