Monogatari is a great Japanese anime and visual novel which is divided into several story arcs.
While it is great to watch, many people do not know the correct order and they end up confused.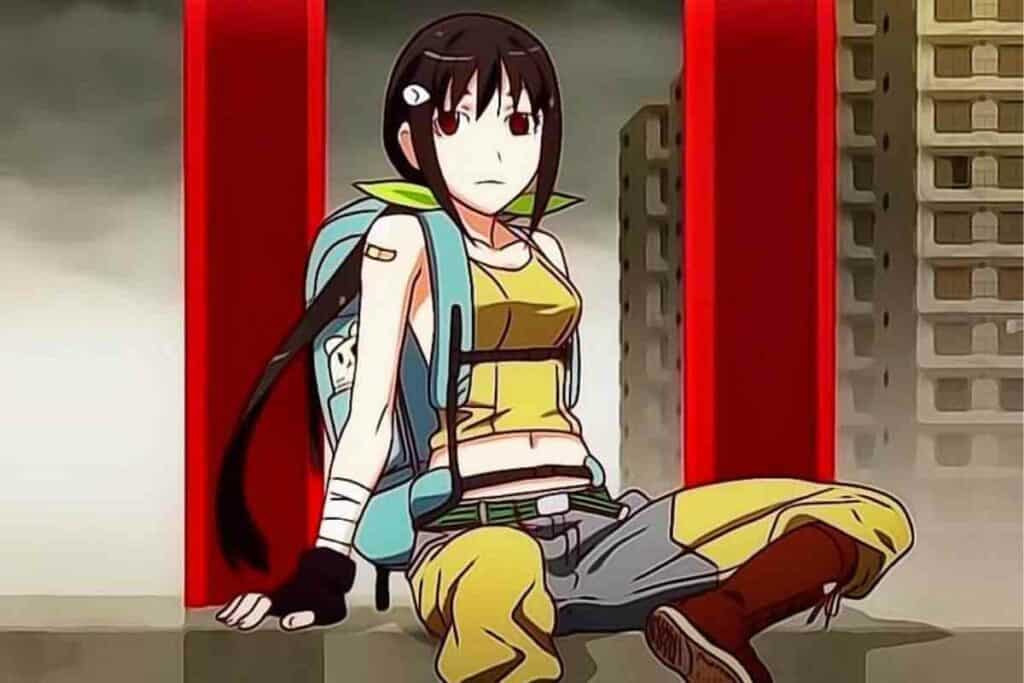 The first series was released in 2009, however, in 2016 the creator released a prequel which is not recommended to be watched first.
If you wish to learn how to watch Monogatari in order, read on.
1. Kizumonogatari (2016)
Kizumonogatari (Japanese: 傷物語, "Wound Story") is a Japanese anime film trilogy directed by Akiyuki Shinbo and Tatsuya Oishi and produced by Shaft.
The first installment of the trilogy, Kizumonogatari Part 1: Tekketsu (2016), follows Koyomi Araragi's encounter with the vampire Kiss-shot Acerola-Orion Heart-under-blade and his journey back into humanity from being a vampire.
The movie is visually stunning, with its vibrant colors and unique animation style that captures the essence of the Monogatari series.
The story is captivating as it follows Araragi's struggles to regain his humanity while facing off against powerful adversaries. It also has some great action sequences that will keep viewers on the edge of their seats.
The characters are well-developed and have interesting personalities that make them easy to relate to. Araragi's determination to save himself despite all odds is inspiring, while Hanekawa's intelligence and wit provide some much-needed comic relief in this dark tale.
2. Nekomonogatari: Kuro (2012)
If you enjoyed Kizumonogatari (2016), then Nekomonogatari: Kuro (2012) should be next on your watchlist.
This third installment of the Monogatari series features an intriguing plotline filled with unexpected twists and turns, along with stunning animation from Shaft paired with a haunting soundtrack.
The story picks up soon after the events of Kizumonogatari Part 1: Tekketsu (2016).
Following Araragi and his class rep Hanekawa, this anime builds on the mystery and suspense established in its predecessor as they find themselves up against an unknown paranormal force.
With its unique blend of action, mystery, and supernatural elements, this show is sure to please any fan of the genre.
Koyomi Araragi begins his journey facing a formidable adversary while struggling to regain his humanity, making him an inspiring hero to that viewers can relate.
Meanwhile, Tsubasa Hanekawa provides some much-needed comic relief amidst all the drama with her sharp wit and intelligence.
The characters are well-developed and their interactions bring life to the story, making it engaging right until the very end.
3. Bakemonogatari (2009)
If you found Nekomonogatari: Kuro (2012) to be fun, you should definitely continue your journey with the first installment of the Monogatari series – Bakemonogatari (2009). This anime offers an exciting adventure filled with suspense, mystery, and supernatural elements.
The witty dialogue between Koyomi Araragi and his companions provides non-stop entertainment, making this a highly enjoyable watch for fans of the genre.
The animation studio SHAFT has done an excellent job of bringing this story to life with its beautiful visuals and detailed backgrounds. The soundtrack complements the tone of the show perfectly and creates an immersive experience for viewers.
Bakemonogatari follows Koyomi on his quest to help people who have been affected by mysterious supernatural forces called 'oddities.'
Along the way, he meets various colorful characters that have fascinating backstories, making this show all the more interesting.
4. Nisemonogatari (2012)
The third Monogatari series to watch is Nisemonogatari.
This series follows Koyomi and his friends as they investigate a mysterious phenomenon called the "Kiss-shot Acerola-Orion Heart-under-blade" incident.
Along the way, Koyomi faces more monsters, gods, and apparitions as he searches for answers to this mysterious occurrence.
5. Monogatari Series Second Season (2013)
If you're an anime fan, Monogatari Series Second Season (2013) should be at the top of your watchlist. Featuring a plethora of episodes that explore complex characters and storylines, this show will keep you captivated right until the very end.
Koyomi Araragi is back with his friends on another journey but this time his mission is more personal; he wants to save himself from being consumed by darkness.
With each new episode comes a fresh opportunity to gain an understanding of his inner struggles and how he deals with them in his daily interactions with others.
Monogatari Series Second Season is more than just another run-of-the-mill supernatural anime – witness Koyomi's struggles as he grows throughout the series and experiences its compelling blend of adventure and comedy for yourself!
6. Hanamonogatari (2014)
Delving into the anime world, Hanamonogatari (2014) is a gem that cannot be overlooked.
Its animation, storytelling, and character development create an insightful adventure of personal revelation.
The delicate and profound focus examines loneliness, identity, and self-discovery with captivating beauty.
Visually stunning and emotionally engaging, Hanamonogatari (2014) struck a personal chord with me and left a lasting impression.
I wholeheartedly suggest this anime to those in search of a deeply thought-provoking viewing experience.
7. Tsukimonogatari (2014)
For those who adore anime with an unconventional way of storytelling, Tsukimonogatari (2014) is a requirement.
This show immaculately dissects human behavior and mentality through its exquisitely created characters and their connections with one another.
The storyline is non-sequential, making the audience alert throughout, and the exchanges are smart, precise, and possess intricate meanings.
Its animation and visuals are breathtaking, imbuing life with its characters in a mesmerizing way that can both captivate or unsettle you.
Anime offers a fascinating medium for exploring intricate concepts and themes without sacrificing entertainment value.
Hence, Tsukimonogatari (2014) is a prime example of such a combination, perfect for those seeking visually stunning and thought-provoking content.
8. Owarimonogatari (2015)
The story follows Koyomi Araragi as he works to resolve a perplexing mystery that could have drastic consequences for his friends and family.
With a combination of dark secrets, mysterious events, and interesting characters, Owarimonogatari is sure to excite fans of the series.
The anime also features some fantastic animation techniques and art styles that will keep viewers captivated throughout.
Not only does it bring an exciting conclusion to the franchise, but it also serves as a fitting end to Koyomi's journey while still leaving some questions unanswered—ensuring that fans will remain eager for more adventures with our beloved protagonist.
9. Koyomimonogatari (2016)
Koyomimonogatari started airing from January 9th to March 12th, 2016. It follows Araragi Koyomi as he encounters various oddities throughout his life.
The series consists of twelve separate stories, each focusing on a different character or event and exploring deeper themes such as family relationships, self-worth, and identity.
Each episode is framed around a certain topic such as "the secret of an old man" or "fatherly love" and how these topics are handled within the bounds of their supernatural setting.
The animation style used in Koyomimonogatari was unique compared to its predecessors; instead of being framed like traditional anime, the series used a mix of traditional animation and computer-generated imagery.
This gave it an abstract visual aesthetic that was both visually appealing and refreshingly different.
10. Owarimonogatari Season 2 (2017)
Do not underestimate the allure of Owarimonogatari Season 2 – an anime series that is absolutely worth the watch.
This show boasts a labyrinthine plot, fleshed-out personalities, and breathtaking animation that will leave you spellbound. Its main focus?
Analyzing the deeper parts of the psyche, investigating multilayered notions from grief to relationships and existential musings.
Expect to be truly caught up in the emotions such themes arouse. With a strong female protagonist, the Monogatari series offers a unique perspective on gender in anime.
Owarimonogatari Season 2 is a must-see for both fans and newcomers, as it will leave you craving further content.
11. Zoku Owarimonogatari (2018)
Any anime lover who doesn't want to miss out on an exceptional viewing experience should definitely give Zoku Owarimonogatari (2018) a watch.
As he faces off against a variety of villains, new characters have been introduced that help to add complexity and texture to the narrative.
Zoku Owarimonogatari features some of the most compelling visuals in the entire Monogatari franchise, yet still retains the unique visual style that makes it stand out from other Anime shows.
In Conclusion
Monogatari stories revolve around characters of varying ages, with the main protagonist being a student or apprentice of some sort.
The series is gaining more and more fans, but it is essential to know the proper order to experience Monogatari as the creator of the series wanted to.