Japanese tea is best enjoyed when steeped or brewed in hot (not boiling) water, using a tea infuser rather than a tea bag.
Tea infusers are useful devices you can place loose leaves in for steeping in your mug or teapot of hot water.
They are incredibly varied, ranging from wire mesh cups or balls to hinged spherical devices with tongs.
In this article, we explain how a Japanese tea infuser works, along with some of the best examples for brewing a restorative cup of green tea.
How does a Japanese tea infuser work?
Infusers predate the tea bag, which was an invention of the American tea merchant Thomas Sullivan in 1908.
Unlike the tea bag, an infuser can be used to steep multiple servings of tea at once.
The wire mesh or holes of a tea infuser allows the hot water to circulate and penetrate the leaves for full-flavored tea, without the loose leaves tainting the water.
If leaves do escape the tea infuser, they can be removed with a tea strainer. 
Benefits of using a Japanese tea infuser
There are more than 100 types of Japanese tea, each with its nuanced flavor.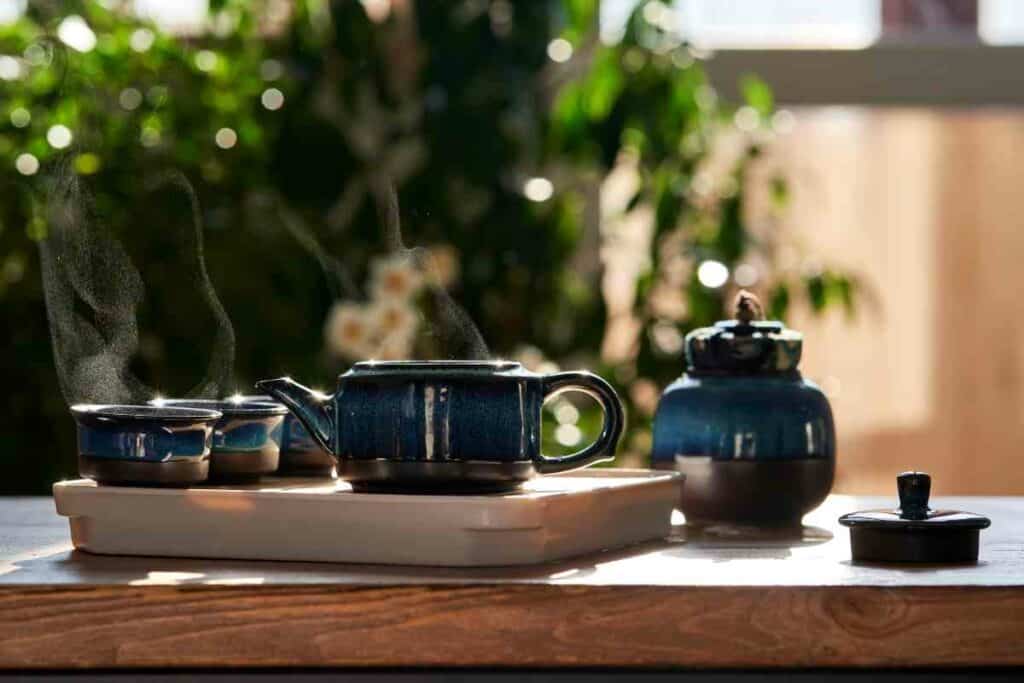 Infusers are key to experiencing the breadth and depth of flavor of Japanese tea. The only way to appreciate the characteristics of each tea is to infuse them properly.
Here's why your Japanese tea will taste better in an infuser.
Enhanced flavor
Japanese teas are brewed using an infuser because they maximize contact between whole leaves and the hot water, for a delicious taste.
The leaves need plenty of room to expand and release their flavor and that simply is not possible with a tea bag. 
Tea bags also affect the taste of the tea, especially when the tea bag is heavily bleached or processed. Japanese tea infusers do not impart flavor to the tea. 
Poor-quality tea bags do not allow the leaves to circulate in the water and may taint the brewed tea. Leaves may be broken and damaged leaves, rather than the whole tea leaves that deliver the best quality.
Convenience
The finest Japanese teas are sold as loose teas to be brewed in a teapot.
With an infuser, it is extremely simple to measure out the quantity of tea you need for yourself and your guests and brew it, usually for no more than two minutes. 
Eco-friendly
Tea infusers are also good for the environment as they can be reused again and again. Single-use teabags inevitably end up in landfill.
You'll save money too as once you have purchased your ideal tea infuser, you only have to buy the loose-leaf tea of your choice.
Types of Japanese tea Infusers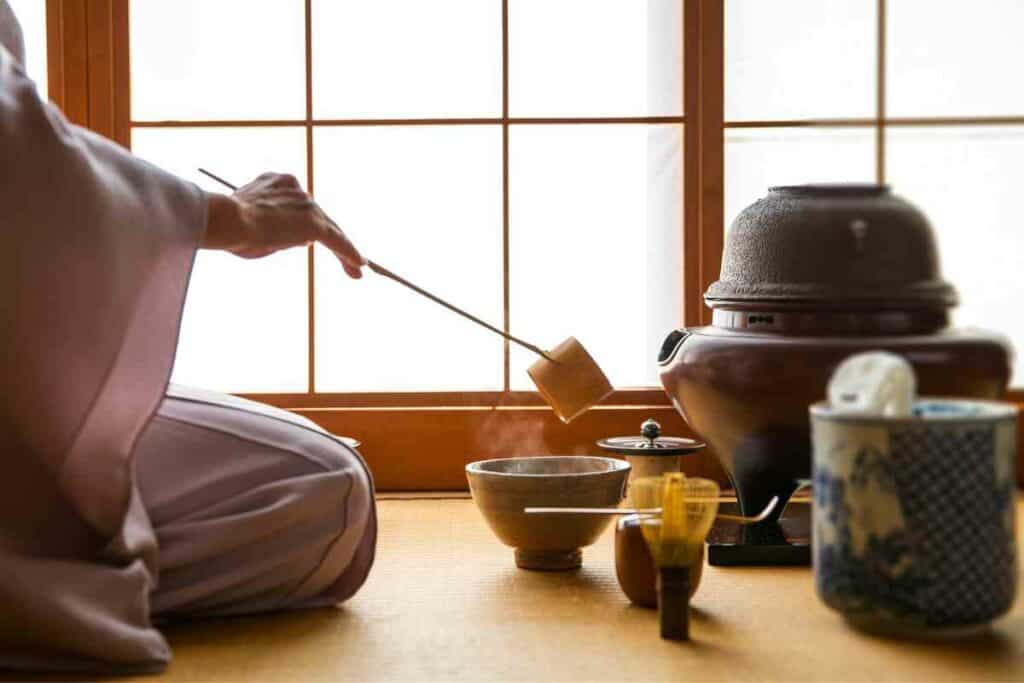 Japanese loose-leaf tea can be brewed using any type of infuser or in a teapot with an in-built strainer. Here are some of the best options for infusing your Japanese tea: 
Mesh ball tea infusers
Mesh ball infusers are one of the most common infuser designs.
These infusers are made from a stainless steel mesh ball that opens in half to allow you to fill the ball with the loose-leaf tea of your choice. The ball is either on a chain or has a handle for immersion in hot water.
Here are two mesh ball infusers that would be ideal for brewing Japanese tea:
Basket tea infusers
Basket tea infusers are the most common type of infuser in Japan and are ideal if you are brewing tea for multiple guests.
Many teapots have an integrated basket that you can add loose-leaf tea to. Once you are ready to pour you can lift out the basket or pour tea and the leaves will be strained.
Here are some delightful basket tea infusers to add to your tea set:
Japanese-style infuser mugs
Lovers of loose-leaf Japanese teas also use Japanese-style infuser mugs.
These special, lidded mugs contain a ceramic infuser so you can brew the loose-leaf tea of your choice. Just remember to remove the infuser before drinking your tea!
Japanese tea infuser mugs come in a wide range of styles.
Here are some designs that are in Japan and would make an excellent gift:
Japanese Teapots
Japanese teapots have an integrated mesh infuser. This is the most convenient and traditional arrangement for making a pot of tea.
The ceramic teapots are the best for an authentic flavor, but cast iron Japanese teapots are ideal for retaining heat over a long period.
Here are two classic Japanese teapots with infuser designs:
How to use a Japanese tea infuser
Using an infuser correctly is key to brewing the perfect cup of Japanese tea.
The brewing technique is particularly important for Green tea which can be enjoyed throughout the day.
All you need is:
your pot
cup or mug
an infuser
and hot but not boiling water 
Preparing the tea leaves
To brew a cup of tea that is not overpowering you will need to measure one teaspoon of tea leaves for each person that will be served. 
Filling the infuser
Measure the loose-leaf tea into the infuser that you are using. Take care not to overfill the infuser as the tea leaves need room to expand and will release maximum flavor if they are given the room. 
Brewing the tea
Pour hot water from a kettle or catering flask over the tea leaves. The water temperature should be 158 to 194℉ (70 to 90℃).
Japanese tea only requires one to two minutes to steep. Leaving the tea leaves to infuse for more than three minutes will make a bitter cup of tea.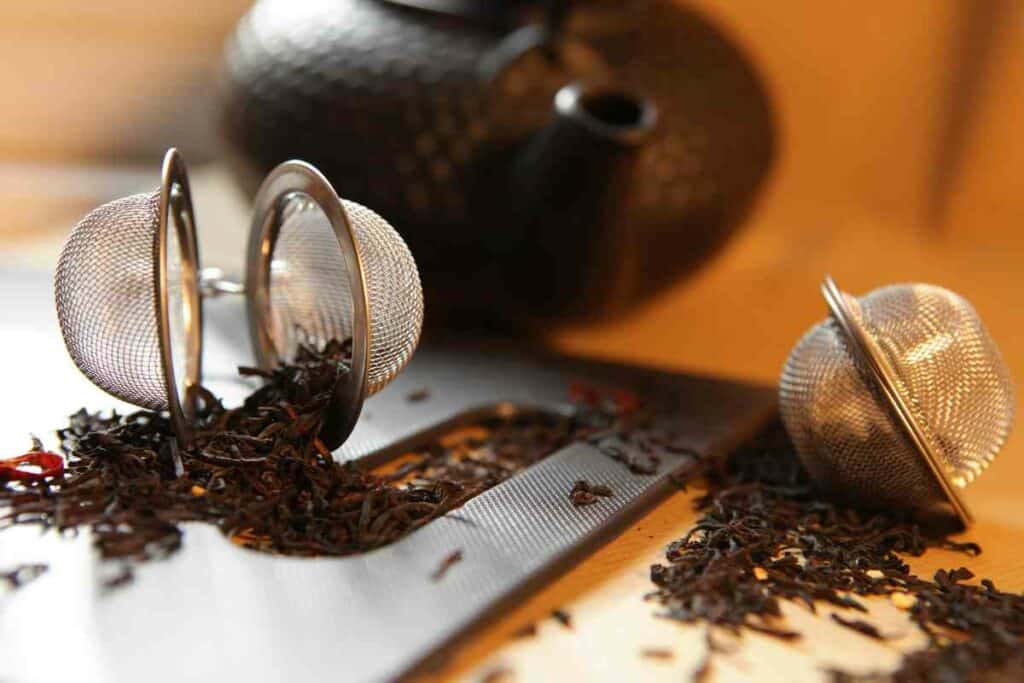 Reinfuse your tea leaves up to three times
You can re-infuse your tea leaves with fresh, hot water up to three times if the tea is good quality. The repeat infusions will require longer steeping to achieve a satisfactory flavor. 
Alternative infusion method
In cold weather, green tea may also be brewed for guests by pouring hot water into the serving cups, without any tea, and then pouring the hot water from the cups over the infuser in the teapot. This is done to warm the cups.
Taking care of your tea infuser
Once you have found your ideal Japanese tea infuser, take care of it by cleaning and drying it thoroughly after every use.
Your infuser will thank you if you give it a special clean with some baking soda on a toothbrush from time to time.
Rounding Up
As you can see, making a cup of tea in Japan is an art form!
Infusing good quality loose-leaf Japanese tea with a quality infuser adds to the contemplative dimension of enjoying these clean and refreshing teas.
Infusion mugs are perfect if you want to enjoy a serving of tea alone, but you can delight your guests by serving tea traditionally from a clay or iron teapot too.