Health professionals always say don't put anything smaller than your elbow in your ear!
But this message has not put off millions of Japanese and Asian people from cleaning their ears the traditional way with a mimikaki.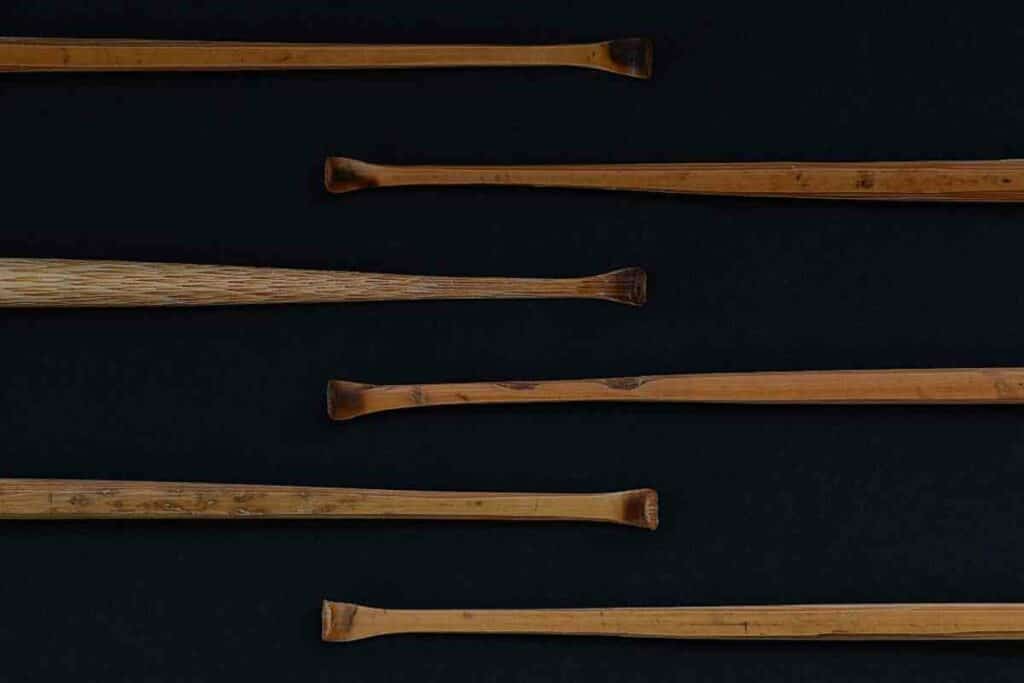 If you're wondering what a mimikaki is and what it's doing in someone's ear, this article will explain everything you need to know!
What is a mimikaki?
A Mimikaki (耳かき) is an ear pick that is commonly used for cleaning the ears in Japan and across Asia. The word 'mimi' means 'ear' and 'kaki' means 'to scratch, scrape, or scoop', so the use is very obvious. 
This very traditional personal care tool is made from bamboo with a down or cotton puff that can be used to dust debris from the ear.
They are inserted into the ear canal to scrape or away hardened earwax, called mimi kuso (ear dung) or mimi aka (ear dirt), and clear wax debris.
The history of Mimikaki
Mimikaki and other versions of ear picks or ear curettes have been used in Japan and other Asian countries for millennia.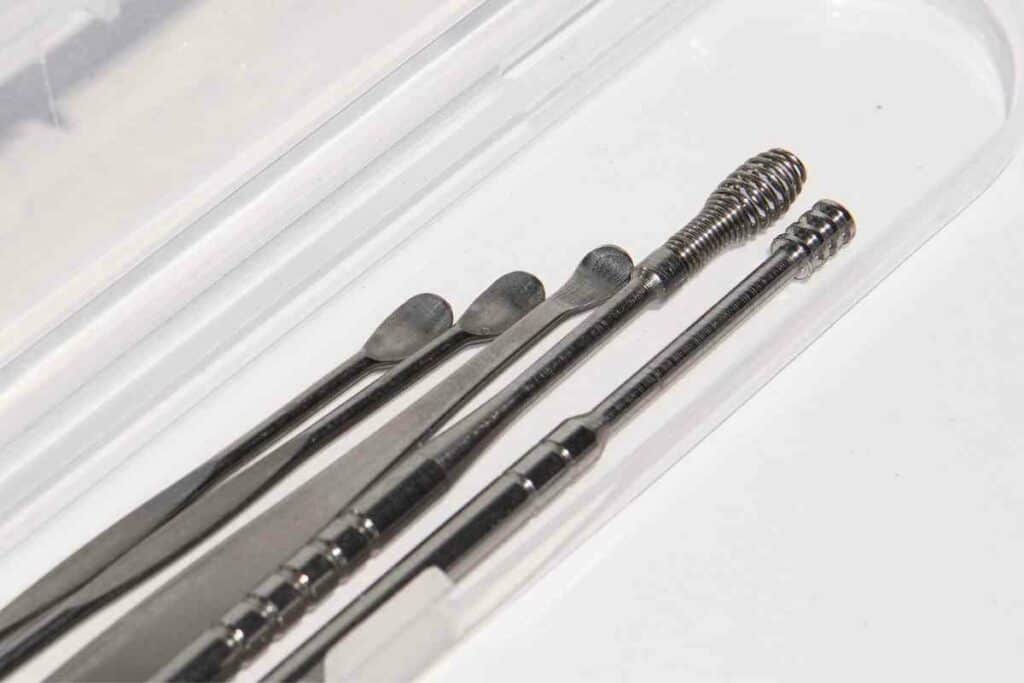 Many antique versions are made of gold or silver, while modern mimikaki are made from stainless steel and plastic.
Similar scoops have also been found across ancient Northern Europe, particularly Britain, and Scandinavia.
Viking and Anglo-Saxon ear picks that have been discovered featured ornate designs using precious metals like the Asian mimikaki.
Ear picks have also been found in East Africa, with metal ear picks worn on a chain around the neck.
The Mimikaki is an Asian phenomenon
Mimikaki are found across Asia and are particularly used in Japan, Korea, and China. They are the preferred method of ear wax removal.
In Asia, people will use a mimikaki themselves or clean the ears of close personal contacts. It is not uncommon for a mother or father to clean the ears of their child, or spouses to clean each other's ears.
Ear cleaning can also be performed for a fee by professional ear cleaners who offer a roadside service across Asia. 
Types of mimikaki
Mimikaki are incredibly diverse. You can pick them up in drugstores, supermarkets, or 100 yen stores across Japan.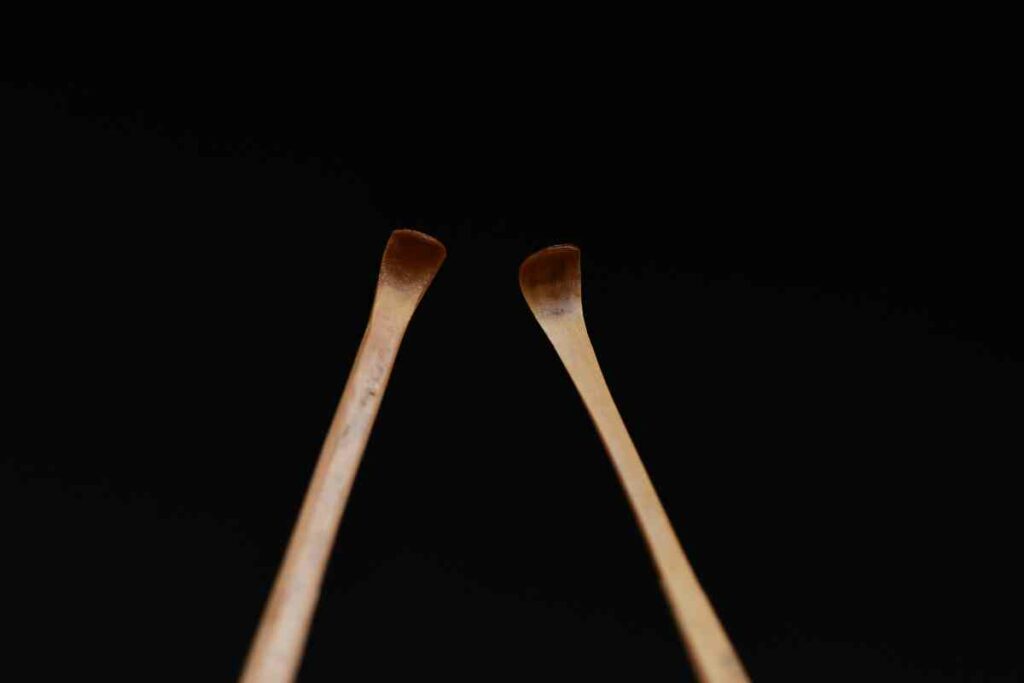 Most households will have a particular type of mimikaki that they prefer to use, with disposable ear picks with a cotton puff at one end being popular nowadays.
Materials used for mimikaki include bamboo, brass, stainless steel, plastic, and titanium.
Here are some common types of mimikaki that you buy online.
Ladle tip
This is the traditional mimikaki design. It features a small spoon, of just a few millimeters in width, at the tip that is used to scrape out the ear wax. 
Here is an example.
Loop tip
An alternative type of mimikaki has a loop(s) of wire at one end.
The single or multiple loops scrape and drag at the ear wax, dislodging it and pulling it out of the ear canal. They are thought to be effective at breaking up hard wax. 
Take a look at this loop tip mimikaki:
Nonoji Refreshing Golden Earpick
Disk tip
Disk tip mimikaki have multiple small discs that surround the shaft of the ear pick. The disk edges rake out the wax. 
This earwax removal kit features several disk mimikaki.
Ear Pick Earwax Removal Kit
Down puff
This classic mimikaki design has a fluffy white ball of goose down that can be used to cleanse ear wax debris after active cleaning.
You can buy down puff mimikaki online.
Figurine mimikaki
Figurine mimikaki feature cute plastic or wooden effigy or cartoon characters at one end of the pick. This traditional design is usually made from bamboo.
Take a look at this classic figurine mimikaki.
Handmade Bamboo Ear Picks (Pack of 5)
Why do Asian countries use Mimikaki?
Mimikaki have a strong cultural significance in Japan, China, and Korea. Ear cleaning plays a big part in comfort and personal hygiene.
Japanese mothers and fathers routinely cleanse the ears of their sons and daughters. The process is not ritualistic but is valued as a key part of parenting in Japan.
Many Japanese people believe that using mimikaki will increase familial bonds. 
Mimikaki are a key solution for managing hard ear wax 
People who are from Asian backgrounds are thought to have a predisposition to producing 'dry' ear wax.
This wax is different to the 'wet' wax produced by other people groups that is softer and easier to clean.
Dry wax can easily become impacted, which is why Asian people have traditionally taken care to avoid a build-up of earwax by using mimikaki. 
Other benefits of mimikaki
Apart from personal hygiene, cleaning with mimikaki is thought to promote relaxation and improved sleep.
People will go to spas or barbershops to get this done by experienced ear cleaners. Cleaning earwax is definitely associated with well-being in Asia.
How to use your mimikaki
If you have purchased a mimikaki and want to know how to use it.
This simple (if not a little gross) video shows how it's done.
Rounding up
Mimikaki are an intriguing part of Japanese culture. But hey, everyone has got to clean their ears sometime.
It may not be the Q-tip but it's clear that the mimikaki has been doing a great job of keeping Japanese ears clean for hundreds, if not thousands of years!