Most people visiting Japan will have eating sushi on their bucket list. There is nothing quite like the taste of sushi in Japan. One thing many travelers wonder about is the cost of sushi in Japan.
Like anything, the price you pay will depend on the quality of the food and the experience of the chef.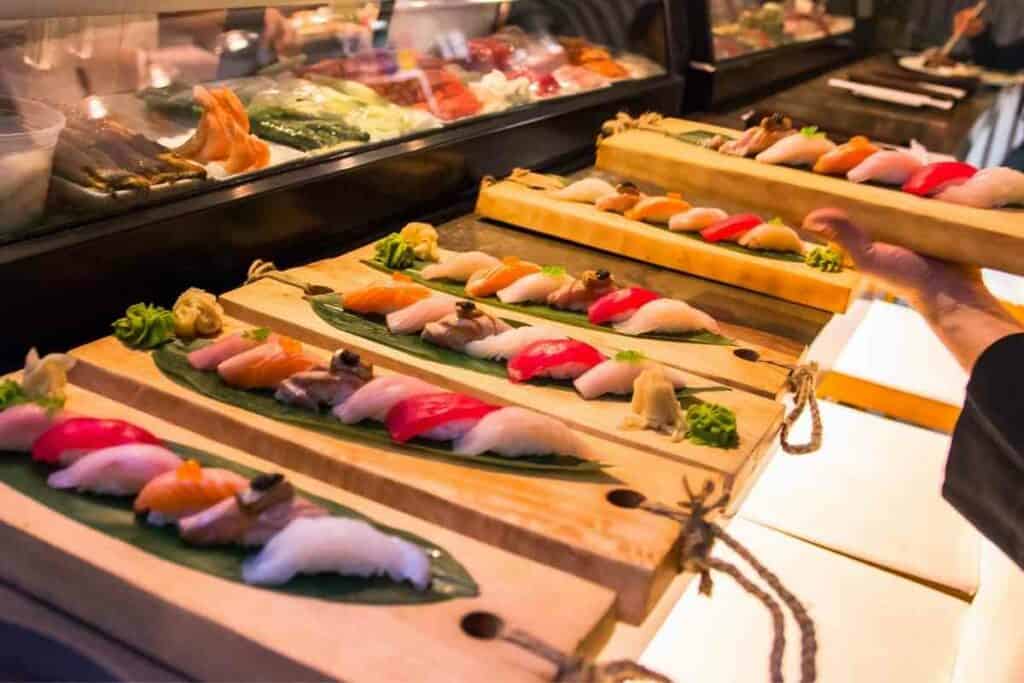 However, for people who want a quick answer, the average price of a meal is between 2,000 yen and 10,000 yen each. This depends on what you eat and when you eat. You'll pay less at lunch – expect 2,000 to 3,000 yen for a meal with rolled sushi and a variety of sashimi.
In the evening, you'll probably be between 5,000 yen and 10,000 yen. The most affordable of all is going to a kaiten zushi place (a conveyor-belt-style). This will cost as little as 1,000 yen each.
Of course, the price you pay will vary from restaurant to restaurant and city to city.
Let's look in more detail at the cost of Sushi in Japan's various places. We'll look at cheap, middle range and expensive sushi to give you an overall idea.
The cost of sushi in Japan: cheaper sushi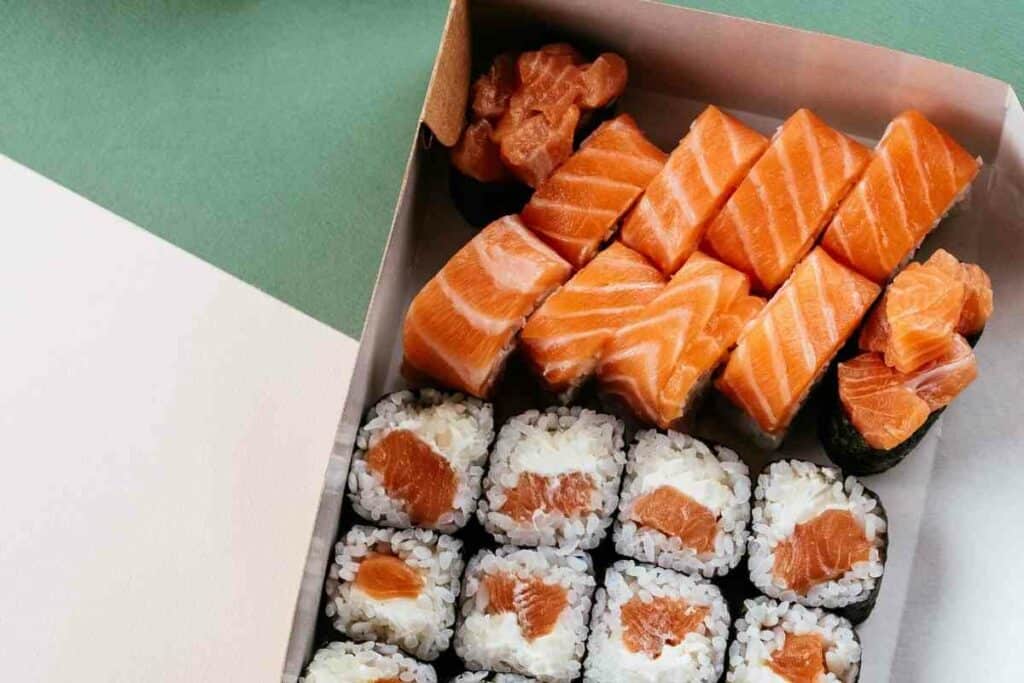 Because sushi originates in Japan, many people believe it will be cheap here.
There is good news: you can get really great sushi for low prices in Japan.
Here's where to go.
Sushi Takeout
Sushi takeout shops line many of the streets surrounding train stations in Japan.
These are designed to attract people who are traveling home after a day in the office.
There is even a chain takeout sushi place called Chiyoda Sushi. Often, these places are remarkably busy and will have discounts just before their closing time.
Conveyor belt sushi
Kaiten zushi, a conveyor belt sushi place, will often have sushi at lower prices.
These aren't always inexpensive, but you're more likely to find cheaper items here.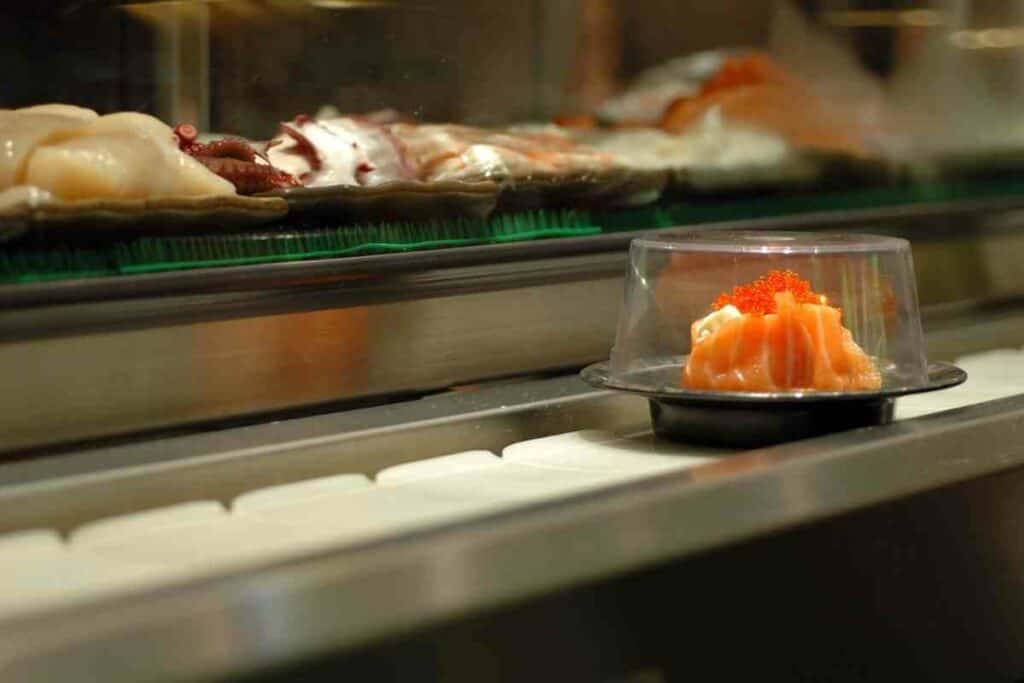 Expect to pay between 100 and 200 yen for each plate.
In These Places – You'll either take a dish you want from the revolving conveyor belt, or you can place an order via the tablet on your table.
Sushi at a supermarket or convenience store
The cost of sushi in Japan's supermarkets and convenience stores will vary but supermarkets do tend to offer it for a lower price.
You can expect to pay between 500 and 800 yen for a sushi set of up to 8 pieces.
It's also possible to buy sushi rolls in singles for between 100 and 120 yen each. The price of these will depend on the ingredients used and their size.
Like takeout shops, the cost of sushi is often reduced closer to closing time.
However, you'll have to be lucky as shops often sell all their sushi before it needs reducing!
The cost of sushi in Japan: midrange options
Lots of sushi restaurants in Japan will fall in midrange prices.
However, you should always visit one with a decent reputation because you never know if you will ever get the chance to eat sushi in Japan again!
Here are some places you can go midrange sushi.
Sushi Katsura
This establishment serves great sushi rolls at prices just above those you'd find in a conveyor belt chain.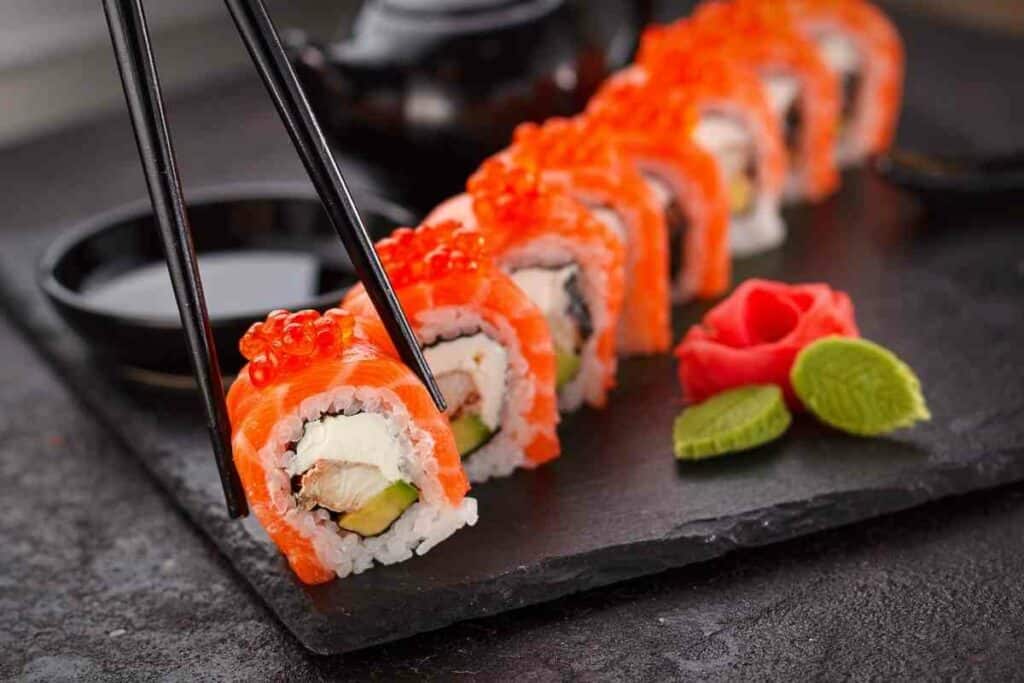 The price you'll pay for lunch is pretty affordable. A nine-piece sushi set will cost around 1,3000 yen.
In the evening, you can pay around 10,000 for a sushi course.
Fish Markets
Fish markets often have very fresh sushi at reasonable prices.
Wherever you are in Japan, you'll find fish markets with freshly-made sushi.
The most renowned fish markets in the country are:
Hokkaido's Hakodate Morning Market
Osaka's Kuromon Market
As well as serving sushi, you'll find fish markets have fish auctions – but these can be expensive.
The cost of sushi in Japan: expensive options
If you're going on a once in a lifetime trip and you can afford to get the best, you won't be disappointed.
If you're wondering what it is that increases the cost of sushi, we'll tell you:
Firstly, for a fish to be sushi-grade, it will have to be good enough. After all, this is raw fish and so needs to be excellent. You can expect the best quality fish to cost a few hundred pounds.
Secondly, sushi rolls are made by hand by chefs that go through an extensive training process that takes years.
A sushi platter will be presented as a visual beauty as well as a taste sensation. There is a lot of work that goes into the appearance of a dish.
For the best of the best sushi in Japan, you can spend thousands of yen.
Now, let's look at some of the restaurants with the best sushi deals in the whole of Japan:
Sukiyabashi Jiro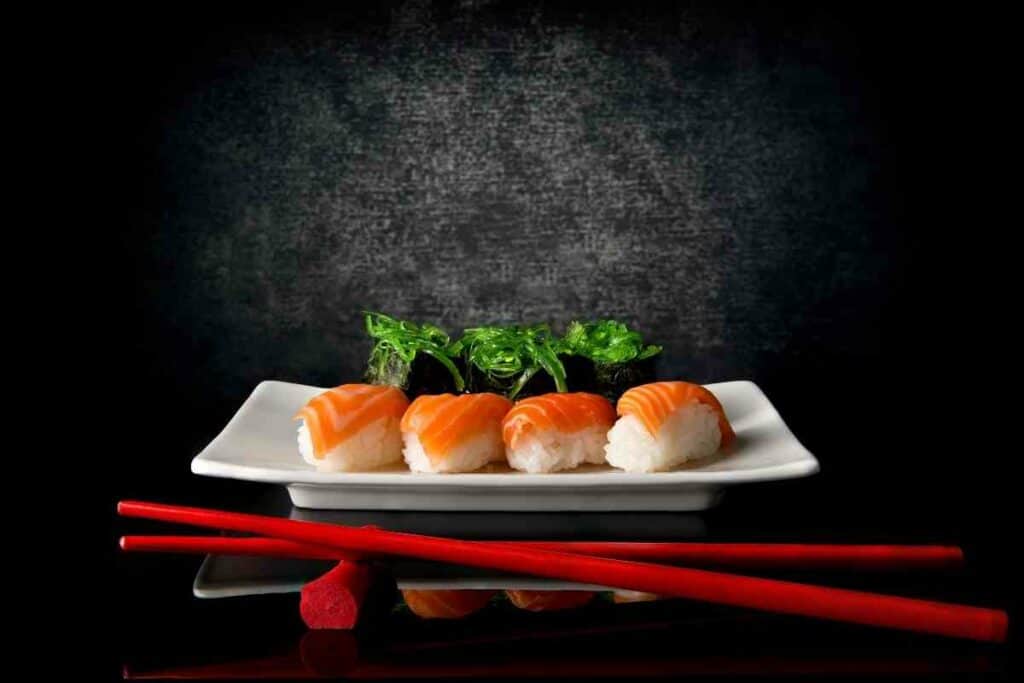 You might recognize the name of this restaurant as the one that the then-president Barack Obama ate at to taste the traditional Japanese sushi.
This is a world-class sushi restaurant in Tokyo's Ginza District. It is the most expensive of all sushi restaurants in Japan and will leave you around 55,000 yen lighter.
You'll need to reserve a table in advance as it is immensely popular.
The restaurant is open between 11:30 am and 2 pm, then 5:30 pm to 8:30 pm.
Sushi Matsumoto
This is a Michelin star restaurant located in Kyoto.
It's popular with tourists and locals alike. For lunch, you will pay around 10,000 yen. At dinner, it's twice as much. However, the taste is exquisite.
It is open between 12 pm and 2pm for lunch, and 6 pm to 9 pm for dinner. It doesn't open at all on Tuesdays and closes for Wednesday lunch.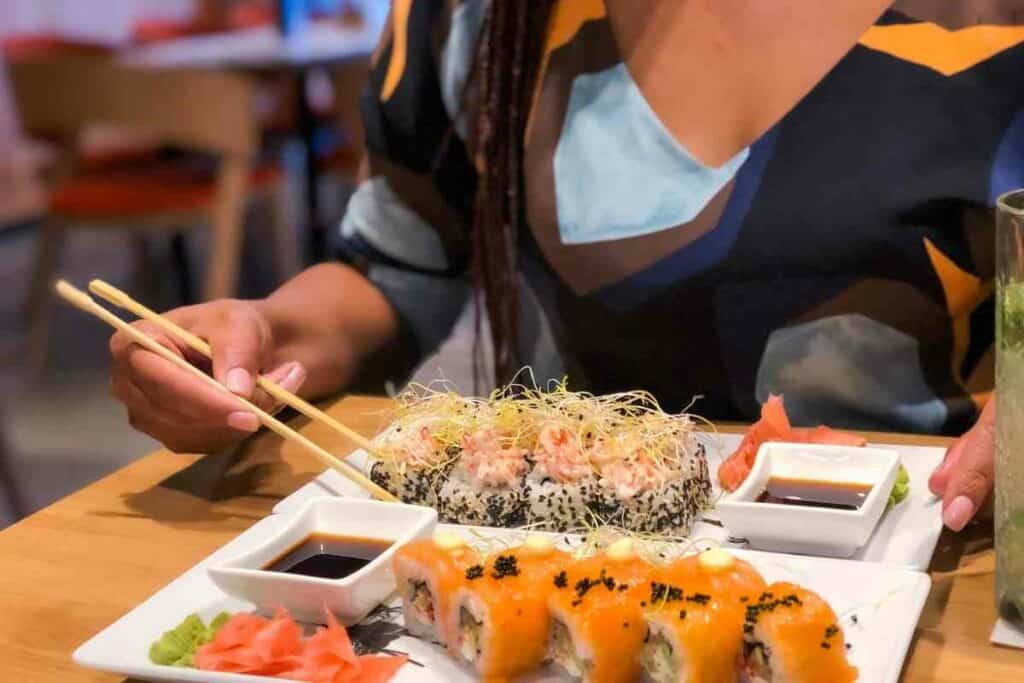 Sushi Fukuju
This is another high-end sushi restaurant in the Ginza district of Tokyo.
They have hard-to-resist omakase meals.
A course will cost between 1800 yen and 20,000 yen. The restaurant is open between 12 pm and 2 pm for lunch each day.
For Dinner – It opens between 5pm and 11pm Monday to Friday and 4 pm to 11 pm on Saturday and Sunday.
The varying cost of sushi in Japan
Just like any country, some cities are more expensive than others.
You will always pay more for sushi in Tokyo, for example, than you would in a smaller city.
However, you can still get remarkably cheap sushi in this city – and it's still delicious.
In Tokyo, the average you'll pay is 2,000 yen for a sushi meal.  
Omakase sushi
The most expensive type of sushi you'll find is omakase.
This type of sushi meal means you let the chef fully control your meal.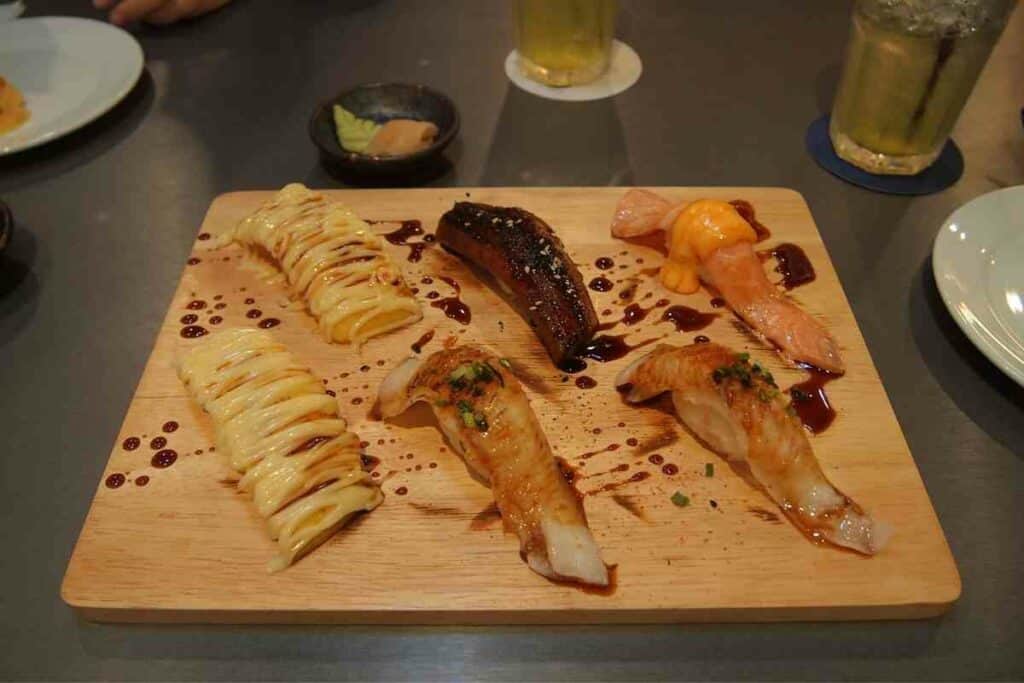 The word omakase means 'I leave it up to you.' Conversely, the opposite is okonomi, which means you choose what you want to order yourself.
With omakase, the chef presents a variety of plates.
You'll start with lighter dishes before proceeding to heavier ones. The meal is a whole experience and an art form.
Final thoughts on how much sushi costs in Japan
Though it's clear that the cost of sushi in Japan varies, you can still get an excellent meal for a great price.
When you compare sushi prices in Japan to those in the U.S., for example, you can get far more for your money – especially when you take flavor and quality into account.
No matter what kind of traveler you are; whether you're going to Japan backpacking on a shoestring or you're going on an all-expenses-paid business trip, you'll find something in your budget that tastes delicious.
Remember, you don't have to go to an expensive restaurant for an Omakase experience.
It's just as much of an experience going to a Japanese fish market where sushi is ten-a-penny. Overall, eating sushi in Japan is an experience to savor!
Read Next