It is possible to grow Japanese maple in a container and a lot of people choose to do this for convenience and to save space.
What's more, growing in containers means that you have the freedom to move the tree and find a spot with the most optimal conditions.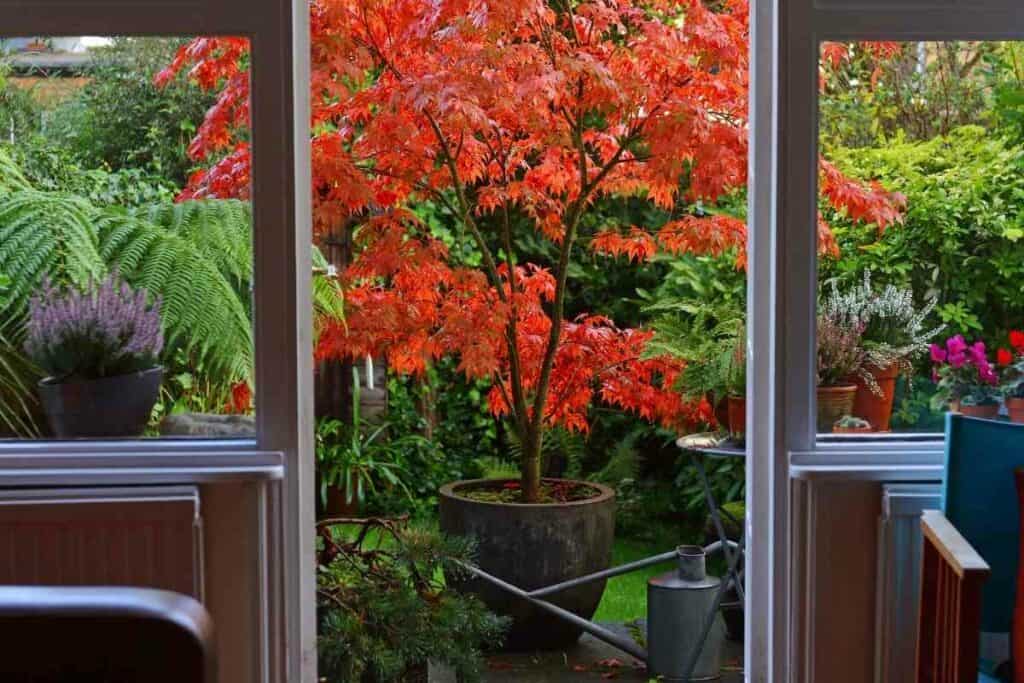 But what a lot of new growers don't realize is the importance of choosing the right pot. It's not difficult to find the best pots for Japanese maple when you know what to look for. 
If you're unsure then this guide is for you. I'll be telling you exactly what type of pot to choose and showing you some of my favorites. 
Our 3 Top Picks: Pots For Japanese Maple
When growing any type of maple tree or plant, it's super important to choose a pot that's going to be advantageous to whatever you're growing.
Japanese Maple, sometimes known as acer, grows well in zones 5 to 9 but only if the conditions are right.
Here are three of the best pots for Japanese maple that will be sure to help them thrive. 
1. Kante Modern Square Container
I really like the aesthetic of this pot; it has a modern appearance that would look amazing in any garden.
Of course, looks are one thing but how is it going to benefit the health of your Japanese maple?
The good news is that this pot features several drainage holes which is essential in any pot for an acer as waterlogged soil can cause all kinds of issues. 
What's more, the container is large enough for bigger trees so it makes an ideal choice when it comes to repotting.
At 17.7 inches (45cm), there is plenty of room for taller trees without having to worry about whether the pot will support the height. 
I also love that this pot is made from a blend of concrete and fiberglass. This means that it won't blow over in the wind but is still lightweight enough for you to move around as conditions change. 
2. Crescent Garden Agave Planter
If you want a simple and elegant container for your Japanese maple then this one will be perfect. It comes in a choice of colors but has a no nonsense design that allows the acer to take center stage. 
What I really like about this pot is that it comes with a good sized drainage hole which eliminates the worry of the soil becoming waterlogged.
Moreover, the pot is resistant to the weather so is ideal if you're looking for something long lasting. 
The Crescent Garden Agave planter measures 13.8 inches (35cm) so it's great for an average sized Japanese maple.
While not as large as the previous pot, it's still more than sufficient for most needs. 
But there is a downside to this one and that's how lightweight it is.
Yes, that makes it ideal for moving around the garden but you may find that it isn't as stable as some other choices. That said, if you live in a climate where wind is minimal, it makes a great choice. 
3. Classic Home And Garden Whiskey Barrel Planter
If you want a more rustic look to your backyard then a wooden planter is definitely the way to go.
I adore this whiskey barrel container which, at 20.5 inches (52cm), is perfect if you have a mature Japanese maple that needs plenty of room. 
Ideal for outdoor use, the container has been treated so that the UV rays from the sun won't cause it to fade or weaken.
What's more, this container has the appearance of wood but is actually made from resin so you get all of the beauty of wood without the high maintenance; it's a win-win!
The pot does feature drainage holes at the bottom which is so important when potting a Japanese maple.
Moreover, it's lightweight enough to move around but not quite as light as the previous pot. Once it's filled with soil and your tree, it will offer a good degree of stability. 
Choosing The Right Pot For Your Japanese Maple
Does it ever feel as though there's just too much choice when buying anything these days? If you feel this way then you're not alone.
Consumers are bombarded with choices and this can make it difficult to find the best pot for your Japanese maple.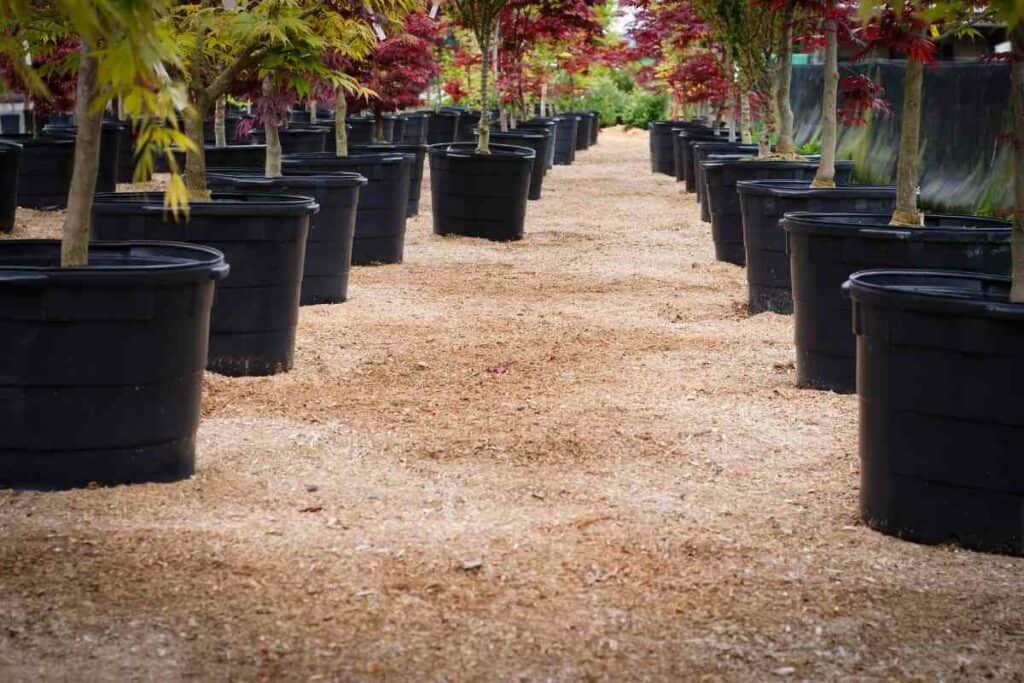 But don't worry, I've made it easier with this checklist that contains everything you need to look for when buying your container. 
Container Material
The best type of container for a Japanese maple is definitely terracotta or stone.
These pots are much heavier than any other material and so will withstand strong winds where others may simply blow over.
When you are choosing your container, you will need to make sure that it has a wide base as this will add to the overall stability.
Wood is another common choice for acers and while they certainly look the part, there is the issue of having to treat the wood to prevent rot which some people see as too much extra work.
However, in terms of weight, wood is almost as good as stone and can be very sturdy.
I wouldn't suggest using metal or plastic containers for your Japanese maple as these are far too lightweight and will be prone to blowing over in windy conditions.
What's More – These types of pots don't allow for such good airflow which won't be beneficial to the health of the tree. 
Container Size And Shape
When you buy your Japanese maple, it'll probably already be in a container and generally speaking, you probably won't need to repot it for a good few years.
But I'll talk more about this later on. 
When it is time to repot, you'll want to make sure to avoid round containers as you'll probably have to break it when you repot again.
So, what about size?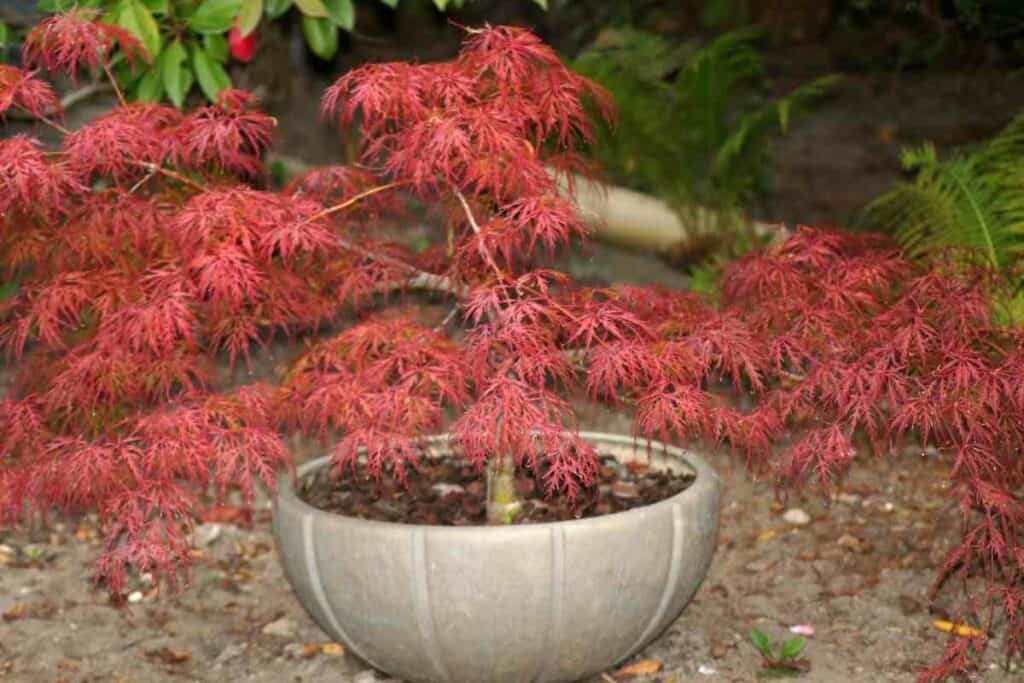 Well, you should always make sure that the container is compatible with the size of your acer otherwise it's not going to thrive.
You don't need to be a gardening expert to figure this out as you'll usually be able to judge it on sight alone. 
Generally speaking, if you have a Japanese maple that's 4.6 foot (1.4 meters) in height, you'll want a container that is at least 11.8 inches (30cm).
Drainage Holes
One of the most important things to make sure of when choosing the best pot for Japanese maple is that there are adequate drainage holes.
These trees must live in well drained soil and choosing a pot that doesn't have drainage holes will result in disaster.
It can also be useful to elevate the container on feet for even better drainage. 
When To Repot
Earlier, I touched on the fact that you will need to repot your Japanese maple as it outgrows its current home.
One of the first signs that this is required is when the roots get to the bottom or the sides (or both) of the container. 
You may notice that the roots are emerging from the bottom of the pot or are coming up to the surface.
Additionally, you might find that the soil is no longer able to retain water as well. 
When Sizing Up – You'll want something that's at least twice the size of the current pot but don't be afraid to go bigger if you feel the tree needs it. 
Conclusion
Japanese maples, sometimes known as acers, are beautiful trees that are relatively easy to care for.
However, if you are going to grow them in containers then you must make sure that you choose the right one. 
The best pots for Japanese maple are made from terracotta, have enough room for the tree, and feature a good number of drainage holes.