I love nuts but sometimes, plain peanuts can be a bit, well…bland. Am I right?
But then I tried Japanese peanuts and was suddenly enamored with this crunchy, delicious take on the regular nut. 
Some people call them cracker nuts while others refer to them as Japanese-style peanuts.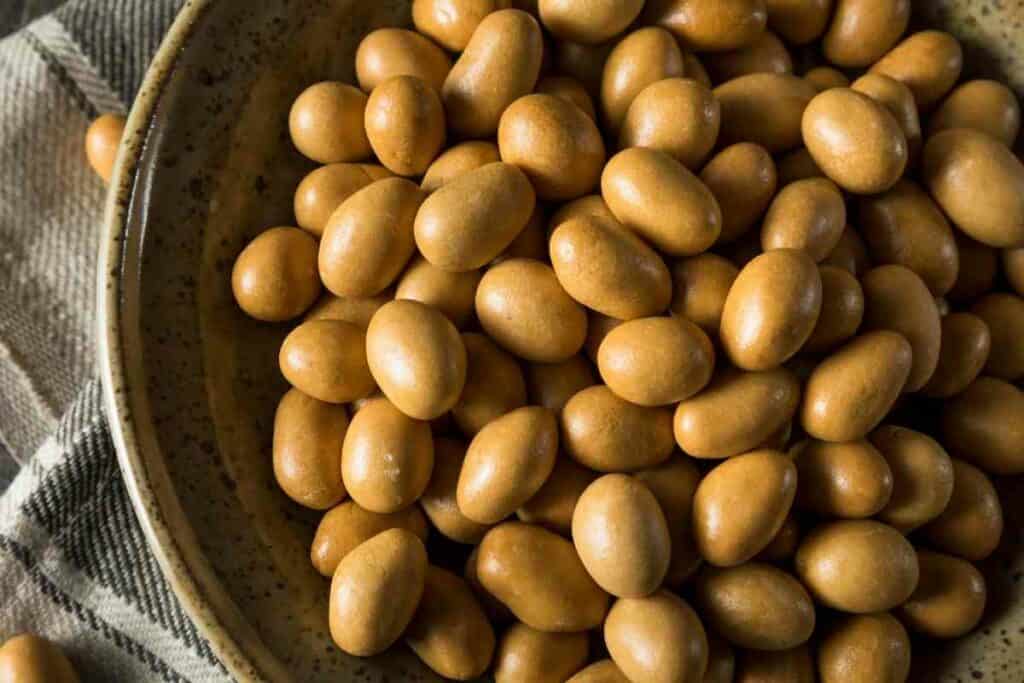 But however you call them, these coated nuts have become a popular snack for people all over the world. 
However, there are some interesting things that you might not know about this tasty treat so in this guide, I'm going to share some fun facts about Japanese peanuts that no one tells you. 
1. How Japanese Peanuts Are Made
When you hear the word peanuts you probably think of a nut that grows naturally.
But the difference with Japanese peanuts is that they are manufactured, well, kind of.
They do include a real peanut at the center but these delicious snacks are coated in order to boost the flavor and the texture.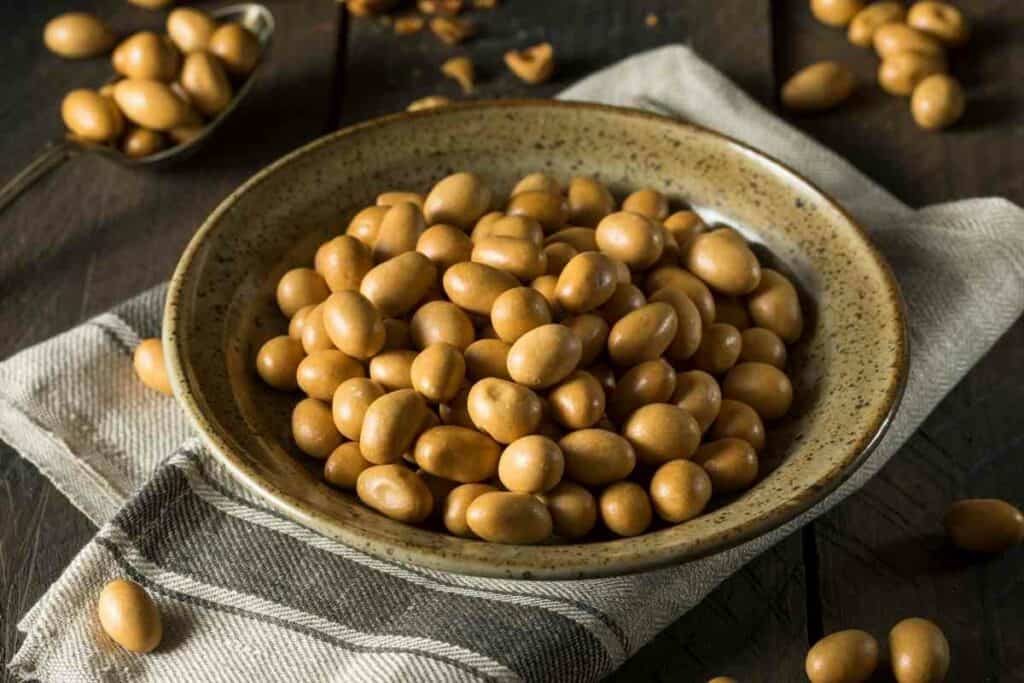 This coating is typically made from wheat and rice flour, soy sauce and sugar. Combined, this creates a beautiful crunchy and crispy shell around the peanut that's got a real bite to it!
But it isn't just the taste and texture that have a massive appeal. The appearance of the peanuts is also stunning.
The roasted nuts are poured into the mixture along with various colors. This makes them look like little candies which is one of the reasons that so many kids love Japanese peanuts
2. They Come In Different Flavors And Types
What's amazing about Japanese peanuts is that they don't just come in the classic peanut shape.
They used do back when they were first invented but times have changed and now you can buy them in all kinds of shapes and textures.
On top of this, Japanese peanuts come in a whole variety of different tastes. If you're not keen on the original soy sauce flavor then there are now lots of others to choose from.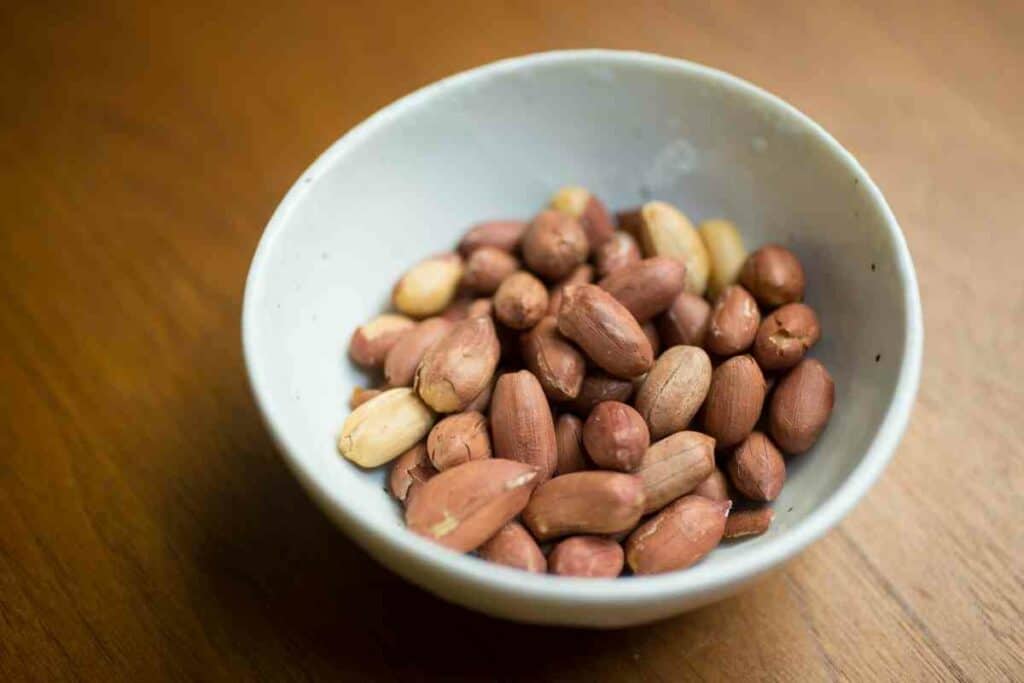 Some of the most popular include seaweed and those made with ikan bilis flour to alter the texture and taste.
If you prefer your food to have a bit of a kick then you might fall in love with the wasabi version of the Japanese peanut.
In Fact – It's not uncommon for them to be used in various types of cuisine to add a bit of heat to the dish. As well as this, including Japanese peanuts in your cooking brings about an entirely new crunchy texture so they're perfect for chefs that like to experiment.
On top of this, there are those with an umami flavor which is essentially a rich savory taste.
These are also ideal for use in cooking but aren't as spicy so are great for people with a more sensitive palate.
If you ever visit a Japanese food festival then don't skip the chance to indulge in some of the weird and wonderful variations of the Japanese peanut; you won't be disappointed.
But even if there isn't a food festival in town, you'll commonly find these tasty treats in your local grocery store.
3. Japanese Nuts Are Actually Mexican!
I've been talking about Japanese peanuts as if they hail from the country from which they get their name.
But what if I told you that these nuts were actually not only from a different country, but a different continent as well?
It's true; Japanese peanuts were actually invented in Mexico.
Although, they're nowhere near similar to any type of Mexican cuisine and their ingredients are totally inspired by the great Asian nation of Japan. 
Moreover, the peanuts were created by a Japanese immigrant to Mexico back at the end of the Second World War. His name was Yoshigei Nakatani.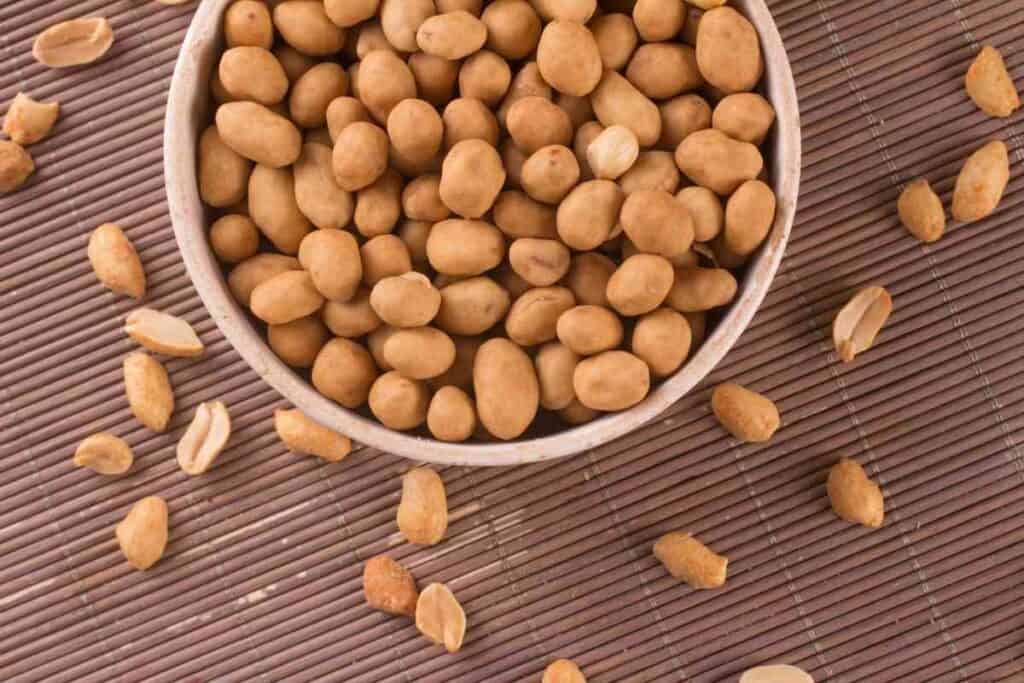 Nakatani migrated to Mexico after he fell in love with a Mexican lady whom he later married. 
There was a Japanese quarter within the capital city where the couple resided and it was here that Nakatani learned the art of candy-making.
This became his day job and he ran a successful business selling his sweet treats.
However, he must have been yearning for home because he later decided to alter the sweets with a Japanese twist.
He started by created what was known as oranda; a deep fried, sweet and salty candy.
Down the Line – Nakatani then started to add in tastes of his homeland including soy sauce and rice flour. 
The problem was that rice flour wasn't abundant over in Central America so he had to find an alternative.
And that's where the wheat flour came into play.
4. Japanese Peanuts Are Very Healthy
There's a serious focus on what's good for you and what's not in today's culture and many foods disguise themselves as being healthy when they're actually no good for you at all. 
But that isn't the case with Japanese peanuts.
I mean, if you ate them by the bucket load, then of course, they're not going to do you much good but in moderation, they're quite beneficial. 
Japanese peanuts actually contain high levels of niacin as well as a whole host of different vitamins. This is essential for healthy blood and will improve your brain health. 
What's More – Japanese peanuts are great if you're trying to stick to a low calorie diet as a 28g serving has as few as 140 calories.
They're quite low in fat and salt too.
While the peanuts aren't a good source of iron, they make up for it with a whole range of other minerals including as much as 20 mg of calcium per serving. 
5. They Might Be Low Calorie But They're Not Good For Weight Loss
I've raved about the great qualities of the Japanese peanut and for all intents are purposes, they're a healthy food when they're eaten as part of a balanced diet.
However, this doesn't necessarily make them good for weight loss which is something that a lot of people aren't aware of.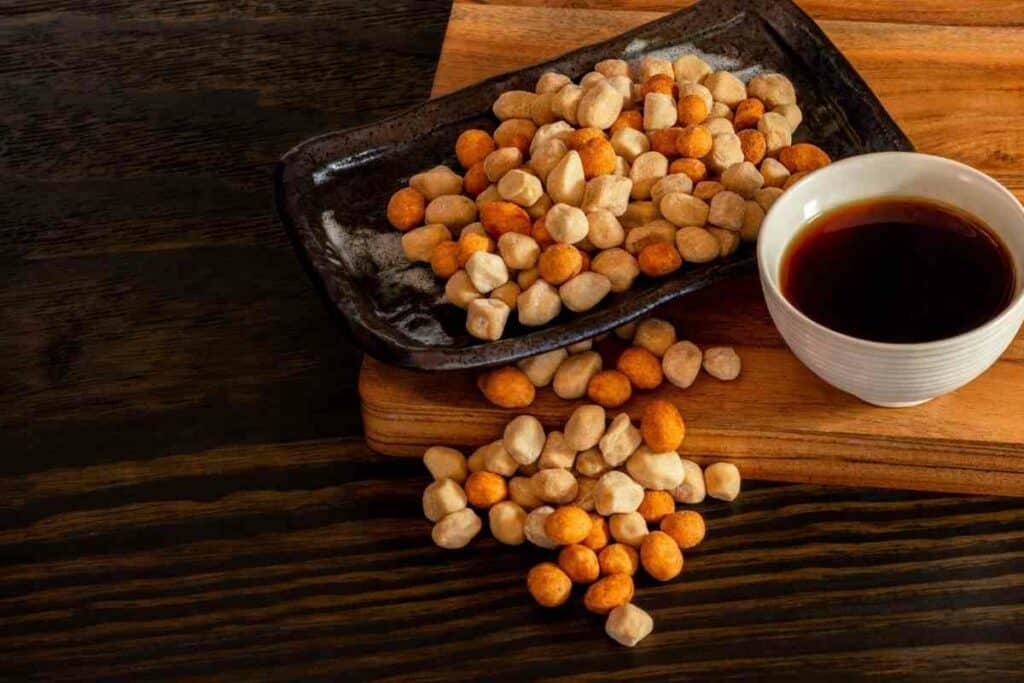 The main problem is that, while the nuts are low in calories, they do have an extremely moreish taste.
This makes it very difficult to limit yourself to a small portion and many people end up overindulging. If you're looking to lose weight, those calories will soon mount up.
What's more, Japanese peanuts won't keep you feeling full for very long so you'll find yourself reaching for another snack much sooner than you'd perhaps have liked. 
For This Reason – It's recommended that Japanese peanuts are not used as a snack choice for dieters. That said, since they are packed with protein, they might make a good choice as a snack after working out; as long as you have good portion control.
If you want to have a Japanese inspired snack that's just as tasty but more suitable for a weight loss program, then I'd suggest something like smoked soybeans.
These are also bursting with protein but have good levels of fiber as well so will keep you fuller for longer. 
Conclusion
I love Japanese food and the wonderful thing about it is that there are so many delicious items to choose from.
When it comes to snacking, Japanese peanuts are a must.
They're crispy, coated, tasty nuts that have become a popular choice for snackers all over the world. 
While they may have taken their inspiration and their name from Japan, these treats were actually invented in Mexico.
Nonetheless, they're something I couldn't live without!