If there's one thing that the Japanese are best known for, it's blade making.
Most people would think about those super sharp Japanese swords or the incredibly precise Japanese kitchen knives but did you know that this precision can also be extended to your garden?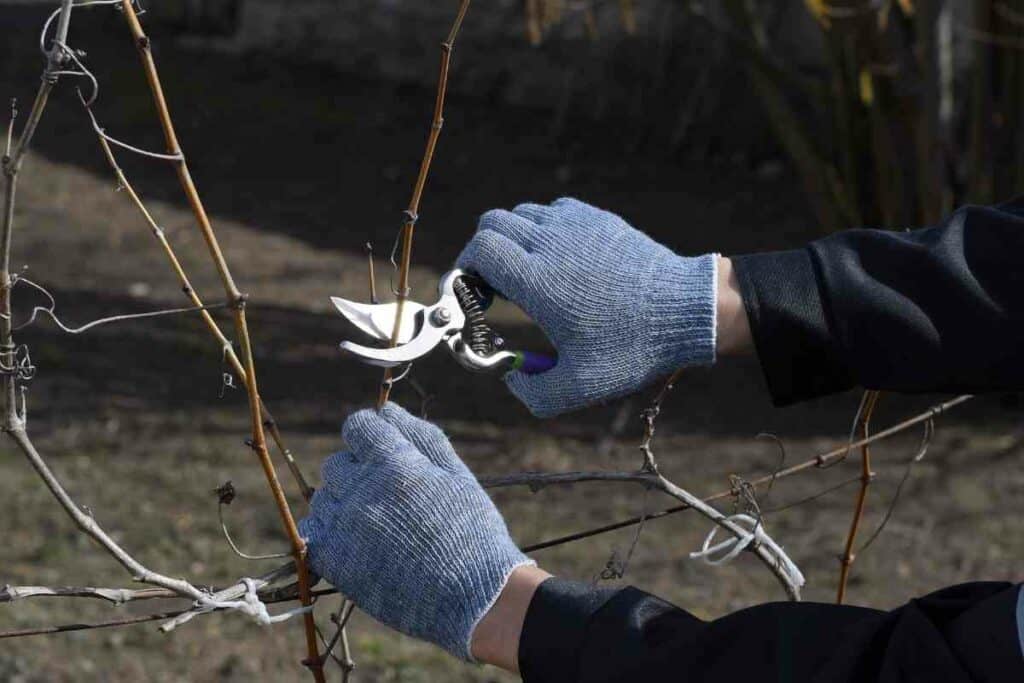 Japanese pruners or secateurs offer a great way to tend to your plants and keep them in check.
Robust, sharp, and well made, some of the best Japanese pruners will serve you for many years to come.
However, you need to know how to select the right pair and that's where this guide becomes your best friend!
The 5 Best Japanese Pruners
With so many Japanese pruners available online, it can make it difficult to choose the best set for your needs.
But instead of trawling the internet and assessing hundreds of pairs, we've done the hard work for you.
Here are our top five picks!
1. Samurai 8 ½ " Bypass Pruners
Just the name Samurai speaks volumes about the quality of these Japanese pruners.
But it's not all in the name; the blade is what really makes these pruners stand out from the crowd.
Coated with Teflon, these are super sharp secateurs that won't crush or squash branches as you cut. 
They're ideal for a range of plants and shrubs and offer a smooth and precise cut thanks to the chrome hardened anvil.
The entire build of the tool feels strong and robust; these really are designed to stand the test of time. 
What's more, the Samurai bypass pruners are really comfortable to use. If you do a lot of gardening, you'll want something that isn't going to put a strain on your hands.
The soft handles with shock absorbers achieve exactly that while the lightweight design won't make you feel as though you're wielding a chainsaw.
All that without compromising on quality. 
2. Wakasaya Professional Pruning Shears
These pruners are a little more expensive than the last pair but if it's quality you're looking for then it doesn't get much better than this.
One of the first things you'll notice about these pruners is how sharp they are.
They retain their edge pretty well but when it's time to sharpen, it's super simple and even if you've never done it before, you won't have any problems. 
What we really love about the Wakasaya pruners is their precision.
These small secateurs are ideal for pruning bonsais and flowers and give a really clean and smooth cut that doesn't damage the plant. 
The rubberized handle provides you with a comfortable grip.
While they're not quite a comfortable to use as the previous pruners, they're ideal for those who will use the pruners in short bursts. 
3. Okatsune Precision Hedge Shear
Sometimes a smaller set of pruners just won't do.
If you're looking to prune hedges or larger plants then you'll need something bigger like these 20 inch pruners with a long 6 inch blade. 
Made from steel, the Okatsune hedge shears will resist rust and are incredibly strong.
When well looked after, these are a set of blades that will serve you and your garden for many years.
What's more, they'll work with a variety of foliage types all the while offering an extremely precise cut. 
We also love how these pruners look with their beautiful wooden handles so if you care about the aesthetic appeal of your garden equipment, they make a wonderful choice.
They're lightweight and very comfortable to use, even for long periods of time.
Couple this with the super sharp blades and you've got the best of the best. 
4. Toshibo Pruning Shears
These are high end Japanese pruners that are designed for use with bonsai.
If you're serious about your hobby then only the best equipment will do and these pruners offer comfort, precision, and durability in equal measures. 
They're made in Japan which is a sign of quality in itself and feature an alloy steel blade that retains a very sharp edge and offers an incredibly precise cut. 
What's more, the Toshibo brand is renowned for the craftsmanship that goes into each of its products.
This is evident when you hold the pruners in your hand; they're weighty enough that they feel well made but lightweight enough that they remain comfortable.
However, they are lacking a rubber bumper to combat hand fatigue so we would recommend them for shorter pruning sessions. 
5. Saboten Hold Free Harvest Scissors
For lighter pruning duties like harvesting or trimming your houseplants, these pruners from Saboten are ideal.
One of the resounding reviews about these pruners is how easy and comfortable they are to use.
If you find big clunky shears give you hand fatigue, this could be the answer. 
The blades are made from stainless steel which is favored in Japanese blade and knife making as it's so durable as resistant.
It won't rust and will stay sharp for a seriously long time. 
The Saboten harvest scissors are also perfect for your gardening tool kit as they're so compact and lightweight.
Yet the quality of the materials is still impressive and getting hold of replacement parts, such as the spring, is really easy so you won't be left out of action for long!
Things To Consider When Choosing Japanese Pruners Online
Choosing a set of Japanese pruners can feel like a daunting task if you aren't sure what you're looking for.
But it doesn't have to be that way.
Here are some quick, helpful tips on what to look for. 
Blade Size
One of the first things you'll want to think about when choosing Japanese pruners is how big the blades are.
This directly relates to what you'll be able to cut. If you're trying to prune a dense hedge, then there's no call for tiny pruners; in fact, you'd probably be better going for a set of loppers. 
But even where pruners are the tool of choice, they still come in different sizes which allows you to work with different plants.
Generally Speaking – Pruners between 20mm and 30mm are usually the best option. 
Blade Sharpness And Material
If the blades are not sharp then you run the risk of damaging the branch as you cut and this can cause all kinds of health problems for the plant, including a higher risk of parasites.
Choosing pruners that have a razor-like edge will provide you with the utmost precision and cause the least stress to your plants.
Yes, these pruners may come at a higher cost but you can't put a price on the health of your plants. 
Moreover, it's important to consider the material of the blades if you want to avoid rust and keep a sharp edge for the longest time.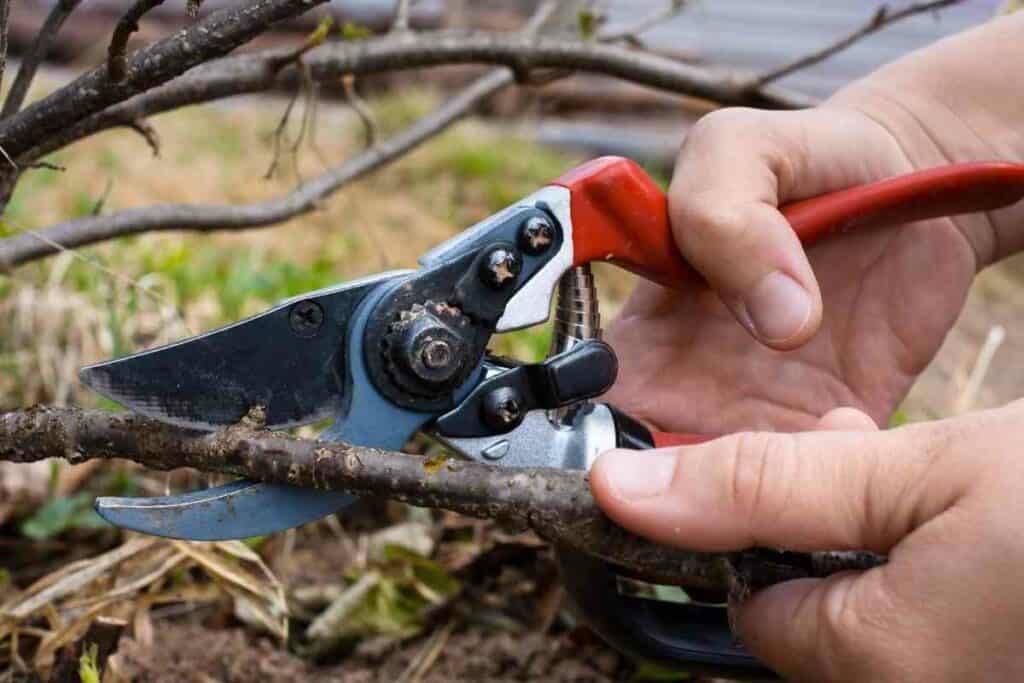 Stainless steel is by far the best choice in both of these aspects and when you do need to sharpen the blades, this material will be the easiest to work with.
That said, carbon steel is also a brilliant option and this has even longer edge retention than stainless steel.
However, it is known to be slightly more brittle and is typically a little more expensive. 
Handles
The handles of your Japanese pruners might not initially seem like the most important thing but they are what determines whether the tool is comfortable to use.
This is why you'll want to look for handles with a soft grip that won't slip when you hold the pruners. 
Handles come in a variety of sizes which means you can find something to suit the size of your hands.
On Top of This – You'll want to make sure that the handles don't make the pruners overly weighty. While wood might look the part, it's going to be markedly heavier than something like aluminum.
Conclusion
There's something about a Japanese blade that just screams quality and pruners are no exception.
With a whole host of sharp, durable, and precise pruners on the market, it's no wonder that people are turning to Japanese products time and again. 
Use this guide to help you make an informed decision on the best Japanese pruners for you and don't forget to check out our top picks of some of the most amazing products on the market right now.