Growing a bonsai really is a labor of love and one of the best things about it is that you can manipulate the tree's shape.
This allows you to create a mini masterpiece that's totally unique to you but you're going to need some good quality wire to do this.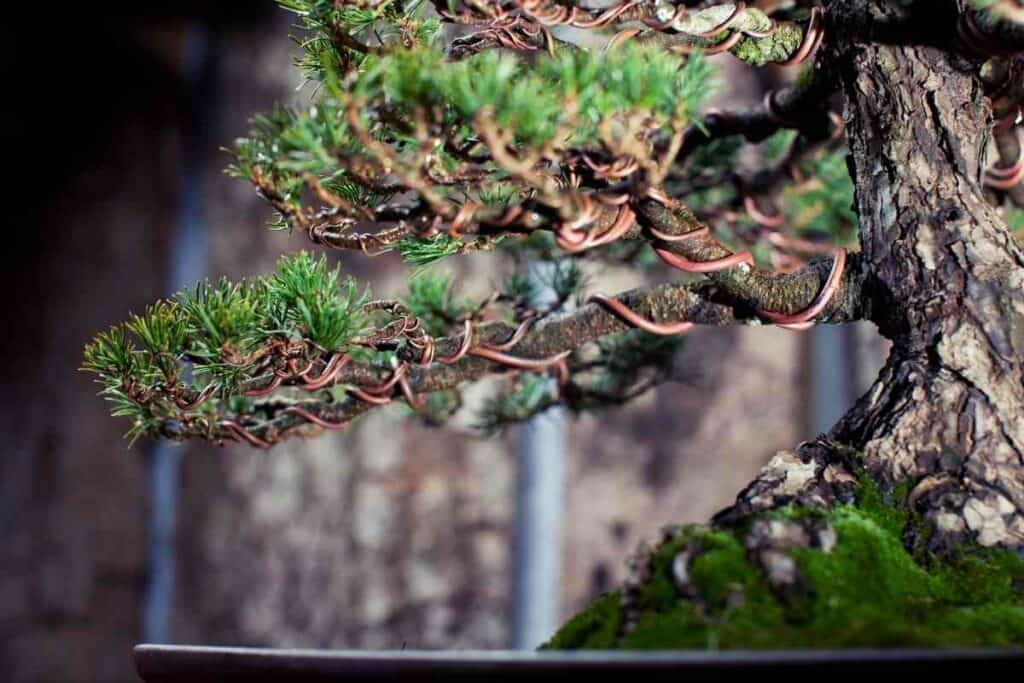 There are several different types of wire that are commonly used to influence the shape of your tree and one of those is copper.
But is this the best material and what are the pros and cons of it over things like steel and aluminum?
Using Copper Wire For Bonsai
If you're in the beginning stages of your bonsai journey then you might be scratching your head and wondering what to do.
The good news is that copper is a great wire for bonsai trees because of its strength.
However, it's worth noting that it is harder to work with than other materials so is not always recommended for beginners. 
11/24/2023 05:08 pm GMT
What Is The Best Type Of Wire For Bonsai?
There are three main types of wire that are commonly used to shape bonsais:
steel
copper
aluminum
There are people that will sing the praises of each of these types of wire while others will tell you how bad they are.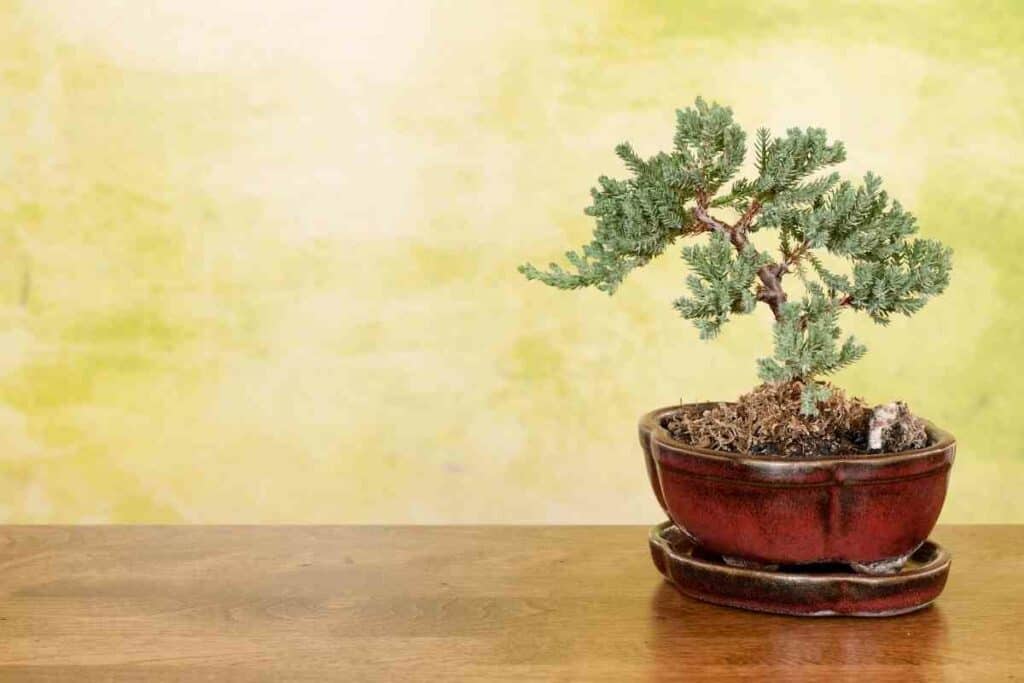 A lot of it comes down to personal preference as well as the type of tree that you're working with.
For example, something that requires a more robust wire, like a conifer would benefit from the durability and strength of copper while something like adonized aluminum is a great choice if you're looking for a wire that'll blend in with the rest of the plant. 
Let's take a closer look at each type.
1. Copper
Copper is one of the strongest and most stable types of wire for shaping a bonsai tree.
In fact, this is one of the reasons that so many people consider it to be the best type.
Copper wire
BEADNOVA Bonsai Wire
This set offers assorted wire sizes in 0.04 inches (1mm), 0.06 inches (1.5mm), and 0.08 inches (2mm) diameters, each in an attractive copper color. Each roll extends to approximately 32.8 feet (10 meters) in length, providing a total of approximately 98.4 feet (30 meters) of versatile bonsai training wire for your needs.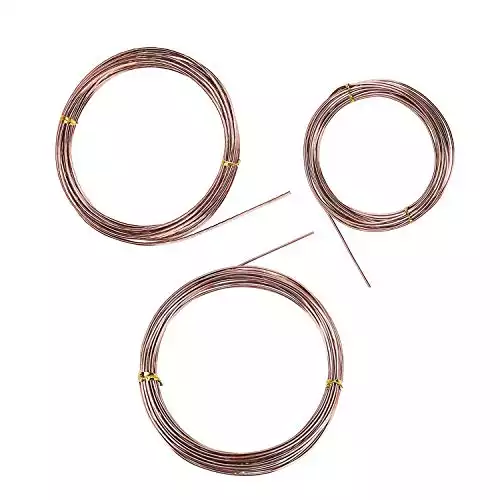 We earn a commission if you make a purchase, at no additional cost to you. Thanks!
This means that when you're working with trees that have harder trunks and branches, copper will offer a lot more support and stability.
On Top of This – Copper can be purchased as a single core coated PVC wire that's brilliant for manipulating bonsais as it offers a degree of protection to the branches.
This essentially means that they won't be left with permanent scars. 
On the downside, you have to keep in mind that copper is not as easy to work with because it does not bend as easily.
This means that sometimes, beginners can find it a bit of challenge. We also wouldn't recommend it for use with soft trunked trees as this is where scarring can become a problem. 
2. Aluminum
Adonized aluminum wire comes in a choice of thicknesses so it's brilliant for a wider variety of trees.
One of the major benefits over copper wire is that aluminum is far easier to work with and it bends like a dream so for beginners, it's often the go to option. 
Aluminum Wire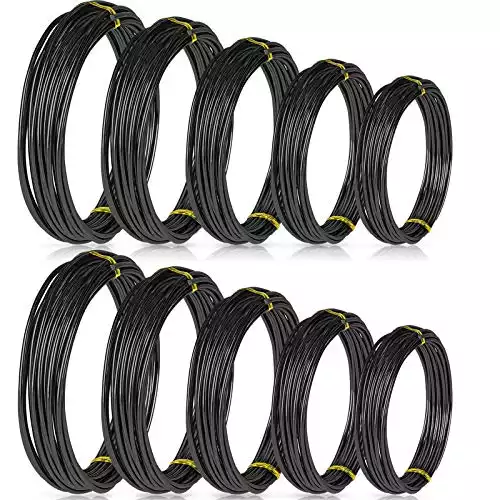 We earn a commission if you make a purchase, at no additional cost to you. Thanks!
That said, because it is not as strong as copper, you'll need to choose much thicker wire to get the same level of support.
This is a lot more noticeable on your tree which may affect the aesthetic value. Of course, for some people, this isn't much of an issue. 
There is no risk of aluminum wire reacting with the soil or moisture however, for this benefit you can expect to pay a little more than you would for other types of wires like copper.
3. Steel
It's incredibly unlikely that you'd meet a bonsai expert who would recommend using steel wire to shape your tree.
However, so many people are lured in by how cheap it is. As with anything, it's important not to be tempted by a low price because this won't benefit your bonsai. 
Steel Wire
Bonsai Training Garden Wire
Constructed from 304 pure solid stainless steel wire, this wire is both bendable and rust-resistant, ensuring long-lasting use. Its sturdy yet manageable nature allows for easy cutting with standard wire cutters and effortless twisting by hand. Ideal for an array of craft projects and jewelry making, it's a versatile and durable choice for your creative endeavors.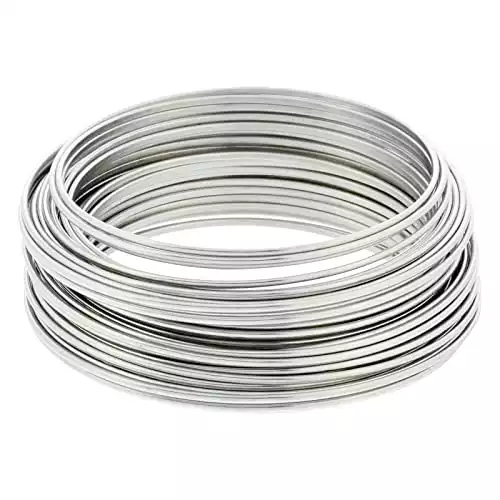 We earn a commission if you make a purchase, at no additional cost to you. Thanks!
Steel is not very bendy so it's one of the worst wires to work with, especially if you've got no previous experience in shaping bonsais.
What's More – You'll find it almost impossible to manipulate it tightly enough to form some of the shapes you might like. 
In addition, steel is prone to rust which will be left on your tree. The same can be said for iron wiring which some people pick up cheaply thinking it'll work well for their bonsais. 
Conclusion
Using wire is the best way to manipulate the shape of your bonsai tree into something of a unique, artful creation.
However, since there are different types of wire out there, beginners find it difficult to understand which is the best option. 
Copper wire is a great choice as it's really durable and will offer the best level of support to your tree.
However, do keep in mind that it's not always easy to manipulate so you may need some patience and practice, especially if you've never worked with it before.