Japanese Kit Kats are completely different from the regular versions you find around the world.
Not only are they super-small but they also come in an insane number of different flavors, even with special and limited editions.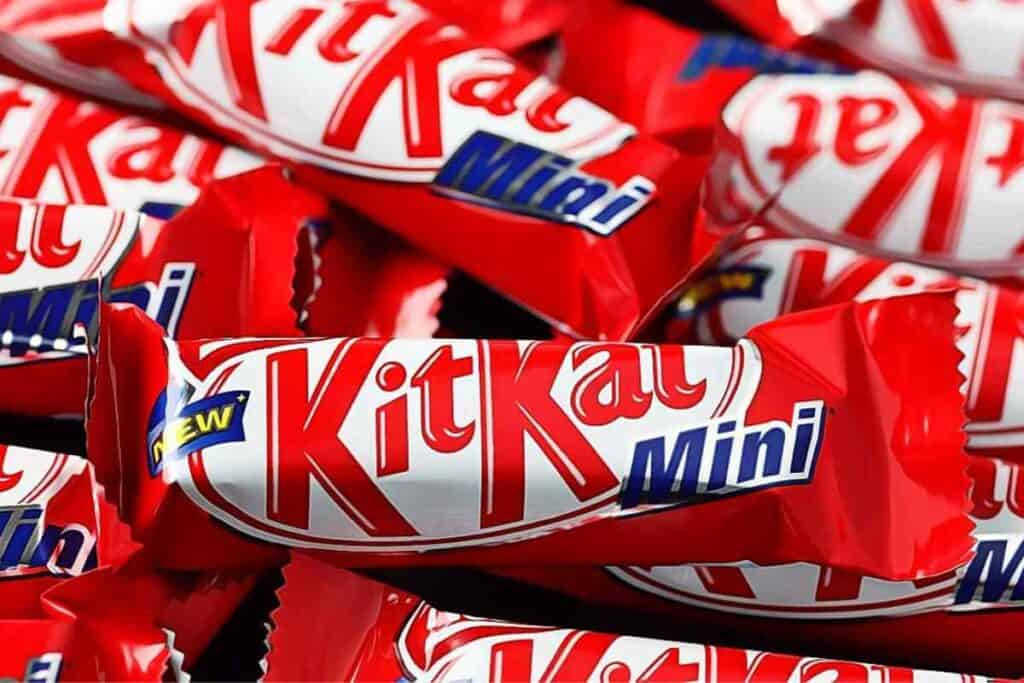 In this article, we'll take a look at why Japan has so many more Kit Kat flavors and include a round-up of some of the unique flavors you have to try!
Why Does Japan Have So Many More Kit Kat Flavors?
Kit Kat is an extremely popular sweet treat in Japan and its massive range of flavors (300 and counting) keeps customers interested.
Kit Kat manufacturer Fujiya believes that using limited-edition, regional, and seasonal flavors makes the Kit Kats more desirable to customers.
09/28/2023 12:27 pm GMT
Creating such a wide range of flavors also makes it easy to keep the shelves of convenience stores stocked with something new.  
History of Kit Kats in Japan
Kit Kat was originally owned by the British confectionary company Rowntree.
In the early 1970s, Rowntree struck a deal with the Japanese confectioner Fujiya to produce the classic chocolate bar in Japan.
24 types
Nestlé Kit Kat
The Nestlé Kit Kat Assorted pack offers 24 unique mini flavors from Japan, providing a diverse tasting experience.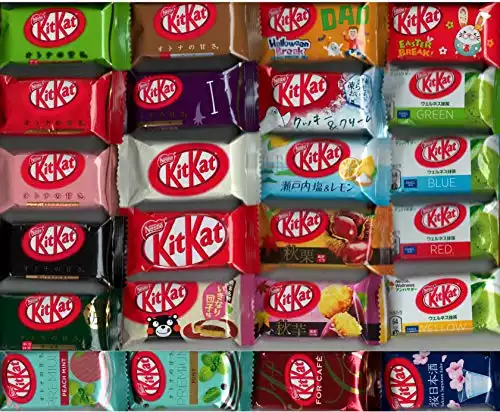 We earn a commission if you make a purchase, at no additional cost to you. Thanks!
Kit Kats first hit Japanese shelves in 1973 and have grown in popularity to become Japan's #1 confection in 2014 and a fierce competitor of Japan's leading chocolate company Meiji.
In 1988, Rowntree was acquired by Nestlé, who maintained Rowntree's partnership with Fujiya. Kit Kats are made at factories in Himeji and Kasumigaura, using milk powder and cacao imported by Nestlé.
In 2000, Nestlé strengthened its control of Japan's Kit Kat brand by purchasing Fujiya's shares in the partnership, while continuing to work with the confectioner. 
First Kit Kat flavors in Japan
A big boost to the popularity of Kit Kat in Japan was the introduction of diverse Kit Kat flavors.
This strategy was introduced in 2004 with the creation of a classic green tea flavor Kit Kat. Sales went through the roof and Fujiya did not hesitate to massively diversify its range of Kit Kat flavors, expanding product lines to more than 300!
Matcha dark green tea
Kit Kat chocolate Japan import
The Kit Kat Matcha Dark Green Tea, a special Japan import, blends the rich bitterness of dark chocolate with the nuanced flavors of traditional green tea. This unique fusion offers a delightful treat for those seeking a twist on the classic Kit Kat experience.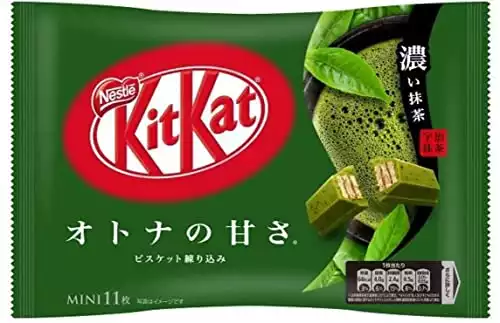 We earn a commission if you make a purchase, at no additional cost to you. Thanks!
The varied Kit Kat flavors have become a unique and enduring feature of Japanese confectionery. By creating limited runs of small quantities of the Kit Kat flavors Fujiya was able to achieve very tight control of its production costs and sales. 
Kit Kat's clever marketing strategies
Kit Kat owes its success in Japan to its shrewd marketing tactics. Its popularity has been a winning combination of coincidence and clever ideas.
One of the big advantages that this chocolate bar has over competitor brands is its name, Kit Kat. By chance, the name of the chocolate is incredibly similar to the Japanese phrase Kitto Katsu (きっと勝つとぉ) meaning, 'You will surely win'! This was an amazing marketing boost as it automatically associates Kit Kats with good fortune. 
7 Guaranteed flavors
JAPANESE KIT KATS
Indulge in a delectable journey from Japan straight to your door with 21 pieces of assorted flavors.
While these aren't full-sized bars, you're promised a diverse mix of 7 guaranteed flavors.
A word of caution: during the summer months, these chocolates may melt, so handle with care!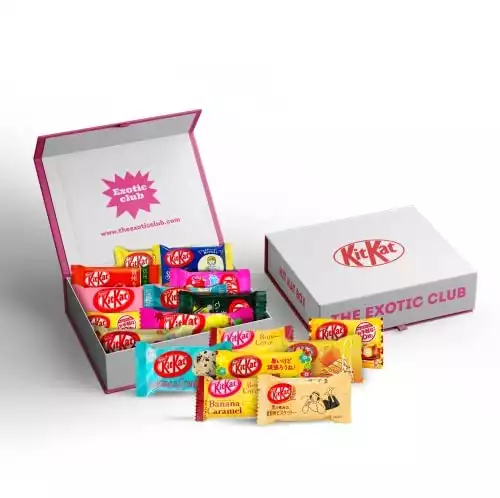 We earn a commission if you make a purchase, at no additional cost to you. Thanks!
Students, in particular, would buy Kit Kats before a big exam. This was utilized by Kit Kat in their award-winning 2005 'Lucky Charm' advertising campaign.
Other successful marketing using the Kit Kat name included a 2009 campaign where the chocolate bars could be mailed to encourage friends and relatives from 20,000 participating post offices. Within weeks, the promotional Kit Kats had sold out. 
A Kit Kat flavor for each prefecture!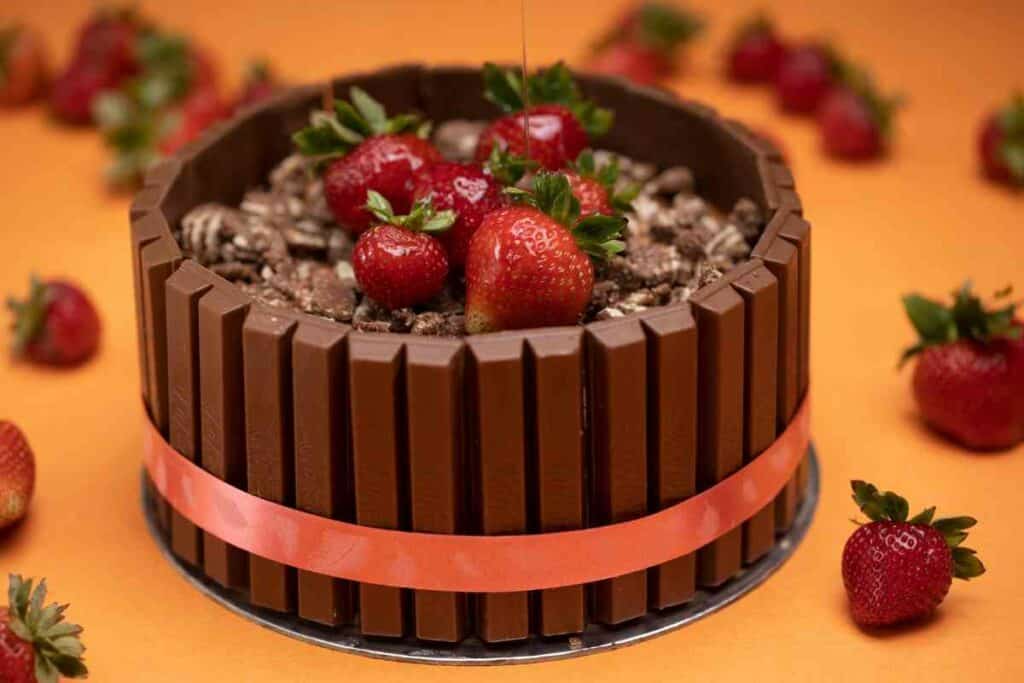 Kit Kat has left no stone unturned in delighting its Japanese customers with its originality.
There are at least 47 Kit Kat flavors for each of the 47 prefectures of Japan. The strategy of local flavors is ingenious.
Every prefecture has a dedicated flavor routinely stocked and out-of-town visitors buy them to share with family and friends as souvenirs.
Here is a full list of the Kit Kat flavors for each prefecture of Japan
| | |
| --- | --- |
| Aichi | Azuki Sando – a classic azuki bean paste sandwich |
| Akita | Sweet potato |
| Aomori | Apple pie – after the famous apple-producing region |
| Chiba | Nuts and cranberry – as Chiba produces peanuts |
| Ehime | Iyokan orange flavor – after the produce of Ehime |
| Fukui | Special edition 'Dialect' Kit Kat featuring the local greeting "Hoya, break shiyoosa" (Have a break). |
| Fukuoka | Amaou Strawberry – a regional strawberry variety |
| Fukushima | Cherry Blossom Memorial edition was released in 2021, with a percentage of sales donated to the Fukushima disaster fund.   |
| Gifu | Special edition New Year's card – in honor of the paper-making heritage of Gifu |
| Gunma | Safari Maple – celebrating the prefecture's safari park |
| Hiroshima | Momiji Manju – a collaboration with Hiroshima confectioner Takatsudo |
| Hokkaido | Yubari Melon – one of the most expensive melons in Japan which is grown in this agricultural region |
| Hyogo | Kobe Pudding – classic regional dessert is known for its sweetness and creaminess |
| Ibaraki | Hot Spring Manju – created in honor of the traditional pastries of the region and its numerous onsen |
| Ishikawa | Cherry Blossom Mochi – reflecting the prefecture heritage in making wagashi (sweets) |
| Iwate | Iwaizumi Yogurt – the famous creamy yogurt of Iwate |
| Kagawa | Setouchi Salt and Lemon – reflecting the nautical heritage of Kagawa and its art islands |
| Kagoshima | Ocean Salt – special flavor to promote the marine biodiversity of Kagoshima and prevention of marine pollution from waste |
| Kanagawa | Strawberry Cheesecake – a Yokohama favorite |
| Kochi | Yuzu Sake – named after the yuzu citrus fruit that grows in the region |
| Kumamoto | Black Sugar Donuts – 2022 special edition donuts made in collaboration with Kumamoto Castle |
| Kyoto | Hojicha – strong hojicha (dark roasted green tea) flavor Kit Kat |
| Mie | Dialect Kit Kat |
| Miyagi | Zunda Shake – based on the regional soybean dessert |
| Miyazaki | Summer Mango – capturing the flavor of the prefecture's super-sweet mangoes |
| Nagano | Kyoho Grape – a famous grape variety grown in Nagano |
| Nagasaki | Ikinari Dango  –  dango is a specialty of this region |
| Nara | Sakura Masamune Daiginjo Sake – sake flavored Kit Kat (<0.1% alcohol) |
| Niigata | Le Lectier Pear – created with the flavor of the region's dessert pears. |
| Oita | Summer Ice Cream – classic soft-serve ice cream flavor |
| Okayama | Raspberry – created in honor of the region's popular fruit parfait |
| Okinawa | Purple Potato – capturing the taste of the region's famous purple sweet potatoes |
| Osaka | Up until 2022, you could create your own, made-to-order Kit Kats at the Kit Kat Chocolatory in Nanba, Osaka |
| Saga | Amaou Strawberry – flavored with the famous strawberries of the region |
| Saitama | Mint – perhaps because the nation's Mint is located in Saitama |
| Shiga | Yogurt Sake – alcoholic yogurt-flavored Kit Kat |
| Shimane | Baked Cheesecake – a regional specialty with a bakeable Kit Kat to eat warm |
| Shizuoka | Wasabi – using wasabi from the region for an unusual taste |
| Tochigi | Tochiotome Strawberry – created in honor of the fine strawberries of the region |
| Tokushima | Peach – flavored after the regional peaches that are celebrated in a regional peach festival |
| Tokyo | Tokyo Banana – extremely popular banana sponge cake flavor that has had enduring popularity (great cheap Tokyo souvenir) |
| Toyama | Masuizumi Japan Sake – special sake edition created by Masuizumi sake brewery and ex-footballer Hidetoshi Nakata |
| Wakayama | Umeshu (plum wine) – created to honor the plums that are grown in this region |
| Yamagata | Cherry – flavor inspired by the delicious cherries grown in this region |
| Yamaguchi | Satsuma – citrus flavor taken from the satsumas that grow in this prefecture  |
| Yamanashi | Mount Fuji Strawberry Cheesecake – 2022 special edition created in honor of Mount Fuji |
Collaborations
Over the years, Kit Kat has had some amazing collaborations with regional and national Japanese brands. For example, its 2019 collab with the famous Tokyo Banana sponge cake has seen over half a million boxes purchased in its first week. 
Another notable collab has been its barrel-aged whisky Kit Kat which features cacao nibs that have been aged in whisky barrels from the Isle of Islay in Scotland for 180 days.
In March 2023 Kit Kat collaborated with Japanese comedian Piko Taro and his alter-ego Daimaou Kosaka to promote a new dual-flavored Kit Kat:
Unusual flavors
Kit Kat hasn't hesitated to push boundaries with its flavor combinations.
There are some seriously strange flavors out there, which, surprisingly, have earned themselves a cult following.
Would you try:
A Hot Japanese Chili Powder Kit Kat?
A Soy Sauce Kit Kat?
A Sports Drink-flavored Kit Kat?
These flavors have all sold well, and 'rare edition' Kit Kats are still being sold online!
Enjoy unique Japanese Kit Kat flavors with a Japanese Kit Kat variety pack
You can't have read this article without feeling at least a little curious about how these crazy Kit Kat flavors taste.
The best place to get your hands on these delicious Kit Kats outside of Japan is on Amazon.
Here's one of the best Japanese Kit Kat selection packs around:
KitKat Japan Import Variety Pack
Rounding Up
Enjoying the weird and wonderful flavors of Japanese Kit Kats is an excellent reason to 'have a break'.
The Kit Kat Specials, Kit Kat Chocolatory editions, and cool year-round and seasonal flavors are here to stay. Get your hands on some Japanese Kit Kat bars and taste why Kit Kat has captured the tastebuds of the Japanese!