Japan is one of the countries in the world which hosts one of the highest numbers of festivals.
Over two hundred thousand are held throughout the year and their lengths vary.
The answer to the titling question, albeit outrageously ambiguous, is that they pretty much all last for differing lengths of time.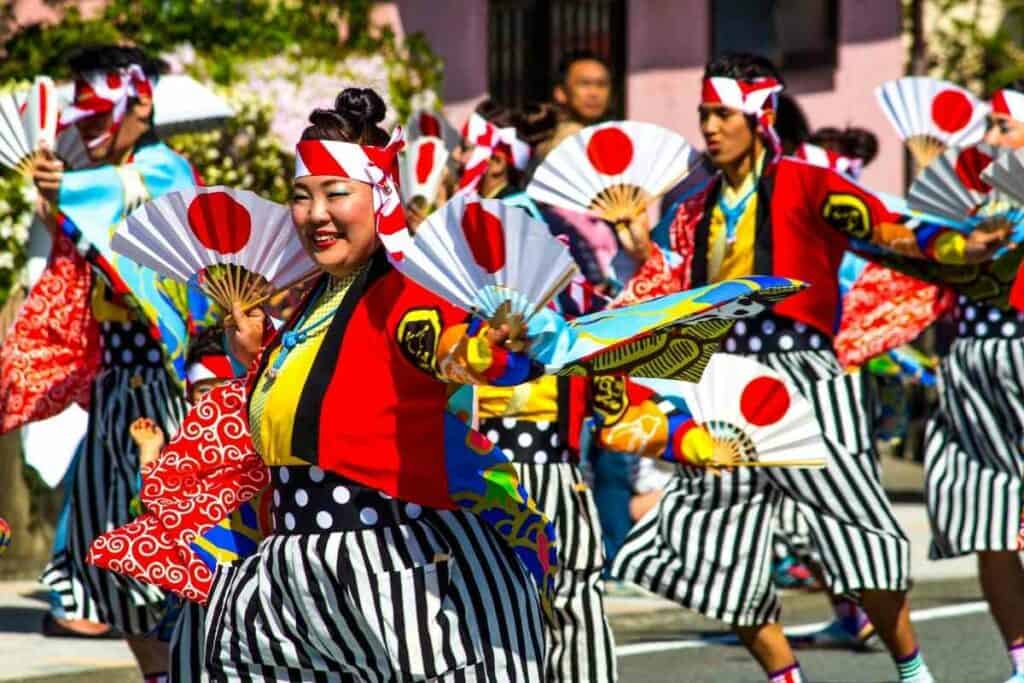 From day festivals to those which last for days and sometimes even weeks on end, there are a plethora of festivals to consider.
In This Guide – We will do our best to group these many wonderful festivals which are steeped in Japanese traditions. This, we will do by their lengths of time and do our very best to over view a vast and varied topic.
Are there festivals that last just a day?
Quite a large number of festivals last just one day, but it has to be stated that with some estimates at 300,000 for the number of festivals which take place across Japan, it is impossible to know exactly how many there are that occur on a single day.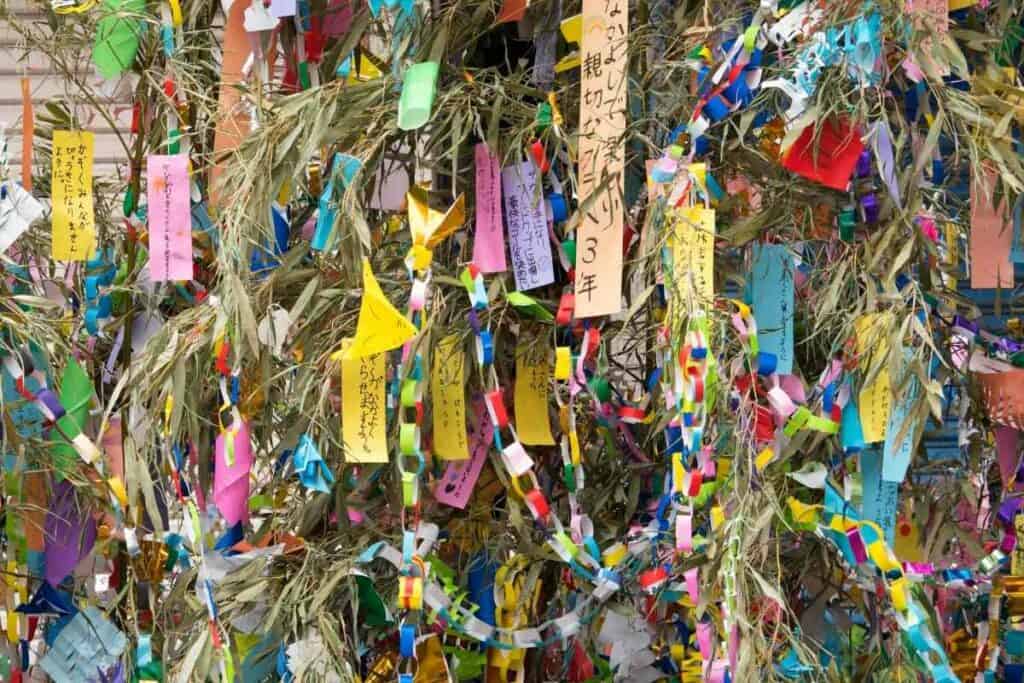 However, many national festivals are such Seijin Shiki (Coming of Age Day) which takes place annually in January, on the second Monday of the month.
As expected, not all one-day festivals are national. Many take place all over the archipelago of Japan.
Some are specific to the area:
The famous Tanabata Star Festival occurs on March 3rd, a religiously spiritual festival of Love, and Shichi-Go-San – a festival for Japanese youth – is on November 15th.
Hanamatsuri festivals take place on April 8th: a national festival of flowers and a Doll festival on March 3rd.
Tenjin festival, considered to be one of the best that there is (top three in Japan), in Osaka, takes place on July 25th and consists of a series of different processions.
Aoi celebrates local shrines in Kyoto and is held on May 15th.  
Jidai festival in Kyoto occurs on October 22nd and is one which includes historical re-enactments.
As you can see, many take place on a single day and all are considered spectacular to experience as part of a trip to Japan.
Which Japanese festivals are just two to three days or more, but less than a week?
A great number of Japanese festivals take place over a weekend and last just 2-3 days, the end of the week being the obvious choice for recreation.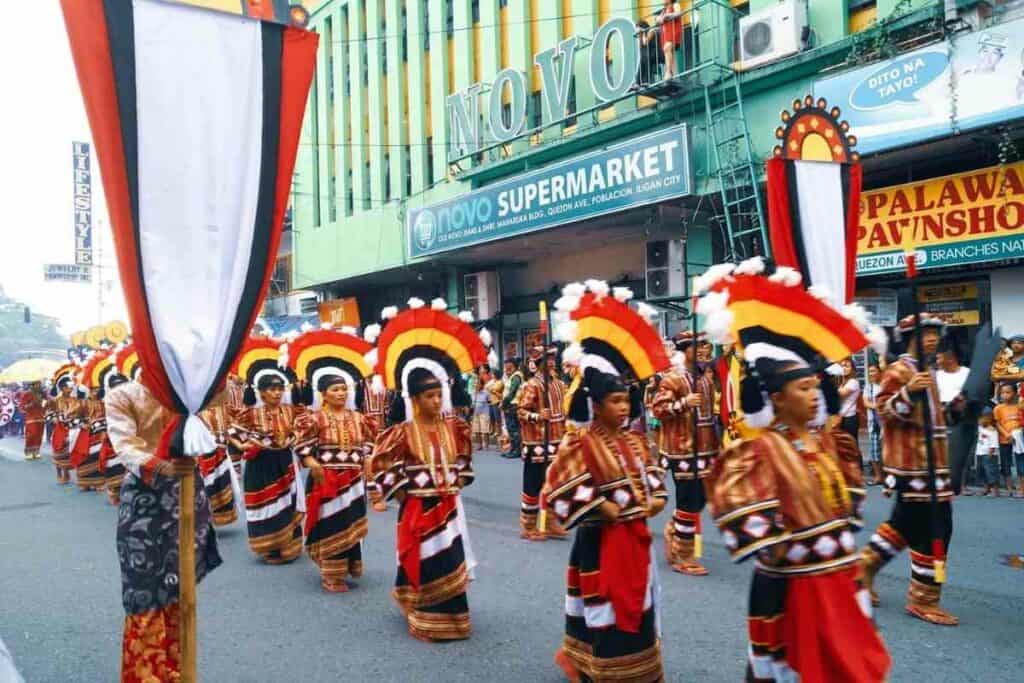 Being so many, we will present the most commonly listed.
Awa Odori  
Traditional Japanese dance festival – beginning in 1586 with a celebration of the opening of a local castle.
Location – Tokushima
Date – August 12th – 15th
No of days – 3 days
Chichibu Yomatsuri
This night festival is considered one Japan's top 3 with floats and firework displays.
Location – Chichibu
Date – December 2nd and 3rd
No of days – 2 days
Kanda
Considered one of the largest and most exciting parades in Japan, this festival features over two hundred floats and portable shrines.
Location – Tokyo
Date – Weekend around May 15th
No of days – 2 days
Kanto
Related to the Tanabata Star festival, Kanto features an enigmatic presentation of skill: the balancing of large bamboo poles holding paper lanterns.
Location – Akita
Date – August 3rd through 6th
No of days – 4 days
Nagasaki Kunchi  
This four-hundred year old tradition infuses some Dutch culture and is the pride of the local people.
Location – Nagasaki
Date – October 7th and 9th
No of days – 2 days
Nebuta
Held at the height of Summer, this festival attracts thousands of visitors each year. It features amazing light displays.
Location – Aomori
Date – August 2nd to the 7th
No of days – 6 days
Ojima Neputa
Beginning as a smaller festival in a school yard, this once modest event is now massive enough to close the local highways – over 300 roads!
Location – Gunma
Date – August 14th and 15th
No of days – 2 days
Sanja
One of the largest and indeed wildest (according to some), this festival is a renowned party atmosphere.
Location – Tokyo  
Date – 3rd full weekend in May
No of days – 3 days
Takayama
Uniquely held twice per year, this is acclaimed as one of the most beautiful Japanese festivals that there is.
Location – Takayama
Date – April 14th and 15th as well as October 9th and 10th
No of days – 4 days
Yokote Kamakura
Featuring a multitude of small snow igloos which are crafted throughout the local area, this festival reaches back almost 500 years.
Location – Akita Prefecture
Date – February 15th and 16th
No of days – 2 days
Which Japanese festivals last a week or more?
A number of Japanese festivals are a week long and some even a couple of weeks, and even a month or more.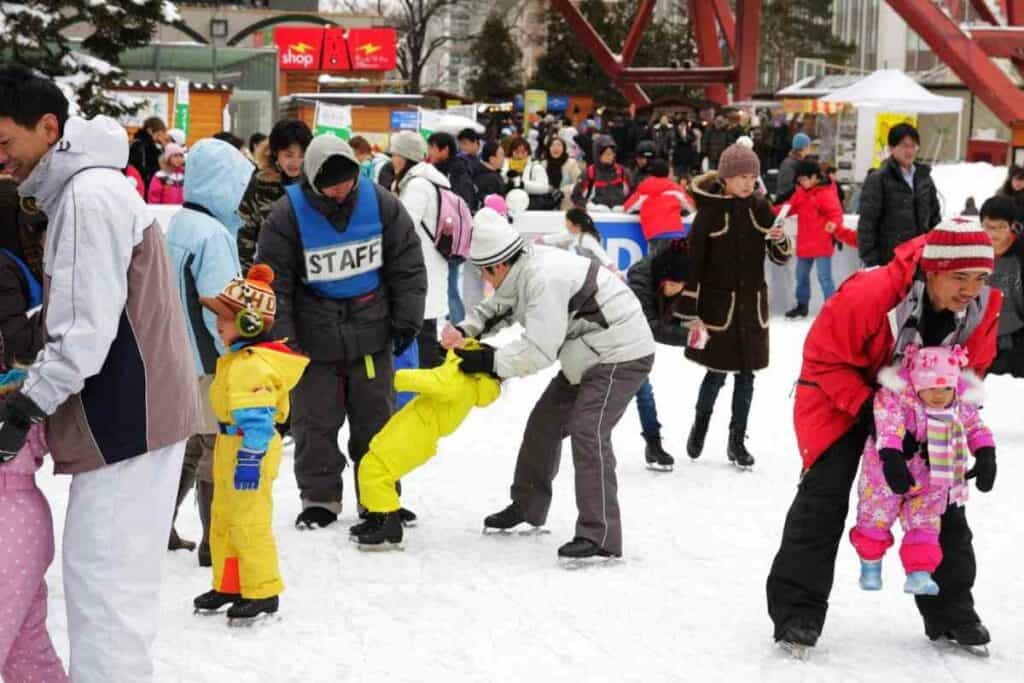 One of the most famous festivals in all of Japan, the Sapporo Snow Festival, takes place over a week in February and features world famous snow sculptures.
People travel far and wide to see the incredibly carved film themes pieces of artwork, some of which stand as large as houses.
Likely the most famous of them all is the Japanese Golden week.
This is a conglomeration of smaller holidays which take place between April 29th and May 5th.
Parades, mass celebrations, decorations, and good food line the streets. Golden week is one of the longest national holidays in the world – even most Japanese employees get the week off.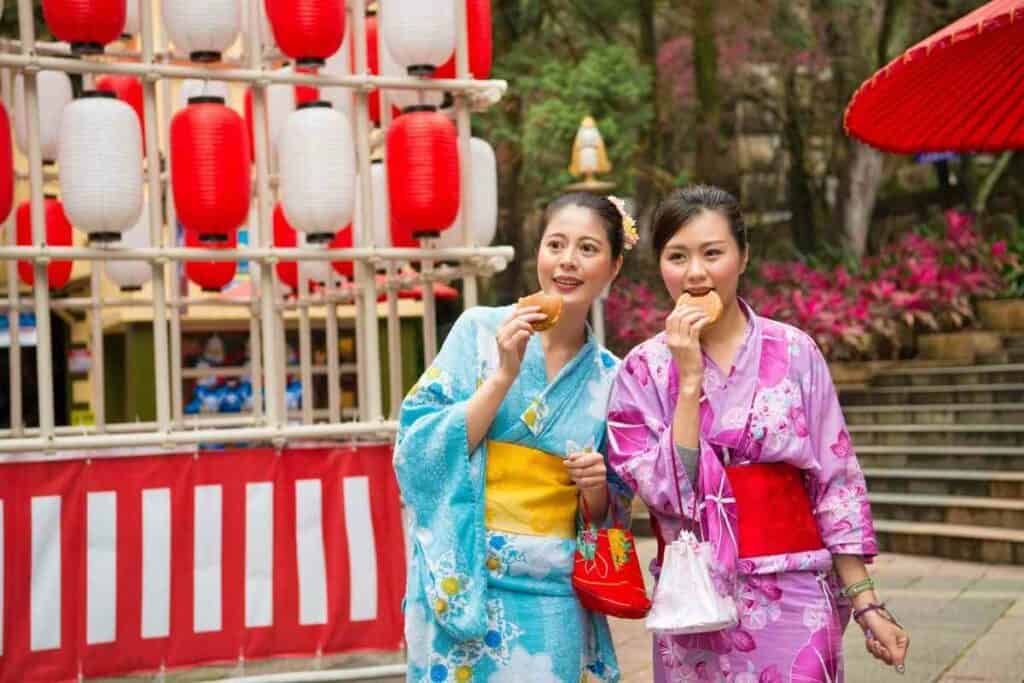 Hakata Gion Yamakasa lasts two whole weeks, from July 1st to the 15th, in Fukuoka; however some list this festival as simply taking place in the month of July.
This possibly month-long celebration ends with a famous beat-the-clock style race with floats made specially for the festival.
In Nara – A Buddhist festival takes place for two weeks, from March 1st through 14th. Each night, a spectacular, ritual torch burning takes place on the balconies of the magnificent temple of Todaiji.   
Final Thoughts
Asking how long Japanese festivals last is equivalent to asking how long a piece of rope is, when you cannot see either end.
There are so many thousands of them, that it would be near impossible to categorise them all. However, taking a small sample of the most decorated, the most attended and the most well-known, provides us with a near accurate view.
Most are just one or a few days long. There are, however, some which last one or even two weeks.
One thing is for sure: should you travel to Japan at any time of year, you will find some kind of exciting and interesting festival taking place.