Akio Toyoda 豊田 章男, the recent Chairman of Toyota, is the latest in a family line of great industrialists.
He is respected as a great business leader, industrialist, and contributor to the Japanese economy.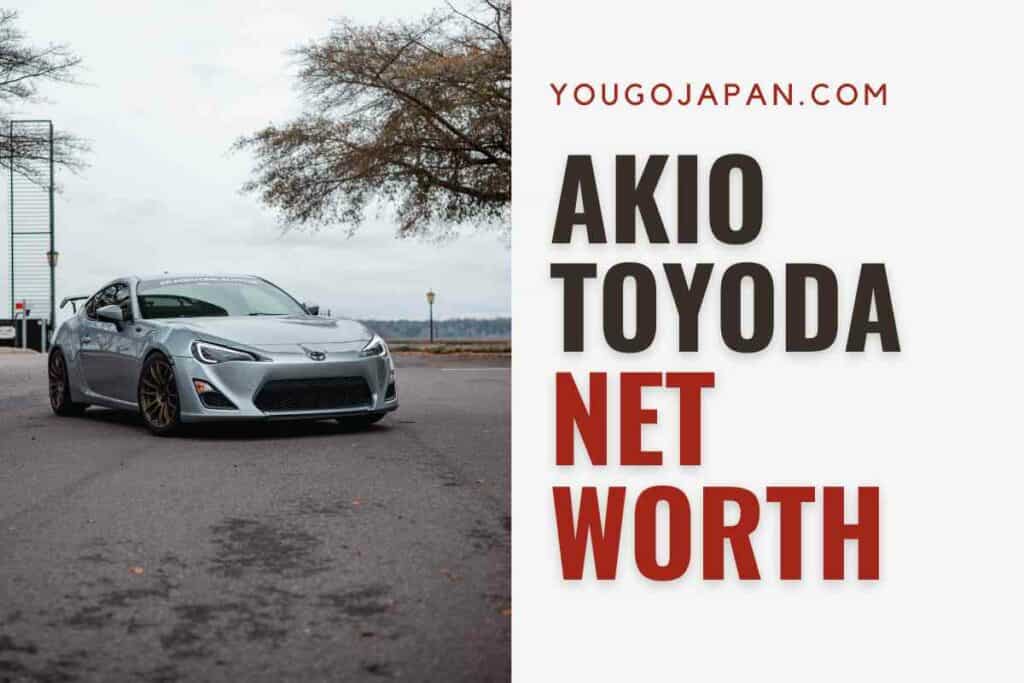 As part of the founding family of one of Japan's greatest companies Toyoda is definitely going to be rich, but how rich?
Let's find out in this complete guide to the net worth of Akio Toyoda.
The net worth of Akio Toyoda 豊田 章男
As the great-grandson of the founder of Toyota, Sakichi Toyoda, Akio Toyoda certainly isn't poor. He is believed to have a net worth of at least $1 billion.
This net worth has climbed massively since 2009 when the Times newspaper estimated his wealth at $310 million.
Along with his outstanding wealth comes influence with Forbes magazine ranking 66-year-old Akio Toyoda as the 29th most powerful person in business, globally in 2018.
A breakdown of Akio Toyoda's net worth
Akio Toyoda is from a wealthy background as he is the grandson of Kiichiro Toyoda and Shinshichi Iida, founder of Takashimaya department stores.
However, he isn't a nepo baby.
Here's where his net worth comes from.
Shares in Toyota
Though a Toyoda by birth, Akio Toyoda and the wider Toyoda family do not own the company that their grandfather founded.
At most, the Toyoda family has a 2% stake in Toyota, which is pretty much owned by banks, including the Master Trust Bank of Japan, Ltd. and JPMorgan Chase.
Salary as Executive Director and President of Toyota
Leading a global automotive company commands a substantial salary.
According to the Economic Research Institute, in 2022 Akio Toyoda earned more than $5.18 million (¥685,000,000 in total). Up to $1.5 million was cash while $3.61 million was given in Toyota equity. 
Akio Toyoda 豊田 章男 biography
For more than three generations Akio Toyoda's family has dominated the leadership of Toyota Motor Corporation, the company founded by Akio's grandfather, Kiichiro Toyoda.
The patriarch of this powerful Japanese industrial family was the industrialist and inventor Sakichi Toyoda (豊田 佐吉) and his descendants have remained in innovation and manufacturing. 
Akio Toyoda was born in Nagoya in 1956. His father Shoichiro Toyoda worked at Toyota and eventually became chairman between 1992 and 1999.
His mother Hiroko Mitsui was also from a prominent family, as the daughter of Mamoru Tabuchi of Mitsui Corp.
Practical skills and the Toyota company values formed a big part of his upbringing and he had exposure to fabrication and carpentry from an early age. 
At Keio University, Akio Toyoda studied law, going on to receive an MBA from Babson College, Massachusetts in 1982. 
Joining the family firm 
Toyota became Akio Toyoda's first and only employer.
He joined the company in 1984 and has worked in every aspect of automotive operations within the company and its subsidiaries and facilities across the globe. 
His first significant leadership position was in California, as Executive vice president of New United Motor Manufacturing, Inc in 1998. This automotive production company had been set up in partnership with General Motors. 
On his return to Japan in 2000, Toyoda joined Toyota Motor Corporation's Board of Directors.  Akio Toyoda developed an e-commerce site for new and used vehicles, oversaw the domestic marketing strategy of Toyota, and supervised aspects of production management. 
2001 saw Toyoda become the leader of Asia and China operations and the following year he became the Managing Director of Toyota. In 2003, he was made Senior Managing Officer and took on leadership of the Oceania & Middle East Operations Group in addition to his responsibilities for China and Asia. 
Toyoda's next move in 2005 was to become an executive vice president and representative director, with responsibilities that included Information Technology, Procurement & Supply, domestic and overseas operations, and sales.
In 2009, Toyota was in the grip of an international quality control crisis which weakened the position of the incumbent president Katsuaki Watanabe who was demoted to a vice-chairman. Attention turned to Akio Toyoda as the obvious choice to lead the company out of its challenging period, and he became president later that year. 
Leading Toyota
As President and CEO, Akio Toyoda has earned respect and affection for navigating the company through challenges and achieving great successes.
Examples include the development of Toyota's Corolla sedan, the first full electric Lexus, and the significant progress Toyota has made in hydrogen fuel cell technology.
Difficulties faced by Toyota during Akio Toyoda's leadership include flooding of Toyota's plants in Thailand, and the 2011 Fukushima earthquake and tsunami, which Toyoda felt exposed weaknesses in Toyota's operations created by efforts to expand too quickly.
Toyoda also had to grapple with the rise of Electric Vehicles which are only 1% of the company's sales.
So far, he has been skeptical about the long-term viability of EVs but hopes that the coming generation will develop the right transportation solutions it needs. At the start of 2020, Toyotat set a goal of selling 3.5 million EVs every year by 2030. 
Other achievements include the creation of Woven Planet, a new software and technology arm of the company.
Stepping down from Toyota
In April 2023, Akio Toyoda stepped down as CEO of Toyota, remaining within the company as Chairman.
One of the big reasons for leaving the CEO position was a desire that the company would be led by a younger executive with novel ideas.
His 53-year-old successor Koji Sato was previously Toyota's Chief Branding Officer.
Akio Toyoda 豊田 章男 personal life
Akio is married to Yuko Toyoda. They have a son and daughter.
Their son Daisuke Toyoda is head of Toyota's self-driving car unit. He is due to marry the Takarazuka Revue star Mayu Yoshihara this year.  
Akio Toyoda quote
"We're facing a once-in-a-century change in the auto industry. Younger people should be placed in the right job so they can come up with the answer to what the future of mobility should be."
In conclusion
2023 marks the ending of a big chapter in Akio Toyoda's life and the beginning of a new one.
He has had the unusual honor of being the third-generation Toyoda at the helm of one of Japan's biggest companies.
Will the Toyota baton be eventually passed onto another Toyoda? We'll just have to wait and see!